HISTORY: Zeuch throws just the second no-hitter in Bisons modern era. Herd wins 3-0
Righty faces just two over the minimum in record performance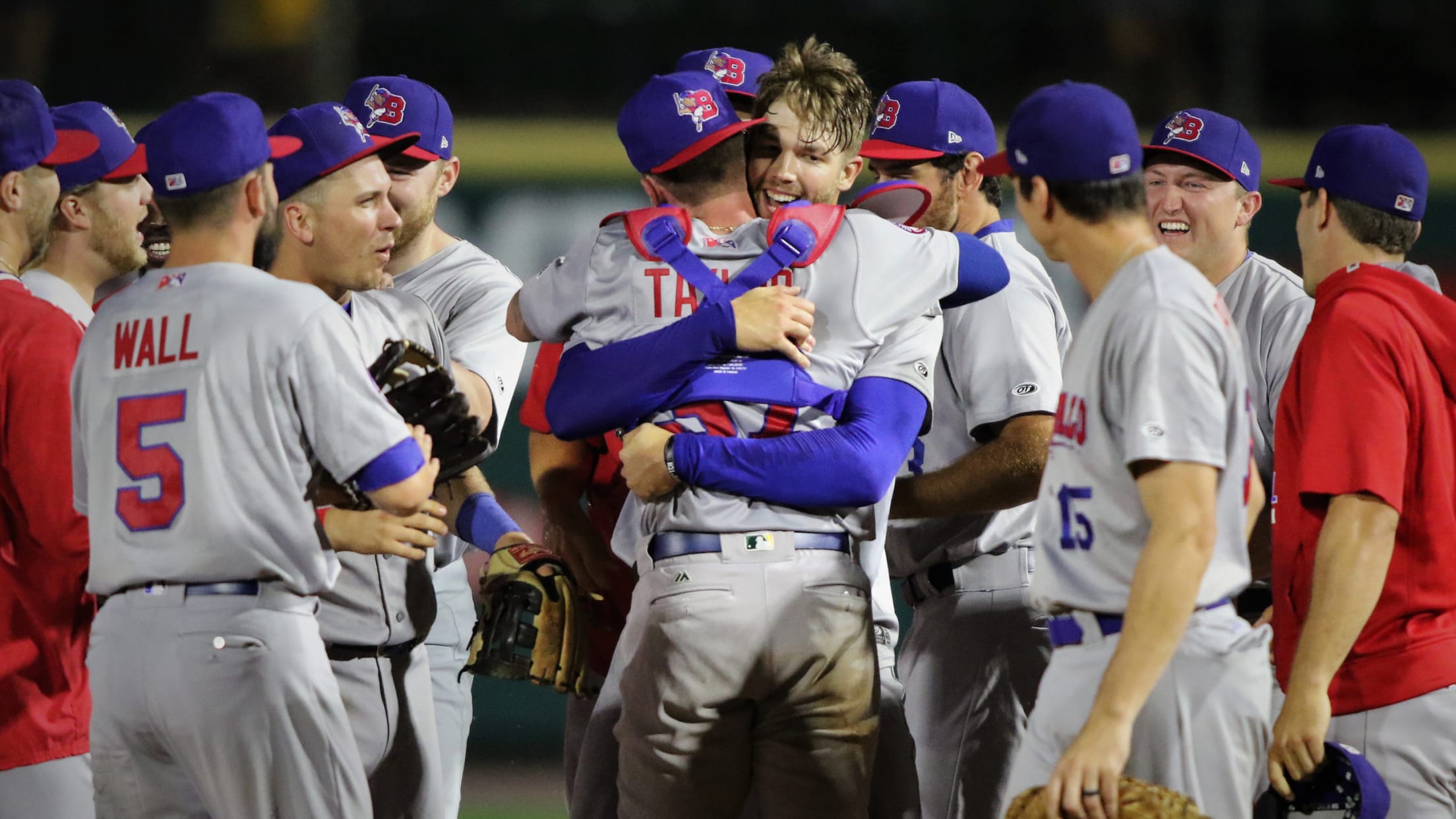 T.J. Zeuch is congratulated by his Bisons teammates following his no-hitter on Monday night in Rochester (Joe Territo/Rochester Red Wings)
After 22 years, Bartolo Colon finally has some company in the record books.With the postseason push in full force, T.J. Zeuch dropped the best pitching performance by a Bisons hurler in more than two decades, holding the Red Wings hitless in a 3-0 Herd victory, Monday evening from Frontier Field.It's
After 22 years, Bartolo Colon finally has some company in the record books.
With the postseason push in full force, T.J. Zeuch dropped the best pitching performance by a Bisons hurler in more than two decades, holding the Red Wings hitless in a 3-0 Herd victory, Monday evening from Frontier Field.
It's just the second no-hitter in the Bisons modern era, nearly matching Colon's performance on June 20, 1997 in a 4-0 victory over New Orleans at Sahlen Field. Both pitchers walked just one batter, while Zeuch also hit a batter in facing just two over the minimum.
Zeuch only struck out three batters, but had the power sinker working to get the Red Wings to hit into 15 groundball outs. He threw 73 of his 114 pitches for strikes and cruised through the Rochester lineup to improve to 4-2 with the Herd.
Rochester did not have a base runner in the game until veteran infielder Mike Miller drew a walk with two outs in the third inning. That at-bat was the first time any hitter got to a three-ball count against Zeuch.
Even with retiring the first eight batters, Zeuch wasn't sure if he had his best stuff early on.
"I didn't think in the first couple of innings that I was executing the pitches as well as I wanted to, but sometimes baseball just goes in your favor," said Zeuch.
But as the game went along, Zeuch got into a grove. He used 12 pitches in the fourth inning to induce a pair of groundouts and a soft liner to third base. It in the sixth, it was only five pitches that were needed to get three more grounders.
Even with hitting Zander Wiel with a pitch with two outs in the eighth, Zeuch needed just nine pitches to retire the Red Wings in the frame to set up a dramatic ninth.All that was left was one more inning and one amazing defensive play.
With one out already recorded, Ian Miller drove a 3-1 pitch to straight away centerfield. Easily the hardest hit ball all night, the line drive was sinking fast, but as Bisons fans have seen so many times, Jonathan Davis came up huge with an incredible diving grab. The centerfielder charged hard and made a full-extension dive to snag the ball just before it landed for the second out of the inning.
"I knew he was going to get to it. He gets to everything out there," said Zeuch.
Two pitches later, history was made. Drew Maggi hit a soft roller back to the mound and the 6'7" Zeuch got the glove down in time. He then used the underhand toss to get the ball to Jordan Patterson at first base to complete the no-hitter.
It was the first no-hitter in Zeuch's lifetime, including playing little league back in his hometown of Mason OH, After the game, the first call Zeuch made was to his parents, who naturally had been following along on the MiLB.tv webcast.
"They stopped talking to each other in the seventh inning. There were so nervous my mom wouldn't even check her phone," said Zeuch.
Thanks to Zeuch's excellence, the Bisons got the only run they would need in the fifth inning when Patrick Kivlehan lead off the inning with a double and scored two batters later on Santiago Espinal's RBI-single.
Buffalo added two insurance runs in the eighth. Andy Burns doubled home Davis and Beau Taylor hit a sacrifice fly to score Sócrates Brito.
Taylor, who was claimed of waivers by Toronto last week, was starting just his second game with the Bisons.
"He did an incredible job back there calling pitches. That was the first time he every caught me," said Zeuch.