Mets take series opener over Blue Jays, 18-1
New York's 10-run inning provides deGrom run support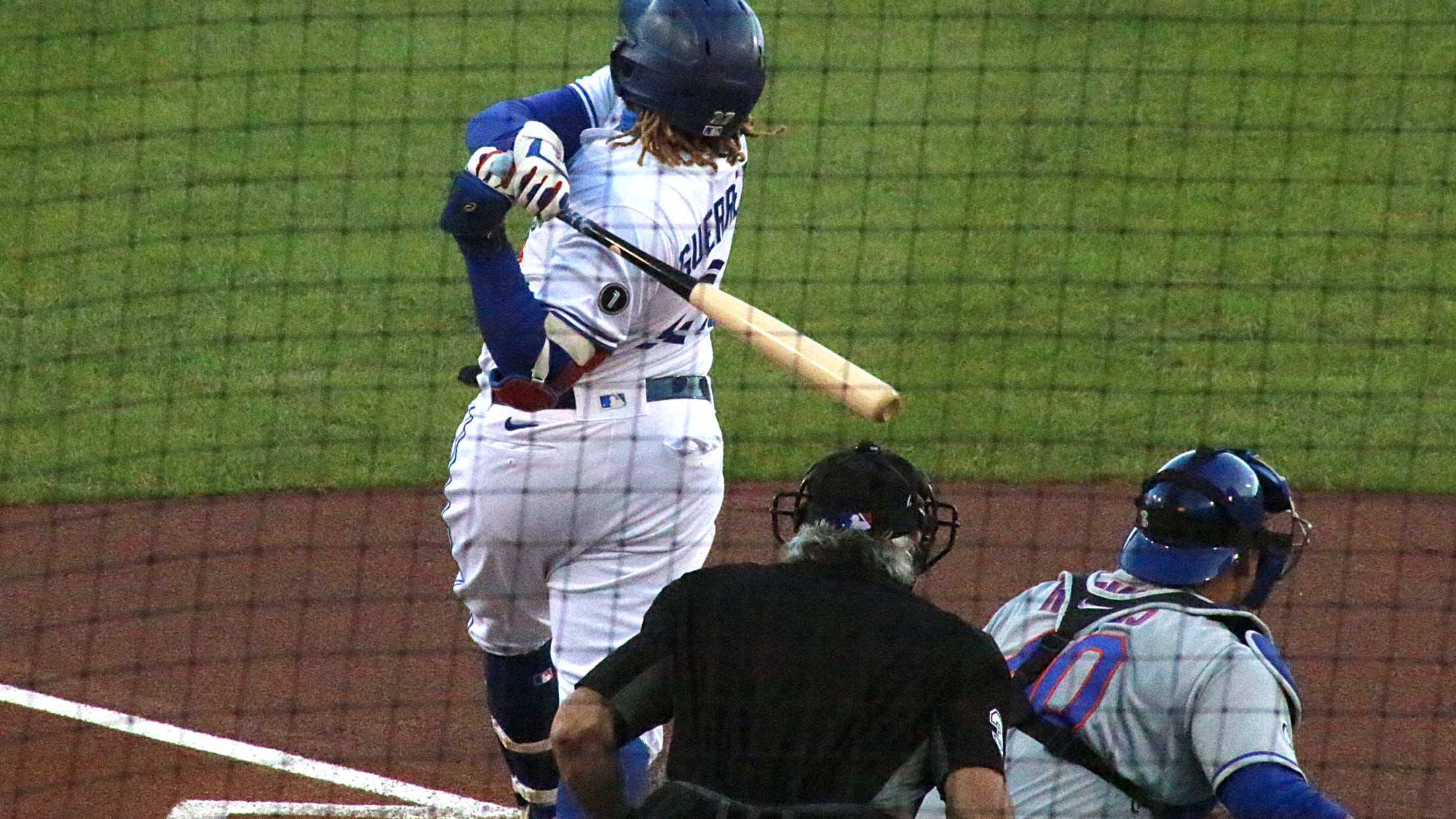 Vlad Guerrero Jr. drove in the game's first run with a single off Jacob deGrom
More often than not, the Blue Jays have had the better of the offensive success at Sahlen Field. On Friday night, the scoreboard was shifted in the opposite direction. The New York Mets batted around in back-to-back innings en route to a 18-1 victory over the Blue Jays in the
More often than not, the Blue Jays have had the better of the offensive success at Sahlen Field. On Friday night, the scoreboard was shifted in the opposite direction.
The New York Mets batted around in back-to-back innings en route to a 18-1 victory over the Blue Jays in the first game of a three-game series.
Toronto had a +18 in run differential in the first 16 games in downtown Buffalo, but that was all but erased thanks to two big innings by the Mets. With the Blue Jays holding a 1-0 lead, New York batted around to score four runs in the third inning and then sent 14 batters to the plate in the following frame in scoring 10 more runs.
Michael Conforto got the Mets on the scoreboard first with a three-run home run in the third. After a leadoff double from Wilson Ramos and a single through the right side by Brandon Nimmo, Conforto hit a full-count pitch from Chase Anderson to deep centerfield for his ninth home run of the year.
Then, the first six New York hitters of the fourth inning reached base to put the game out of reach. Ramos led off the inning again, this time drawing a walk off reliever Anthony Kay. After a hit and walk loaded the bases, the first run of the inning scored when catcher Danny Jansen dropped a throw from Santiago Espinal on a force play at the plate.
Kay then threw three balls to Dominic Smith before the Mets' first baseman was given the green light, 3-0. Smith turned on a high fastball and launched a grand slam into the berm area in right field for his eighth home run of the season.
Already ahead 9-1, the Mets kept coming in the fourth inning as Ramos doubled home three more runs later and Conforto and Davis added RBI hits to increase the lead to 14-1.
That was more than enough offense to one of the best pitchers in the game in Jacob deGrom. The righty was nearly unhittable after surrendering a first-inning run, striking out nine batters in six innings. He allowed just three of the final 19 batters he faced to reach base, with Cavan Biggio's fifth-inning double the only hit.
Toronto did score first in the first inning as Randal Grichuk hit and opposite field single and stole second base with two outs. Vladimir Guerrero Jr. then smashed a deGrom slider off the wall in right field to score Grichuk.