Fireflies 2023 Individual Game Tickets on Sale February 23
Fans who buy early will save money and have fun with the Fireflies this season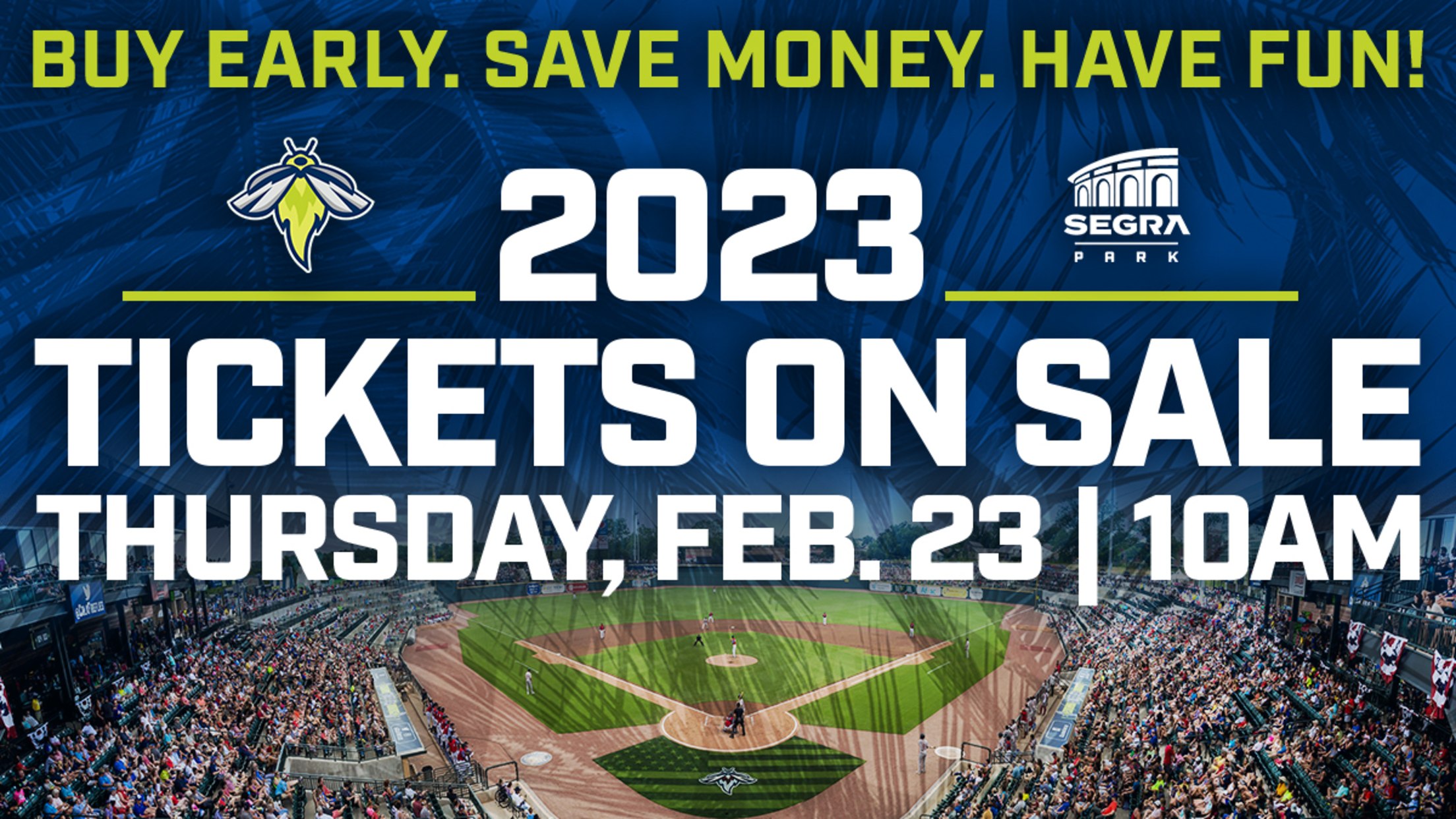 COLUMBIA, SC – The Columbia Fireflies today announced the pricing structure for 2023 individual game tickets. Tickets will go on sale to the general public Thursday, February 23 at 10am. The Fireflies new pricing model will reward fans for buying Fireflies tickets in advance, prior to the day of the
COLUMBIA, SC – The Columbia Fireflies today announced the pricing structure for 2023 individual game tickets. Tickets will go on sale to the general public Thursday, February 23 at 10am. The Fireflies new pricing model will reward fans for buying Fireflies tickets in advance, prior to the day of the game. Fans who buy their tickets early will save money and secure the best seats for Fireflies games. Ticket prices start as low as $5 per game.
"We have updated our pricing model for 2023 to reward fans who plan in advance to spend their summer nights with us," said Fireflies Team President, Brad Shank. "Fans will be able to save money over the course of the summer by looking ahead at which nights they will join us at Segra Park. Fans that buy early will save money and have fun all summer long."
The Fireflies are encouraging fans to purchase their seats prior to the day of the game whether online, over the phone or at the Fireflies Box Office. Fans who purchase before the day of the game will save $2 per ticket. There are 1,500 tickets available for each game for less than $10 a seat — some as low as $5 — so long as fans purchase prior to the day of the game.
Individual tickets will cost $2 more per seat for fans that wait until the day of the game to purchase. Day of game pricing will go into effect at 10pm the night before each game.
"This new ticket model enables us to maintain the $5 price point for advance purchases—the lowest price ticket for any team in our state or league," said Shank. "It will also allow us to better understand how many fans will be at each game, and staff accordingly, so we can provide the best experience for our fans."
"Fans are encouraged to buy their tickets early so they can save money and have fun with their friends, family and coworkers at Segra Park," said Fireflies Chief Revenue Officer, Kevin Duplaga. "Attending a Columbia Fireflies game remains one of the most economical forms of family entertainment available in the Midlands."
Seat Location
Advanced Price
Day Of Game Price
Berm Tickets
$5
$7
Reserved Seating
$8
$10
Palmetto Citizens FCU All-Star Dugout Seating
$11
$13
Palmetto Citizens FCU All-Star Prime Seating
$12
$14
Palmetto Citizens FCU All-Star Home Plate Seating
$13
$15
Coors Light On Deck Seating
$14
$16
CAE First Class Seats
$16
$18
Bullpen Boxes (4 seats)
$56
$64
4-Topps (4 seats)
$60
$68
Additional ticket information, and a seating map of Segra Park, can found online here.
The Fireflies 2023 promotional calendar features a full slate of promotions for fans of all ages and includes 15 fireworks shows, 12 giveaways, 11 Budweiser Thirsty ThursdaysTM, 5 Trash the Poop Dog Days of Summer and more. Some other top promotional calendar highlights on the schedule for 2023 include Margaritaville Night presented by AMAROK (April 21), Star Wars Night presented by Blanchard Machinery (May 6), Nickelodeon SpongeBob SquarePants Night (July 1), Dino Weekend featuring Ed's Dinosaurs (July 15), Marvel's Defenders of the Diamond Night (July 29), Nickelodeon PAW Patrol Night (August 12) and fan-favorite Grateful Dead Night (September 2). The Fireflies will become Los Chicharrones de Columbia May 26-28 for Copa de la Diversión weekend presented by Southern Recipe Small Batch and the team will host Negro League Celebration Weekend June 23-25. The Fireflies full 2023 promotional calendar can be found online.
Opening Night for the Fireflies 2023 campaign is slated for Thursday, April 6 vs the Augusta GreenJackets at 7:05 pm. For more information on the Fireflies upcoming 2023 season or events happening at Segra Park, visit ColumbiaFireflies.com.