Riders invite Scott Foster to serve as emergency catcher
36-year-old accountant turned heads with dramatic performance Thursday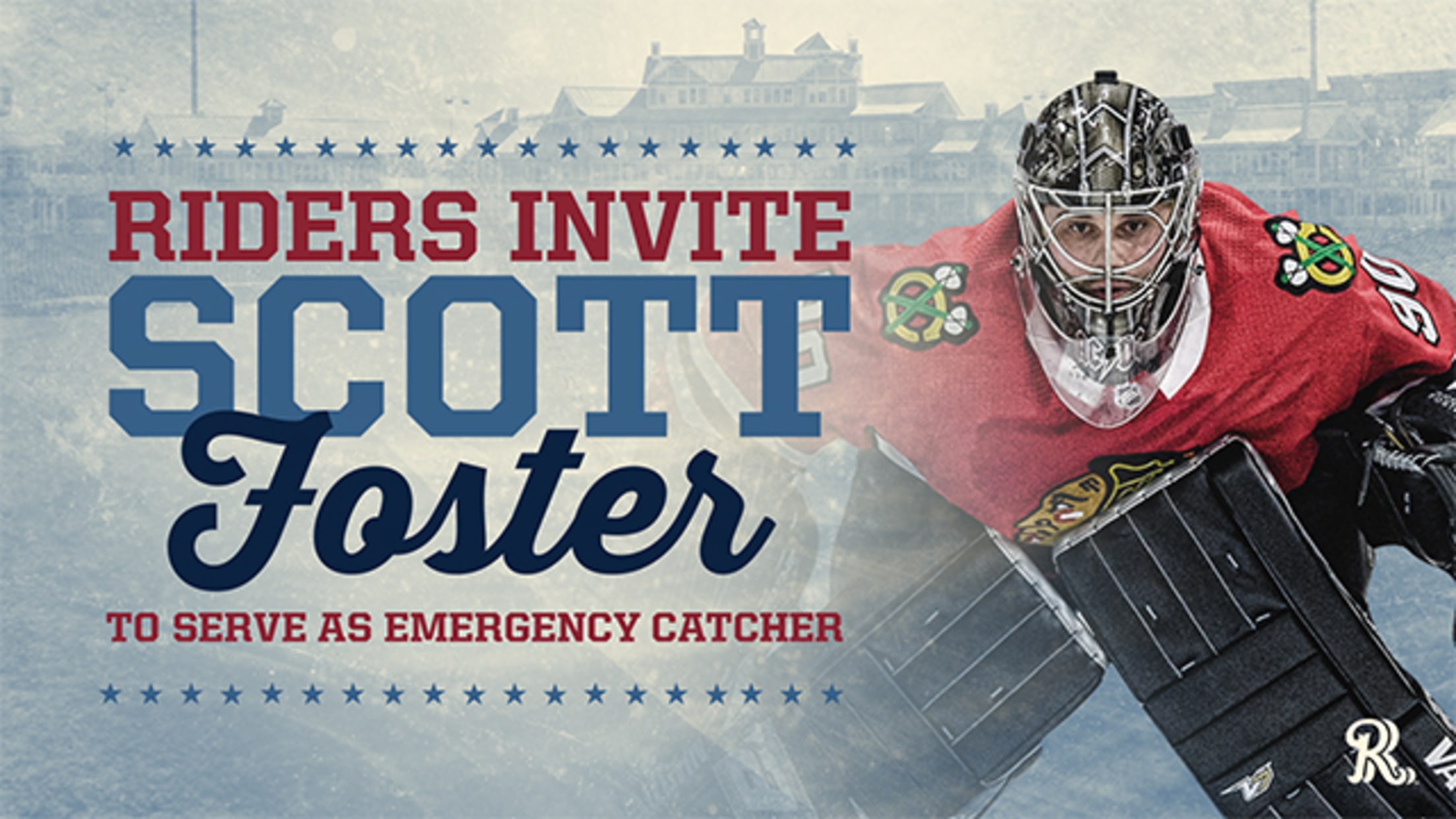 FRISCO, Texas (March 30, 2018) - Scott Foster proved he could stop hockey pucks. Now, the Frisco RoughRiders, Double-A affiliate of the Texas Rangers, want to see what he can do on the diamond.In the wake of Foster's heroic goaltending for the Chicago Blackhawks Thursday night, the Riders are extending the 36-year-old
FRISCO, Texas (March 30, 2018) - Scott Foster proved he could stop hockey pucks. Now, the Frisco RoughRiders, Double-A affiliate of the Texas Rangers, want to see what he can do on the diamond.
In the wake of Foster's heroic goaltending for the Chicago Blackhawks Thursday night, the Riders are extending the 36-year-old accountant a one-day contract to serve as the team's emergency catcher and throw out a ceremonial first pitch for any game in 2018.
"As I watched Scott stop puck after puck, I thought to myself, 'We could use a catcher with his defensive prowess,'" Riders Executive Vice President and General Manager Jason Dambach said. "We may have three catchers on our roster but we'd feel better about having a little extra back up, especially with someone as talented as Scott."
Foster stopped all seven shots he faced in the final 14 minutes of Chicago's win over Winnipeg Thursday. He played collegiately at Western Michigan University, which has adopted the Riders well-known #LetsRide hashtag, making him a perfect fit to suit up for the squad in case catchers Jose Trevino , Josh Morgan and Chuck Moorman get hurt.
The fun doesn't stop on the field. Fans will go bananas about Foster's catching abilities, and a special addition to Dr Pepper Ballpark concessions stand that night: Bananas Foster. Plus, fans "fostering" the biggest RoughRiders spirit will go home with special prizes throughout the night.
Now that the Riders have filled their emergency catcher role, the team will conduct a nationwide search among accounting firms to find emergency backup options for the other eight positions.
The RoughRiders open the franchise's 15th Anniversary Season on Thursday, April 5 at Dr Pepper Ballpark by throwing the biggest party in North Texas - the Deep Ellum Brewing Party @ the Yard. Single-game tickets, season tickets, group and hospitality packages for all 70 home games are available by calling (972) 731-9200, emailing [email protected] or visiting RidersBaseball.com.
About the RoughRiders
The Frisco RoughRiders are the Double-A affiliate of the Texas Rangers and play their games at beautiful Dr Pepper Ballpark in Frisco, Texas. The team was founded in 2003 and has finished first among all Double-A franchises in attendance in each of the last 13 seasons (2005-2017). In August 2014, the RoughRiders were purchased by an ownership group led by Chuck Greenberg. Since then, the new ownership group, together with the City of Frisco, has spearheaded numerous major franchise improvements, investing more than $8 million in a wide array of facility upgrades and improvements, including a new state-of-the-art HD video board, sound system, Bull Moose Saloon, InTouch Grille, Riders Outpost Team Store, and the world's largest water feature in a sports facility, the massive Choctaw Lazy River. These enhancements earned the Riders and the City of Frisco Ballpark Digest's prestigious ' Best Ballpark Renovation ' award for two consecutive years (2015 and 2016). More than 140 former RoughRiders players have gone on to play Major League Baseball, including All-Stars Chris Davis, Adrián González, Ian Kinsler, and Nelson Cruz, as well as current Rangers stars Elvis Andrus, Rougned Odor, and Nomar Mazara. For more information on the Frisco RoughRiders and Dr Pepper Ballpark, please visit RidersBaseball.com or contact Art Garcia at [email protected] or Ryan Rouillard at [email protected].