Jon Berti, Sal Fasano, and Aaron Loup: A Lugnuts Fan's Guide to the 2nd Round
Plus a round-up of every MWLer in the playoffs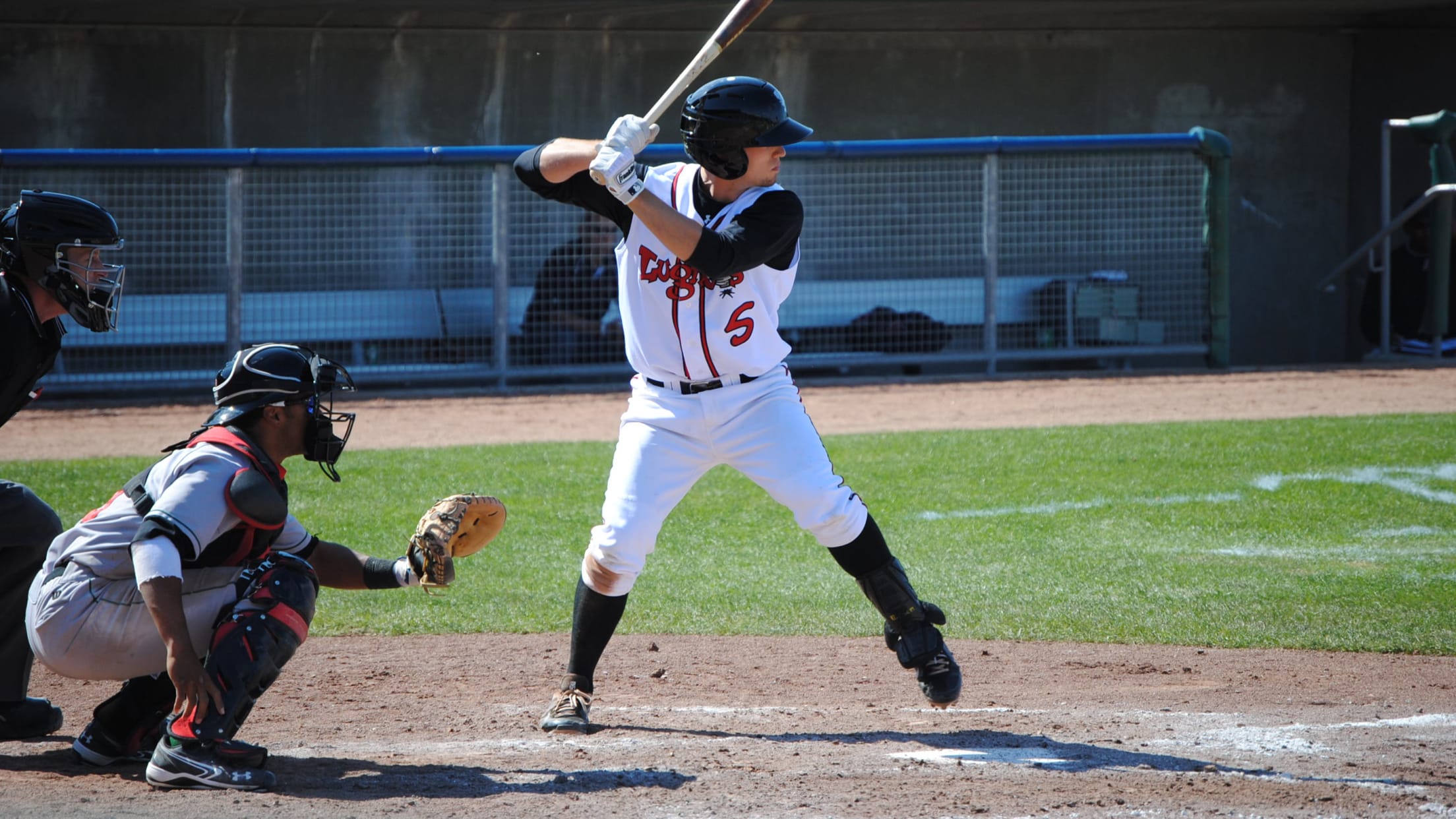 In last week's preview heading into the 2020 MLB playoffs -- read it here -- 17 former Lansing Lugnuts were listed who could potentially see action. This week, amid the American League and National League Division Series, we are down to two former Lugnuts players, one former rehabber, and one
In last week's preview heading into the 2020 MLB playoffs -- read it here -- 17 former Lansing Lugnuts were listed who could potentially see action. This week, amid the American League and National League Division Series, we are down to two former Lugnuts players, one former rehabber, and one manager.
*
Jon Berti, Miami Marlins super utilityman - 2012 Lugnut
Listen to a 2012 interview with Jon Berti.
An 18th-round selection from Bowling Green and a native of Troy, Mich., Berti joined the Lugnuts in 2012 as a non-prospect, though he had been exceptionally productive for Vancouver in his pro debut: 23 steals, .291 avg., a .387 on-base percentage in 60 games. Batting above sluggers Andy Burns, Kevin Pillar, and Andy Burns in the lineup, he did much the same for the Lugnuts in an identical 60-game stretch: 26 steals, .281 avg., .391 OBP. At the same time, his brother worked in the stadium box office!
Berti struggled after a mid-season promotion to A-Advanced Dunedin, and then spent all of 2013 in Dunedin and all of 2014 in Double-A New Hampshire. In 2015, he earned his first call-up to Triple-A Buffalo, where he batted .228 in the final 40 games. In 2016, he was back in New Hampshire, where he began to play some outfield in addition to his usual spot at second base. In 2017, he hit .205 in 62 games with Buffalo. And in 2018, his eighth year in the organization, he finally made his Major League debut, playing in four games for the Blue Jays.
On December 3rd, 2018, Jon Berti signed as a free agent with the Miami Marlins. He was a month and a half away from turning 28 years old. He fared well with Triple-A New Orleans, slashing .290/.430/.500 in 22 games as a third baseman and a center fielder, and was called up to the Marlins -- where he was described as an "incredibly pleasant surprise" and a "Swiss Army knife," playing six positions, showing some of the best speed in baseball, and batting .273/.348/.406 with 17 steals in 73 games.
This year, the man known as Jonny Hustle (check his Twitter account) hit .258/.388/.350 in 39 games and became the first ever Marlin to steal second base, third base, and home plate in the same inning.
Where can you find Jon now? Batting wherever and defending wherever the Marlins need him during their National League Division Series vs. the Atlanta Braves.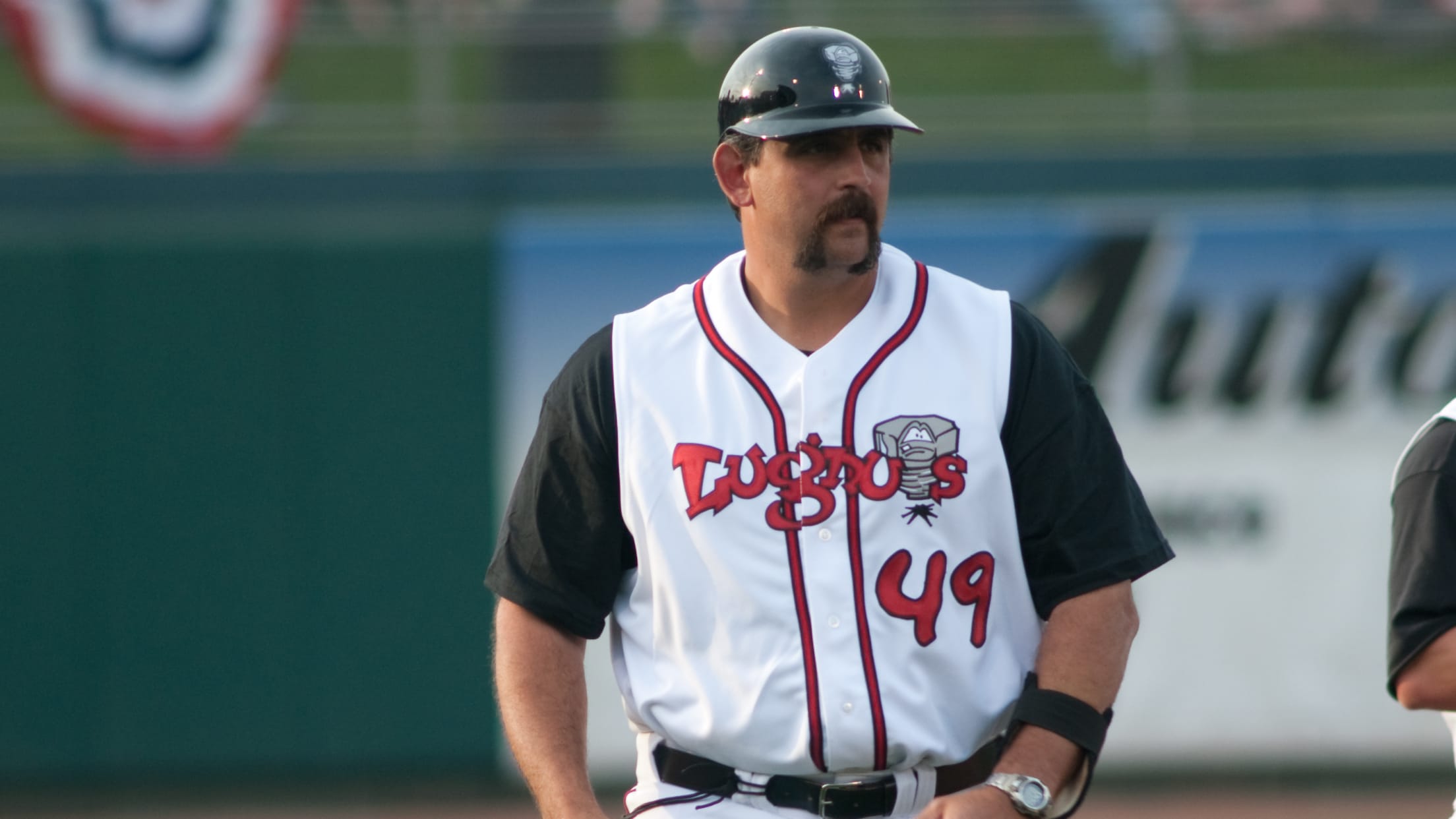 Sal Fasano, Atlanta Braves coach - 2010 Lugnuts manager
Listen to a 2010 interview with Sal Fasano.
In the other dugout, across the field from Berti and the Marlins, the Atlanta Braves feature a familiar face -- although you could be excused for not recognizing the man without his Fu Manchu mustache.
Sal Fasano began playing pro ball in 1993, reaching the Majors with the Kansas City Royals from 1996-1999, the Oakland A's in 2000-2001, the Colorado Rockies in 2001, the Anaheim Angels in 2002, the Baltimore Orioles in 2005, the Philadelphia Phillies and New York Yankees in 2006, the Toronto Blue Jays in 2007, and the Cleveland Indians in 2008. All told, he played in 427 Major League games. Then he retired in 2009 -- and was hired to manage the Lansing Lugnuts the very next season, in 2010.
That Lugnuts didn't make the playoffs, finishing 70-69, but they did have an amazing 15 future Major Leaguers on their roster: Dustin Antolin, Danny Barnes, Evan Crawford, Brad Glenn, Ryan Goins, Yan Gomes, Drew Hutchison, Chad Jenkins, AJ Jimenez, Casey Lawrence, Aaron Loup, Jake Marisnick, Ryan Schimpf, Ryan Tepera, and the late Daniel Webb.
After serving as manager, Sal moved up to the New Hampshire Fisher Cats, where he steered the Cats to the 2011 Eastern League championship and was named the Manager of the Year. After the season, he became the Blue Jays' roving catching instructor, a position he held until 2015, when he was named the Jays' roving pitching coordinator. Then in late August of 2016, the Blue Jays fired Fasano.
In 2017, he joined the Los Angeles Angels' organization and was assigned to manage the Angels' Double-A affiliate in the Southern League, the Mobile BayBears. The BayBears finished 64-75. 17 of their players have now seen Major League time.
In 2018, he was hired as the Atlanta Braves' catching coach, a position that he holds to this day. Coincidentally, in his capacity as catching coach, Sal Fasano works with Braves star backstop Travis d'Arnaud, a one-time Blue Jays top prospect who jumped over Lansing on his way to starring for the 2011 Fisher Cats.
One last point about Sal, in case you were unaware: He's a highly skilled calligrapher.
*
In Game 1 between the Marlins and Braves, Jon Berti led off the order, played second base, singled and scored an early run for Miami. Travis d'Arnaud went 3-for-3 with two walks and a three-run homer, lifting Atlanta to a 9-5 win.
Advantage: Sal Fasano's Braves.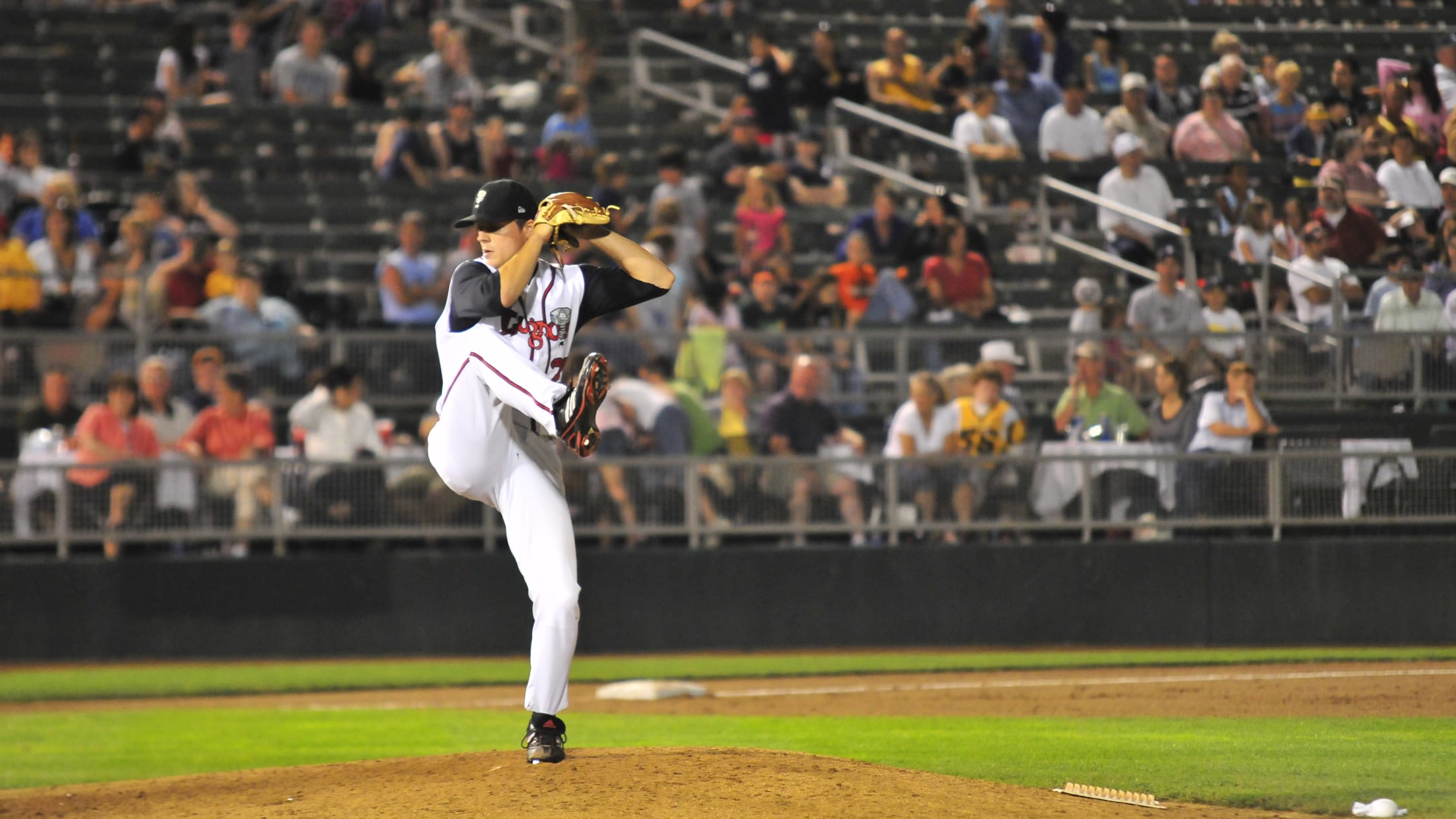 In the American League, we have exactly one Lugnut still involved.
Aaron Loup, Tampa Bay Rays reliever - 2010 Lugnuts
Listen to a 2010 interview with Aaron Loup.
Loup is fascinating. If you came out to see the Lugnuts in 2010 it's likely that you forgot that you saw him pitch, even though the Nuts used him often - 35 appearances, including five starts. He was a ninth-round sidearming left-hander from Tulane who worked to an unremarkable 4.54 ERA in 2010 the Midwest League, was just about the same in 2011 for Dunedin (4.66 ERA)... and made his Major League debut (!!) in 2012. Ah, baseball!
From 2011 to 2012, Loup's velocity improved, his command improved, he honed his stuff, he impressed in the Arizona Fall League, and he earned the chance to join the Toronto Blue Jays' bullpen as a situational sidearming left-hander. He pitched for the Jays in 2012, 2013, 2014, 2015, 2016, 2017, and 2018, battling through injury and ineffectiveness. at which point he was traded to the Philadelphia Phillies for Jacob Waguespack, and then bounced to the Padres for four appearances in 2019. Combining his work in Philadelphia and San Diego: 13 appearances, 7 1/3 innings.
After the disappointment of last year and a series of seasons battling injuries and himself, a fully healthy Loup landed with the Rays and pitched effectively: 24 appearances, 25 innings, a 2.52 ERA and a 0.84 WHIP. He's good again!
Considering how the Rays use their bullpen (nicknamed The Stable by manager Kevin Cash), Loup could appear at any point in their series against the New York Yankees.
*
Lugnuts aside, there are so many former Midwest Leaguers in these playoffs:
- The Bowling Green Hot Rods are the Tampa Bay Rays' MWL affiliate, leading to Hot Rods parked throughout the roster: Willy Adames, Mike Brosseau, Diego Castillo, Kevin Kiermaier, Brandon Lowe, the unrelated Nate Lowe, and ace Blake Snell. (Adames came up through the Tigers system, first starring for West Michigan before he was traded to Tampa.) There's also Hunter Renfroe (Fort Wayne TinCaps); Brett Phillips and Ryan Thompson (Quad Cities River Bandits); Ryan Yarbrough (Clinton LumberKings); Michael Perez (South Bend Silver Hawks and Kane County Cougars); John Curtiss, Aaron Slegers, and Nick Anderson (Cedar Rapids Kernels). The best story is Shane McClanahan, a 2019 Bowling Green Hot Rod who made his Major League debut pitching against the Yankees in Game 1 of the ALDS.
- The Yankees have former Lake County Captains Clint Frazier and Gio Urshela, the Beloit Snappers' Aaron Hicks, South Bend Cubs superstar Gleyber Torres, and the Quad Cities Swing's Adam Ottavino. (Old school Midwest League!) Plus, for one day in 2014, the Lugnuts faced fireballing closer Aroldis Chapman during a rehab appearance with the Dayton Dragons. (Mitch Nay flied out to the wall in left field.)
- The A's feature Beloit Snappers Matt Olson, Matt Chapman, Liam Hendriks, and Lou Trivino, plus a trio of Quad Cities River Bandits in Ramon Laureano, Stephen Piscotty, Tony Kemp. Khris Davis, who batted exactly .247 in each year from 2015-2018, was a Wisconsin Timber Rattler, as was Mike Fiers (for a brief three games in 2009). Backup catcher Jonah Heim played for the Bowling Green Hot Rods in 2017. For another deep cut, enjoy Joakim Soria, who pitched for the 2006 Fort Wayne Wizards.
- With the Astros, their MWL affiliate, the Quad Cities River Bandits, is well represented by Alex Bregman, Carlos Correa, Josh James, Cristian Javier, Lance McCullers Jr., Enoli Paredes, George Springer, Myles Straw, Garrett Stubbs, Kyle Tucker, Jose Urquidy and Framber Valdez. Whew! The Great Lakes Loons' Andre Scrubb was excellent (albeit with command issues) out of the bullpen in the regular season, while the Wisconsin Timber Rattlers' Martin Maldonado has been a strong No. 1 catcher.
- In the National League, we begin with the Atlanta Braves -- and there's not too much here. Four former Midwest Leaguers, all pitchers: Ace lefty Max Fried came through Fort Wayne in 2013 and 2014 before the Padres traded him away, Darren O'Day was a 2006 Cedar Rapids Kernel, Josh Tomlin pitched for the Lake County Captains in 2007 (and then rehabbed with the Caps in 2013), Will Smith was a 2009 Cedar Rapids Kernel, and that's all.
- It's a different story for the Miami Marlins, featuring the aforementioned Jon Berti, plus Ryne Stanek (Bowling Green Hot Rods), Sean Rodriguez (Cedar Rapids Kernels), Pablo Lopez and Nick Neidert (Clinton LumberKings), Miguel Rojas (Dayton Dragons), Brandon Kintzler (2005 Fort Wayne Wizards), Yimi Garcia (Great Lakes Loons), Jazz Chisholm (Kane County Cougars), Jesus Aguilar (Lake County Captains), magnificent Magneuris Sierra and Sandy Alcantara (Peoria Chiefs), Matt Joyce (West Michigan Whitecaps), and Garrett Cooper and Monte Harrison (Wisconsin Timber Rattlers). Twelve Midwest League teams represented!
- Both the Los Angeles Dodgers and the San Diego Padres, battling on the other side of the NLDS, have Midwest League affiliates, so things get a little more concentrated. Beginning with the Dodgers, their affiliate in Great Lakes produced Walker Buehler, Tony Gonsolin, Victor Gonzalez, Kenley Jansen (as a catcher!), Clayton Kershaw, Gavin Lux, Dustin May, Joc Pederson, Corey Seager, Will Smith, and Julio Urias (when he was just 16 years old!). It's fun to note, too, that the team that predated Great Lakes was the Southwest Michigan Devil Rays of 2006, and lefty Jake McGee was on that Devil Rays team. Among others: Dylan Floro rolled with the Bowling Green Hot Rods, Justin Turner was a Dayton Dragon, Brusdar Graterol lit up radar guns with the Cedar Rapids Kernels, Joe Kelly came through the Quad Cities River Bandits, Chris Taylor played for the Clinton LumberKings, AJ Pollock was a South Bend Silver Hawk back when they were affiliated with the Arizona Diamondbacks, and we finally have our first Burlington Bees represented, thanks to Max Muncy and Blake Treinen. That's 20 Midwest Leaguers in total.
- We wrap up with the San Diego Padres, affiliated with Fort Wayne in the MWL and headlined by 2017 TinCaps sensation Fernando Tatis, Jr. Three other players on their roster also came through the Summit City in Luis Campusano, Chris Paddack and Luis Patiño, though ace Dinelson Lamet was injured during the regular season and there's a hope that maybe, just maybe, the Padres might roll the dice and add superprospect MacKenzie Gore to the roster with Mike Clevinger's recent injury. Other Midwest Leaguers on the Padres: Jake Cronenworth (Bowling Green); Austin Adams, Eric Hosmer and Wil Myers (Burlington); the aforementioned Mike Clevinger (Burlington and Cedar Rapids); Garrett Richards (Cedar Rapids), Mitch Moreland and Emilio Pagan (Clinton); Pierce Johnson (Kane County), Greg Allen (Lake County); Tommy Pham and Trevor Rosenthal (Quad Cities); Zach Davies and Trent Grisham (Wisconsin).
As for the rehabbing Lugnut -- hey, thanks for reading this far! -- Mark Prior made two starts for the Lugnuts in 2004 and is now the Los Angeles Dodgers' pitching coach. His appearances in Lansing are the stuff of legend.
So that's the list, and a long one it is! A few Lugnuts, a lot of rivals, and some thrilling baseball to come this October. Buckle up... and join us at the ballpark while you're at it for some terrific movies along the way.