A's announce High-A coaching staff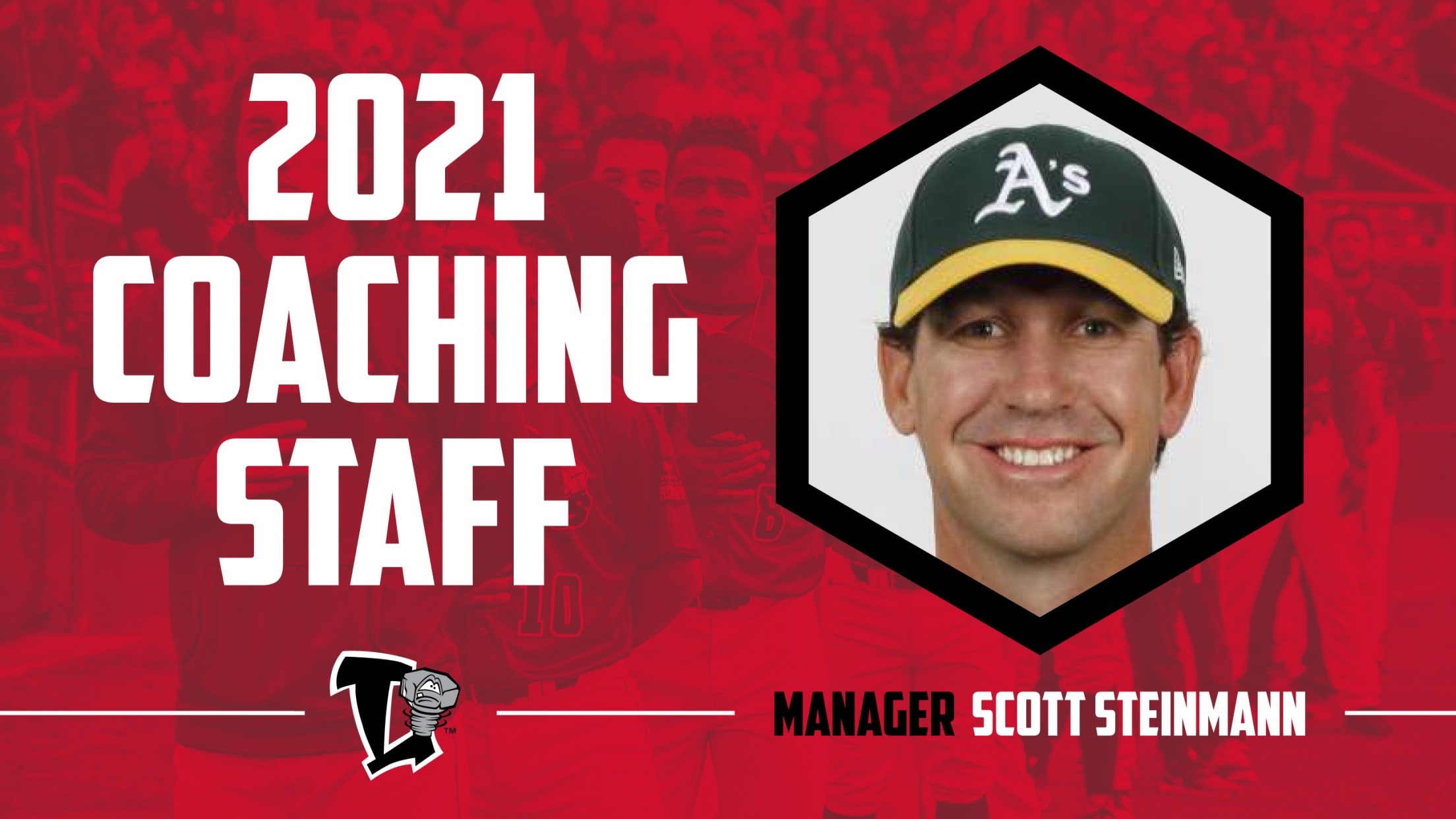 LANSING, Mich. – The Oakland Athletics released their 2021 Minor League coaching staffs today, with Scott Steinmann set to manage the A's High-A affiliate. The A's invited the Lansing Lugnuts to be their High-A Midwest League affiliate on December 9th, which would move the Lugnuts up a Minor League level
LANSING, Mich. – The Oakland Athletics released their 2021 Minor League coaching staffs today, with Scott Steinmann set to manage the A's High-A affiliate.
The A's invited the Lansing Lugnuts to be their High-A Midwest League affiliate on December 9th, which would move the Lugnuts up a Minor League level and partner the Nuts with the reigning American League West champions.
The High-A staff is led by manager Steinmann, who spent the 2018 and 2019 seasons with Double-A Midland and was scheduled to serve as the RockHounds' skipper again in 2020 before the Minor League season was canceled. A resident of Chandler, Ariz., Steinmann played three years and coached for 17 years in the Seattle Mariners' organization before joining the Oakland Athletics in 2017. Steinmann has notched 596 victories over the course of 12 MiLB seasons, with previous Midwest League stops in Beloit (2017), Clinton (2009, 2014-2015) and Wisconsin (2005), which he led to a Western Division title and a trip to the Midwest League Championship Series.
Steinmann will be joined on the staff by pitching coach Don Schulze, hitting coach Javier Godard, assistant hitting coach Anthony Phillips, head athletic trainer Brian "Doc" Thorson and sport performance coach Connor Hughes.
Schulze (SHULL-tzee) was drafted 11th overall out of Lake Park High School by his hometown Chicago Cubs in 1980, reaching the Majors with the Cubs in 1983 before he was traded on June 13, 1984, in a four-player package including Joe Carter to Cleveland in exchange for three players, including Rick Sutcliffe. He went on to pitch for the Mets, Toledo Mud Hens, Yankees and Padres, and made a stop in Japan with the Orix Blue Wave from 1990-1992. Schulze joined the Athletics in 2006, making prior Midwest League stops in Kane County (2007-2008) and Beloit (2016, 2018-2019). Schulze lives in Dixon, Ill.
Godard (go-DARD) signed with Oakland as an international free agent from Baruta, Venezuela, in 2013 and played six years as an infielder in the minors, the last three with the Vermont Lake Monsters. Upon the conclusion of his playing career, he went directly into coaching for the A's, working with Stockton in 2019.
Phillips was signed by the Seattle Mariners as an international free agent infielder out of Cape Town, South Africa, playing for Team South Africa in the 2009 World Baseball Classic. After playing 11 years in in the Mariners', Phillies', Angels' and Rockies' systems, Phillips joined Oakland as a coach in 2019, working on the Beloit Snappers' staff. He makes his home in Scottsdale, Ariz.
Thorson embarks upon his 38th year in the Athletics' organization, which he joined after working five years in the Milwaukee Brewers' system. Thorson's resume is illustrious, working four Caribbean Series during his eight years in the Puerto Rican Winter League and serving on an All-Star Team staff four different league All-Star Games: the Midwest League, California League, Southern League and Texas League. He is a graduate of the University of Wisconsin at LaCrosse and a native of Madison, Wisc.
Hughes rounds out the staff, joining the Athletics' organization during the 2018-2019 offseason after graduating with a B.S. in Kinesiology from Boise State University. He hails from Minden, Nev.
For the latest information on the Lansing Lugnuts, visit lansinglugnuts.com or call (517) 485-4500.
# # #