Blue Jays 2020 Draft Day 2: They Might Be Lugnuts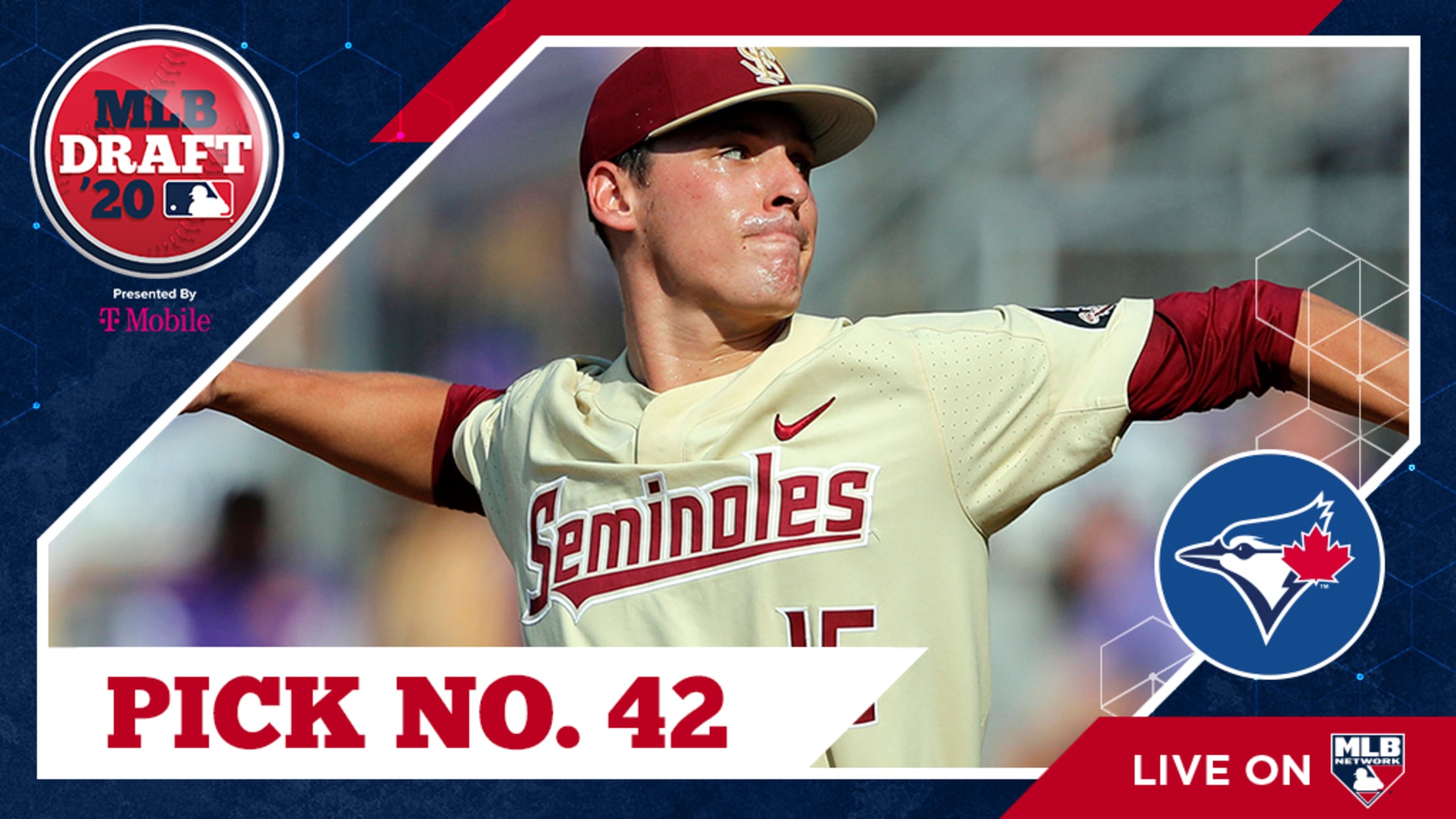 When last we checked in on the Toronto Blue Jays, yesterday, they were taking the best player in the whole 2020 draft. With a position player taken on Day 1, we expected the Blue Jays to address organizational needs in pitching and the outfield on Day 2. They did not
When last we checked in on the Toronto Blue Jays, yesterday, they were taking the best player in the whole 2020 draft.
With a position player taken on Day 1, we expected the Blue Jays to address organizational needs in pitching and the outfield on Day 2. They did not let us down.
The Jays' 2020 2nd-round selection was Florida State right-hander Cornelius Johannes "CJ" Van Eyk (pronounced "Van Ike"), who, tweeted The Athletic's Keith Law, "looked like a high first-rounder in the preseason this spring." He was comped to Ian Kennedy by former Rockies GM Dan O'Dowd on the MLB Network, while MLB's Jonathan Mayo predicted, "I think he's going to start at the next level with a good mid-to-late rotation kind of profile." Van Eyk was rated by MLB as the 39th best prospect in the draft, and he was taken 42nd. Sounds about right.
Van Eyk played his high school ball at George M. Steinbrenner H.S., where he was teammates with 2019 Crosstown Showdown HR Derby champion and likely future Lugnuts starting first baseman PK Morris. Then he went to Florida State, where he was teammates with 2019 Lugnuts starting pitcher Cobi Johnson.
Chances of being a Lugnut: Very good.
The Blue Jays' starting rotation depth is loaded at each level of the system. On March 5th, TSN's Scott Mitchell tweeted out an MiLB starting rotation depth chart with Anthony Kay, Nate Pearson, TJ Zeuch, Sean Reid-Foley, Julian Merryweather, Tom Hatch and Andrew Sopko battling for space in Buffalo; Patrick Murphy, Yennsy Diaz, Joey Murray, Maximo Castillo, Zach Logue, Nick Allgeyer and Kyle Johnston battling in New Hampshire; and Simeon Woods Richardson, Alek Manoah, Elvis Luciano, Josh Winckowski, Sean Wymer and Troy Watson battling in Dunedin. Battling is the key word: there are too few spots for as many starters as the Blue Jays have. In Lansing, Mitchell predicted Adam Kloffenstein, Edisson Gonzalez, Nick Fraze, Juan De Paula, Alex Nolan and Grant Townsend.
Future Major League ace or not, CJ Van Eyk should be a Minor League ace -- but there's likely no budging Woods Richardson, Manoah, Luciano or Winckowski from the Dunedin rotation. It's likely, too, that the squeeze above proves too much and Johnston and/or Allgeyer and/or Castillo is sent back to Dunedin to pitch until a slot opens up (when Nate Pearson and/or Anthony Kay gets called up to the Majors, causing the dominos to fall).
All things considered, Van Eyk would have to blow the Jays away to skip Lansing. If he did, the Lugnuts would receive a talented starter in his place. This is a win-win pick for the Blue Jays and the Lugnuts.
Mitchell ranks CJ Van Eyk as the Blue Jays' No. 10 prospect (and No. 5 pitching prospect), behind Nate Pearson, Austin Martin, Jordan Groshans, Orelvis Martinez, Simeon Woods Richardson, Alek Manoah, Anthony Kay, Alejandro Kirk and Gabriel Moreno.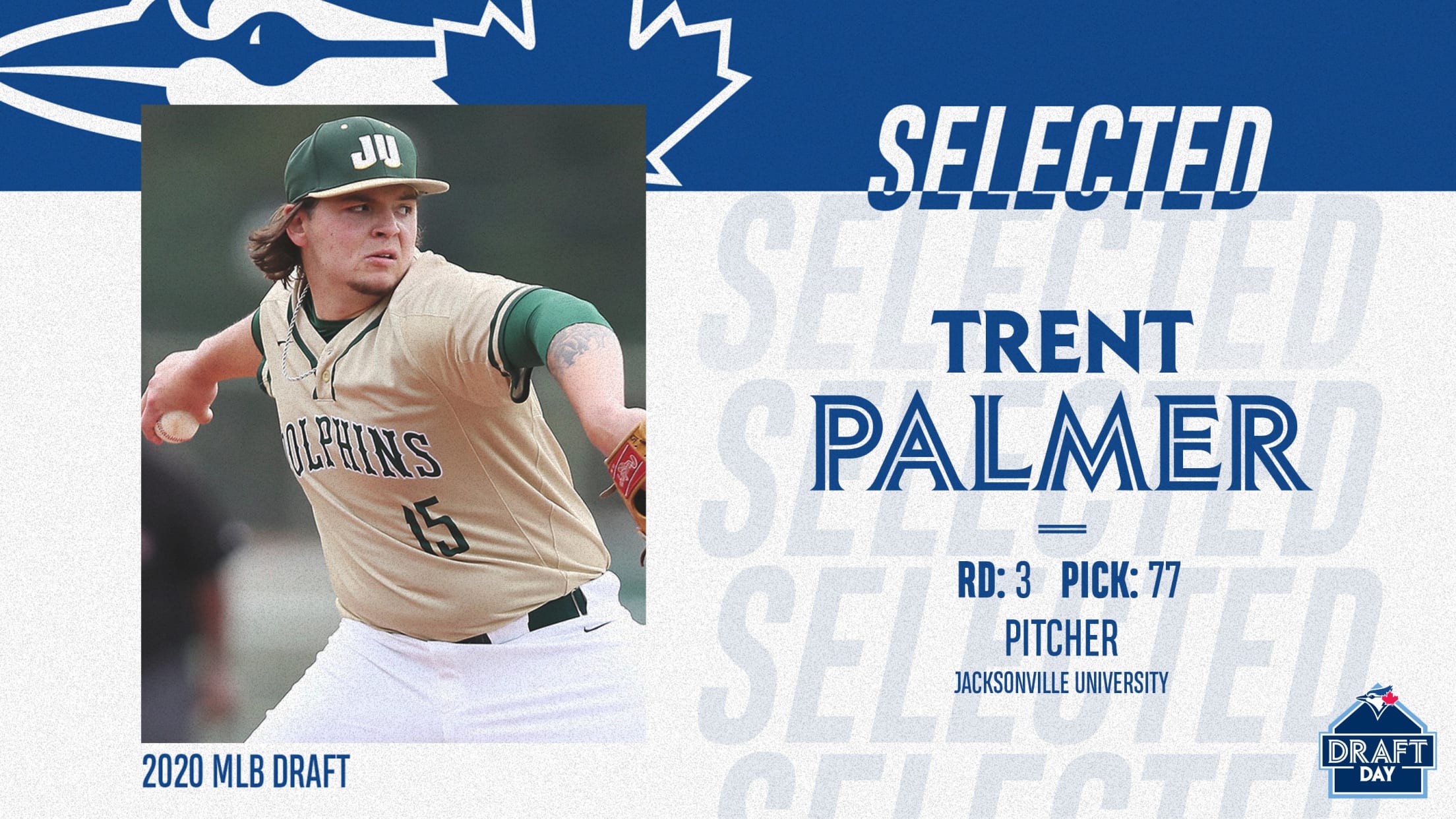 With their 3rd-round selection, the Blue Jays chose another right-hander from a Florida university: Jacksonville University Dolphin Trent Palmer. He was ranked the 114th best prospect by MLB, and he was taken 77th. (Keith Law, it should be mentioned, ranked Palmer No. 76 among draft-eligible players.)
On ESPN2, analyst Kiley McDaniel appeared taken aback before changing his mind and pointing out an important fact about this draft: With the college season shut down early (and most high school seasons canceled entirely), scouts had very few looks at players this season. If a player attended a smaller school, say, Jacksonville University, it was a rare scout who would have been able to see the player, with crosschecking out of the question. With that in mind, McDaniel sought to credit Toronto's Matt Bishoff, who had signed Bo Bichette among others. This was a "trust the scout" pick. Whether it was Bishoff or someone else, the Jays had placed a high grade on Palmer and were trusting that evaluation.
Correction: An earlier version of this story said that Bishoff was the Jays' area scout. In this Sportsnet article, Shi Davidi writes that Bishoff had been an area scout and is now a regional crosschecker. Davidi also gives credit to scout Nate Murrie, the lead scout on Austin Martin; Brandon Bishoff, Matt's brother, who was the lead scout on CJ Van Eyk; and Matt O'Brien, who was the true lead scout on Trent Palmer.
What else do we know about Palmer? He's a 6'1, 230-pound four-pitch guy with a sinking low-to-mid-90s fastball who broke out last summer pitching for Wareham in the Cape Cod League and carried it forward to this year. He tossed a 13-strikeout complete game against Illinois State on March 6th. He's a native Minnesotan. His reaction to seeing the murder of George Floyd was to call up one of his best friends on the Dolphins, Brandon Dudley, and talk things through.
Chances of being a Lugnut: Very good.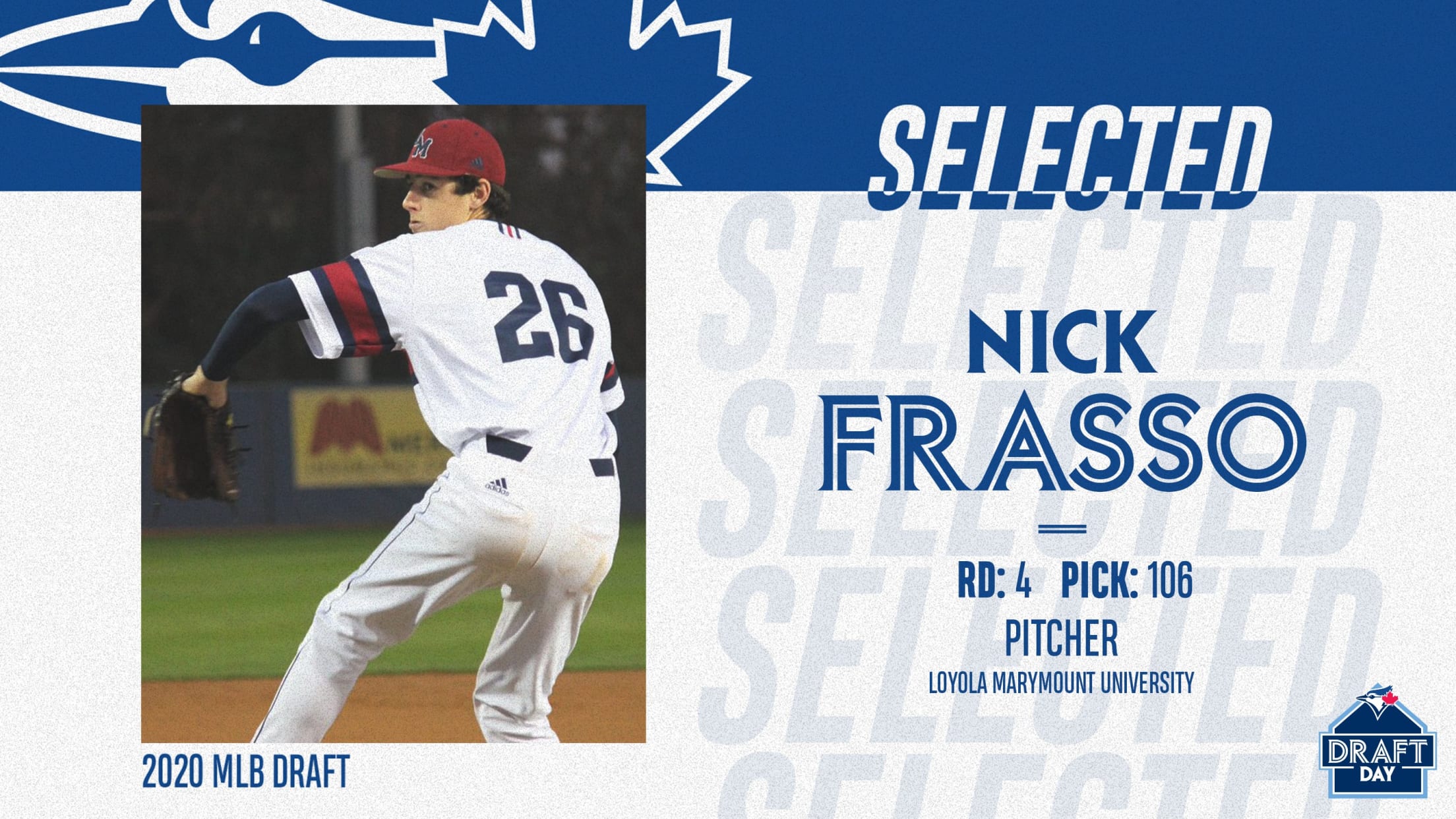 Let's say that the Blue Jays, with their second- and third-round choices, just supplied the Lugnuts with potentially the top two pitchers in their starting rotation (or at the very least two of the top three, next to King Kloff, Adam Kloffenstein).
With their fourth-round pick, the Jays went... with another interesting pitcher. 6-foot-5, 200-pound Nick Frasso is from the opposite coast, from Rancho Palos Verdes, California. He pitched for the Loyola Marymount Lions, where he served as the closer last year (10 saves, 2.22 ERA, 56 2/3 innings, 30 hits, 73 strikeouts) before starting off this year with a couple of starts before he was shut down with forearm tightness.
Frasso was rated the No. 98 prospect in the draft, and he was taken No. 106. Like with CJ Van Eyk, there is the feeling, as Mike Wilner tweeted, that he could very well have been a first-round selection with a full college baseball season.
He's also an awesome basketball player.
Chances of being a Lugnut: Very good. Frasso will have to return to full health first and there's the question of starting rotation or bullpen, but odds are good he's coming to Class-A.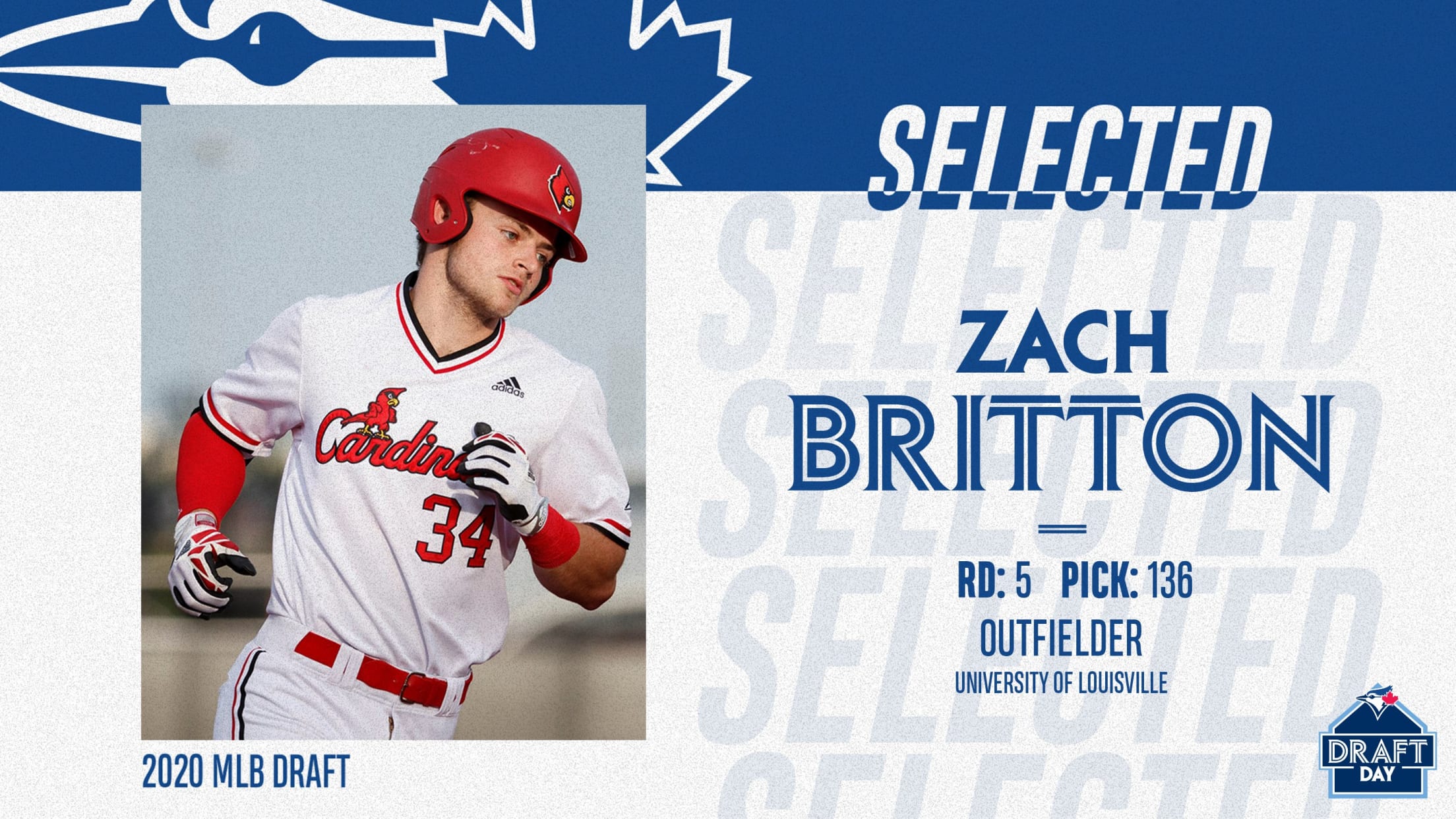 On February 7, 2019, pitcher Zach Britton officially announced that he would now be going by Zack Britton. It wasn't quite on the level of Mike Stanton to Giancarlo Stanton or B.J. Upton to Melvin Upton to B.J. Upton, but it was something.
In other Zach/Zack Britton history, Baltimore Orioles manager Buck Showalter notoriously chose not to use Britton, his star closer, in the 2016 A.L. Wild Card Game against the Toronto Blue Jays, and the Jays' Edwin Encarnacion proceeded to walk off Ubaldo Jimenez, ending the Orioles' season.
All of this brings us to the real point: The Blue Jays used their final pick of the 2020 draft to take Zach Britton with an h, an outfielder/catcher out of Louisville. About that defensive position: Britton had been the No. 1 catching prospect coming out of Indiana and began his time with the Cardinals at catcher before they began using him elsewhere around the diamond. The Blue Jays need outfielding depth: Hence, outfielder (specifically, left fielder) Zach Britton -- unless his catching is needed, it is presumed.
Britton was not rated in MLB's Top 200 draft prospects, but don't let this dissuade you. He posted an .837 OPS at Louisville last year, lifted it to .858 in the 2019 Cape Cod League with Orleans, and then was smoking the baseball this year for the Cardinals with a Division I-leading 11 doubles before play was shut down. His slash line: .322/.446/.542.
Chances of being a Lugnut: Very good. It's not unreasonable to think that Zach would be the Nuts' everyday left fielder and bat in a prime spot in the lineup.
In Conclusion... The Blue Jays drafted five collegians in 2020: two position players, three pitchers. All five could be Lugnuts, with the second-day quartet especially likely to come to Cooley Law School Stadium. They would join a crew of touted players in their own right, ranging from King Kloff in the starting rotation to a lineup of potentially shortstop Jordan Groshans/Leonardo Jimenez, second baseman Miguel Hiraldo/Tanner Morris, third baseman Orelvis Martinez/Ronny Brito, first baseman PK Morris/Spencer Horwitz, catcher Philip Clarke/Ryan Sloniger, and right fielder Will Robertson.
The Next Step: Starting this Sunday, June 14th, at 9 a.m., Major League teams can begin signing undrafted free agents at a maximum of $20,000. Stay tuned for the announcements of signings.