Lugnuts release Lemonade League schedule, details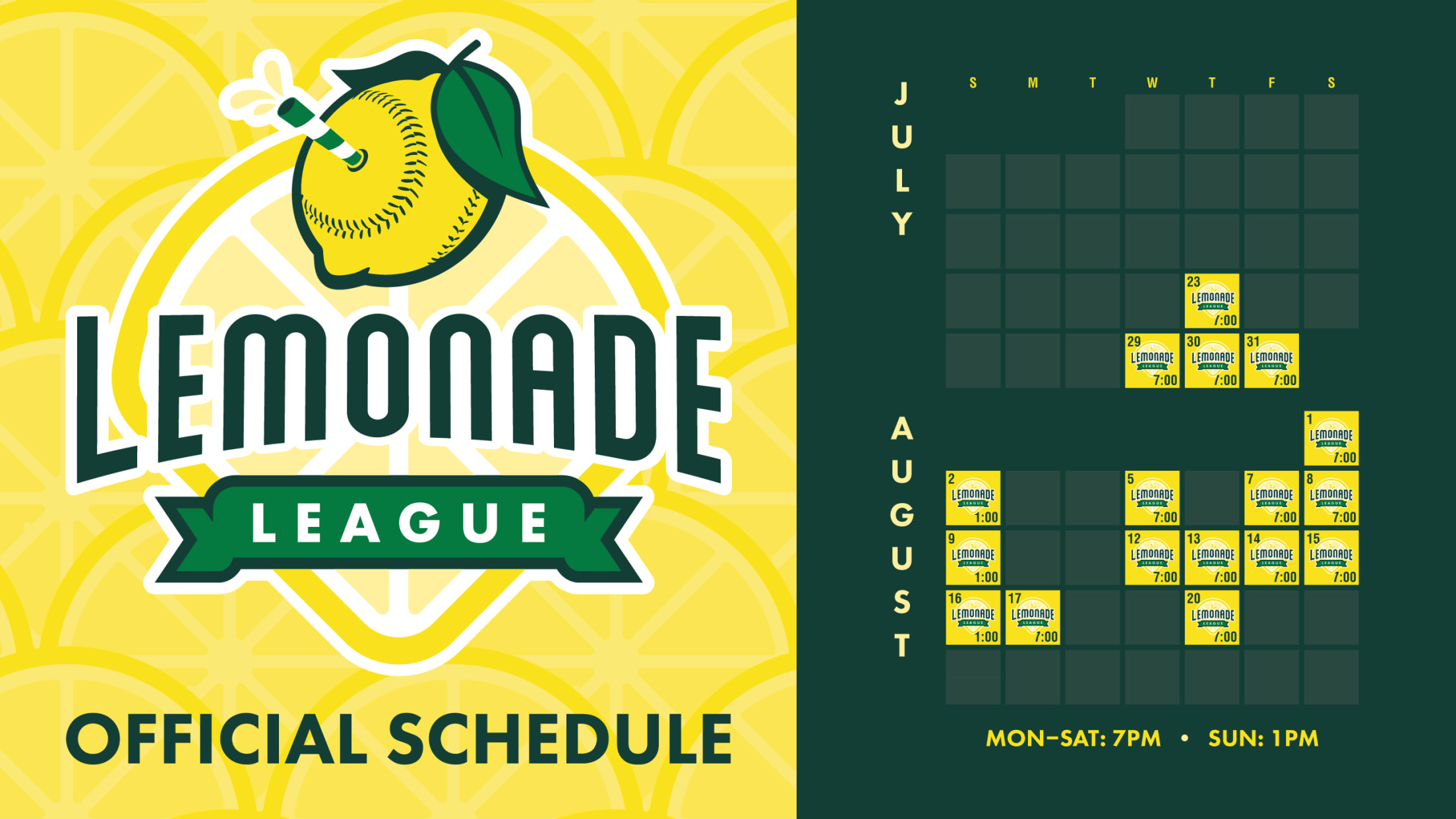 LANSING, Mich. – The Lansing Lugnuts officially announce the schedule for the Lemonade League, with at least 17 dates set for games to be played in the college wood-bat league at Cooley Law School Stadium from July 23 - August 20. Fan capacity at Cooley Law School Stadium is currently
LANSING, Mich. – The Lansing Lugnuts officially announce the schedule for the Lemonade League, with at least 17 dates set for games to be played in the college wood-bat league at Cooley Law School Stadium from July 23 - August 20.
Fan capacity at Cooley Law School Stadium is currently limited to 100, with masks required for admission. Entrance to the ballpark will be through the Cedar Street gate, where fans will be subject to a questionnaire and temperature screening before entering. Seating is restricted to outdoor tables in left field at Good Hops. Fans will be seated with table service for ordering food and drink.
"We have been working closely with the Ingham County Health Department on all safety precautions and protocol," said Lugnuts GM Tyler Parsons. "We're excited for our fans and the players alike about playing baseball again at Cooley Law School Stadium, and so we're working together as a team to follow the health policies set before us in order to make and keep this a reality."
All Lemonade League tickets are $12 each, with a complimentary gift included with each ticket. Lansing Lugnuts' season ticket holders, group leaders and sponsors will be given priority in purchasing tickets.
For $50, fans may purchase a "Face in the Crowd," presented by Jackson National Life with a percentage of the proceeds going to Ele's Place – a weatherproof cutout of themselves or anyone else they want to include.
Every Lemonade League game will be livestreamed FREE across multiple social and digital platforms, including the Lugnuts' Facebook and Twitter pages. Lugnuts broadcaster Jesse Goldberg-Strassler will handle the play-by-play. These livestreamed webcasts are made possible by the following Lugnuts partners: Farm Bureau Insurance, Jackson National Life Insurance, Dan Henry Distributing, Granger, GM, Blue Cross Blue Shield, LAFCU, Dean Transportation, WMU-Cooley Law School, Capital Region International Airport, Gordon Food Service, MI Student Aid and Sparrow.
The Lemonade League will feature several key rule changes from the regular Midwest League fare: The league will use yellow baseballs in place of the regular white balls; games are shortened to seven innings from nine innings; and if a game is tied at the conclusion of seven innings, a one-on-one Home Run Derby will determine the winning team.
The Lemonade League players themselves will be announced early next week, with teams split into the Collegiate Lugnuts vs. the Collegiate Locos under Director of Baseball Chad Roskelly and coaches Cam Vieaux, Riley McCauley, Pete Romsek and Cullen Turner. Minor League Baseball umpires will serve as the league's arbiters.
For more information, visit lansinglugnuts.com or call (517) 485-4500.
# # #