Oakland A's Prospect Preview: Jeremy Eierman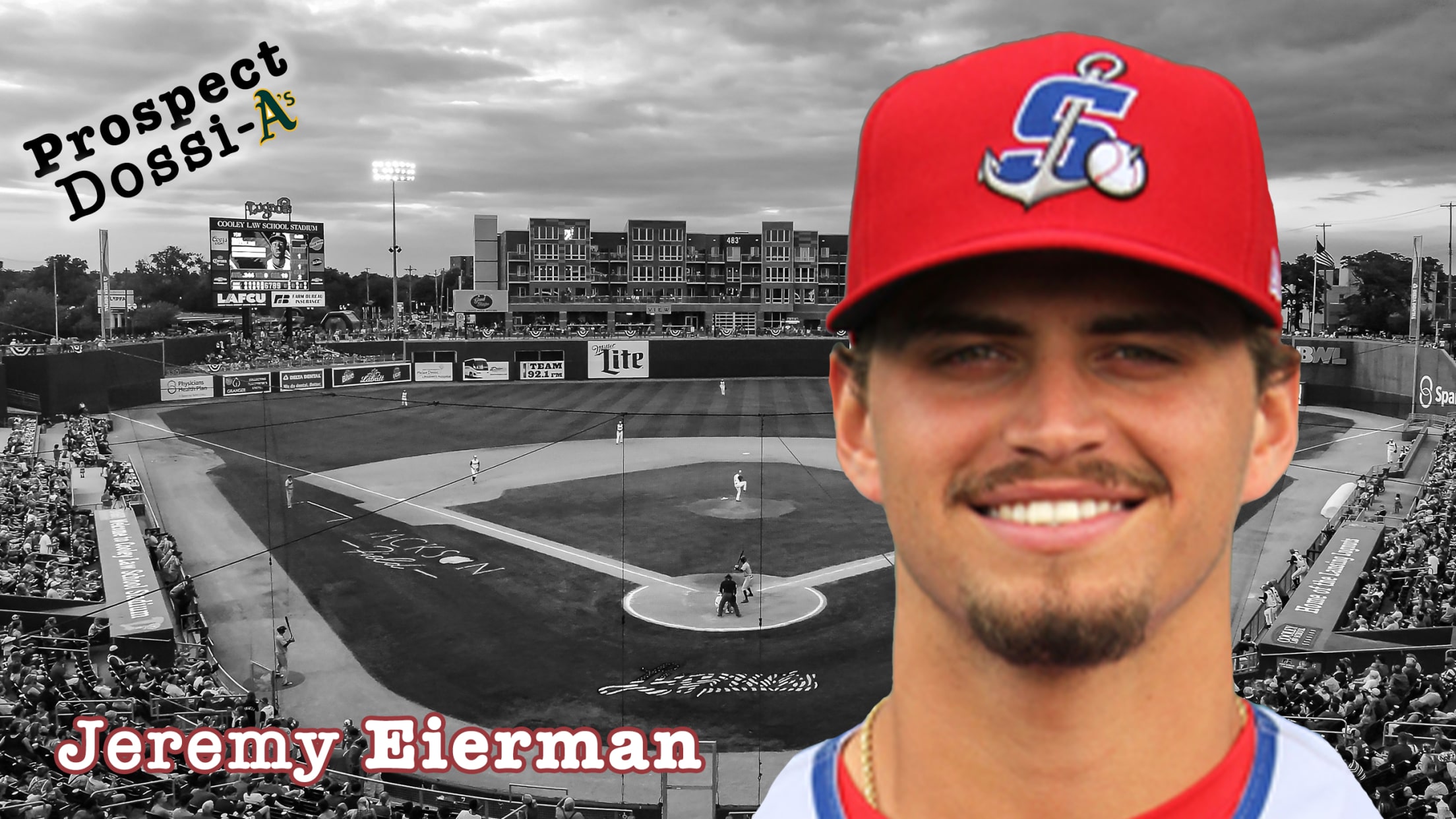 Welcome to the second in a series previewing Oakland Athletics prospects whom we might see in Lansing this season, getting to know our future stars! The first Prospect Preview spotlighted shortstop Logan Davidson, who's doing good things in Athletics spring training, including an inside-the-park home run. Oakland A's manager Bob
Welcome to the second in a series previewing Oakland Athletics prospects whom we might see in Lansing this season, getting to know our future stars!
The first Prospect Preview spotlighted shortstop Logan Davidson, who's doing good things in Athletics spring training, including an inside-the-park home run. Oakland A's manager Bob Melvin has been impressed.
Melvin on Logan Davidson: "He's bigger, he's stronger...It was nice to see our last 2 1st-round picks knock in 3 runs to put us ahead going into the last inning. The more he gets to play & the more ABs he gets, the more confident he's going to be. He's going to be a good player."

— Athletics Farm (@AthleticsFarm) March 10, 2021
This week, our attention turns to another power-hitting shortstop.
There's an interesting pipeline of prospects at the position in the A's organization. Of Baseball America's Top 30 Oakland prospects, No. 6 Nick Allen spent 2019 in High-A Stockton, rates as the best defensive shortstop in the Minors, and will likely start the season with Double-A Midland; No. 5 is Davidson, who played in 2019 with Short-Season A Vermont, and might start the year with the High-A Lugnuts; and No. 4 is Robert Puason, who signed for $5.1 million as a 2019 international free agent from the Dominican Republic in 2019 and could begin in Low-A Stockton.
And then there's Oakland's No. 24 prospect, Jeremy Eierman.
The former Missouri State Bear was drafted by Oakland 70th overall in 2018, in the Competitive Balance round. He was the A's third pick in the draft, following first-rounder Kyler Murray (the current Arizona Cardinals quarterback) and second-rounder Jameson Hannah, who was traded to Cincinnati.
He is the third of his family to play pro ball, following his father, John, who reached High-A Lynchburg with the Red Sox in 1992-1994, and his older brother, Johnny, who was drafted in the third round out of high school by the Rays and reached Advanced Rookie Princeton in 2013 before he was released, walked on to the Missouri football team, and played in 2016 with the Frontier League's Windy City ThunderBolts.
As a high school senior, Jeremy Eierman was named the 2015 Missouri Gatorade Player of the Year after stealing 18 bases, crushing eight homers, and batting .542 with 33 RBIs in 26 games. Perfect Game USA rated him the No. 1 shortstop in the state; Prep Baseball Report ranked him as the No. 3 baseball prospect period in the state.
With lofty expectations entering Missouri State University, Eierman exceeded them. He was named a freshman All-American in 2016, starting every game at shortstop for the Bears and posting a league-leading 25 RBIs in Missouri Valley Conference play with a team-leading five homers and 44 total bases. In total, he slashed .296/.336/.504 with nine home runs among his 26 extra-base hits. There was no sophomore slump: He increased his batting average to .313 with a .431 on-base percentage and a .675 slugging percentage, thanks to 23 home runs, fifth most in all of Division 1. He was named first-team All-America by the NCBWA, Perfect Game and D1Baseball.com, was a finalist for the Brooks Wallace Award honoring the top college shortstop, and was named to USA Baseball's Collegiate National Team.
On June 2nd in the opening game of the Fayetteville Regional, as his college bio details, he swatted "perhaps the most memorable home run in Missouri State history".
It was the bottom of the ninth with Missouri State trailing 5-4 to Oklahoma State. The tying run was at first base following a leadoff single, but the next two Bears had been retired by Cowboys star senior Trey Cobb, putting Missouri State down to its final out. The count moved to two balls and one strike.
The audio brings chills:
Now watch the video, and enjoy these amazing Missouri State uniforms, the jubilation that erupts, and the Oklahoma State astonishment.
Jeremy Eierman... WOWOWOWOW!!! 😱

WALK. OFF. 💣#RoadToOmaha pic.twitter.com/W94or00P7a

— NCAA Baseball (@NCAACWS) June 2, 2017
That was Jeremy Eierman in 2017 as a college sophomore, the same year that his Missouri State power-hitting teammate Jake Burger was drafted 11th overall by the Chicago White Sox (with Jim Callis writing, "He had back-to-back monster seasons at Missouri State and might have the most usable power in this Draft. And while he's not the prettiest-looking player, he gets the job done").
If third baseman Burger was a first-rounder, it stood to reason that with another strong season, Eierman would become a first-rounder, too, and a high first-rounder at that.
Is Missouri State's Jeremy Eierman the best shortstop in the college game? You be the judge: https://t.co/YhAUC4Pq1m https://t.co/OzBxY5POI5

— Baseball America (@BaseballAmerica) March 27, 2018
But in June 2018, Eierman told the Springfield News-Leader, "I felt like I had a breakout year last year. This year I've kinda fought through different parts of my game. It's been kind of a battle to get back to where I was but we're getting there."
Honored as consensus preseason All-America and Baseball America's No. 5 college baseball prospect, Eierman collected only three hits in his first 26 at-bats. He rebounded in early March with ten hits in a four-game span against East Carolina, Pepperdine, Oklahoma State and Arkansas State, walloped two home runs on March 25th against Cal State Northridge, and finished the year with a slash line of .287/.379/.516 in 56 games. He stole 21 bases and mashed 17 doubles, but his home run total dipped to 10 overall.
In the draft, he dropped out of the first round and past the second round to the 70th overall pick in Competitive Balance Round B.
Then in his 2018 pro debut with Short-Season A Vermont, he slashed just .235/.283/.381 with eight homers, 10 steals, and a 70/13 K/BB ratio in 62 games.
The A's promoted him aggressively in 2019 to High-A Stockton. The year began with a miserable April (.159), an encouraging May (.258, .752 OPS), a discouraging June (.202, 45 strikeouts in 24 games), a so-so July (.241), and then the bottom fell out in August and September (.174). At season's end, he had struck out 177 times in 131 games, batting .208 with 22 doubles, seven triples and 13 homers.
It is likely that if there was a 2020 Minor League Baseball season, Jeremy Eierman would have returned to Stockton as their everyday shortstop.
But with the season canceled, the next action he saw was in fall instructional league play. His results were positive.
"Eierman has tinkered with his mechanics often over the last three years and Oakland spent time remaking both his approach and his stride," Mark Chiarelli wrote for Baseball America. "The early returns were encouraging -- he walked as much as he struck out in a limited instructional league sample size -- but there is still concern over his ability to make consistent contact. Even with a more mature filled-out frame [at 6'0, 205], Eierman is an above-average defender with a plus arm capable of playing multiple infield positions."
"Eierman's still a plus defender and he's shown some improvements with the bat, especially with pitch recognition, which was key for him going into this year," A's farm director Ed Sprague told MLB.com's Jonathan Mayo. "He's put together better at-bats as camp went on here. It would've been a good year for him to get 500 plate appearances, but we're happy with his strides."
As 2021 dawns, it feels likely that Eierman is ticketed for a return to High-A, which would bring him in to Jackson Field. Playing in Lansing has a way of revitalizing a hitter's stroke. (We are one of the top offensive ballparks in the Minors, in case you were unaware.)
There is a clear scouting consensus about Jeremy Eierman: His arm is strong -- Baseball America ranks Eierman as possessing the No. 1 infield arm in the Oakland system -- and his raw power is above-average. Will he cut down on his strikeouts, raise his walks, and show that power on a consistent basis?
We should find out first-hand this summer.