Seniors Last Swing Series set for July 23-25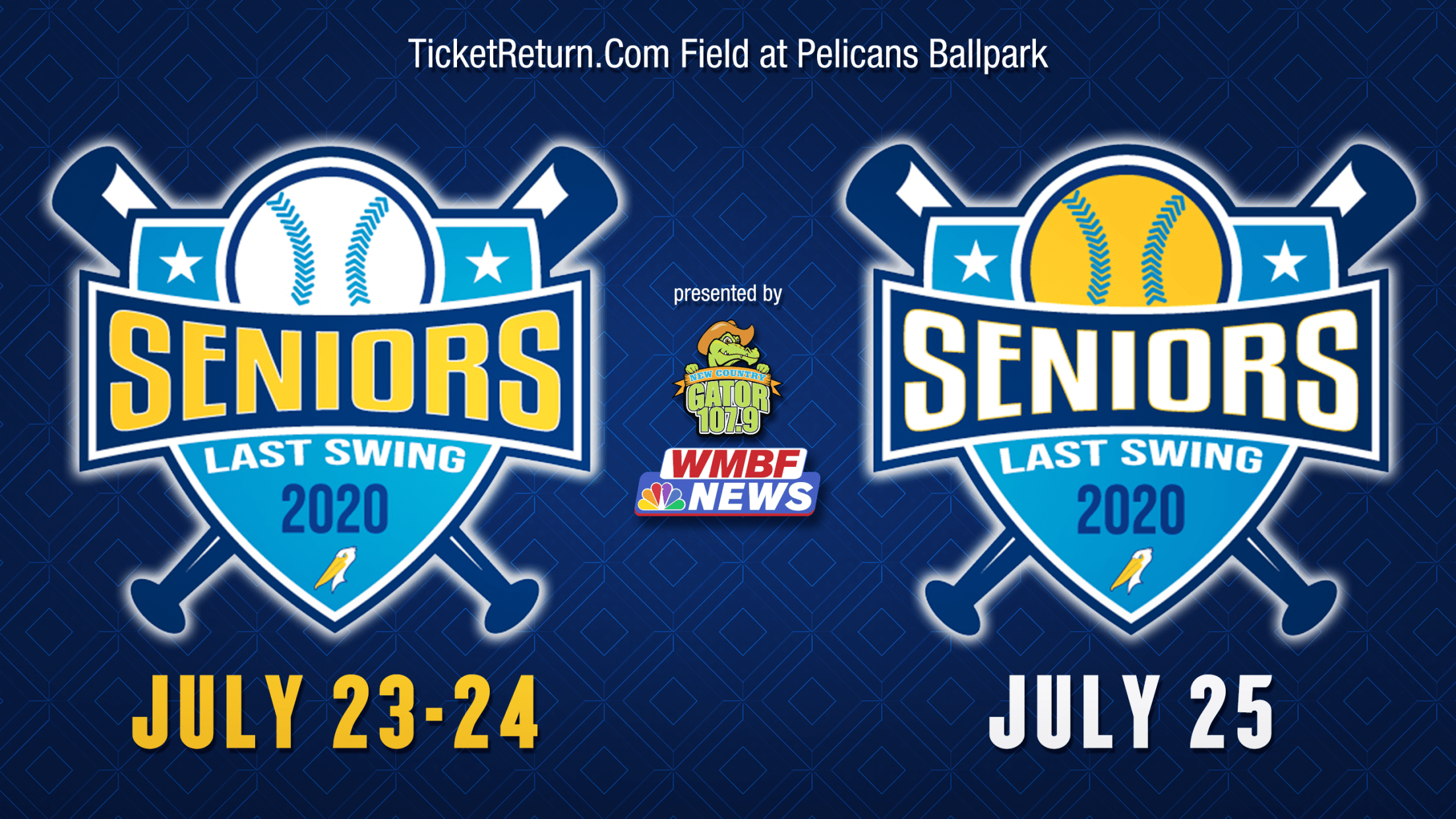 The Myrtle Beach Pelicans announced today that they will host a high school baseball and softball series featuring local seniors at TicketReturn.Com Field on June 23 through 25. The series, entitled Seniors Last Swing, is presented by WMBF News, and Gator 107.9 and features 60 baseball players and 25 softball
The Myrtle Beach Pelicans announced today that they will host a high school baseball and softball series featuring local seniors at TicketReturn.Com Field on June 23 through 25. The series, entitled Seniors Last Swing, is presented by WMBF News, and Gator 107.9 and features 60 baseball players and 25 softball players from 12 schools across the Grand Strand. Each night of the series will feature one match-up; June 23 and 24 will feature a baseball game and June 25 will feature softball a game. Gates will open at 5:30 PM and first pitch is scheduled for 7:05 PM nightly.
The 2020 graduates will be honored each night during a special pre-game presentation similar to traditional Senior Night ceremonies. In addition to the pre-game ceremony the night will feature a full-scale game production by the Pelicans staff including live production, and players headshots on the video board, and more. The series will also be streamed courtesy of WMBF News on wmbfnews.com.
"While nothing can replace or make-up for missing their senior baseball or softball season, we are honored to provide the chance for our Grand Strand seniors to take the field," stated Pelicans President and General Manager Ryan Moore.
Tickets for the series are available now at myrtlebeachpelicans.com. Tickets are $10 for adults and $5 for kids 12 and under. All proceeds from this event will benefit the Pelicans Community Fund which supports nearly 200 local charities and organizations each year. Seating for this series is general admission and precautions will be taken by the Pelicans staff to block off seats to allow for appropriate social distancing. As a general practice, no tickets will be printed and handled on-site. Advanced tickets are only available online and attendees are strongly encouraged to buy in advance due to the limited amount of seating available. Tickets will be available on-site at the Anderson Brothers Bank Box Office each night of the series beginning at 5:00 PM; however, box office personnel will text tickets to a customer's mobile device rather than distribute a printed ticket.
The Pelicans are also extending their Thursday Happy Hour to Tuesday and Wednesday this week in conjunction with the games. Available concessions will include canned beer, bottles of Duplin wine, bottled water and bottled soda, as well as a limited food menu including hot dogs, hamburgers, chicken tenders, nachos, soft pretzels, and more. Seniors Last Swing will be a cash free event. Accepted credit cards are Visa, MasterCard, Discover, and American Express.
While a complete roster of all participating players is available on the Pelicans' website, the baseball teams will be divided as follows for the series with June 23 featuring a match-up between Teams 1 and 2, and June 24 featuring Teams 3 and 4.
Team 1: Aynor, Loris, and Socastee
Team 2: Carolina Forest and West Brunswick
Team 3: Myrtle Beach, St. James, and Waccamaw
Team 4: Conway, Georgetown, Green Sea Floyds, and North Myrtle Beach
The softball teams will be divided as follows:
Team 1: Carolina Forest, Myrtle Beach, Socastee, and St. James
Team 2: Conway, Georgetown, Loris, North Myrtle Beach, and Waccamaw
When it comes to player and fan safety, the Pelicans are following the most recent state and local guidelines. A complete summary of the team's re-opening protocols can be found online at myrtlebeachpelicans.com. Additionally, all participating players, coaches, and umpires will be required to undergo a temperature screening upon arrival.
For more information or to purchase tickets for the Seniors Last Swing click here.