Kennedy Launches Grand Slam in 13-10 Corazones Loss to Chupacabras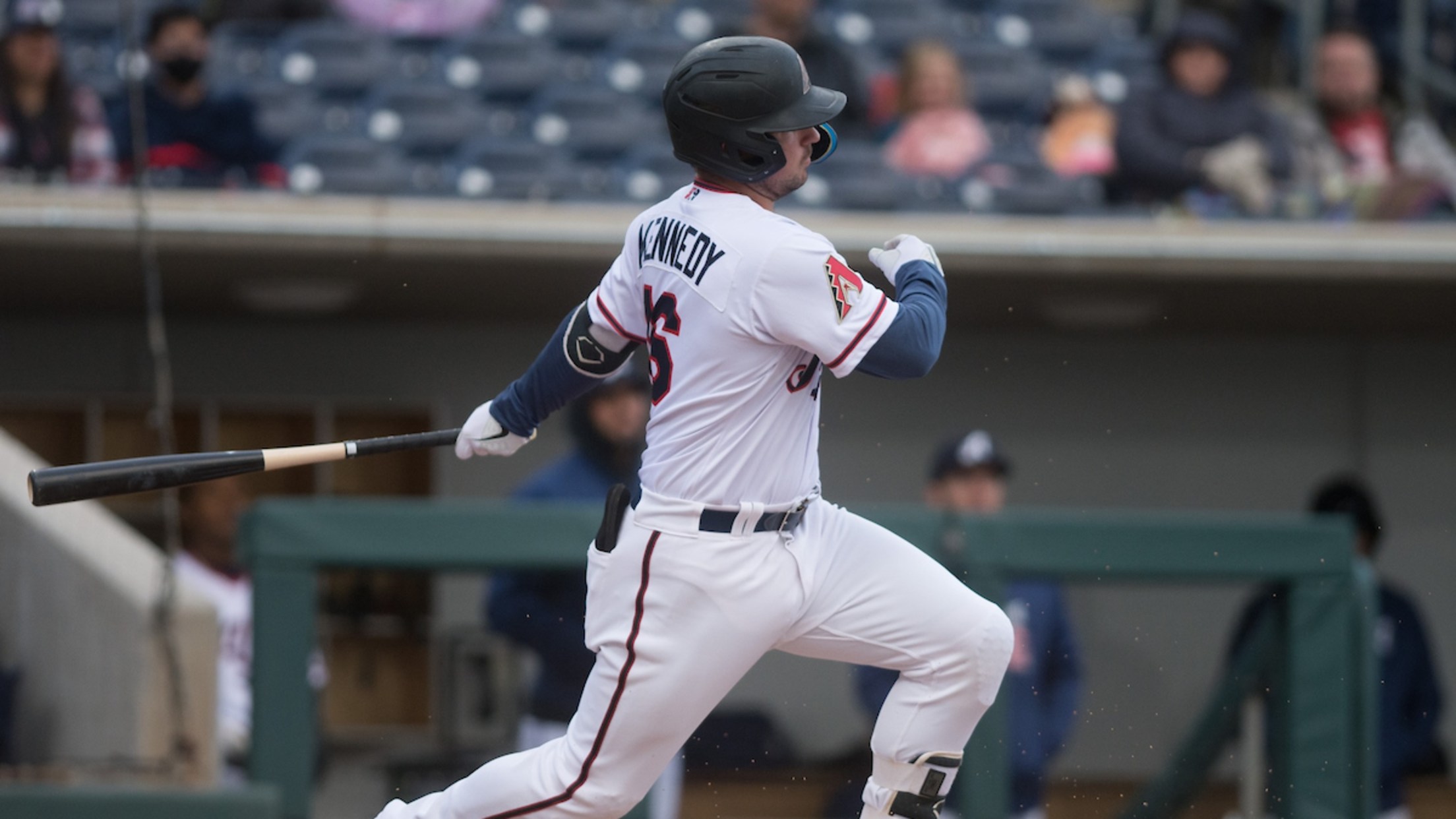 Corazones de Reno 10, Chupacabras de Round Rock 13 W: Bueno (2-0) L: Widener (0-1) S: Robert (2) First pitch: 4:06 p.m. | Attendance: 4,029 | Time: 3:27 Reno, Nev. – Greater Nevada Field Click Here for Video Highlights Next time out: vs. Round Rock, 5/8/22 (RNO) RHP Dan Straily
Corazones de Reno 10, Chupacabras de Round Rock 13
W: Bueno (2-0) L: Widener (0-1) S: Robert (2)
First pitch: 4:06 p.m. | Attendance: 4,029 | Time: 3:27
Reno, Nev. – Greater Nevada Field
Click Here for Video Highlights
Next time out: vs. Round Rock, 5/8/22
(RNO) RHP Dan Straily (1-2, 5.76 ERA) vs. (RR) LHP Kolby Allard (0-0, 0.00 ERA)
RENO, Nev. – In a classic heavyweight bout, the Los Corazones de Reno (13-15) fell short 13-10 to the Los Chupacabras de Round Rock (18-10) Saturday afternoon at Greater Nevada Field.
Reno's offense erupted early with a six-run first inning highlighted by a grand slam from Buddy Kennedy that clanged off the video board in left field for a 6-0 lead. The Express continued to answer with runs throughout the game, and the Aces could not regain their lead.
With a 4-for-5 performance, Jake McCarthy extended his hitting streak to eight games and is the first Ace this season to record a four-hit game.
Relievers Mack Lemieux and Mitchell Stumpo were stellar in relief with 3.1 innings of two hit-ball and allowed just one earned run.
After tossing a scoreless ninth Saturday, Kevin Ginkel extended his scoreless outing streak to four games.
Taylor Widener (0-1) surrendered five earned runs on three hits, two walks and one strikeout in 0.2 innings pitched en route to his first loss of the year.
D-Backs top prospect Drey Jameson made his Greater Nevada Field debut and earned a no-decision after allowing three runs on one hit and striking out two in 1.2 innings.
Aces Notables:
Buddy Kennedy: 2-for-4, HR, 4 RBI, 3B, 2 R.

Jake McCarthy: 4-for-5, 3 RBI, R, and extended his hitting streak to eight games.

Yonny Hernandez: 1-for-4, 2 R.
- Kevin Ginkel: 1.0 IP, 1 H, 3 K's, and extended his scoreless outing streak to four games.
The Reno Aces complete their six-game homestand against Round Rock on Sunday, May 8th, before hitting the road to Washington and playing the Tacoma Rainiers, Triple-A affiliate of the Seattle Mariners. Tickets for the entire 2022 season are available at RenoAces.com or Text 21003.
-- ACES --