Smile, laugh, rake – Ildemaro Vargas' all-time Aces success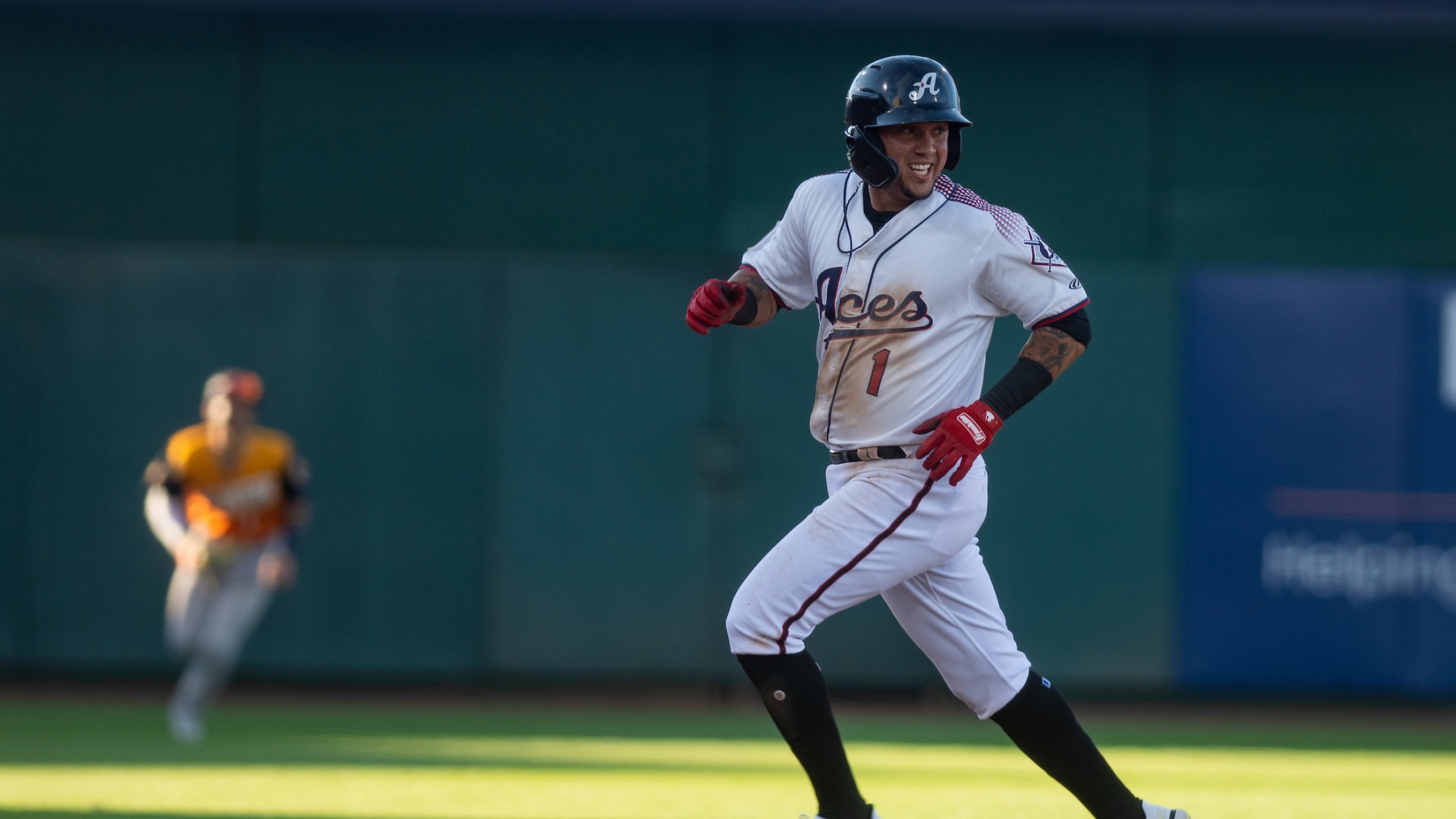 Very few players in franchise history have had the impact on the Reno Aces record book as Ildemaro Vargas. The Venezuelan infielder is second all time in games played for Reno with 371, and has brought smiles, laughs and hits to each one. Vargas entered the season already atop the
Very few players in franchise history have had the impact on the Reno Aces record book as Ildemaro Vargas. The Venezuelan infielder is second all time in games played for Reno with 371, and has brought smiles, laughs and hits to each one.
Vargas entered the season already atop the Aces record book for hits with 439 – the only player to rack up 400 or more hits in an Aces uniform. But after joining the team in July, Vargas notched his 500th Aces hit on September 7 against the Tacoma Rainiers.
More important than what Vargas did was how he did it. The native of Caripito, Venezuela has always done it with a smile. No one on the field has more fun than Vargas. According to Aces manager Blake Lalli, that attitude was huge to the team's successful culture in 2021.
On September 13 on the road at Las Vegas, Vargas entered the batter's box with a 3-2 deficit in the ninth. The infielder smashed a ball – foul, and off his foot. After taking a minute to collect himself and shake it off, Vargas went yard to opposite field to tie it up at three runs apiece after the Aces were down to their final two outs.
"He's a refreshing player for a coach and manager because … this is a job, we're playing a game for a job. You look at a guy like Vargas, [he] just every day has the same amount of fun that a six-year-old does playing tee ball," Lalli went on to say after the game.
Vargas finished the night 3-for-4, with the solo shot and one RBI to go along with two runs scored. Playing second for the night, the utilityman turned three double plays and had five assists.
"He brings that energy and that youth and that fun, even though he's not a young guy, every single day," Lalli added.
The 30-year-old's name is so frequent in the Aces record book, it reads like his own bio. In addition to being second in games played (371) and leading in hits (517), Vargas leads in at-bats with 1,595.
In 57 games with Reno in 2021, Vargas moved into the franchise lead for total bases with 753. No one else in Aces history has racked up more than 700 in the franchise's 12 seasons. Vargas extended his lead in doubles, now owning 109. Second on the list of doubles is Cole Gillespie with 74.
Gillespie has the advantage in runs, just two up on Vargas for the all-time lead – 272 to 270.
Also in 2021, Vargas moved up the all-time RBI list. With 39 on the season, Vargas has now driven in 200 runs for Reno, just the fourth ever to reach the 200 mark. Only Mike Jacobs (222), Gillespie (221) and Kevin Cron (202) have more for the Aces.
Of the four Aces with 200+ RBIs, Vargas is the outlier in the home run category. Cron is the Aces homer king, hitting 60 long balls. Jacobs in tied for second with 55, and Gillespie is tied for seventh with 38.
Vargas moved into 10th on the home run list this season, with 31.
For good measure, Vargas stole bags this season too and moved into sixth all time in that category. For as many records as he owns, and the long list of on-field successes, the production is still second on Lalli's mind.
"It's super refreshing to have him … he keeps everything loose and fun and the players follow him," explained Lalli. "He's really, really, good to have on the team. And I say all that, but he's a really good player as well."
The infielder has been a model of success for Reno players – and done it all with his signature smile and plenty of laughs.