The Walk of Life: Ryan Weiss
The 24-year-old pitcher talks about losing both parents and his journey through life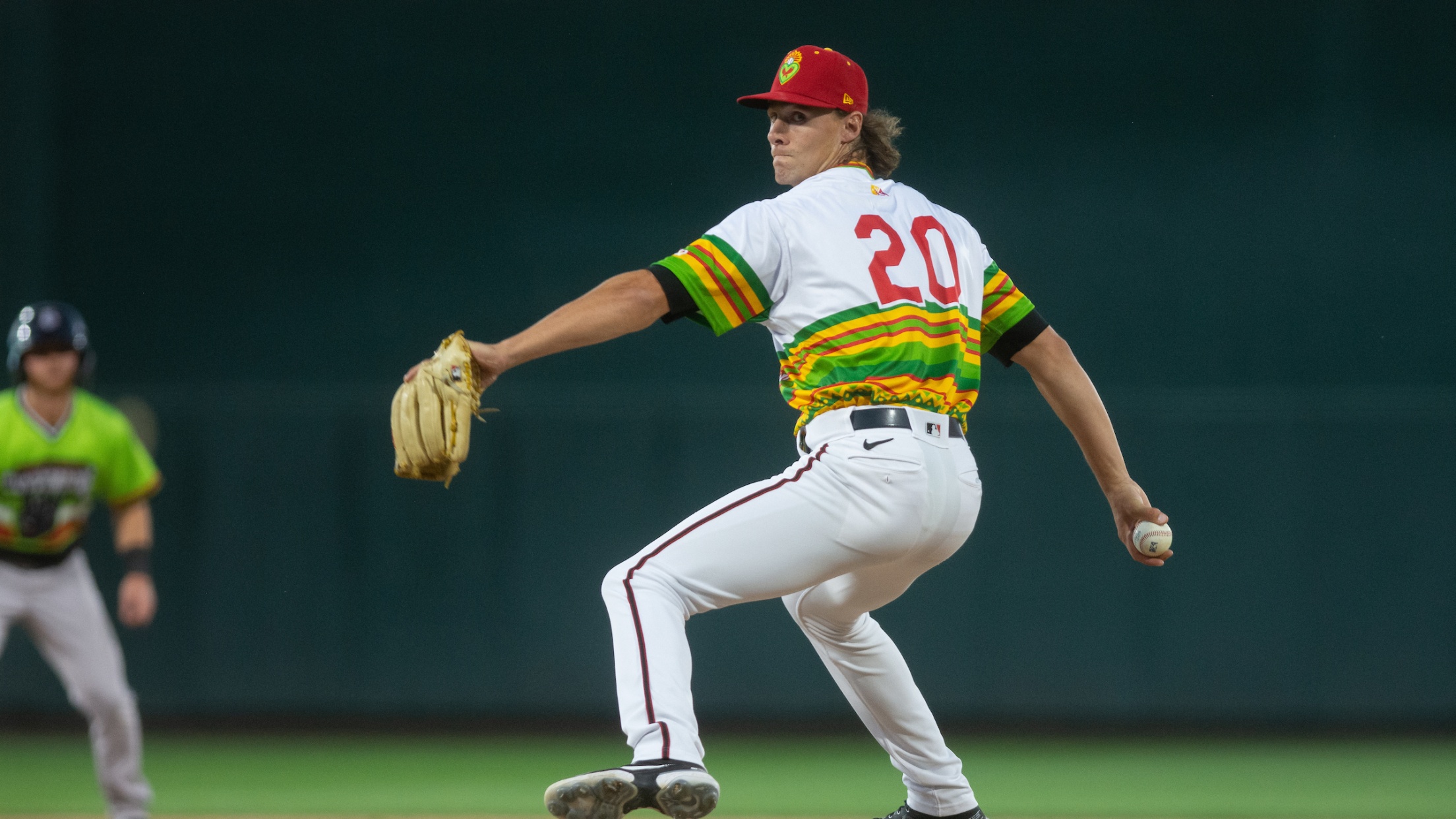 RENO, Nev. – Remember being a youngster, dreaming about taking big league swings against elite pitchers or striking out high-caliber hitters on the biggest stage of baseball? You might even recreate iconic jump throws and diving catches in your own backyard. All the sights and sounds you envision as you
RENO, Nev. – Remember being a youngster, dreaming about taking big league swings against elite pitchers or striking out high-caliber hitters on the biggest stage of baseball? You might even recreate iconic jump throws and diving catches in your own backyard. All the sights and sounds you envision as you stand on the field of an MLB ballpark, similar to attending your first game, with your family watching on and filling with an overwhelming number of emotions about what will happen next. Nearly every player places themselves in these scenarios, aspiring to make the Majors and share memories with the people that helped them get there.
But at a moment's notice, the beautiful, yet innocent brain of a child can be shattered, forcing them to grow beyond their years.
Whether it is a divorced set of parents, tragedy or even an extraordinary illness, one never truly knows how it impacts a youngster.
For one Ace, this has become the journey of a lifetime.
Reliever Ryan Weiss grew up a Chicago Cubs fan in South Elgin, Ill., and spent equal time between two houses as his parents divorced when he was a toddler. From an early age, the D-backs' farm hand experienced a lot of changing scenery, but Ryan continually adapted.
His parents' separation did not waver the connection he had with his mom and dad. Whether he spent the weekend with one parent or the other, sports were the focal point of building a relationship with his folks and became a staple in bonding with his dad.
"My dad coached me in every sport I played, baseball, basketball, football," Weiss said. "That was a huge part of our relationship. It was a great bond because not only did I have him once a week or every other weekend, I'd wake up at my mom's house, go to school and then most of my after-school activities were with my dad and then go home with my mom. It was great to see both of them on a consistent basis because of sports."
Athletics brought a son and his father closer together, making them inseparable.
Until the unimaginable happened.
At a time of celebration to give thanks and praise to those around us in late November, Thanksgiving turned dark.
"My mom, my sister and I were at the mall and another family member called my mom and she drifted away to be present with them," Weiss said.
While waiting and wondering where she had gone, Ryan set out in search to find his mother, only to find her "on the floor in a Kohl's bawling her eyes out."
"I was really pissed off," Weiss said upon finding out.
The teenager's mind went from innocent and calm to broken and angered at the thought of his dad taking his own life. How does a 14-year-old fathom the thought of losing a father?
"I had to make a choice, either continue to be angry at him or keep moving and make his name greater than it ever was," Ryan said.
Weiss has been doing just that and has carried on the legacy of his dad through every level since his passing until now. Just days after the heartbreaking news, 14-year-old Ryan walked up to his travel basketball coach and said to him, "I don't want [my father's passing] to inhibit my playing time. I can play through it," while thinking this is exactly what his dad wanted him to do.
That "play through it" mentality was the guiding force for Weiss both at the time and as he progressed into the sport that chose him.
The right-hander turned from a late-blooming pitcher throwing 80-84mph at South Elgin High School to being one of the most successful hurlers for Wright State by pushing through the turmoil.
With the Raiders, Weiss turned in many accolades as a two-time Horizon League Champion and All-Conference First Team selection. After rolling through the competition in his first season with Wright State and earning Horizon League's Freshman of the Year award in 2017, Ryan was riding a huge high.
Following his successful 2017 campaign with the Raiders, Weiss joined the Cape Cod League during the summer, keeping him away from his family for another two months. The right-hander settled in well with the Hyannis Harbor Hawks, going 2-0 with a 2.52 ERA in 26 innings of work.
While spending time in one of the highest-scouted amateur leagues in the country, Weiss received a phone call that his mother was in the hospital four days earlier.
"I was pretty upset they didn't tell me because I would have come home," said Weiss. "But they said, 'If we would have told you we knew you would have but, we all wanted you to stay out there because you're chasing your dream."
A few months after her initial scare, Weiss' mom suddenly passed away from organ failure and complications from lupus, leaving the 21-year-old parentless.
However, once again, the right-hander rode the support of his family through a turbulent time and turned heavily to his faith as a guiding light through the unforeseen "valley of the shadow of death."
"When my mom passed, my faith was the biggest part of my life," Weiss said. "I was able to turn to the Lord, seek out prayer and people on their own walk to handle that difficult time. Once again, I had to grow up really quickly. I was left to figure out life stuff like selling a house, looking through my mom's will and trying to figure out life insurance on my own while most people lean on their parents to help them."
With his folks and God watching over him, Ryan wrapped up his career with Wright State, turning in a 17-3 overall record with a 2.80 ERA and the moment he had long waited for had come.
Draft Day. June 4, 2018. Mom's birthday.
Weiss carried out his day as normal, even as Commissioner Rob Manfred stepped up to the podium to announce the start of the event, Weiss put himself through a workout session to take his mind off the pressures that came with the day.
When he finally decided to sit down and watch the broadcast with his friends and family, familiar names started to appear on his television.
"When I saw the names of guys I used to played against go across the screen and get drafted, I thought that was pretty cool," Weiss recalled with a grin. "On day two, I was seeing more names I knew and I was super happy for them, but I kept thinking, 'okay now it's my turn.'"
On the second day in the fourth round with the 128th pick, the right-hander was skipped over by his hometown Cubs, only to receive a call from the Diamondbacks to announce they were going to take him with the following selection.
Everyone erupted as "Ryan Weiss" appeared on the big screen, filling the room with joyous tears and the warmest hugs from everyone that became his backbone through all the trials and tribulations.
Everything was meant to be.
Weiss battled his way to Minor League Baseball's highest stage, rolling through rookie ball in 2018 with a 3.86 ERA and 29 strikeouts in 30.1 innings of work. In 2019, he powered through Low-A and High-A with an 8-7 record in 26 combined starts while punching out a career-high 103 batters in 128.1 frames before landing in Double-A to start 2021.
The Illinois native posted a 2-2 record with one save in 13 appearances with Amarillo, eight of which were starts. In his final five outings with the Sod Poodles, Weiss allowed just one run on six hits in seven innings out of the pen, forcing Arizona's hand at a call-up.
Through everything, one thing has rung true for Ryan; building an inner circle of trust with those around him and the Lord makes the darkness go away.
"When you go through these circumstances, you can seek out therapy, friends or family and you have to understand that when you have conversations, you have to trust them and they have to trust you," Weiss said. "I knew I could not do this life on my own and we're not supposed to. I didn't want to be the tough guy and not seek help."
2021 has been a blessing for the 24-year-old as he moved one step closer to the Show and he looks forward to tying the knot with his life partner and the focal point of his circle of trust, Hailey Brooke.
"Our relationship is instrumental," Weiss said with the happiest smile. "We're supposed to balance each other out and we're still very young in our relationship but, we're in a great place right now and I cannot wait to get married. I didn't get down on one knee to say 'hey, will you be engaged to me?', I want to be married and I'm really excited for the wedding."
As he embarks on a new chapter of life, Weiss sees himself as a completely different person from who he was just two years ago, as a man that embodies respect, continuing "to be the best representation of a good Christian man."
Through faith and his circle of trust, Weiss has persevered and continues to make those around him proud. And as he put it, "I would not be where I am right now without all that I've gone through."