Round Rock Hairy Men Finalize Opening Day Roster 
Seven Additional Players Added to Squad after Preliminary Roster Announcement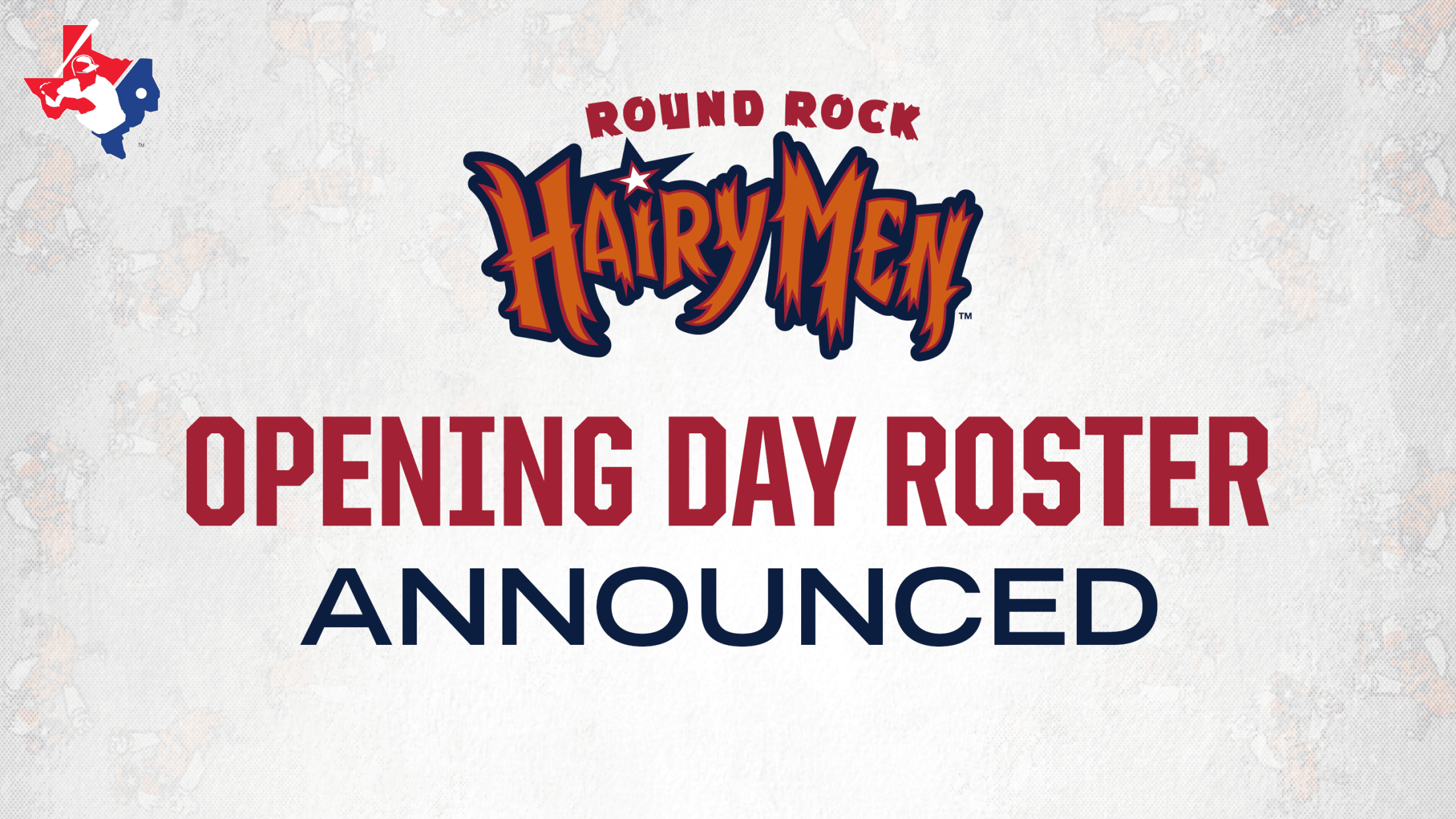 ROUND ROCK, Texas – On the eve of Opening Day in the Texas Collegiate League, the Round Rock Hairy Men have finalized the team's roster for the upcoming 2020 season. The 31-man squad is highlighted by a talented group of local student-athletes representing a variety of Central Texas high schools
ROUND ROCK, Texas – On the eve of Opening Day in the Texas Collegiate League, the Round Rock Hairy Men have finalized the team's roster for the upcoming 2020 season. The 31-man squad is highlighted by a talented group of local student-athletes representing a variety of Central Texas high schools and universities.
Round Rock's Opening Day roster features a uniquely Texan look, with 28 of the 31 players calling the Lone Star State home. Student-athletes on the preliminary roster represent a total of 20 different colleges and universities, including programs from NCAA Division I, II and III as well as the NJCAA.
The squad features players from 12 different NCAA Division I programs, including Baylor, Dallas Baptist, Houston, Illinois State, Incarnate Word, Louisiana-Lafayette, Oregon State, Rice, TCU, Texas A&M-Corpus Christi, Texas State and UTSA. Other NCAA programs represented include Angelo State, Southwestern, St. Edward's and Tarleton State. The NJCAA is well represented, with players from Navarro, Paris, San Jacinto and Wharton County appearing on the squad.
All 28 native Texans on the initial roster attended high school in the state. A total of 21 different Texas high schools are represented, including Austin, Cedar Park, Cedar Ridge, Georgetown, Hendrickson, Liberty Hill, Mason, Round Rock, Rouse, Salado and Stony Point locally.
The full Round Rock Hairy Men roster is below and can also be downloaded via RRHairyMen.com.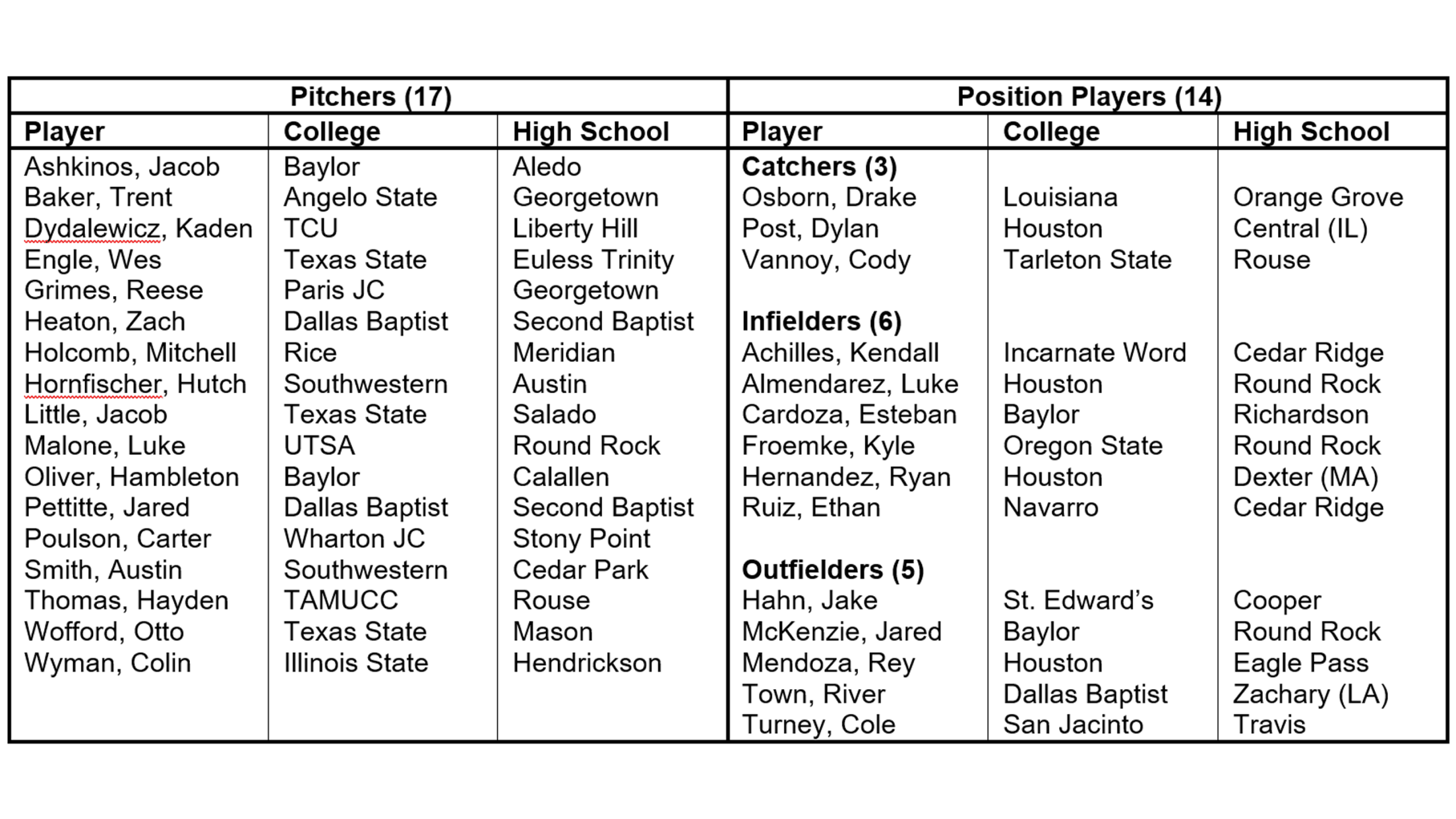 Seven players were added after Round Rock announced the team's preliminary roster on June 18.
RHP Trent Baker has pitched in 35 games, including 30 starts, for Angelo State University during his three-year collegiate career, compiling an 18-6 record and a 3.41 ERA. The righty jumped out to a hot start in 2020, posting a 5-1 record to go along with a 3.13 ERA for the Rams. Baker was named a 2019 All-Conference and All-Region First Team selection. He threw a no-hitter in 2016 during his standout career at Georgetown High School.
RHP Kaden Dydalewicz plays collegiately at Texas Christian University. The righty attended Liberty Hill High School, where he was named an Under Armour Pre-Season All American in 2016, 2017 and 2018. Perfect Game also tabbed Dydalewicz as a Pre-Season All American in both 2016 and 2017. He was also named to the All-Tournament Team for the WWBA 17U National Championships in 2018.
RHP Mitchell Holcomb made two starts for the University of Pennsylvania in 2020, going 1-1 with a 3.46 ERA in 13.0 total innings. He made 10 appearances, including nine starts, for the Quakers in 2019, going 6-1 with a career-best 3.76 ERA, matching the most wins for any pitcher in the Ivy League. Holcomb was a two-time TSCAAL State Champion in 2015 and 2016 during his high school career at Meridian School in Round Rock. He was named to the All-District and All-State First Teams in both 2015 and 2016. The righty is set to continue his collegiate career at Rice University this fall.
RHP Hutch Hornfischer appeared in two games with the Southwestern University Pirates in 2020 to begin his collegiate career. The righty had picked up four strikeouts in 3.1 innings to begin the abbreviated season. A native of Austin, Hornfischer attended Stephen F. Austin High School, earning two varsity letters on the baseball team and another on the football team for the Maroons. He was also named to the Academic All-District team.
C Drake Osborn just completed four seasons Texas A&M University-Corpus Christi and is set to join the University of Louisiana-Lafayette this fall. While in Corpus Christi, Osborn was named an All-Southland Conference Third Team selection in 2018. He appeared in 112 career games with the Islanders, including 16 behind the dish in 2020. Osborn is a native of Sandia, Texas and attended Orange Grove High School.
OF Cole Turney hit an even .300 for San Jacinto College in 2020, collecting eight doubles, a pair of triples, three home runs and 21 RBI in 22 games. He began his collegiate career at the University of Arkansas in 2017 after a prolific career at William B. Travis High School in Richmond, Texas. He was ranked as the #17 prospect in the nation and #2 in the state of Texas by Perfect Game and was selected to play in the 2015 Underclass Area Code Games as a sophomore. While at Travis, he was named the District 23-6A MVP and was voted to the All-State Third Team.
RHP Otto Wofford led Texas State University in appearances with eight in 2020, going 1-0 with a 0.87 ERA in 10.1 total innings to begin his collegiate career. He racked up 13 strikeouts without allowing a walk for the Bobcats while holding opponents to a .167 batting average. Wofford attended Mason High School, where he was named to the 2019 TWSA 2A All-State Second Team after being named an Honorable Mention in 2018. A three-sport athlete along with football and basketball, he was selected as the 2017 District 29-2A Newcomer of the Year on the baseball diamond.
The team will be coached by Manager Chase Almendarez, Pitching Coach Tanner Driskill, Bench Coach Oscar Rodriguez and Student Assistant Jackson Ryan.
The Round Rock Hairy Men kick off the 2020 season on Tuesday, June 30 on the road against the Brazos Valley Bombers. Opening Day at Dell Diamond is scheduled for Tuesday, July 7 as the Victoria Generals come to town. Tickets are available now by visiting RRHairyMen.com.
For more information about the Round Rock Hairy Men and the 2020 Texas Collegiate League season at Dell Diamond, visit RRHairyMen.com or call (512) 255-2255. Follow the Round Rock Hairy Men on Twitter to stay up to date with the latest news and information.