FRIDAY: 'Hockey Night at the Ballpark' includes Game-Worn Jersey Raffle
Autograph Session with Sabres Daren Puppa & Andrew Peters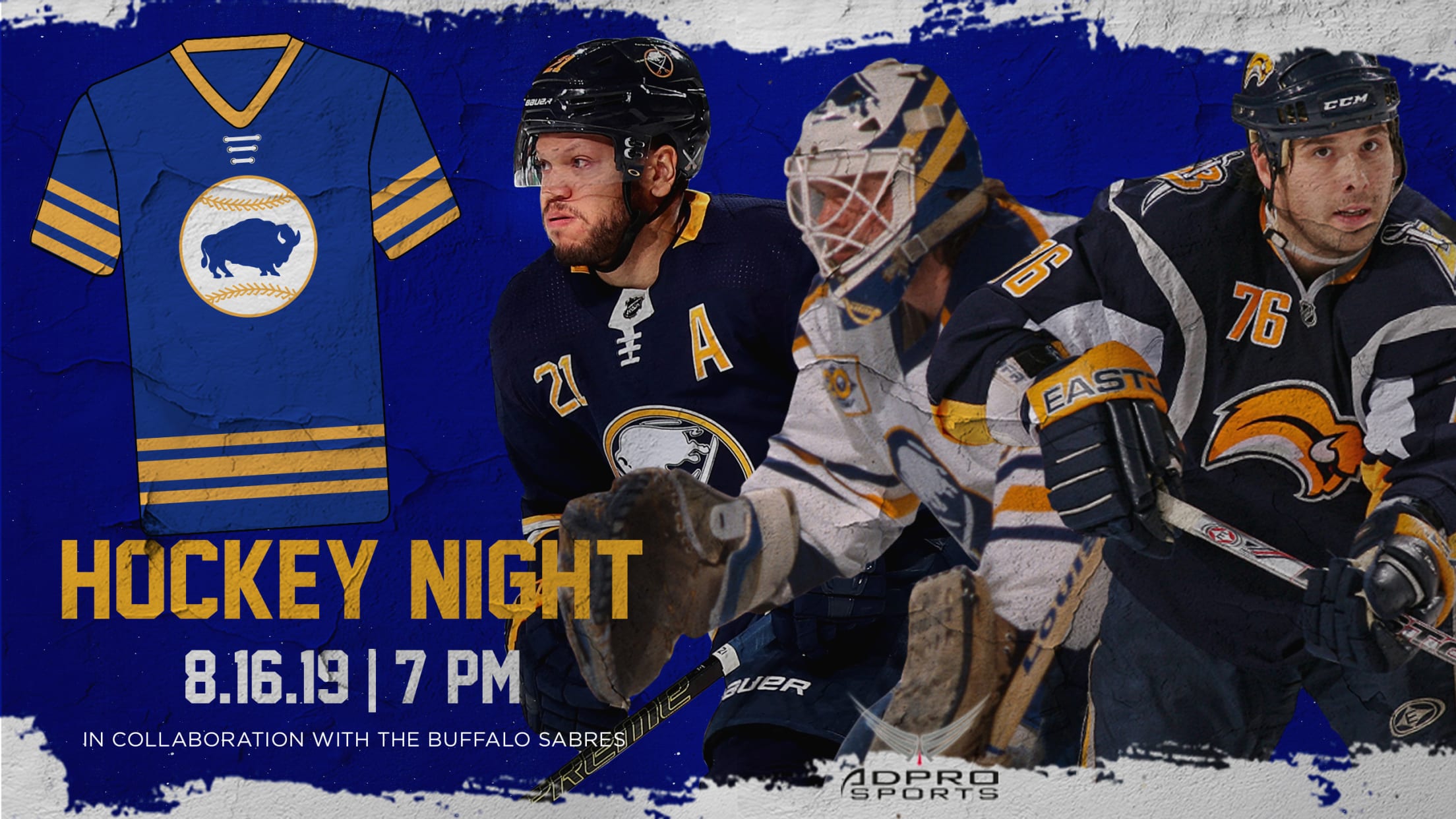 This night is going to be good... SCARY GOOD!The Bisons first ever 'Hockey Night at the Ballpark,' presented by ADPRO Sports, is shaping up to be an unforgettable night at Sahlen Field. Not only will the Bisons be donning the 'Blue and Gold' for the first time in franchise history
This night is going to be good... SCARY GOOD!
The Bisons first ever 'Hockey Night at the Ballpark,' presented by ADPRO Sports, is shaping up to be an unforgettable night at Sahlen Field. Not only will the Bisons be donning the 'Blue and Gold' for the first time in franchise history and then raffle off the Game-Worn & Autographed Jerseys, the Buffalo Sabres have come to the plate with some great additions to the night's festivities. Along with an appearance from Sabretooth, forward Kyle Okposo will throw out the ceremonial first pitch at former Sabres Daren Puppa & Andrew Peters will take part in an Autograph Session from 6-7 p.m.
That's on top of the fact that Friday's game is the second-to-last Honda fridaynightbash! of the season with pre-game Resurgence Brewing Happy Hour and postgame Fireworks!
>>>GET MY HOCKEY NIGHT TICKETS<<<
>>>Check out the Hockey Night Event Page<<<
The Bisons have put seven of the game-worn & autographed jerseys for this Friday night's game up for auction RIGHT NOW on Bisons.com.
Not only can you bid on the jerseys for Devon White, Anthony Alford, Rowdy Tellez, Anthony Kay, T.J. Zeuch, Billy McKinney and Jonathan Davis, but Sabres superstars Jeff Skinner and Rasmus Dahlin have also signed jerseys for the auction.
The auction only runs through Wednesday, August 14 (9pm), so GET YOUR BIDS IN NOW!
Proceeds of the auction and the jersey raffle the night of the event will benefit the Buffalo Bisons Charitable Foundation and the Buffalo Sabres Foundation.
Our Hockey Night Autograph Session will be from 6-7 p.m. and feature former Sabres goalie Daren Puppa and forward and host of WGR's The Instigators' radio program, Andrew Peters. Puppa and Peters will sign at 'One Celery Place' on the ballpark's main concourse.
Gates for the ballpark will open at 5:00 p.m. so fans can enjoy another Resurgence Brewing Happy Hour, with 14oz craft beers for only $3 as well as $3 food specials from 5-6:30 p.m.
Sabres winger Kyle Okposo gets the honor to throw out the ceremonial first pitch on Hockey Night. Kyle has scored 187 goals in his NHL career, including 48 with the Sabres and represented Buffalo at the 2017 All-Star Game! Fans should get to their seats by 6:40 p.m. if they want to see if Kyle can deliver a strike to get the Bisons game against the Durham Bulls started.