July 29: Play Catch Under the Lights on a Buffalo Wings Markdown Monday
Night includes logo baseball giveaway, presented by Unifrax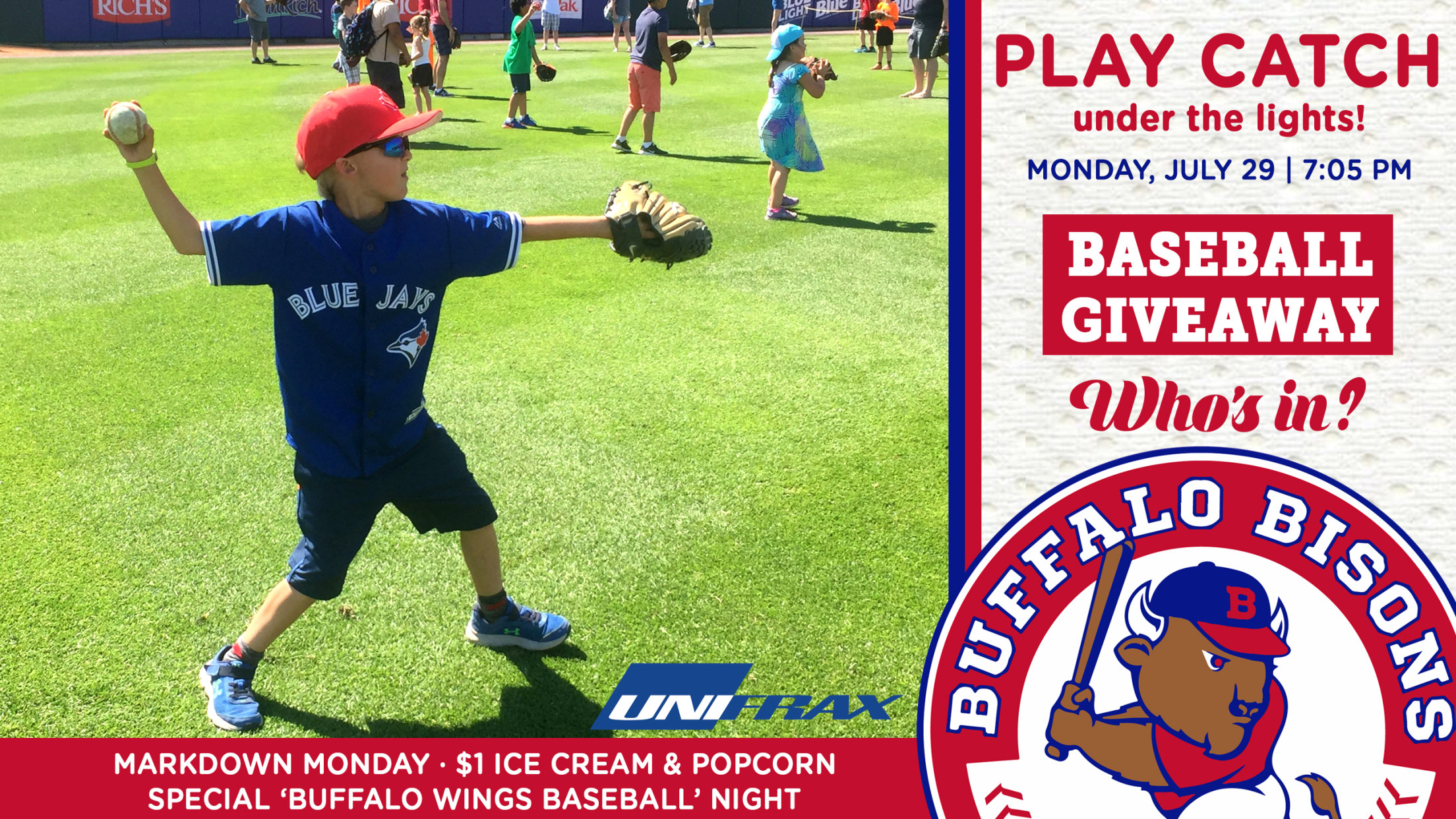 Make sure you grab your glove before heading out to Sahlen Field on Monday, July 29 because the Bisons players won't be the only ones taking the field!A fan-favorite ballpark tradition, the annual 'Play Catch Under the Lights' night returns following the 'Buffalo Wings' game against the Rochester 'Plates' on
Make sure you grab your glove before heading out to Sahlen Field on Monday, July 29 because the Bisons players won't be the only ones taking the field!
A fan-favorite ballpark tradition, the annual 'Play Catch Under the Lights' night returns following the 'Buffalo Wings' game against the Rochester 'Plates' on July 29 at 7:05 p.m. presented by Unifrax. And, so you have something to play catch with, there will also be a Logo Baseball Giveaway, to the first 2,000 fans in attendance, once again thanks to our friends in Unifrax.

If only every Monday was this fun. First, the game is a
Markdown Monday
, which means all tickets are only $9.00 in advance of gameday ($11.50 on July 29). You'll also be able to enjoy
$1 ice cream and popcorn
throughout the night.
special 'Buffalo Wings' Night as our food rivalry with the Rochester Plates continues. Come show your support for Buffalo's favorite food with Wing Specials in-game and your chances to win gift cards with every Wings' home run, compliments of (716) Food and Sport.
Then, it's time to take the field. Hang onto that awesome baseball you got at the Inspire Dental Gate at Swan St., because after the final out of a Buffalo Wings' victory, everyone will be allowed onto the field for a game of catch under the lights. The perfect way to cap off an awesome night at the ballpark.
Remember, you save with every ticket you purchase in advance, so Get Your Tickets Now for this awesome night at the ballpark!