Snow, Ice & Cold force cancellation of entire Bisons/Bats series at Coca-Cola Field
Tuesday's game moved to Louisville, Wednesday's Doubleheader canceled due to conditions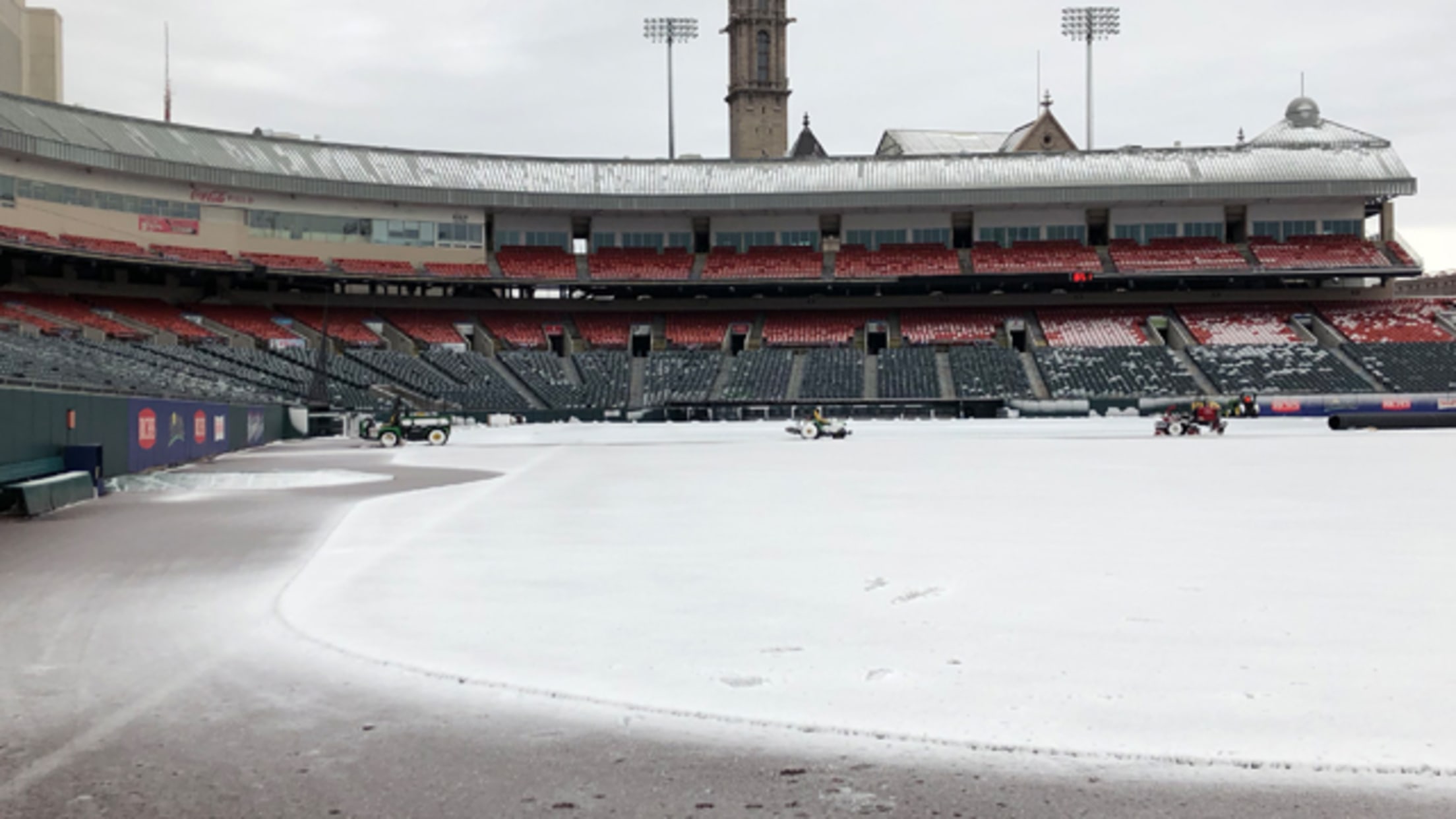 The Bisons will not be able to host the Bats either Tuesday or Wednesday
With the amount of snow and ice that are present both on the field and throughout Coca-Cola Field, the Buffalo Bisons have announced that they have canceled both their Tuesday, April 17 game and their Wednesday, April 18 doubleheader scheduled against the Louisville Bats.The cold temperatures that will persist throughout
With the amount of snow and ice that are present both on the field and throughout Coca-Cola Field, the Buffalo Bisons have announced that they have canceled both their Tuesday, April 17 game and their Wednesday, April 18 doubleheader scheduled against the Louisville Bats.
The cold temperatures that will persist throughout Tuesday and overnight will not allow the snow/ice currently on the field to melt nor allow the ballpark's drainage system to work in full capacity in time to get the field ready for play. With conditions unsafe on the field and in the stands, the Bisons cannot open the ballpark for either tonight's game or Wednesday's doubleheader.
Tonight's game will be made up on Tuesday, July 24 when the Bisons visit Louisville Slugger Field to face the Bats (game time to be announced). The two games scheduled for tomorrow, however, will not be made up do to the presence of two other doubleheaders later that week when the Bisons visit the Indianapolis Indians. By International League rules, teams cannot play more than three doubleheaders in any seven-day window.
With these cancelations, the Bisons will not play the Louisville Bats at home at any point this season. The last time the Bisons failed to play an opponent at Coca-Cola Field because of a weather was 2007, when all four scheduled games against the Richmond Braves were postponed (April 5-8, 2007).
The Bisons will look to restart their 2018 season in two weeks with a series of 10 games in a 13-day span from Friday, April 27- Wednesday, May 9. That group of games will include two Honda fridaynightbash! with fireworks (April 27, May 4), the team's first Tops Dog Day at the Ballpark (April 28), two Buster's Kids Club Sundays (April 29, May 6) and their popular Blue Jays Weekend (May 5-6) with appearance by Toronto Blue Jays alumni. TICKETS
Fans holding tickets to either Tuesday or Wednesday's games can exchange them for a comparable ticket to any future 2018 Bisons game (excluding July 3rd). All ticket exchanges must be made at the Coca-Cola Field Box Office. Please note that these exchanges do not have to be made this week. Fans with tickets can exchange them throughout the remainder of the 2018 season.