Tee Times available as the 'Links at Coca-Cola Field' is set to return, Sept. 13-15
Enjoy WNY's most unique golfing experience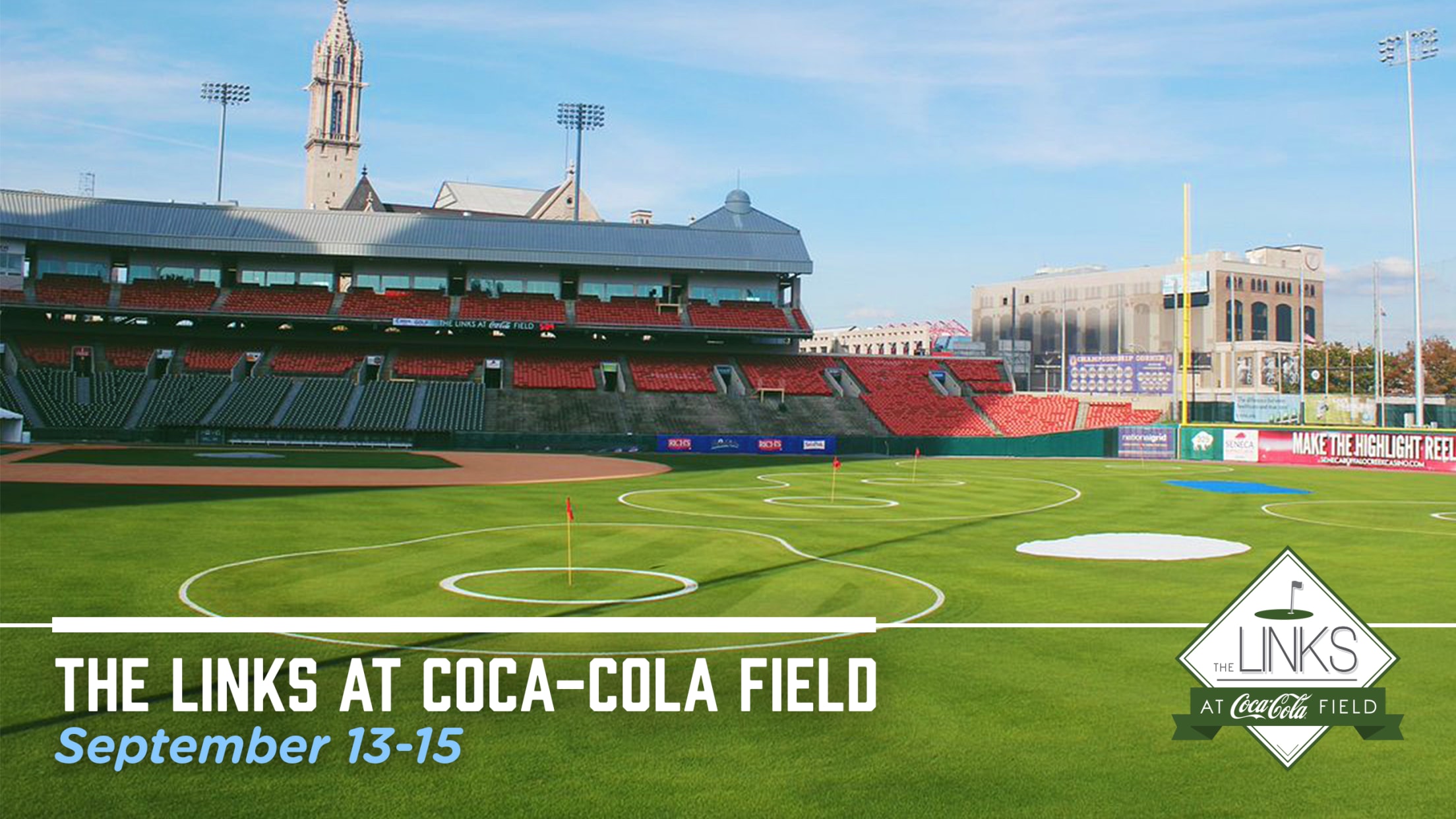 The most unique golfing experience in Western New York will return to the ballpark as the Bisons have announced dates for the 3rd annual 'Links at Coca-Cola Field.' The team will transform the ballpark to a nine-hole, par-27 golf course for three nights, Thursday, September 13 -Saturday, September 15, with
The most unique golfing experience in Western New York will return to the ballpark as the Bisons have announced dates for the 3rd annual 'Links at Coca-Cola Field.' The team will transform the ballpark to a nine-hole, par-27 golf course for three nights, Thursday, September 13 -Saturday, September 15, with tee times available from 6-10 p.m. each night.
>>>CLICK HERE TO BOOK TEE TIMES<<<
At the Links at Coca-Cola Field, golfers will be able to test their skills with tee shots from home plate, the Bully Hill Party Deck, on the ballpark's club level and other locations throughout the ballpark. Each golf hole will continue to feature unique themes, such as having to deal with extra crowd noise or unfavorable weather conditions, with the added ability to win great prizes or extra shots on several holes.
The Bisons have also increased the prizes to be award for the top golfers at this year's Links at Coca-Cola Field. The top Men's, Women's, Couples and Foursome scores over the course of all three days will now be recognized.

Tee Times Available & How to Book
A round of golf at The Links at Coca-Cola Field will cost only $50 per golfer (NEW REDUCED PRICE) and includes parking, a post-round drink at the Consumer's Pub at the Park and two 2019 Bisons Opening Day tickets. The first 300 golfers to purchase a tee time will also receive a free Links at Coca-Cola Field logo cap and golf ball.
Tee Times are on sale now; CLICK HERE
. The course is accepting tee time reservations in eight minute intervals from 6-10 p.m. on Thursday, September 13, Friday, September 14 and Saturday, September 15.
How It Works
Five greens will be mowed and cut into the Coca-Cola Field outfield for golfers to take aim at (see course map attached). Golfers will be awarded a Birdie-2, Par-3, Bogey-4, Double Bogey-5 based on where their tee shots land in relation to the hole (no putting other than the Putting Challenge in the batting cages). Distances of the holes will range from 45-135 yards and golfers must bring their own course-appropriate golf clubs (all golf balls will be provided by OnCore and a putter will be provided for putting challenge).
>>>CLICK HERE for a full course layout/hole descriptions<<<
Golfers will once again be able to purchase a maximum of two mulligans for a $5 donation each to the Buffalo Bisons Charitable Foundation.