JSBC Staff Spotlight: Clint Wulfekotte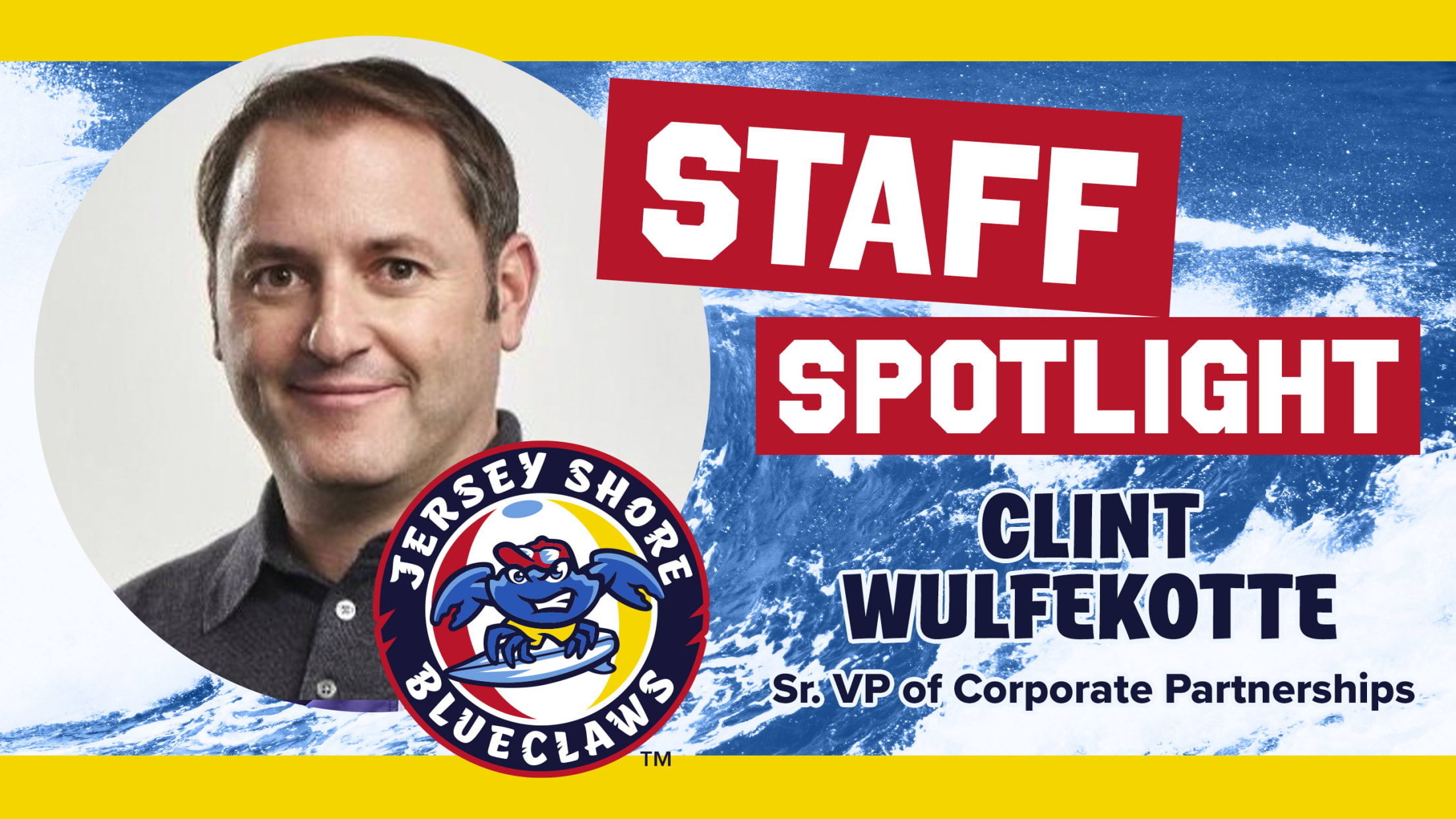 JERSEY SHORE, NJ - Clint Wulfekotte grew up in Lakewood began his time with the BlueClaws right from the very beginning. He stayed with the team for the first three seasons and recently returned as the club's Sr. Vice President of Corporate Partnerships. Today, we speak with Clint for our
JERSEY SHORE, NJ - Clint Wulfekotte grew up in Lakewood began his time with the BlueClaws right from the very beginning. He stayed with the team for the first three seasons and recently returned as the club's Sr. Vice President of Corporate Partnerships. Today, we speak with Clint for our JSBC Staff Spotlight.
Previously - Rob McGillick, Ben Cecil, Garrett Herr, Craig Ebinger, Zack Nicol, Kevin Fenstermacher, Jamie Bertram, Kayla Reilly, Jim McNamara
Q: What is your favorite BlueClaws memory?
A: Opening Day 2001! All the hard work, the move from Airport Road to 2 Stadium Way, watching the stadium be constructed, the fans stand in line for tickets and merchandise - only to be rained out. Still my favorite memory with the BlueClaws.
Q: What is your favorite BlueClaws promo night and why?
A: Recognizing our first responders and service men and women. Deserving of their recognition for their selfless service to our communities and our nation.
Q: What is your favorite part of the job?
A: My co-workers, our fans, our partners. "The people" have always made my job in sports a special one.
Q; What is your favorite Jersey Shore landmark?
A: Any beach - from Sandy Hook to LBI. Having visited all of them, Ill take any beach as my favorite landmark. They are my happy places Summer, Autumn, Winter and Spring!
Q; What is your favorite Jersey Shore activity?
A: Tasting so many wonderful dishes and experiencing the amazing restaurants up and down the Jersey Shore - still so many I need to get to.
Q: What is your favorite Jersey Shore restaurant and meal?
A: Bonney Read in Asbury Park - The Spicy Clam Stew.
Q: If you hadn't gone into the sports/entertainment industry, what would you be doing?
A: Police Officer or Teacher - Follow in my parents footsteps
Q: What is your favorite thing to do away from the ballpark?
A: Hang with friends, family and my pup Messi - Relaxing.
Q: How long have you lived at the Shore and what brought you here?
A: I grew up in Lakewood and graduated LHS. Outside of my 4 years in Delaware for school, a summer in Dallas, 5 years in Atlanta, I've always been on the Jersey Shore!
-Jersey Shore BlueClaws-