A look at the Blue Jays Fall Development Roster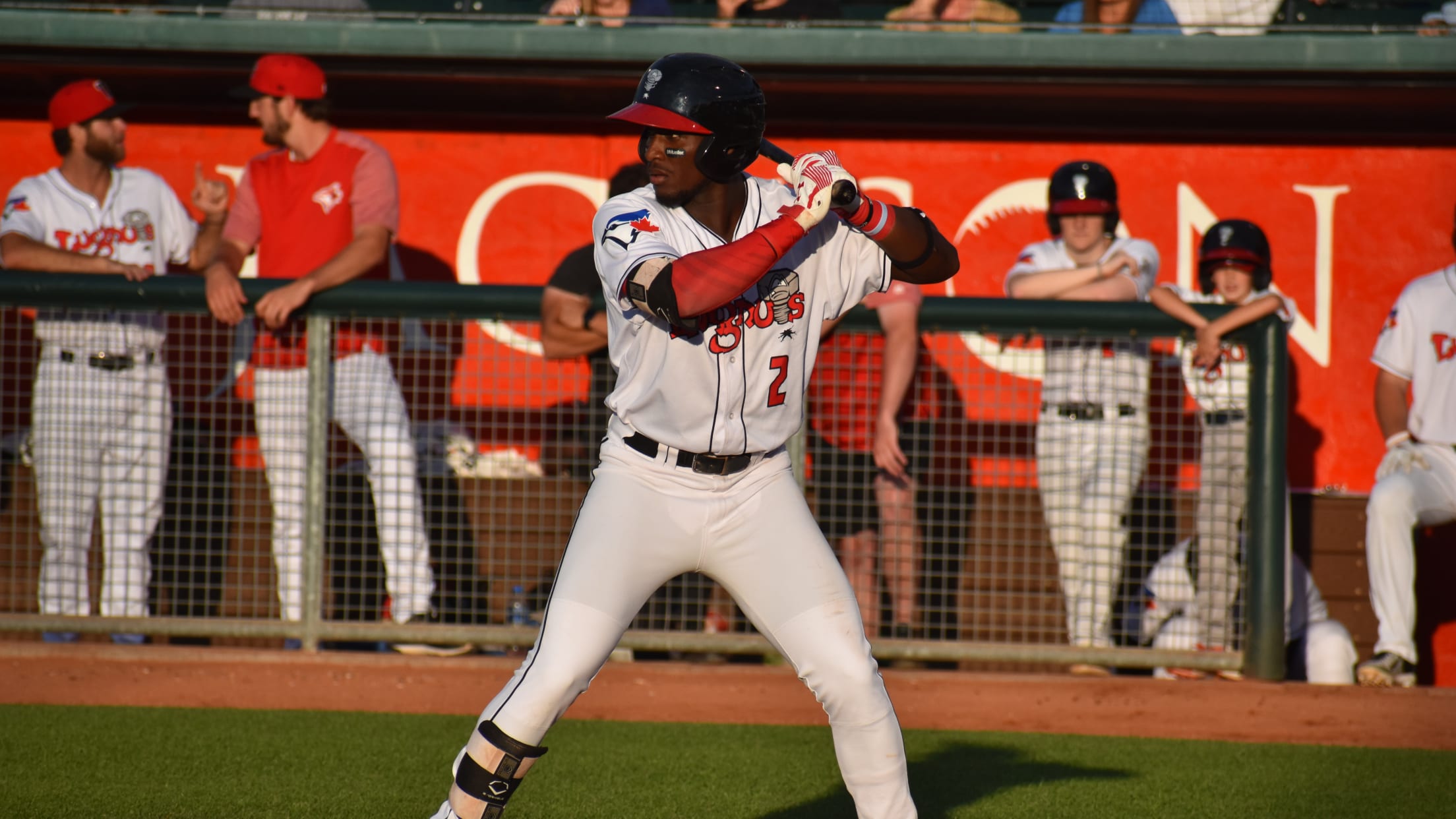 FutureBlueJays.com posted the Toronto Blue Jays' Fall Instructional Roster on Tuesday. Give it a look. To break down the players listed by position: - Pitchers: Jolfrank Concepcion, William Gaston, Hobie Harris, Roither Hernandez, Dany Jimenez, Justin Maese, Mitch McKown, Naswell Paulino, Luis Quiñonez, Jackson Rees, Jimmy Robbins, Graham Spraker, Curtis
FutureBlueJays.com posted the Toronto Blue Jays' Fall Instructional Roster on Tuesday. Give it a look.
To break down the players listed by position:
- Pitchers: Jolfrank Concepcion, William Gaston, Hobie Harris, Roither Hernandez, Dany Jimenez, Justin Maese, Mitch McKown, Naswell Paulino, Luis Quiñonez, Jackson Rees, Jimmy Robbins, Graham Spraker, Curtis Taylor, Anders Tolhurst, Josh Winckowski.
- Catchers: Chris Bec, Phil Clarke, Ryan Gold, Gabriel Moreno, Ryan Sloniger.
- Infielders: Cameron Eden, Miguel Hiraldo, Leonardo Jimenez, Cullen Large, Otto Lopez, Orelvis Martinez, Tanner Morris, Ryan Noda, Samad Taylor, Logan Warmoth.
- Outfielders: Dasan Brown, Will Robertson, Chavez Young.
This is an important list of names to know because it gives us an idea of the Blue Jays' priority minor leaguers heading into next year.
Now let's get a bit more in depth.
*
Of these players, taking an educated guess on where they'll play in 2021 based on their experience level...
Likely Class AA or AAA: Hobie Harris, Dany Jimenez, Jackson Rees, Graham Spraker, Curtis Taylor, Josh Winckowski, Chris Bec, Cullen Large, Ryan Noda, Logan Warmoth, Chavez Young.
Likely Class A-Adv.: Justin Maese, Josh Winckowski, Ryan Gold, Gabriel Moreno, Otto Lopez, Samad Taylor.
Likely Class A: Jolfrank Concepcion, William Gaston, Roither Hernandez, Mitch McKown, Naswell Paulino, Luis Quiñonez, Jimmy Robbins, Anders Tolhurst, Phil Clarke, Ryan Slonger, Cameron Eden, Miguel Hiraldo, Leonardo Jimenez, Orelvis Martinez, Tanner Morris, Dasan Brown, Will Robertson.
That's not a bell curve. That's a hill, a valley, and a mountain when it comes to talent distribution.
There are multiple potential reasons for this, including: There's more lower level talent than upper level talent in the Blue Jays' organization, pure and simple; or there are more question marks at the lower levels who need a closer look and in-person work with the Jays' instructors than the more familiar upper level players. A number of these players are coming back from injury/surgery/rehab (e.g., Justin Maese), so it's important for Toronto to see how they're progressing.
BUT: As the Blue Jays' Class A affiliate, you can understand why we would be interested in the Blue Jays showing their interest in so many (17 of 34) lower level players on their Fall Development Roster.
*
A few interesting names who rarely appear on prospect lists:
- Naswell Paulino. He's a 20-year-old lefty who's not tall (listed at 5-foot-11) and doesn't throw all that hard, but there's something about him. He pitched for the Lugnuts in the 2018 Crosstown Showdown, came back for one appearance last year -- and got the win against Bowling Green! -- before an assignment to Bluefield, where he posted a 4.05 ERA with 36 strikeouts and 17 walks in 40 innings. That he's on this list and that he continues to get the brief looks we've seen in Lansing shows you he has major believers in the organization. At some point, there could be a big-time breakthrough ahead. Note that Fangraphs lists Paulino as the Jays' No. 36 prospect.
- Jimmy Robbins. Not to be confused with Jimmy Rollins, though this Jimmy, coincidentally, did come from Rollins (College). A southpaw like Naswell, Robbins was drafted in the 20th round in 2019. He made three appearances in the Gulf Coast League and four appearances (three starts) in the Appy League, with a 24/3 K/BB ratio in 19 innings. Why is he here, while others, higher drafted, from his draft class aren't? The answer to that question is enough to make him a sleeper prospect going into 2021.
- Cameron Eden. Eden isn't listed on any prospect lists, likely due to his professional debut. Selected out of Cal in 2019, Eden struggled to a .220 average and a .576 OPS in 56 games with Vancouver. In college, he wasn't a great hitter as a sophomore -- but he was solid as a freshman (.315/.361/.472) and tremendous as a junior (.365/.435/.555) with eight homers and 20 stolen bases (third most in the Pac-12) as the Bears' leadoff hitter and shortstop-turned-center-fielder. He was a sixth-rounder, he can run, he has pop, he can hit, he has defensive versatility... what happened in 2019 with Vancouver? Hopefully Eden's inclusion on the Fall Development Roster bodes well for a resurgence next year.
*
There are notable omissions. None of the Blue Jays' 2020 draft picks or undrafted free agents are included, for instance. Prospects Jordan Groshans, Joshua Palacios, Kevin Smith, Riley Adams, Simeon Woods Richardson, Alek Manoah, and Joey Murray, all of whom were part of the Blue Jays' alternate site in Rochester, are not included, though Gabriel Moreno, who was at the alternate site, is included. (It's always good to get a catcher more work.) Pitching prospect Adam Kloffenstein, perhaps the top lower-level pitching prospect in the system, wasn't at the alternate site and he's not on this roster. Prospect teenagers Estiven Machado, Rikelvin De Castro, and Sem Robberse are not included. (They're all likely 1-2 years away from being considered.)
It's also thought-provoking to see only three outfielders included: Chavez Young, who played in 2019 in A-Advanced Dunedin; Will Robertson, who spent 2019 in short-season Vancouver; and Dasan Brown, who turned 19 in late September and played 14 games in 2019 with the Gulf Coast Blue Jays. No Reggie Pruitt, no DJ Neal, no Adrian Ramos or Dom Abbadessa or Norberto Obeso or Brock Lundquist.
Now, they do have Cameron Eden, Otto Lopez, and Ryan Noda listed among the infielders, with each one able to play the outfield, but the unbalance on the printed roster is interesting -- and it also shows why the Jays might move 2020 first-rounder Austin Martin to center field in addition to why they drafted Louisville outfielder Zach Britton in the fifth round and signed Baylor outfielder MacKenzie Mueller and UT Arlington infielder/outfielder Zac Cook as free agents after the draft. This is an organization that is filled with catching and infield depth in direct contrast to outfield depth. (For more on the draft, read this. For more on Mueller and Cook, read this.)
*
In the end, the Blue Jays' Fall Development Roster is a fun tease for 2021. Who are the next potential Lugnuts stars, a la Alejandro Kirk in 2019? Who are the next Major League sensations with the Jays, a la Alejandro Kirk in 2020?
Probably on that roster.
# # #