Blue Jays Draft 2020: UFA Sightings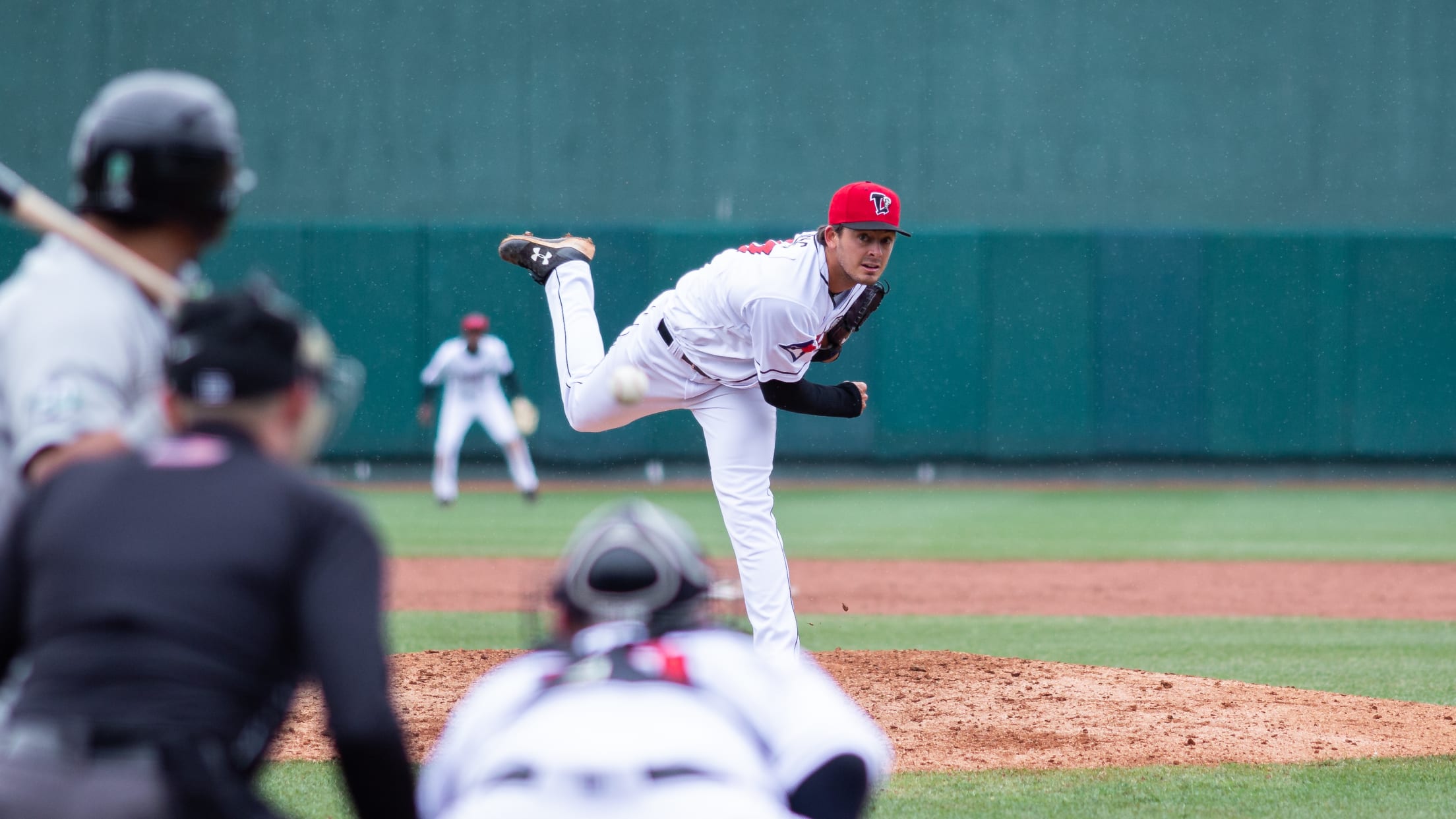 The photo above is of Jackson Rees, not position players Harrison Ray, Zac Cook, or MacKenzie Mueller. We'll explain why shortly. Drafting Austin Martin, CJ Van Eyk, Trent Palmer, Nick Frasso and Zach Britton last week does not necessarily mean that they are all guaranteed to be in the Toronto
The photo above is of Jackson Rees, not position players Harrison Ray, Zac Cook, or MacKenzie Mueller. We'll explain why shortly.
Drafting Austin Martin, CJ Van Eyk, Trent Palmer, Nick Frasso and Zach Britton last week does not necessarily mean that they are all guaranteed to be in the Toronto Blue Jays' organization. The next step for the Jays is negotiating with and signing their 2020 draft picks.
Yesterday, however, the Blue Jays did officially sign three new prospects to contracts - Ray, Cook and Mueller. The start of the Undrafted Free Agent signing period came at 9 a.m. Eastern Sunday, with each Major League team able to sign an unlimited amount of players for a maximum of $20,000 each.
(An aside: We've seen "undrafted free agent" abbreviated as UFA, UDFA and even NDFA for nondrafted free agent. Someone should standardize this.)
The 2019 Lansing Lugnuts had three undrafted free agents on our roster: Reliever Rees, pictured above; reliever Sean Rackoski and starter Troy Miller.
- Rees posted a 0.36 ERA in 14 appearances, allowing just one earned run in 25 1/3 innings. He struck out 44 batters and walked four. Then he went up to Dunedin, posted a 0.99 ERA, and was named Minor League Baseball's Relief Pitcher of the Year.
- Rackoski recorded a 2.87 ERA in 28 relief appearances with the Lugnuts (49 strikeouts in 47 innings), and then finished the year with a 2.30 ERA for Dunedin (18 strikeouts / two walks in 15 2/3 innings).
- Miller made 22 starts, one relief appearance, with a 4.81 ERA in 103 innings. There were some rough spots along the way, but there were also gems. The Lugnuts struggled to find consistent starting pitching, and Miller was heavily relied upon.
All of this is to say that Undrafted Free Agents matter, and the Lugnuts know that better than most.
With that established, let's turn our attention to Harrison "Harry" Ray, MacKenzie "MacK" Mueller and Zac "Zac" Cook. (The UT Arlington bio page for Mr. Cook did not have his full name listed. Zachary, maybe?)
Vanderbilt second baseman Harrison Ray, as you'll see at 1:00 in the video above, grew up playing baseball with Bo Bichette. He has also been friends with Vandy teammate and Blue Jays first-rounder Austin Martin since they were kids.
Imagine: From youth baseball together, and now playing in the same organization, on the road to potentially being Major League teammates.
Bo's gotten there as the Blue Jays' starting shortstop. Martin, the Jays' new No. 1 position player prospect, is likely to get there soon, too. Ray? He has a real chance.
With Martin (leading off), catcher Phil "The Hitman" Clarke (batting cleanup) and now Ray (batting seventh), the Blue Jays' system has three members of the Commodores' starting lineup from their national championship win over Michigan.
Harrison Hall Ray is a dynamic defensive second baseman and a base stealing threat (21-for-24 in 66 games last year, 9-for-11 this year in 18 games this year before the season was halted). He was the preseason coaches' pick for All-SEC second baseman. He was Baseball America's No. 441 prospect in their Top 500. And he was named to the 2020 SEC Baseball Community Service Team, representing Vanderbilt and acclaiming his work in the community. For all that we focus on on-the-field contributions, Ray is an excellent person to add to the Blue Jays organization.
Likelihood of being a Lugnut: This is where things get interesting. In a vacuum, YES. A polished defensive Vanderbilt 22-year-old second baseman who's working on improving his offense should absolutely be the Lugnuts' everyday second baseman when minor league baseball resumes.
The complication is this: The Nuts' second base position was already crowded with young phenom Miguel Hiraldo and 2019 draftee LJ Talley. How do the Jays juggle their middle infielders? There's already a close competition at shortstop, with Orelvis Martinez and Leonardo Jimenez looking for playing time and Jordan Groshans returning from injury. Plus, 2019 draftee Tanner Morris needs space somewhere. Does he move to the outfield?
For the moment, though, let's stick with that initial answer. Yes, Harry Ray is coming to Lansing to play second base (and wherever else the Lugnuts need him), reuniting with Phil Clarke and possibly Austin Martin.
But wait... there's another second base option available, too.
A 4.89 high school GPA!!!
Zac Cook comes out of Flower Mound, Texas, same as 2018 Blue Jays 4th-rounder Sean Wymer, a member of the 2019 Lugnuts' starting rotation. Cook went from Flower Mound Marcus High School to play for the Mavericks of UT Arlington, where his on-base percentage never dipped below .380. This year, his power blossomed: four home runs in 16 games, leading him to a cool .321/.500 /.623 slash line when the season was shut down. He was leading the Mavericks in slugging, OBP, homers, triples, walks, and RBIs at the time.
D1Baseball.com listed Cook as the eighth-best senior hitting in the country on its Top 2020 Senior Hitters rankings, the highest rated player in the Sun Belt Conference.
At the same time as that video above was posted, by the way, Zac Cook was playing summer ball for coach Matt Young. Two years later, in 2018, Young joined the Blue Jays as the Lansing Lugnuts' hitting coach. He was set to be the New Hampshire Fisher Cats' hitting coach this year. Cook signing with the Blue Jays reunites him with Young, and the two of them couldn't be more excited about that prospect.
Likelihood to be Lugnut: Pretty good! Though he played every game as a senior at second base for UT Arlington, one would think that Harrison Ray's glove gets him the nod defensively over Cook. But that bat is so good, and Cooley Law School Stadium is such a great hitter-friendly park, one would think that the Blue Jays would find space for Cook somewhere on the field with the Lugnuts. Put him at second, put him in the outfield, put him wherever you like, and send him up to home plate to terrorize Midwest League pitchers.
And speaking of big bats...
That's MacKenzie Mueller, pronounced "MYOO-ler" (as opposed to former Major Leaguer Bill "Miller" Mueller), showing off the great power. He hits two homers in that game against Missouri. As Baylor pitching coach Jon Strauss tweeted, "So excited that @MacKenzieMuelle earned this opportunity. @BlueJays are getting great young man with big time power! We will definitely lose less balls in BP next year. Good luck. #BaylorBuilt."
Caliendo Sports (@BetterBaseball) also tweeted about Mueller, with a message signed by MacKenzie (MacK) Mueller, the K purposefully capitalized, from his high school days in 2016.
Go back earlier, though. Go back to 2009 and 2010, when Ramstein, Germany, native MacKenzie Mueller was the star pitcher for the Kaiserslautern Military Community (KMC) All-Stars, helping them to back-to-back Little League World Series trips as the champions of Europe. He then moved to Abilene, Texas, where he was named two-time All-State for his achievements on the mound and was named MVP as Wylie High School won the Class 4A state championship. He was recruited to Rice to pitch, but only recorded three outs (all by strikeout) in four appearances on the mound as a freshman. Then he transferred to Cisco College, 44 minutes east of Abilene, and turned to hitting full-time, becoming the Wranglers' everyday first baseman. How did it go? He hit .443 with 15 home runs. Pretty decent.
(You would not believe how the Cisco College Wranglers' season ended in 2018. Wrote Marc David for the Abilene Reporter-News, "Unfortunately, the best season in Cisco history came to a screeching halt during what could have been the championship game against McLennan. In the sixth inning on a single to the outfield, William Hollis scored. The MCC catcher said something to Hollis who responded. The catcher shoved Hollis and the teams left their benches. The coaches followed onto the field to try and maintain order. The umpires ended the game and it was declared a double forfeit, eliminating both teams. 'It's tough,' Mueller said. "We would have liked to go to the World Series. Unfortunately, it didn't end that way.' ")
From that one smash of a season with Cisco, Mueller went back to D-I baseball, transferring to Baylor. (In his article, David wrote that Mueller intended to become a strength and conditioning coach if his dream of pro baseball didn't work out.) He hit .286/.379/.500 with six doubles and two homers for the Bears in 23 games in 2019 ("hampered by some lingering injuries," this article points out), and then followed up this year as a senior with a .281/.369/.561 slash line with four doubles and four homers in a nearly identical number of plate appearances. In May, he graduated with his degree in health, kinesiology and leisure studies. He's also an excellent student, and was honored as 2020 First Team Academic All-Big 12.
Likelihood of being a Lugnut: The bat is the key here. MacK Mueller was signed to hit, whether that's as a starting outfielder or first baseman. This makes him similar to last year's draftee from Radford, Spencer Horwitz. In both cases, as long as the player acquits himself defensively, the true onus is on his offensive production. If he comes into camp and carves out a position for himself, Mueller sounds like a future Lugnuts middle-of-the-order bat.
*
That's day one from the UFA signings. We'll keep our eyes open to any signings reported today and in the days to come. Some pitchers, perhaps?