Oakland A's Prospect Preview: Kyle McCann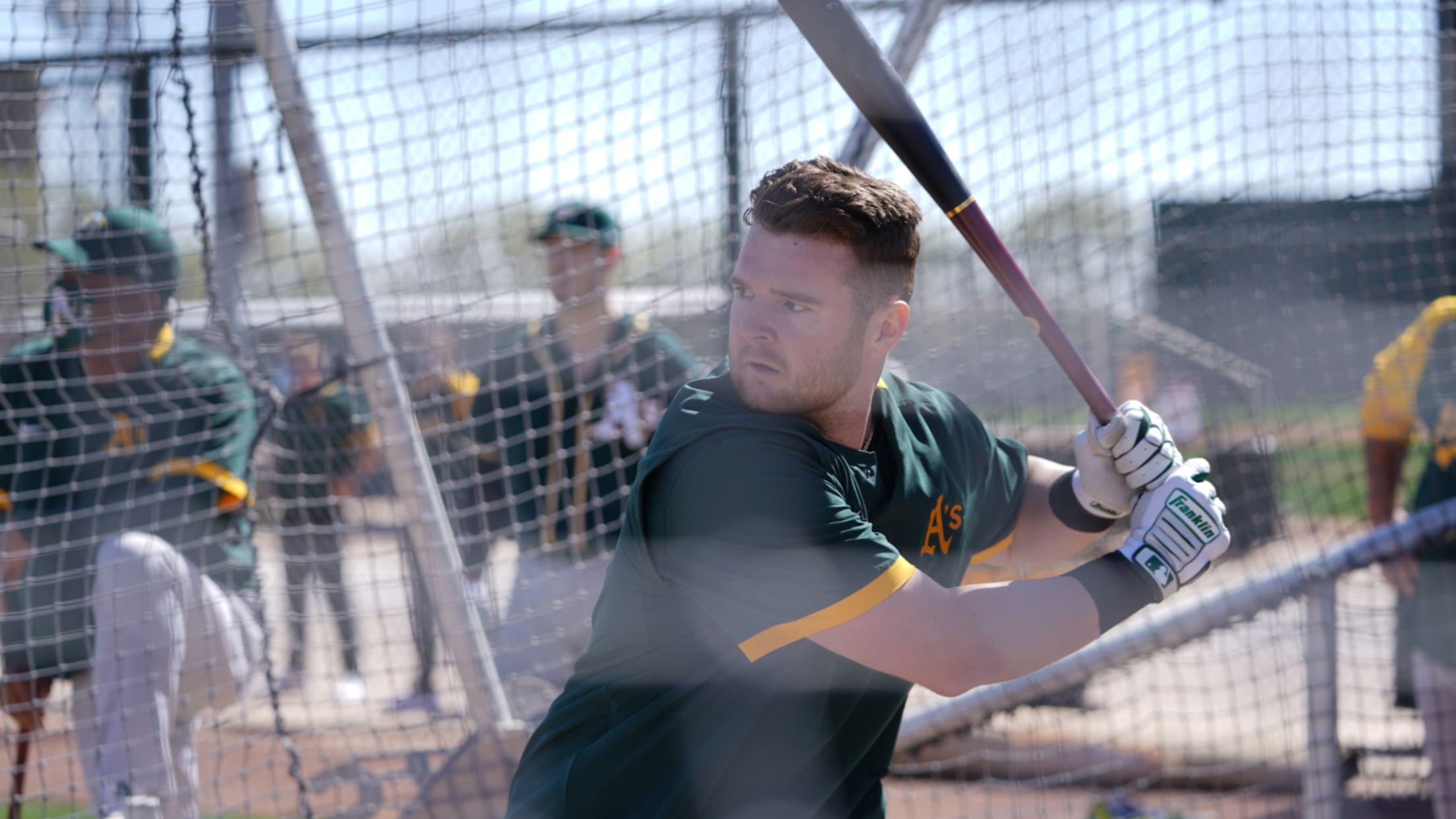 (Oakland Athletics)
Previously in our Prospect Previews, meeting talented Oakland Athletics Minor Leaguers just in case we see them in Lansing this season: - Power-hitting shortstop Logan Davidson - Power-hitting shortstop Jeremy Eierman Today, let's meet 2019 fourth-rounder Kyle McCann, who is not a power-hitting shortstop. He's a power-hitting catcher.
Previously in our Prospect Previews, meeting talented Oakland Athletics Minor Leaguers just in case we see them in Lansing this season:
- Power-hitting shortstop Logan Davidson
- Power-hitting shortstop Jeremy Eierman
Today, let's meet 2019 fourth-rounder Kyle McCann, who is not a power-hitting shortstop. He's a power-hitting catcher.
The name McCann carries with it a notable baseball familiarity, whether it's Brian McCann, the former Braves catcher, or James McCann, the current Mets catcher.
Kyle McCann, hailing from Suwanee, Ga., isn't related to either one.
Joe McCann was drafted by the Mets in the 47th round in 1988 and pitched in pro ball from 1989-1993, rising to High-A St. Lucie in 1991-1992 and 1993 with High-A Winston-Salem. In 1991, he was managed by John Tamargo Sr., father of the former Lugnuts manager, and was teammates with current Toronto Blue Jays pitching coach Pete Walker.
Joe's younger son, Cooper, turned to pitching, and is a member of Mercer University Bears baseball team, but Joe's older son, Kyle, became a catcher. After beginning baseball at age four, Kyle McCann first made headlines at Lambert High School, where he was teammates with future Clemson star and 2018 first-rounder Seth Beer.
In 2014, the Lambert Longhorns reached the state championship. In the decisive Game 3 against Milton, Kyle scored the game-tying run in the fourth inning on a Will Dunavant RBI single and singled in the go-ahead run an inning later in a 2-1 championship-clinching victory.
A year later, Kyle's 18U East Cobb Yankees captured the Connie Mack World Series title and the Perfect Game WWBA national championship.
Then Kyle graduated from Lambert Longhorn to Georgia Tech Yellow Jacket.
Going to Georgia Tech meant overcoming a defensive obstacle of sorts: The Yellow Jackets already had a star catcher in Joey Bart, plus a commitment from star high school catcher Tyler Stephenson. Stephenson never arrived on campus, signing with the Cincinnati Reds after being drafted 11th overall in 2015, but Bart remained the No. 1 catcher -- and for good reason, winning the prestigious Johnny Bench Award as the nation's top catcher and becoming the No. 2 overall selection in the 2018 draft.
Converting to a combination catcher/first baseman/designated hitter, McCann hit .198/.383/.430 with nine home runs in his freshman year, and then smoked his sophomore year to the tune of 26 homers, 17 doubles, and a .327/.461/.709 slash line. In all, he reached base a remarkable 148 times on base in 2018 (83 hits, 60 walks, five hit-by-pitches), accomplished in a mere 72 games.
"Even when he was kind of the backup to Joey, I think guys enjoyed throwing to him. He's very well liked by his teammates, he's just an easy guy to like," Georgia Tech head coach Danny Hall told D1Baseball's Aaron Fitt a year later. "It's kind of funny, James Ramsey just came in here in January and joined the staff, but he has nicknamed McCann 'the low-key genius.' He's got a good baseball IQ, but he's not just gonna throw something on somebody, it'll be more on the low-key, comforting side."
As far as offense goes? "I think he's right in there with the best power hitters I've coached," Hall said.
Without Joey Bart around in 2019, Kyle McCann at last became the No. 1 catcher at Tech. He opened his junior year by slamming ten homers in the Jackets' first 14 games, including a walk-off 11th-inning roundtripper against UCLA, and finished the year batting .299/.468/.674 with a conference-leading 23 homers and 62 walks in 62. He was named one of two runners-up for the top catching award (renamed from Bench to the Buster Posey Award).
Next stop, professional baseball.
With the 134th pick of the 2019 #MLBDraft, the @Athletics select @GTBaseball catcher Kyle McCann, No. 88 on @MLBPipeline's Top 200 Prospects list: https://t.co/OHooNdL3XW pic.twitter.com/8oAqK08KMj

— MLB Draft (@MLBDraft) June 4, 2019
Sheesh.

➡ ACC HR leader (23)
➡ Dick Howser Award Semifinalist
➡ Buster Posey Award Finalist
➡ 70 RBI pic.twitter.com/W81u69Al5R

— Georgia Tech Baseball (@GTBaseball) June 4, 2019
Kyle's name was called in the fourth round in June 2019, with the A's selecting him 134th overall and subsequently signing him for $500,000.
"Kyle McCann's power potential as a left-hand bat with the possibility to catch at the major-league level is what most impressed me," wrote Oakland scout Jemel Spearman to The Athletic's Melissa Lockard. "A left-handed hitting slugging catcher is hard to come by in the draft. Kyle is an extremely strong individual with flexibility."
McCann split his professional debut in 2019 between a ridiculous five-game stretch in the rookie level Arizona League (two singles, two doubles, two triples, two home runs, five walks, scoring ten runs) and a struggle of a 55-game span in the Short-Season A New York-Penn League (55 games, .192/.289/.343, seven homers). A red flag on top of this: six strikeouts in the AZL, 81 strikeouts in the NYPL, adding up to 87 whiffs in 60 games.
If there had been a 2020 Minor League season, it's likely Kyle McCann would have moved up to be the No. 1 catcher for Low-A Beloit. As it was, he was invited to be a part of the Athletics' 60-man Summer Camp player pool in 2020 and then took part in Instructional League ball following the season, where he received strong reviews on how his defensive was developing.
That brings us to 2021, where MLB.com's prospect triumvirate of Jim Callis, Jonathan Mayo and Sam Dykstra declared McCann the top power prospect in the Oakland organization, writing, "The left-handed hitter's pop reminds some of Chris Davis, and it has come with Davis-like swing-and-miss, too, though the backstop does draw walks to help mitigate the strikeouts."
MLB rated Kyle as the No. 18 prospect in the system, with the note that "His power as a left-handed hitter reminded some in the organization of Carlos Delgado. Once considered a possibility to move to first base, McCann's willingness to improve his defense behind the plate keeps him profiled as a power-hitting backstop."
Baseball America placed Kyle McCann as its No. 21 A's prospect, with Mark Chiarelli writing, "The 2021 season will be revealing for McCann. He still must prove he's the player the A's saw at the alternate site instead of the one who floundered in his pro debut."
The Athletic's Keith Law rated McCann as his No. 12 prospect in the organization: "He might have 70 raw power, and he is going to strike out at pretty high rates, but there's enough of the former to hope he can be a 20-25 homer guy with a .290 OBP who is good enough to stick at catcher."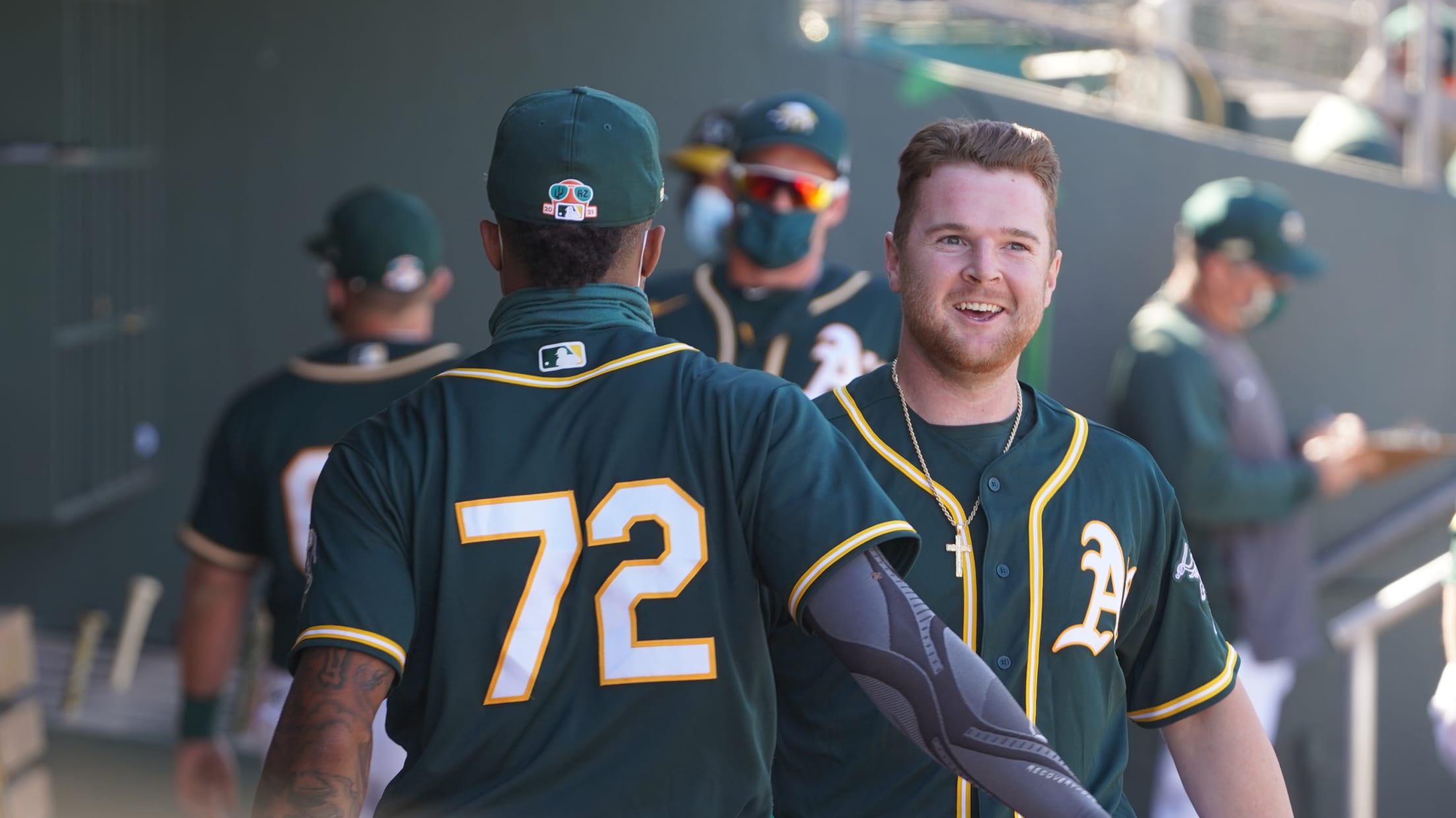 It was made clear from his inclusion in the 60-man Summer Camp player pool that Kyle McCann's continued catching development is a priority for Oakland, which means he'll need to have a No. 1 spot once the Minor League season opens on May 4th. This spring, there have been seven catchers utilized by the A's in Cactus League play: Sean Murphy, Francisco Peña, Aramís García, Austin Allen, Carlos Pérez (2011-2012 Lugnut!), Tyler Soderstrom and McCann. Murphy arrived in the Majors last year and has overcome a collapsed lung this offseason to return to action; he'll be counted on as the A's No. 1 catcher. It is likely that García will be his backup, with Austin Allen heading to Triple-A Las Vegas with the veterans Pérez and/or Peña.
Then there's a gap: McCann's highest level is Short-Season A. Soderstrom, drafted in the first round last year and regarded as the A's No. 1 position-player prospect, has yet to make his pro debut. Collin Theroux played in 93 games in Double-A Midland in 2019 and remains a part of the organization; the sensible move is to send him to the RockHounds as a dependable defensive catcher. But what to do in High-A Lansing and Low-A Stockton?
The guess here is that the A's send the 23-year-old McCann, with his greater experience, to the Lugnuts, while starting the 19-year-old Soderstrom in Stockton. Both are organizational priorities, both need to play, both need to continue to develop defensively.
McCann in a way feels similar to shortstop Jeremy Eierman, possessing a great deal of power while being vulnerable to strikeouts at an above-average rate -- except that McCann has more power, the most of any A's minor leaguer, draws more walks, and may be even more vulnerable to striking out. (Does this remind you of 2019 Griffin Conine?) This would be a two-level jump for McCann, challenging him further offensively at the same time that his defense will be scrutinized.
At the very least: expect some monstrous home runs.