Oakland A's Prospect Preview: Tyler Soderstrom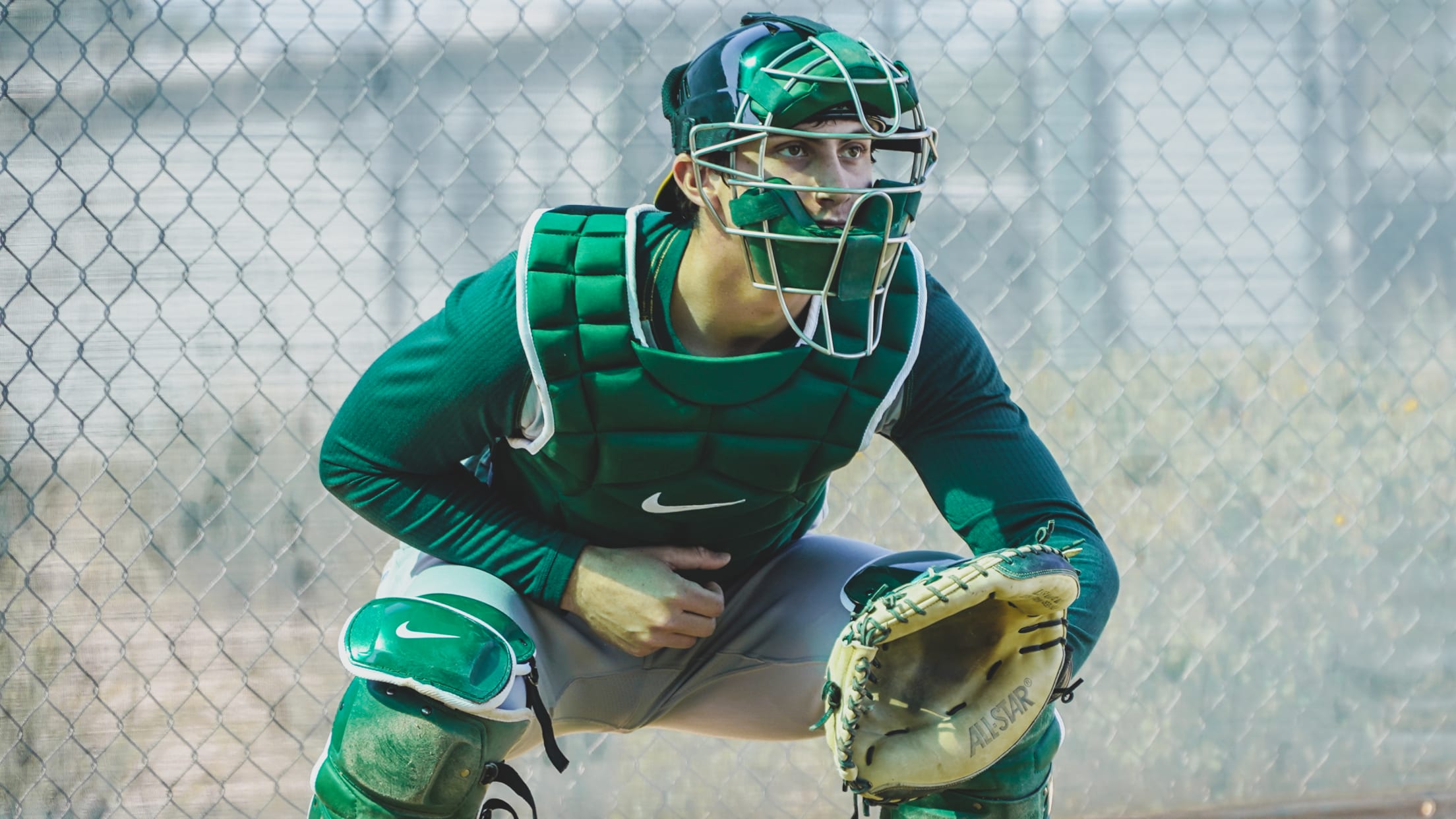 (Oakland Athletics)
Before we get to the teenager who might just be the crown jewel of the Athletics' organization, here are links to previous Prospect Previews for you to read and enjoy:
2017 first-rounder Austin Beck
2018 competitive balance pick Jeremy Eierman (the A's top remaining selection from that draft)
Before we get to the teenager who might just be the crown jewel of the Athletics' organization, here are links to previous Prospect Previews for you to read and enjoy:
There he goes. Congrats Tyler Soderstrom (Turlock High) 26th pick in 1st round of MLB Draft by Oakland Athletics. His dad Steve 1st rounder in 1996 by Giants. Great family we worked with a couple of weeks to do story on him. pic.twitter.com/CwnTa1PPCl

— Cal-Hi Sports (@CalHiSports) June 11, 2020
1st-rder Tyler Soderstrom officially signs with @Athletics for $3.3 million (slot 26 value = $2,653,400). California high school C gets largest bonus for prep C in bonus-pool era. One of best all-around offensive packages in @MLBDraft, son of ex-big lgr Steve (No. 6 pick in 1993)

— Jim Callis (@jimcallisMLB) June 29, 2020
Tyler Soderstrom is Baseball America's No. 1 Oakland A's prospect. He's MLB Pipeline's No. 1 A's prospect. He's Keith Law's No. 2 A's prospect behind only A.J. Puk (whom Oakland drafted sixth overall in 2016 but is on the Injured List after one appearance this season).
"The early consensus on Soderstrom from instructs is that he can really, really hit," writes Law for The Athletic.
"Soderstrom's bat is advanced to the point Oakland believes he could jump straight to high Class A in 2021," writes Mark Chiarelli for Baseball America.
"The left-handed hitting catcher has an offensive game that is quite mature for a 19-year-old, with supreme strike zone recognition and plenty of pop in his bat," writes MLB.com.
Soderstrom is, in short, the best hitting prospect in the Oakland Athletics organization and will be playing in Lansing sooner or later. It is not a stretch to label him the next Lugnuts superprospect, following Jordan Groshans, Bo Bichette, and Vladimir Guerrero, Jr. before him.
There have been ten fathers and sons to both be selected in the first round of the Major League Baseball draft: Rod and Brad Boxberger, Phil and Tyler Nevin, Steve and Nick Swisher, Tom and Neil Walker, Jeff and Sean Burroughs, Tom and Ben Grieve, Bobby and Bobby (Jr.) Witt, Delino and Delino (Jr.) DeShields, and John and John (Jr.) Mayberry. Steve and Tyler Soderstrom are the tenth, with Steve, a pitcher, taken sixth overall by the San Francisco Giants in 1993 out of Fresno State.
The Giants were considered the favorites to draft Tyler in the June 2020 draft, but they opted to take a different catcher, NC State's Patrick Bailey. In the end, Tyler Soderstrom lasted until Pick No. 26. Keith Law wrote afterward, "[he] was projected in my mocks to go between Nos. 9 and 13, but this is a much better range for him given his potential for plus hit/power tools but lack of a clear position — he's a catcher now but won't stay there in pro ball — and need for some swing tweaks so he can drive the ball more."
A's scouting director Eric Kubota did not mince words in a post-draft press conference. "We think he's one of the premier high school bats in this draft," Kubota told reporters, "and we think he has a chance to impact the game defensively behind the plate." That question of Soderstrom's defense was key in dropping him down to pick 26, considering his bat was so highly regarded. Could Soderstrom stick at catcher, or did he need to find another position? Law and other analysts didn't think so. Kubota countered, "I think every scout for the Oakland A's thinks he's a catcher. First off, he has a strong desire to catch, and that's more than half the battle when you're talking about developing as a catcher in the minor leagues. He's athletic. He's got good hands. He's got an advanced polish for the position for his age."
"I really enjoy being involved with every pitch of the game," Soderstrom said, when asked about playing catcher. "I like being in control. I like to show my arm off and throw some people out. I'm athletic. I like to move around and always be a part of the game. That's why I like catching. I like being in the middle of everything, and I have a strong arm to throw some runners out."
There is another Soderstrom playing ball: older brother Tate was an outstanding hitter at Turlock High School, where he played first base and batted .420 en route to committing to the University of Arizona. Tate played three years with the Wildcats, including the abbreviated-by-Covid-19 2021 season, before transferring to UC San Diego to play this year as a redshirt junior, playing outfield and batting in the middle of the order.
Tyler Soderstrom "has been around baseball his whole life and has been competing at a high level ever since he was a little boy, something his dad and older brother Tate have a lot to do with," Turlock High School baseball head coach Sean Gilbert told the Turlock Journal.
It was Tyler's junior year that truly put him on the map, as he posted a .450 batting average with a .565 on-base percentage for the Turlock Bulldogs, fared well at showcases, and signed a letter of intent to play at UCLA.
Kevin Mello scouted Soderstrom for the Oakland Athletics, telling the San Francisco Chronicle, "He's the best amateur bat I've seen in my 15-year career."
"Tyler is the kind of player that comes around once in a coach's lifetime," said coach Gilbert.
Tyler Soderstrom, the top-ranked catcher in California and a top-10 prospect nationally, has officially committed to UCLA.

Welcome to Westwood, Tyler!#GoBruins pic.twitter.com/eEGCORuVOk

— UCLA Baseball (@UCLABaseball) November 14, 2019
During his senior year at Turlock, Tyler Soderstrom played only five games before the season was halted by Covid-19. Still, it was enough to earn him the honor of Gatorade California Baseball Player of the Year. He fared just fine away from the field, too, earning a 3.82 GPA.
Just as the novel coronavirus denied Soderstrom increased playing time in high school, so too did it deny him a chance at a professional debut in the Minor Leagues. Still, after signing his contract with the Athletics, the highest overslot contract of any player not named Austin Martin, Soderstrom went to work. At the A's alternate site during the summer, he blew expectations out of the water. "We knew that he was a plus bat coming out of the draft, and he's shown every bit of that," Oakland director of player development Ed Sprague told AthleticsFarm.com's Bill Moriarty. "He's very advanced with the bat and is probably the best bat that I've seen us take since I've been here in my short five years in Oakland in terms of strike-zone discipline and power at a young age. He's been really impressive offensively. And defensively, I only got a chance to watch a little video going into the draft, and that was from last summer, so he's farther along behind the plate than I was expecting – still a long ways to go in terms of refining the position, but he's done very well. He's impressed the older guys, and he's got the nickname of "[The] Kid," and he's fit right in."
Grant Holmes, pitching at the alternate site, told The Athletic's Melissa Lockard, "I personally have never seen a high school guy hit the ball like he can."
The feedback led Lockard to rank Soderstrom as her top A's prospect, noting, "his time at the alternate site led to some high praise from people who are normally quite measured in their assessments. Soderstrom will hit bumps in the road, as all young players do, but his combination of pure bat speed, power potential and advanced polish for a teenaged prospect makes him a potential star."
Tyler Soderstrom is 19 years old and won't turn 20 until the end of November. This past March, Soderstrom received 10 at-bats for the big-league team in the Cactus League. He batted .400 with three doubles.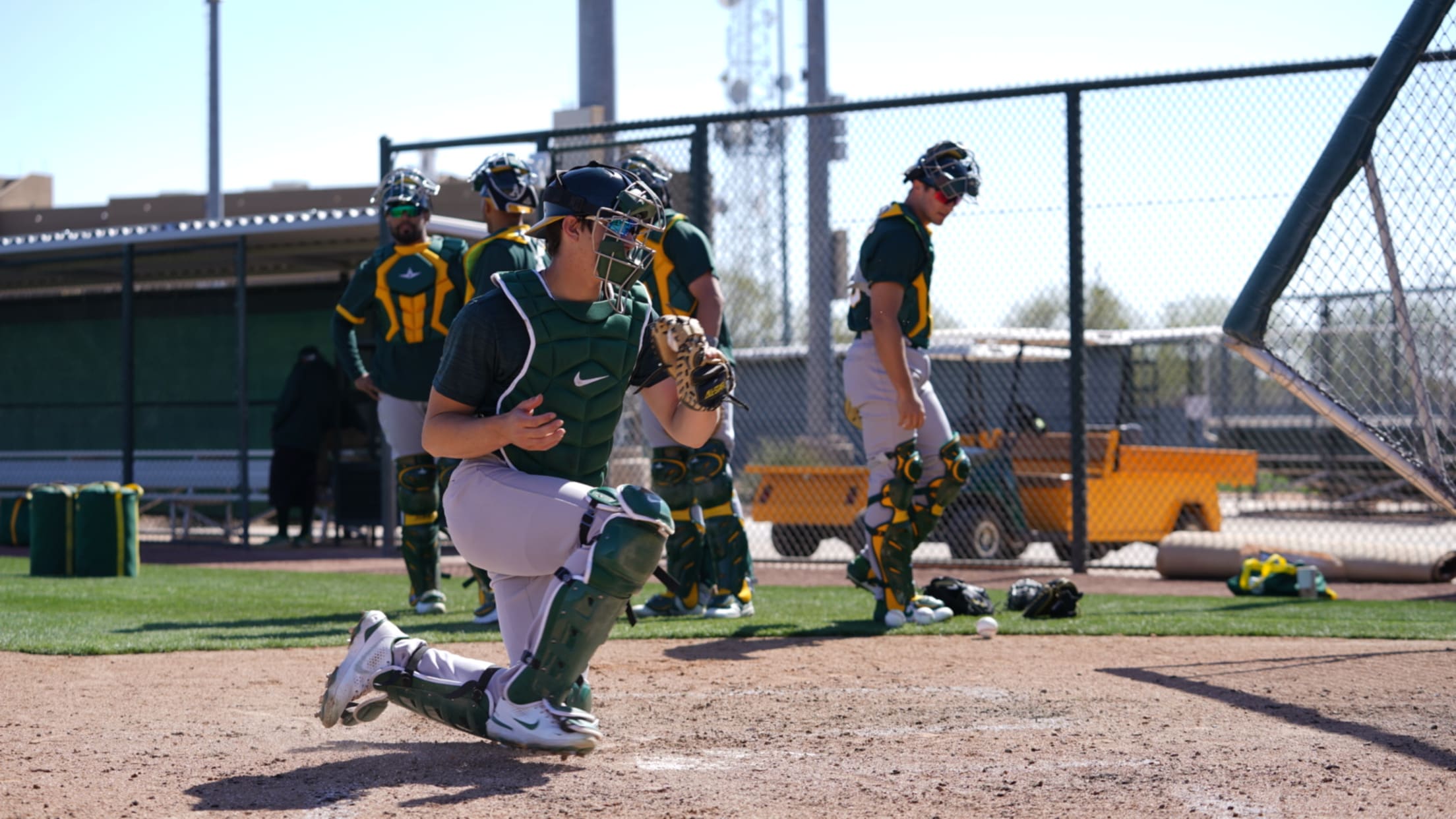 The educated expectation for Soderstrom is that he will be assigned to Low-A Stockton to start the 2021 season. His first game on May 4th, wherever it is, will be his first professional game, period. His development at catcher will take time; it may be the most difficult defensive position to learn out of the nine, from gamecalling to receiving to controlling the running game to so much more.
That said, should Soderstrom excel in Stockton, particularly with flying colors, a midseason call-up to Lansing would be a reasonable expectation.
Get to know his name now, and then get ready for that day when Tyler Soderstrom arrives.