Oakland A's Prospect Preview: Jeff Criswell
Previously in our Athletics Prospect Previews, looking ahead at potential future Lugnuts superstars:
Slugging infielder Logan Davidson, the A's first-round selection in 2019
Slugging infielder Jeremy Eierman, the A's competitive balance pick in 2018
Slugging catcher Kyle McCann, the A's fourth-round selection in 2019
Previously in our Athletics Prospect Previews, looking ahead at potential future Lugnuts superstars:
Enough with the power hitters. It's time for a power pitcher.
Also, you know what we've been missing around here with the Lugnuts? Michiganders.
Portage Central's Jeff Criswell was rated Perfect Game's No. 1 high school right-hander in the state as a senior in 2017, when he batted clean-up and dominated on the mound. The Detroit Tigers drafted him in the 35th round but he turned them down to attend the University of Michigan, which he chose over Michigan State, Wake Forest, Cincinnati and Missouri.
A few other fun facts about Criswell, that he provided himself to Tony Paul of the Detroit News:
- "Growing up I played the trombone and the cello."
- "My sister Natalie was a record-setting swimmer at Bowling Green State University." (Here's the BGSU Swimming & Diving record book, with Natalie Criswell's name front and center.)
- "My mother has written several books for the American Girl company." (Here they are, if you're interested.)
- "My father played professional baseball in the Oakland A's organization." (Oh, really? We'll get back to this one.)
Jeff spent his freshman year in Ann Arbor in the Wolverines' bullpen, where he posted a 2.23 ERA in a team-leading 24 appearances and limited the opposition to a .168 average with 32 strikeouts over 32 1/3 innings. In his sophomore year, head coach Erik Bakich elevated Criswell to the rotation. It was a wise move; Criswell was named All-Big Ten First Team after notching a 2.72 ERA with 116 strikeouts in 106 innings. To understand how important he was to the Wolverines, though, look at their run through the NCAA Division I baseball tournament that ended as College World Season Runner-Up to national champion Vanderbilt.
NCAA Regional: Struck out nine in 7 2/3 innings in a 10-4 comeback victory over Cincinnati. Michigan went on to eliminate No. 22 Creighton to advance.
NCAA Super Regional: Facing No. 1 UCLA, relieved Karl Kauffman with the potential tying and game-winning runs aboard in the bottom of the ninth and dispatched Jake Pries with a pop-up and Jack Stronach with a strikeout to secure a thrilling 3-2 win. Started the very next day and allowed one earned run in 5 1/3 innings, departing with a 3-2 lead, only to see the Bruins win 5-4 in 12 innings. Michigan went on to eliminate UCLA in Game 3, advancing.
College World Series: Pitched the final two innings scorelessly, earning the save, in a 5-3 CWS-opening win over No. 8 Texas Tech, striking out Brian Klein with the tying runs aboard to end the game. Earned another save in a rematch with Texas Tech six days later, firing the final three innings scorelessly with six strikeouts to complete a 15-3 romp, sending the Wolverines into the CWS Finals against No. 2 Vanderbilt. Secured the final two outs in Game 1 against the Commodores, a 7-4 UM win. Worked the final five innings in relief, striking out seven, in Michigan's Game 3 series-clinching 8-2 loss to Vandy.
That summer, Jeff Criswell was invited to pitch for the Team USA Collegiate National Team, where he recorded yet another crucial save, firing the final three innings against Taiwan in Game 2 of their three-game series. In all, he limited opposing batters to a .120 average, best of all pitchers on the team.
It's no wonder then that Jeff was installed as UM's Friday night starter in 2020, though he made only four starts before the season was shut down. That was still enough time for 26 strikeouts in 24 innings, with a .205 average allowed.
In June, he followed in his father's footsteps.
Brian Criswell had been drafted out of Western Michigan University in the 17th round in 1984 by the Oakland Athletics. For Jeff in 2020, it took two rounds, 58 picks overall, to hear his name called by the A's.
(Fun fact: Brian Criswell, who reached Double-A Huntsville and was teammates with Mark McGwire, pitched in the Midwest League for Madison Muskies, a franchise that eventually relocated to become today's West Michigan Whitecaps.)
The A's selected University of Michigan RHP Jeff Criswell in the 2nd round of the First-Year Player Draft pic.twitter.com/4v8inwh459

— AthleticsPR (@AthleticsPR) June 11, 2020
June 11, 2020
Following the draft, A's scouting director Eric Kubota told the press, "We've seen him up to 97 [mph] and he's got a good breaking ball. He's got some delivery issues we think can be worked out. We do think there is a chance he could start."
Future expectations about Criswell jumped following his performance in instructional league ball. The Athletic's Keith Law was impressed enough to rank Criswell as Oakland's No. 5 prospect, writing, "Criswell was mostly a two-pitch guy up to 95 mph at Michigan, but was showing four pitches and hitting 97 mph in instructs, with a cleaner delivery than the violent one he'd had before the shutdown. Criswell's slider was a swing-and-miss pitch in college and it's gotten sharper now, while his changeup, which he barely used in school, was flashing plus in instructs too."
MLB.com placed Criswell at No. 8 in the organization, with the note, "Once he joined the organization for instructional league last year, his mechanics appeared even better than advertised... Criswell's stuff makes him one of the more exciting pitching prospects the A's have had in recent years". For both rankings, it's clear that Criswell is one of the top two right-handed starters in the system, joining Daulton Jefferies. Should Jefferies and southpaw A.J. Puk establish themselves with the A's, expected to happen sometime in 2021, Criswell will be the highest regarded pitcher in the organization.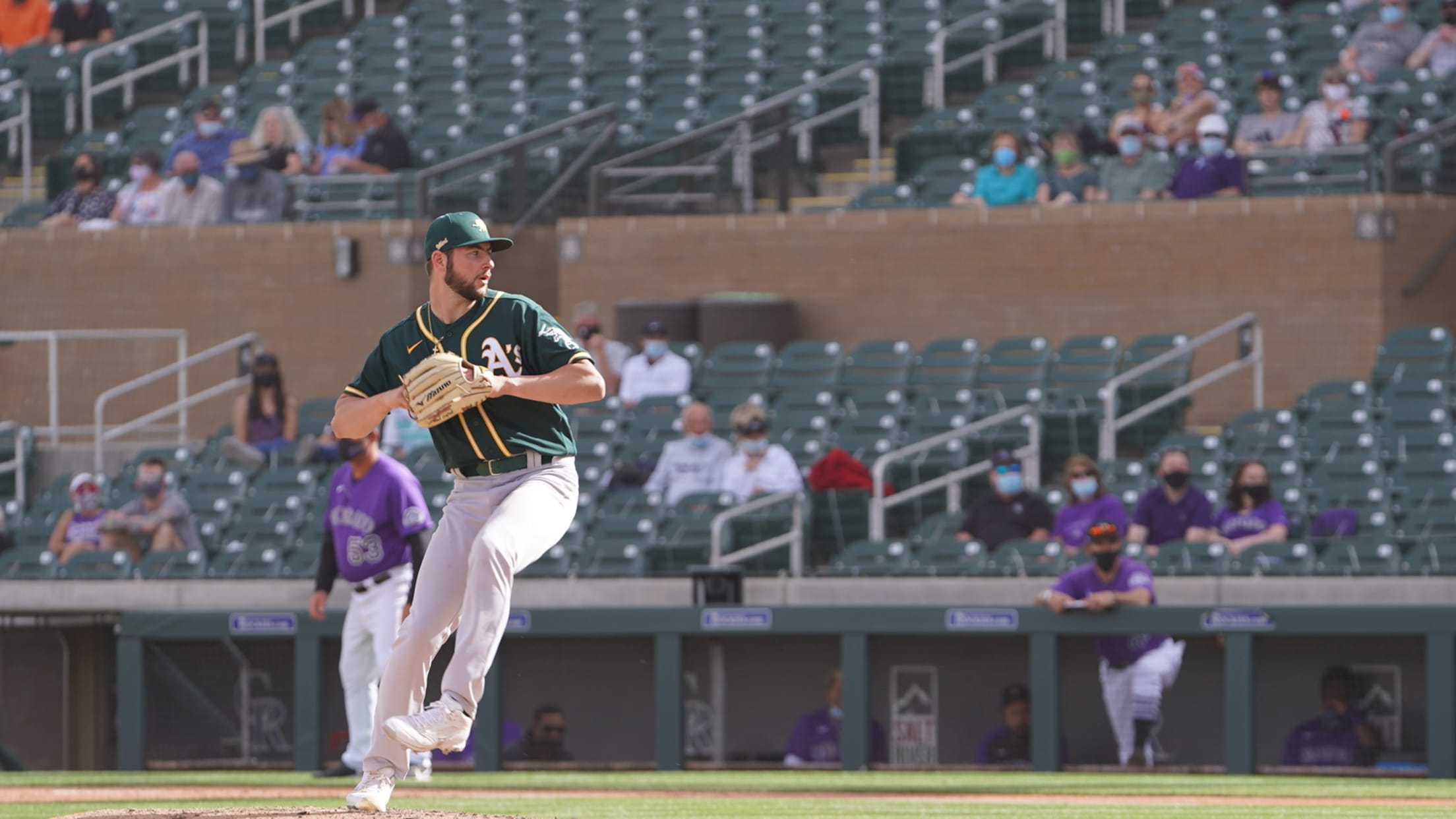 Drafted last year, when there was no Minor League Baseball season, Jeff Criswell has yet to make his professional debut. Where he opens this season depends largely on how he fares in Spring Training and the depth the A's have at each of their MiLB levels.
It would not be a surprise to see Oakland assign him to Low-A Stockton to get his track started at the lowest full-season affiliate and build off his development from there. On the other hand, we're talking about a polished high-ceiling talent tested on the highest stage in college baseball and seen as on the fast track toward success and a Major League impact. A plumb challenge assignment to High-A Lansing sounds right on the menu.
After such great success in Michigan at the high school and collegiate levels, there would be no better place for Jeff Criswell to make his professional debut than his home state, serving as Lugnuts staff ace.