Calling for change in the broadcast booth
Black Play-By-Play Broadcaster Grant assists new voices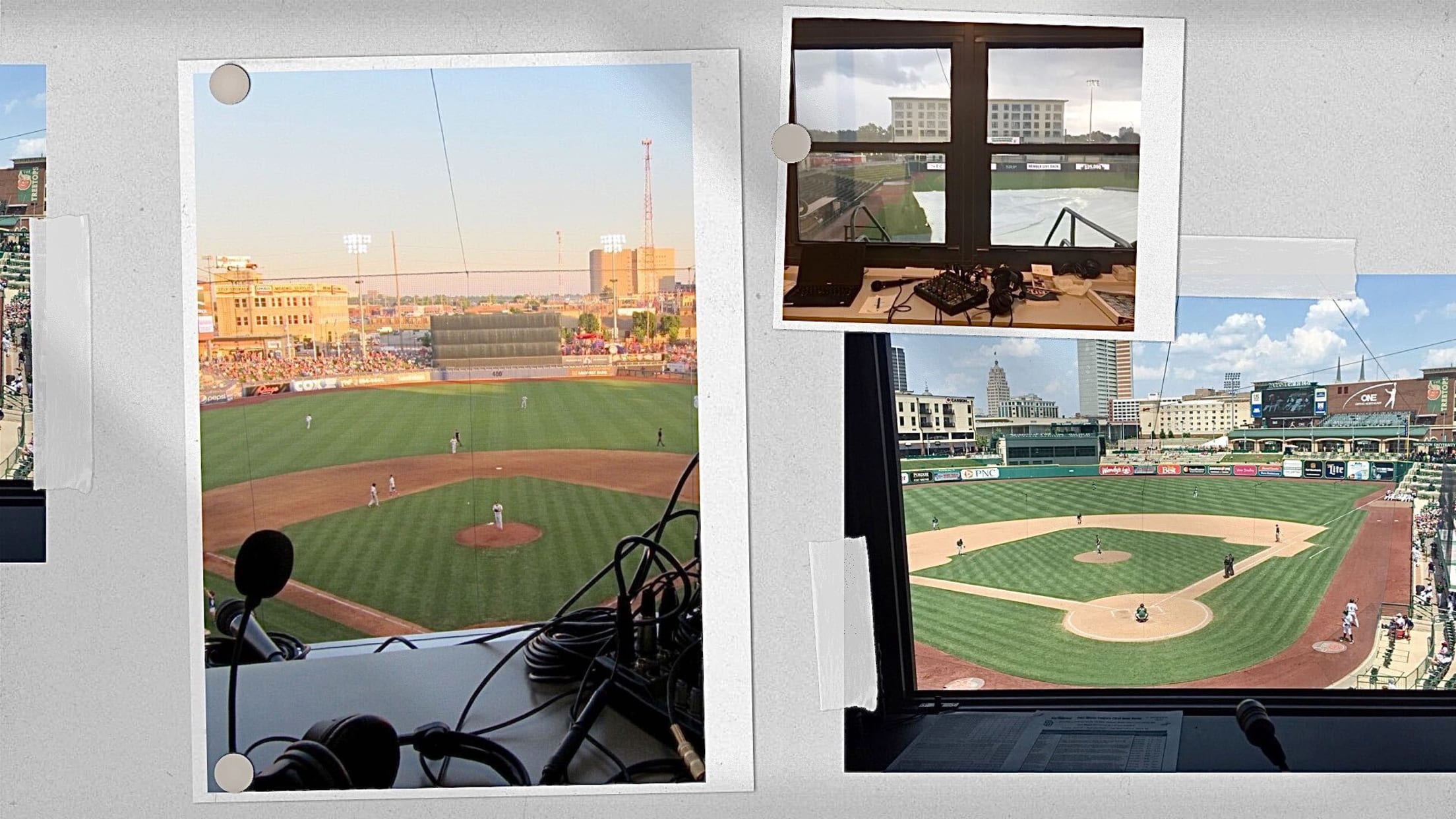 A new initiative seeks to add Black voices to Minor League play-by-play booths across the country.
When it comes to effecting change in America, you can talk about it or you can be about it. Adam Giardino chose the latter approach. Giardino, a broadcasting professional with 10 years experience who works for the Triple-A Scranton/Wilkes-Barre RailRiders, is the driving force behind the Black Play-by-Play Broadcaster Grant.
When it comes to effecting change in America, you can talk about it or you can be about it. Adam Giardino chose the latter approach.
Giardino, a broadcasting professional with 10 years experience who works for the Triple-A Scranton/Wilkes-Barre RailRiders, is the driving force behind the Black Play-by-Play Broadcaster Grant. This initiative was announced Monday via a 15-part Twitter thread that explained its origin and goals. A mission statement, of sorts, is this: "Simply put, there are not enough Black voices in play-by-play broadcasting."
🚨 ANNOUNCEMENT 🚨

In partnership with baseball broadcasters across the country, I am thrilled to be announcing the Black Play-by-Play Broadcaster Grant initiative. /1https://t.co/uTxmClJKAd

— Adam Giardino (@adamgiardino) June 8, 2020
In Minor League Baseball, Black voices are distinctly lacking. While the number of female broadcasters has increased in recent years, however incrementally, Black broadcasters have been few and far between. Giardino had long been aware of and troubled by this reality. Our nation's recent groundswell of anti-racist protest, precipitated by the police murder of George Floyd, made him realize that inward analysis must give way to direct action. The initial goal of the Black Play-By-Play Broadcaster Grant was to establish a $3,000 stipend for a Black broadcaster, "reflecting a $500/month stipend from mid-March through mid-September that would make life easier for someone looking to break into the industry."
That goal was quickly obliterated. On Thursday morning, some 72 hours after his initiative was first announced, Giardino provided an update: 180 donors, contributing across a variety of platforms, had raised $15,458.19. Giardino is now in the process of establishing a 501c3 non-profit organization, which will oversee the grant as well as a scholarship program for Black play-by-play broadcasters.
"There is the need to present this initiative to businesses looking to direct resources to support diversity efforts. A lot of money could be raised that way, beyond the incredible grassroots support from all of you," Giardino wrote as part of a Twitter thread. He also provided early details on a mentorship program that will connect aspiring broadcasters with those who are established in the industry.
💰 Fundraising Update 💰

As I mentioned last night, there is a lot that needs to be said of the fundraising efforts of the last three days.

Without burying the lede… in excess of *$15,000* has been raised for this grant through donations and pledges. 1/19 https://t.co/71UwACFTkD

— Adam Giardino (@adamgiardino) June 11, 2020
Giardino, a native of Franklin, Massachusetts, began his broadcasting career in 2010 as an intern for the Triple-A Pawtucket Red Sox. This led to positions with the Class A Lakewood BlueClaws (2012), Double-A Trenton Thunder (2013-17) and now the RailRiders. During his time in the South Atlantic, Eastern and International leagues, he never crossed paths with a Black broadcaster.
"[RailRiders lead broadcaster] Adam Marco and I, in Scranton, we've made sure to hire female interns, to make sure there was some sort of diversity in what we were doing," said Giardino. "But doing that makes you aware of other holes in your diverse approach, taking away from what you're looking to accomplish."
As one of the only non-white broadcasters in MiLB, I can't express how meaningful this is. I've worked w/ incredibly welcoming people while in baseball, but there's always a lingering feeling of being an outsider. It's these gestures that can create real change. Thanks Adam https://t.co/an0bEeyM3d

— Gregory Wong (@gregoryhwong) June 8, 2020
Giardino sent an email to 30 broadcasting colleagues on June 2, outlining his idea for the Black Play-By-Play Broadcaster Grant.
"Of the 30 I reached out to, 20 responded almost immediately. 'Yeah, I'm in,'" he said. "When I reached out to them the goal was $3,000. That was a number I thought was OK. If you break it down, it was, 'Can you spare $10 a month to help an aspiring broadcaster to get a boost in this industry?'"
Broadcasters are a peripatetic bunch, and Giardino's colleagues (most in the International and Eastern leagues) quickly spread the word among peers all over the country. A planned June 5 public launch was delayed until June 8 as Giardino continued to receive support and feedback from throughout the industry.
"Eleven a.m. Eastern on Monday [June 8], it was 'Let's go!' and immediately the response was great," he said. "I don't want to leave anyone out, but one of the first [to retweet] was Cespedes Family BBQ. They have close to 100,000 followers. That was the first unexpected big name. In mid-afternoon, Jon Sciambi grabbed it. Wow, that's Sunday Night Baseball! Dan Shulman and Brian Anderson. Len Kasper. Jeff Levering. The point being, these were some of the names that I hoped I'd reach. A big part of that was because we had 40 Minor League Baseball broadcasters attacking this at once."
Part of the reason we get old white guys on broadcasts racistly whining about Acuña's chains is b/c broadcasting at the lower levels is often only financially sustainable to those who grew up with means/privilege/connections.

Wanna help amplify black voices in baseball? Donate. https://t.co/vrwdwPULTD

— Céspedes Family BBQ (@CespedesBBQ) June 8, 2020
During his period of preparation, Giardino's most crucial conversations were with Black play-by-play broadcasters. Two work at the Major League level -- Dave Sims (Seattle Mariners) and Robert Ford (Houston Astros).
"We knew what needed to be tackled and in lockstep with that [was] there was a small list of people who we needed to get the blessing of, to speak to, to know that we were doing things their way," said Giardino. "It's not just a white guy trying to save the day. That would torpedo the whole effort."
Darius Thigpen played a key role in this process, both in providing his perspective and in connecting Giardino with other Black broadcasters. Thigpen, an experienced play-by-play broadcaster, interned with the Triple-A Columbus Clippers in 2014 and spent 2015 as a studio host for the Triple-A Lehigh Valley IronPigs. After his time in baseball, he spent two seasons as Longwood University's play-by-play voice.
"For me it was, 'Dude, this is fantastic, how can I help?'" Thigpen said. "I connected him with people he may not have connected with. The most powerful person in my contact list, that was Dave Sims. I also mentioned it to the STAA [Sportscasters Talent Agency of America]. 'Hey, this is what Adam is doing. You're going to be hearing from him.' Just making sure anyone I knew with a powerful voice knew about it on the front end."
Thigpen is a proponent of the grant because it can help open doors, and just as importantly, keep them open.
"Like anything else in sports, this is a scouting effort. When you have scouts set up a farm system, you see a reflection of them in the talent that comes through," said Thigpen. "I think this is something that will bring in more Black broadcasters. It's a very basic thought. Early in your career, and with play-by-play especially, you're not getting paid much. This grant will help cover that. It's going to help play-by-play talent get through that early part of their career, to make sure that someone who doesn't have the ability to not get paid sticks with it, weathers that storm and takes the next step."
A big part of the next step, on a structural level, is working to ensure Black broadcasters are not working alone and in a vacuum.
"You often hear, when you're working in sports, 'Stick to sports.' Don't make it political, don't bring race into it," Thigpen said. "You don't feel like you can fully express what you want to talk about. So if you don't have another Black person to talk to, you're in a spot where it's, 'I've got my feelings about this but I can't talk about it. I'm certainly not going on air in the middle of a broadcast and talking about it.' It feels inappropriate, leaves you with this feeling of being bottled up, repressed in your expressions. So you talk to people from church or your parents. Your family. Friends who aren't in the industry. It feels weird.
"In my experience, I don't feel like I can talk about everything that I want to talk about in sports. You don't want to be someone who, as they say, is a distraction. That's often the way you hear it put. It's a weird spot to be in, and it's true for Black people from so many different industries and career paths."
Thigpen was also among those counseling Giardino regarding what language to use when it came to giving the grant a name.
"This was about Black broadcasters. Not African-American. Not person of color," said Giardino. "That was what they told me they wanted this be called, and I deferred at every turn. I needed to use the right language, to make something that would resonate and be truly impactful."
Thigpen elaborated, "We wouldn't want this to be watered down, with a name in the front that could be perceived as honoring someone or somebody else. It had to be specific. It might not always be for a person in baseball, but we wanted to keep it specific to Black play-by-play voices."
This is 100% necessary. Anyone who has worked an entry-level PXP job (really any entry-level sports) knows it's tons of hours and little (if any) pay. That shouldn't be a barrier to getting the next great play-by-play voice. I especially hope to see black women PXP come from this https://t.co/dG8oD0GkS7

— Darius Thigpen (@Thig08) June 8, 2020
Specific to Black voices, yes, but these Black voices shouldn't be assumed to be male.
"We have to support Black women," said Thigpen. "It's one of those things where you have to remember the history. You have to realize that a lot of the feminist movements and civil rights movements were happening simultaneously. This put Black women on the spot. 'What do I prioritize, being a women or being Black?' So many Black women are viewed as Black first. It's a weird spot for Black women to be in; they got left out of both movements. And, of course, you still have sexism that exists, even within the Black community. I'm not speaking of the Black community as a monolith. Just, generally speaking ... sexism exists and needs to be pointed out. ... It would a crying shame if Black women were left out again. Black women have stepped up for Black men. Now we have to go out of our way to make sure that Black women are recognized and celebrated."
This is a journey that has barely begun, but Giardino expressed hope for the long term.
"I believe that there are going to be Black broadcasters given every opportunity to interview for jobs," he said. "I'm hopeful that there will be other broadcasters wanting to be a part of that, to raise awareness of deserving candidates who may not have otherwise gotten this opportunity."
Thigpen is thinking even farther ahead.
"I hope that in 10 to 15 years we'll be able to look back and see that there's an entire network of Black broadcasters," he said. "A new wave. I'm looking forward to this initiative being a part of it."