Arizona Diamondbacks lineup features nine Aces from this season
Entire lineup from Arizona appeared for Reno in 2021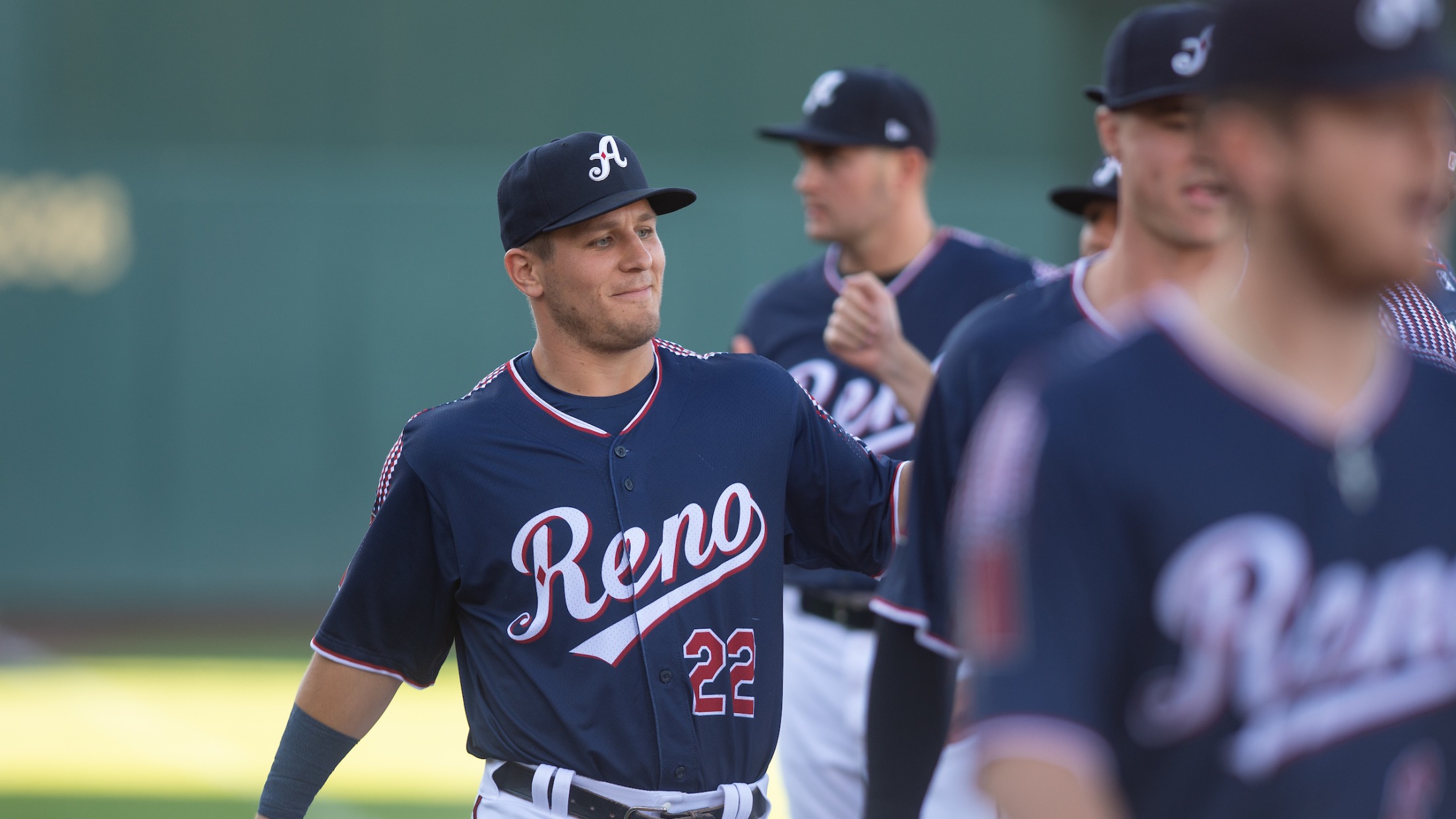 PHOENIX – The Arizona Diamondbacks lineup for this afternoon's 12:10 p.m. PT game against the Colorado Rockies is full of 2021 Reno Aces players. All nine players on Torey Lovullo's lineup card played for the Aces this season. As a unit, the lineup hit .330 with 46 home runs, 149
PHOENIX – The Arizona Diamondbacks lineup for this afternoon's 12:10 p.m. PT game against the Colorado Rockies is full of 2021 Reno Aces players. All nine players on Torey Lovullo's lineup card played for the Aces this season. As a unit, the lineup hit .330 with 46 home runs, 149 RBIs and 152 runs scored in 637 at bats with Reno this season.
Josh Rojas | 3B (3-for-10, 3HRs, 6 RBIS, 4R)
Josh Rojas appeared in three games for Reno this season on am August rehab assignment. Rojas finished 3-for-10 with six RBIs and four runs scored, capped off with a 3-for-4 performance in his final game with the Aces. The outing saw Rojas crush three homers and drive in four runs, and reach base once more time with a walk.
The versatile infielder appeared in eight games for Reno in 2019, going 18-for-35 with 14 RBIs and 11 runs scored. With the D-backs this season, Rojas has slashed .263/.339/.410 with a .749 OPS and 43 RBIs.
Josh VanMeter | 2B (26-for-67, 9HRs, 20 RBIs, 23 Rs)
Josh VanMeter had an electric stretch with Reno this season, slugging nine homers and 20 RBIs in just 19 games. VanMeter slashed a gaudy .388/.538/.881 for a 1.419 OPS. In his final five games with Reno, VanMeter hit six homers, and ended on a nine-game hitting streak. For the month of June, VanMeter slugged 1.000 with 14 extra-base hits.
In 111 games with Arizona, VanMeter slashed .208/.295/.342 with a .637 OPS and 15 homers to go with 64 RBIs. In the bigs, VanMeter stole 13 bases and got thrown out just five times.
Daulton Varsho | C (25-for-80, 9HRs, 25 RBIs, 18Rs)
Varsho appeared in just 18 games with Reno this season, but made a massive impact on the squad. The catcher and outfielder crushed nine homers and drove in 25 RBIs while crossing the plate 18 times. Varsho slashed .313/.368/.750 with a 1.118 OPS.
In the bigs this season, Varsho has shown the same power and speed from Reno. Varsho's hit 11 homers and driven in 38 runs, while stealing six bases in six attempts in 94 games played.
Kole Calhoun | RF (2-for-4, 2 HRs, 3 RBIs, 3 Rs)
Kole Calhoun had a dominant two-game rehab assignment for Reno in July of this season, going 2-for-4 in two games with two homers and three RBIs.
Calhoun has appeared in 50 games for Arizona this season, going yard five times and driving in 17 runs while scoring 16 himself.
Christian Walker | 1B (4-for-17, 2HRs, 4RBIs, 3Rs)
The 2017 PCL MVP returned to Reno this season for a four-game rehab stint with the Aces. In the four games, Walker went 4-for-17 but scored three runs, driving in four behind a pair of mammoth home runs.
Walker spent time in Reno in 2017 and 2018, appearing in 217 games. In 2017, Walker slashed .309/.382/.597 with a .980 OPS to earn MVP honors in the PCL. The first baseman slugged 32 homers and drove in 114 RBIs, while scoring 104 runs himself. The run total is good for second all-time in Aces history, and the 32 long balls was the team record at the time. Only Kyle Jensen has driven in more runs in a season with Reno, knocking 120 RBIs in 2016.
Henry Ramos | LF (95-for-256, 12 HRs, 57 RBIs, 62Rs)
Henry Ramos spent the most time with Reno of anyone in today's lineup, appearing in 75 games for the Aces. The veteran outfielder raked at the plate, slashing .371/.439/.582 with a 1.021 OPS. Ramos crushed 12 homers and drove in 57 runs, scoring 62 himself. Ramos was a cornerstone of the Aces offense and defense in the outfield, making multiple highlight catches in big games.
Ramos earned a call up to the big leagues for the first time in his 11-year career, making his big-league debut on September 5. Pinch hitting in the contest, Ramos reached base for his first career big league hit. On September 10, Ramos went yard for the first time in the major leagues, on the road at Seattle.
Jake McCarthy | CF (50-for-191, 9HRs, 7 3Bs, 31 RBIs, 38 Rs)
Jake McCarthy came alive late this season, slashing .321/.373/.587 for a 1.011 OPS in his final 29 games with Reno. In that stretch, McCarthy upped his season average from .200 to .262. McCarthy finished with nine homers and seven triples, driving in 31 runs and scoring 38 himself. McCarthy stole 12 bases as well, in just 15 attempts.
With Arizona, the speedy outfielder has slashed .232/.338/.393 and gone yard twice in 23 games.
Geraldo Perdomo | SS (5-for-12, 3 RBIs, 1R)
Geraldo Perdomo appeared in three games with Reno this season after earning the callup from Amarillo. In 12 at bats, the top prospect drove in three runs and scored one more himself.
Perdomo wasn't in Reno long, getting called up to Arizona after three games. With the D-backs, Perdomo is slashing .259/.394/.407 with an RBBI and four runs scored.
Humberto Mejia | P
Today's starter Humberto Mejia was one of Reno's most exciting pitchers this season, finishing with a 7-5 record and a 5.53 ERA. After a slow start to his Triple-A season, Mejia went 5-2 with a 3.76 ERA in his final 10 starts. In that stretch, Mejia went six innings or more four times and struck out 52 in 55.0 innings pitched.
With Arizona, Mejia has gone 17.2 innings and struck out 15 in four starts.