Reno Aces to Host Blood Drive with Vitalant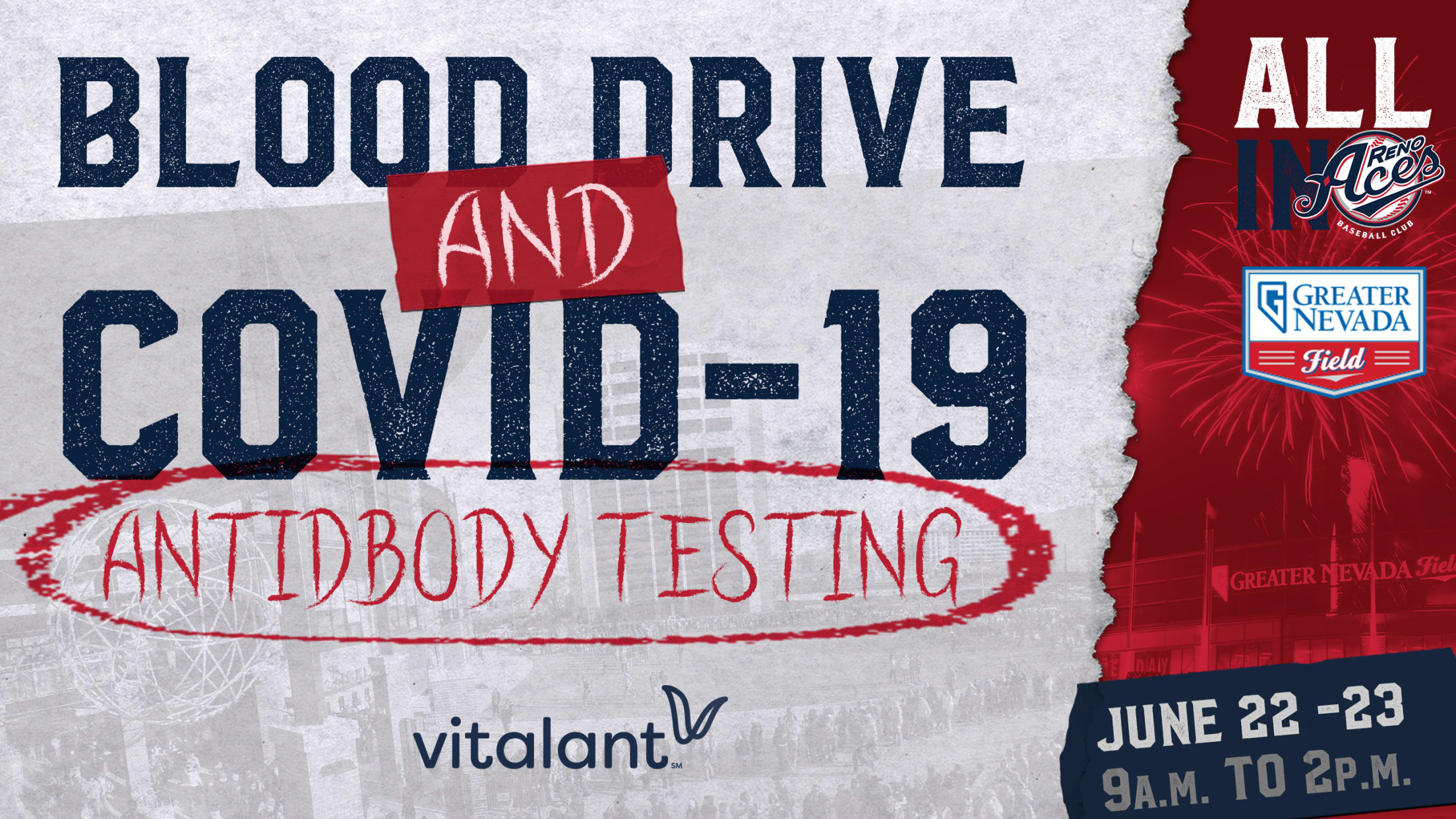 The Reno Aces and Reno 1868 FC are partnering with Vitalant to host a blood drive at Greater Nevada Field. Donations will also include testing for COVID-19 antibodies. Aces and 1868 fans, along with all members of the Northern Nevada community, can join the club in saving lives at Greater
The Reno Aces and Reno 1868 FC are partnering with Vitalant to host a blood drive at Greater Nevada Field. Donations will also include testing for COVID-19 antibodies. Aces and 1868 fans, along with all members of the Northern Nevada community, can join the club in saving lives at Greater Nevada Field through Vitalant over the course of June 22-23 from 9am-2pm both days.
"We are proud to host a blood drive at Greater Nevada Field and do our part to serve the community during this challenging time for all of Northern Nevada," said Aces general manager Emily Jaenson. "This two-day blood drive delivers double the good when you save lives and learn your COVID-19 antibody status, which is especially important given the critical shortage of blood as hospitals have increased surgeries and other procedures. Register online to reserve your time slot to donate at the ballpark."
For those who have fallen ill with symptoms from COVID-19, but were unable to be tested, antibody tests can prove useful moving forward. Antibody tests are used to determine if someone had a past infection with SARS-CoV-2, the coronavirus that causes COVID-19. Testing for antibodies does not indicate whether the antibodies neutralize the virus and protect from reinfection.
Beyond identifying whether a donor has antibodies or not, the donation can save lives in a time where blood donations can be scarce.
"Every two seconds, someone in the U.S. needs blood, so these blood drives are a big part of our efforts to meet patient needs," said Scott Edward, Donor Marketing and Communications Director for Vitalant. "The summer is a very challenging time to collect blood … we are thankful for the tremendous support from the Reno Aces to help boost our community's blood supply together."
Everyone who donates blood will also receive a 20 percent discount for the Aces and 1868 FC team shop.
Walk-ins are welcome, but donation appointments are recommended. To schedule an appointment, call (775) 785-6644 or go online to BloodHero.com to make appointments for Monday, June 22, or Tuesday, June 23. Additionally, COVID FAQs are available here, and antibody test FAQs can be found here.