Pearson dominates as Bisons open in Trenton with 6-1 win
Righty fans eight before bullpen locks down win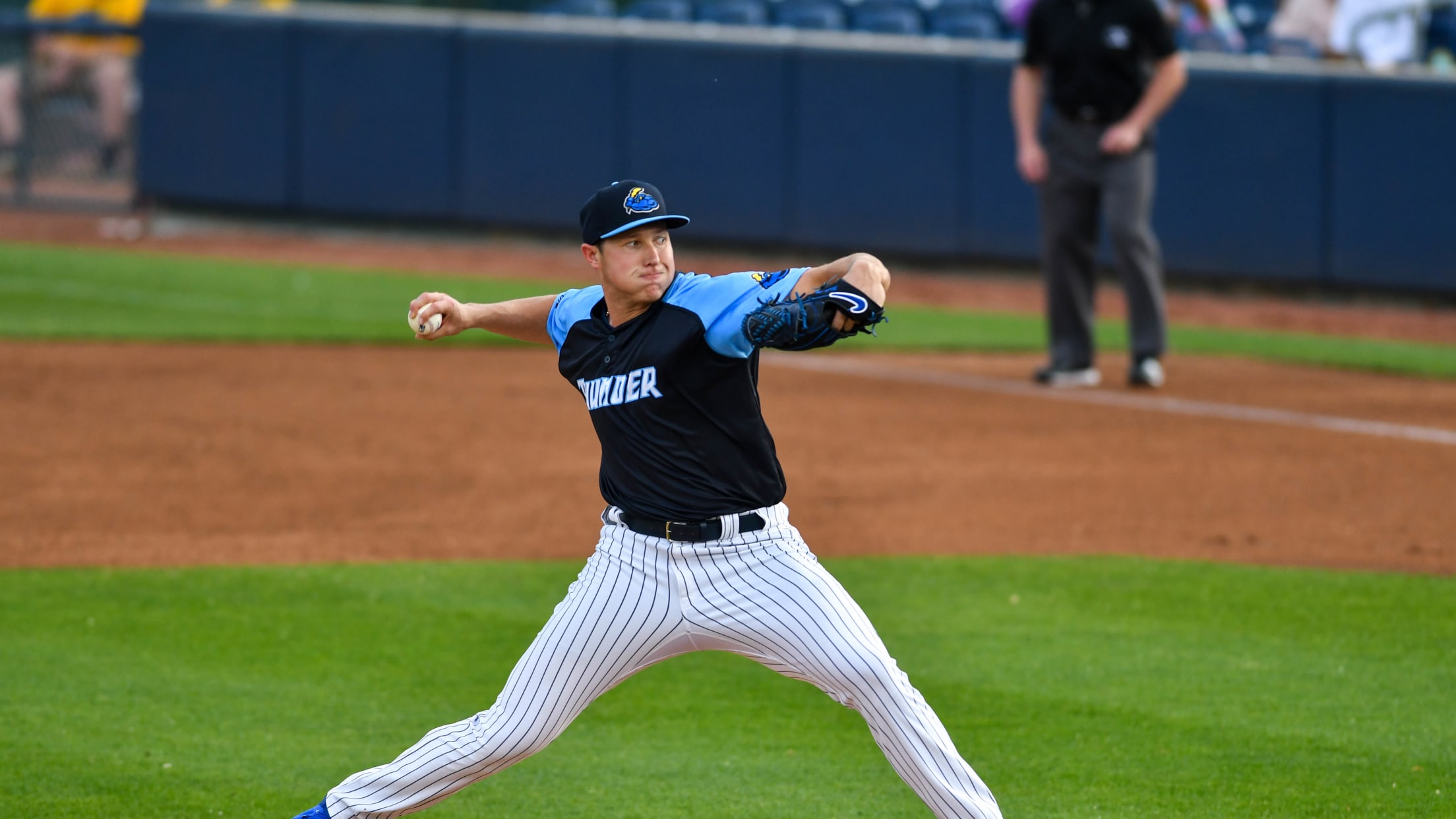 Nate Pearson struck out 8 in his 2021 debut with the Bisons (Mike Sabo)
After not playing for 610 days the Buffalo Bisons return to the field Tuesday night for Opening Day playing like they never plan to waste another game. "The players were so excited to get on the field and play in a game and get into a competition that when they
After not playing for 610 days the Buffalo Bisons return to the field Tuesday night for Opening Day playing like they never plan to waste another game.
"The players were so excited to get on the field and play in a game and get into a competition that when they go out there, they were very locked in," said Bisons manager Casey Candaele.
The Bisons played a crisp clean game in defeating the Worcester Red Sox, 6-1, from Trenton Thunder Ballpark in Trenton, NJ in their first game since September 2, 2019.
The Blue Jays top pitching prospect Nate Pearson made the opening day start and was dominant, striking out eight batters over 3.2 innings and giving up four hits and only one run coming.
Pearson's slider and fastball kept the Red Sox off balance and guessing wrong all night. Of Pearson's 78 pitches, 53 went for strikes as he struck out four hitters looking and four hitters swinging in the start.
"It was mainly fastball-slider, but I threw a couple of really good changeups throughout the game and it kind of helped me out a lot," said Pearson. "Each pitch flashed pretty good, but I think it was the heater that carried me throughout the outing."
Behind Pearson's dominance, the Bisons offense jumped on the Red Sox's starter Tanner Houck from the first pitch as four of their first five batters reached base.
Designated hitter Tyler White, in his first game for the Bisons, got the scoring started driving home leadoff hitter Forrest Wall with a double into the gap in the right field. Right fielder Josh Palacios immediately followed, driving home White on a single up the middle to beat Red Sox's shift.
Palacios, in his first game for the Bisons, went on to add a second RBI single in the third, driving home second baseman Breyvic Valera to give the Bisons a 3-0 lead.
Houck, expected to be a part of the Boston Red Sox starting rotation this season, lasted only three innings giving up eight hits and three runs to earn the loss.
Pearson, limited in his pitch count left the game in the fourth with the bases loaded for left-hander Tayler Saucedo, who took care of business striking out Josh Ockimey to end the inning.
Saucedo went on to produce an impressive relief effort of 2.1 innings with two strikeouts and only two hits, enough to get the win. He was efficient throwing 23 strikes in 32 pitches.
Following Saucedo, Kirby Snead, Jeremy Beasley and Bryan Baker put together three innings of dominant relief pitching to snuff out any chance of a Red Sox comeback. The three pitchers gave up no hits over the final innings and struck out two.
The Bisons added a trio of insurance runs in the seventh. Wall tripled to deep right driving in Juan Graterol and Logan Warmoth. Valera added a sacrifice fly that brought Wall home to give the Bisons a 6-1 lead for good.
Overall, seven different players had hits for the Bisons including multi-hit games from Wall, Valera, Palacios, Graterol and Warmoth.
"The guys were aggressive and hit pitches in the zone," said Candaele. "They did a good job of laying off his stuff and there weren't intimidated."
The Bisons will host the Red Sox tomorrow night at 7:00 at the Trenton Thunder Ballpark with lefty starter Nick Allgeyer making his first start for the Bisons against the Red Sox's Raynal Espinal.