Sneed stymies Sacramento in 5-0 Fresno win
Cy Sneed has not given up a run in half of his starts (7 of 14); Jon Kemmer belts a HR for second straight game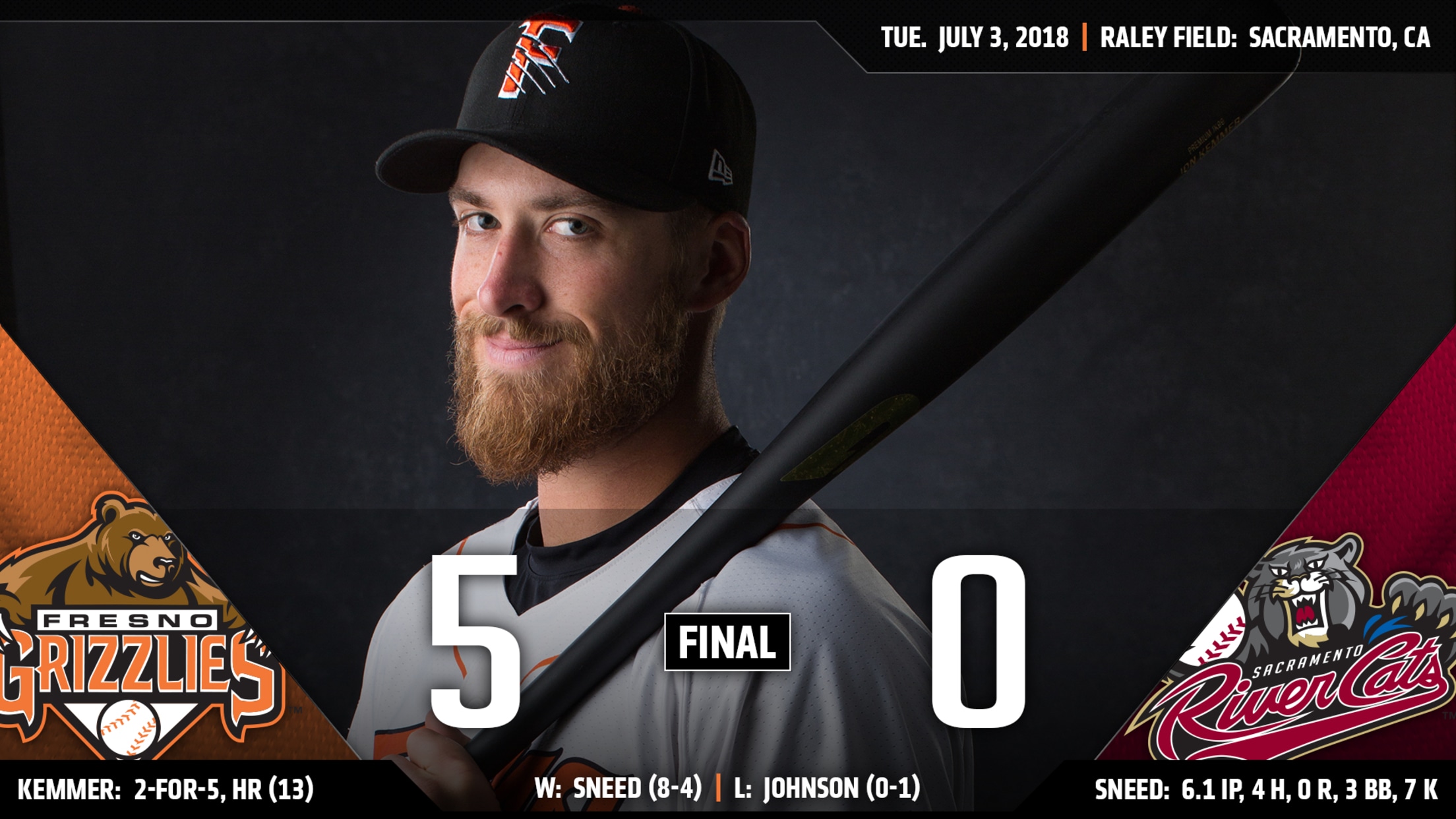 The Fresno Grizzlies (49-35) blanked the Sacramento River Cats (38-47) 5-0 Tuesday night from Raley Field. With the victory, the Grizzlies improved to 37-20 versus the River Cats and 22-7 on the road since the affiliation switch in 2015. Fresno is perfect in the fifth game of a series (4-0)
Grizzlies crush four bombs, avoid the brooms in El Paso
Kyle Tucker (13), Taylor Jones (1), Derek Fisher (4) and Jon Kemmer (11) go deep in a 12-4 victory; Mike Hauschild is tied for third in franchise wins (28)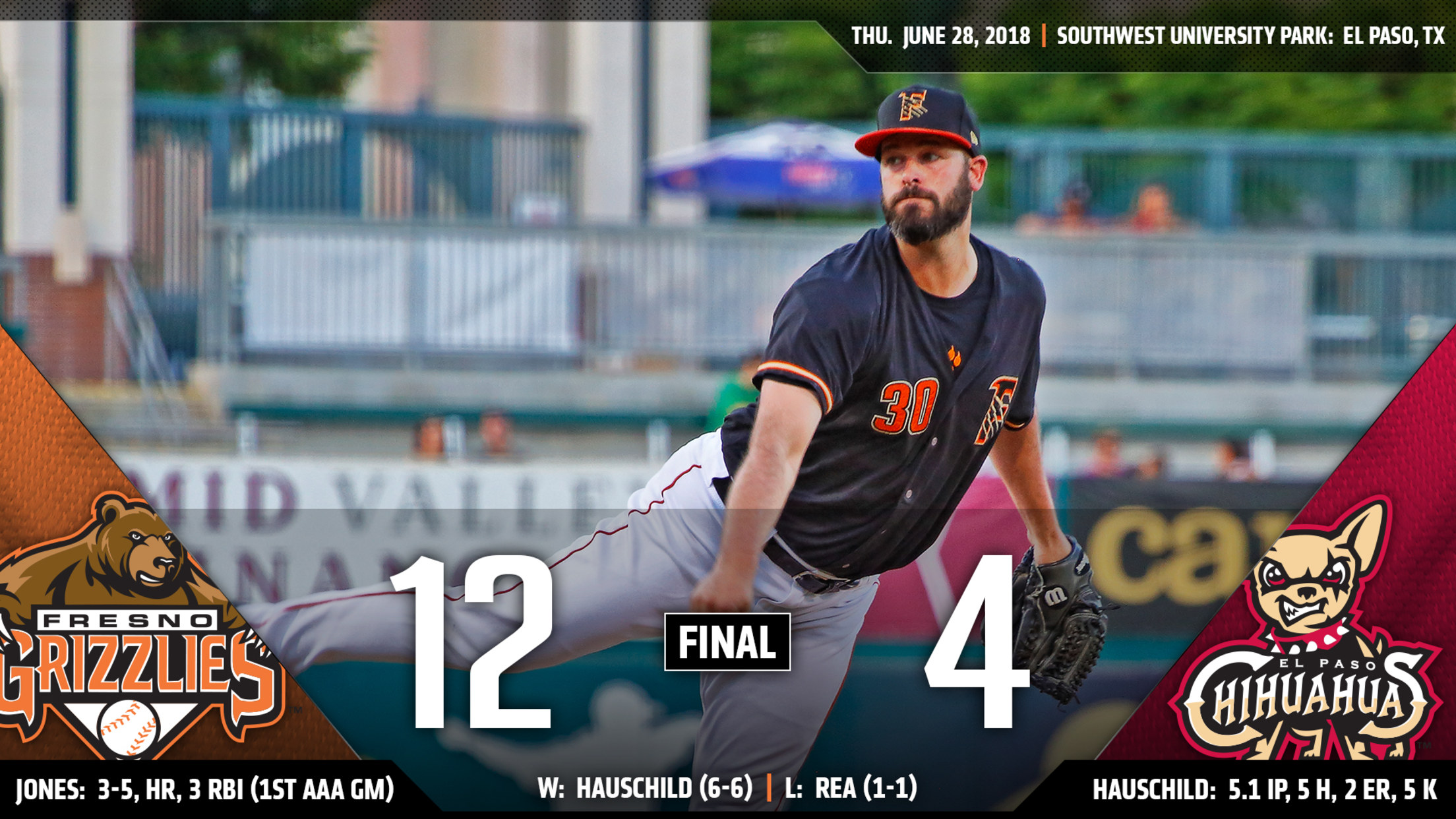 The Fresno Grizzlies (47-32) ended the El Paso Chihuahuas (42-38) eight-game winning streak with a convincing 12-4 victory Thursday night from Southwest University Park. Fresno avoided being swept for the first time this season (20 series). The last time the Grizzlies saw the brooms were at El Paso last year
Five-run 4th dooms Fresno in loss to El Paso
Kyle Tucker extends team-high hit streak to 16 games in 5-4 defeat; Grizzlies look to avoid being swept for the first time this season tomorrow night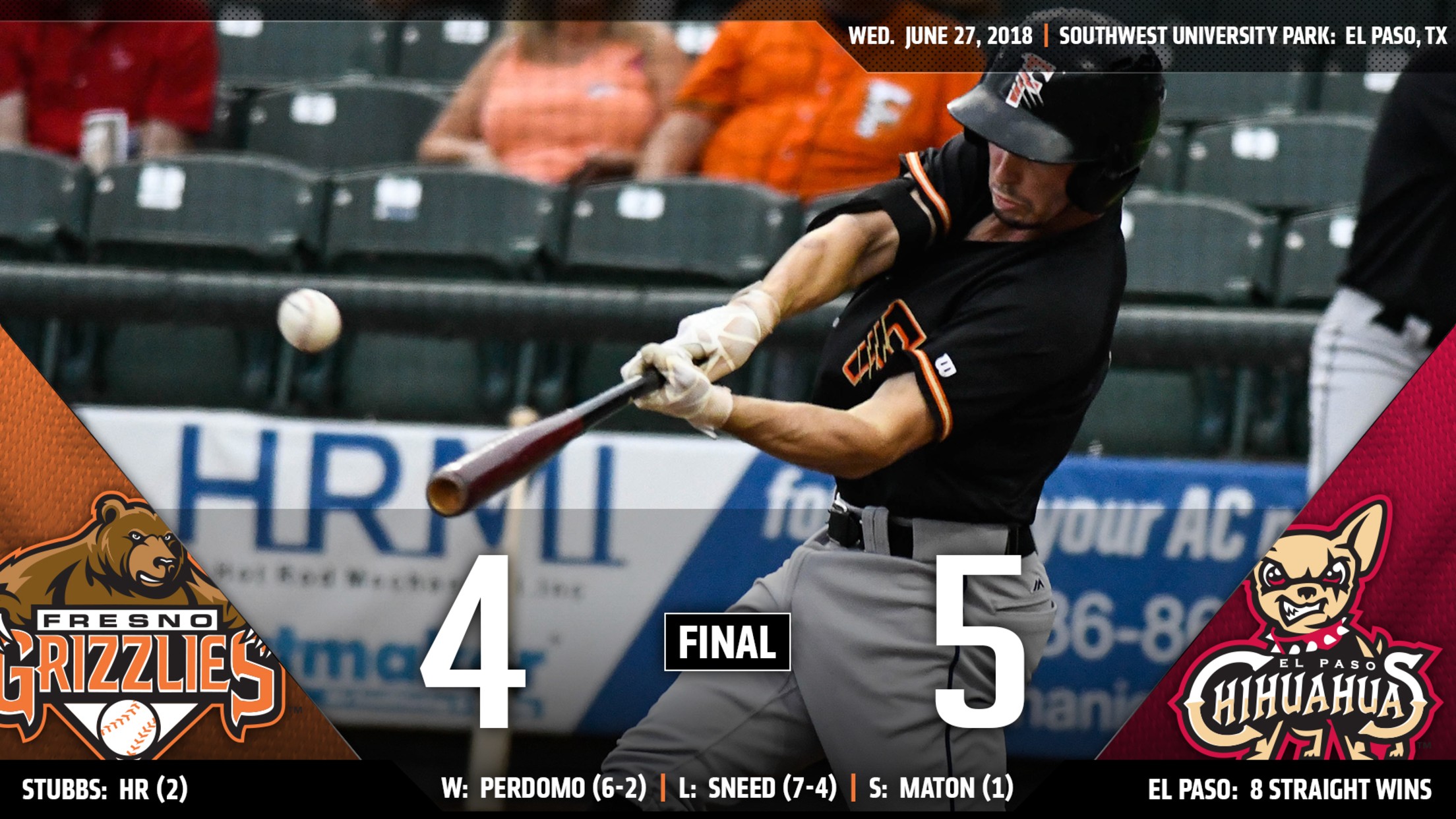 The El Paso Chihuahuas (42-37) won their eighth straight game Wednesday night, defeating the Fresno Grizzlies (46-32) 5-4 from Southwest University Park. Chihuahuas' starter Luis Perdomo (6-2, win) worked seven innings, scattering seven hits, three runs (earned), while fanning four. On the other hand, Grizzlies' starter Cy Sneed (7-4, loss)
Isotopes snap Grizzlies six-game win streak with a 7-5 victory Friday night
Kyle Tucker (3-for-5) extends team-high hitting streak to 11 games; Jon Kemmer launches his 10th bomb of the season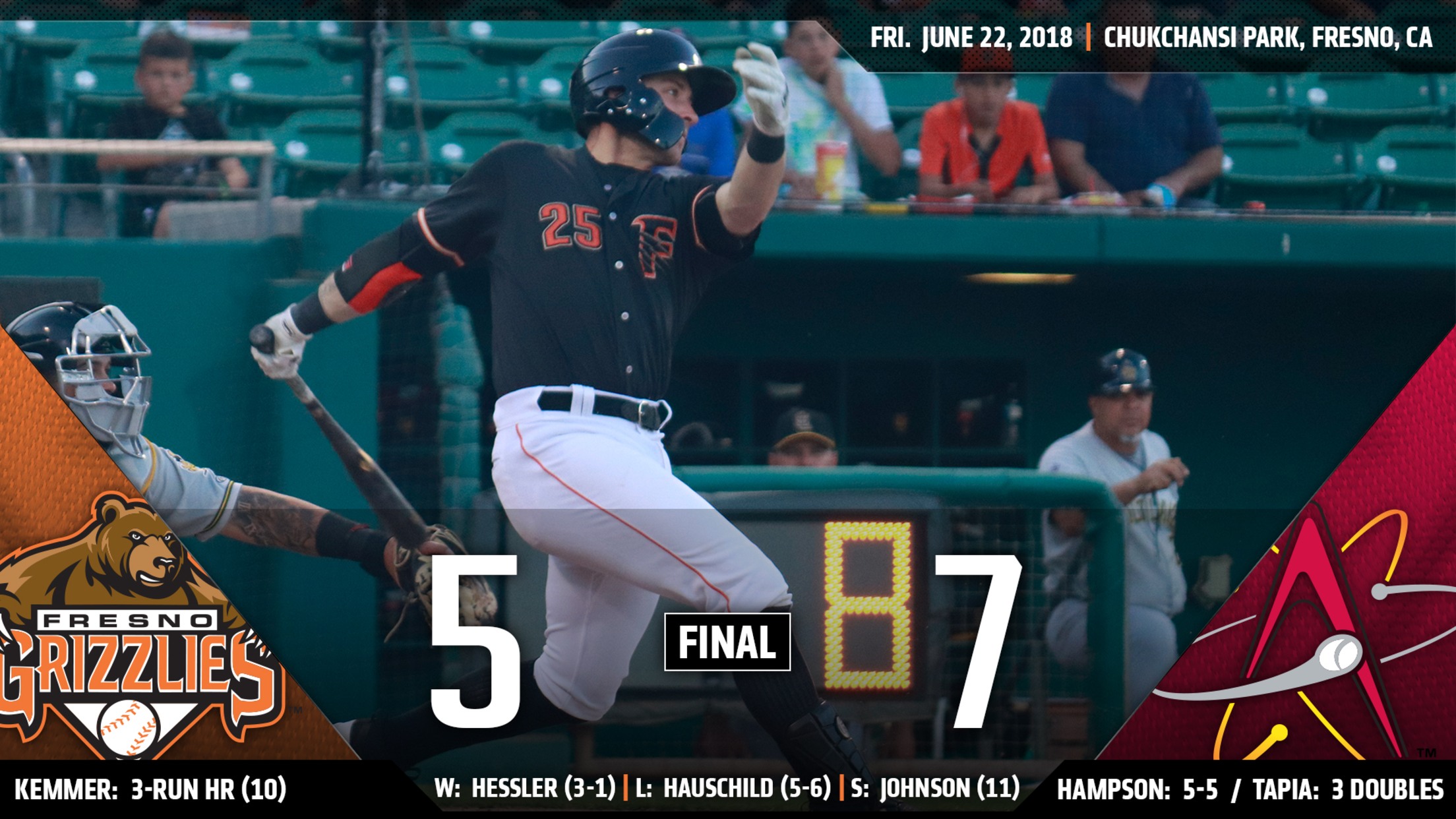 The Albuquerque Isotopes (37-36) ended the Fresno Grizzlies (45-28) winning streak at six games with a 7-5 victory Friday night at Chukchansi Park. Despite the loss, Kyle Tucker (3-for-5) extended his team-high hit streak to 11 games. In that span, Tucker is 25-for-50 (.500) with seven extra-base knocks, 10 RBI,
Josh James' stellar start ends in a Kemmer/Tacos' walk-off 1-0 win
James strikes out a season-high 13 in 7 scoreless innings; Jon Kemmer (2-for-3) drills game-winning single in the 9th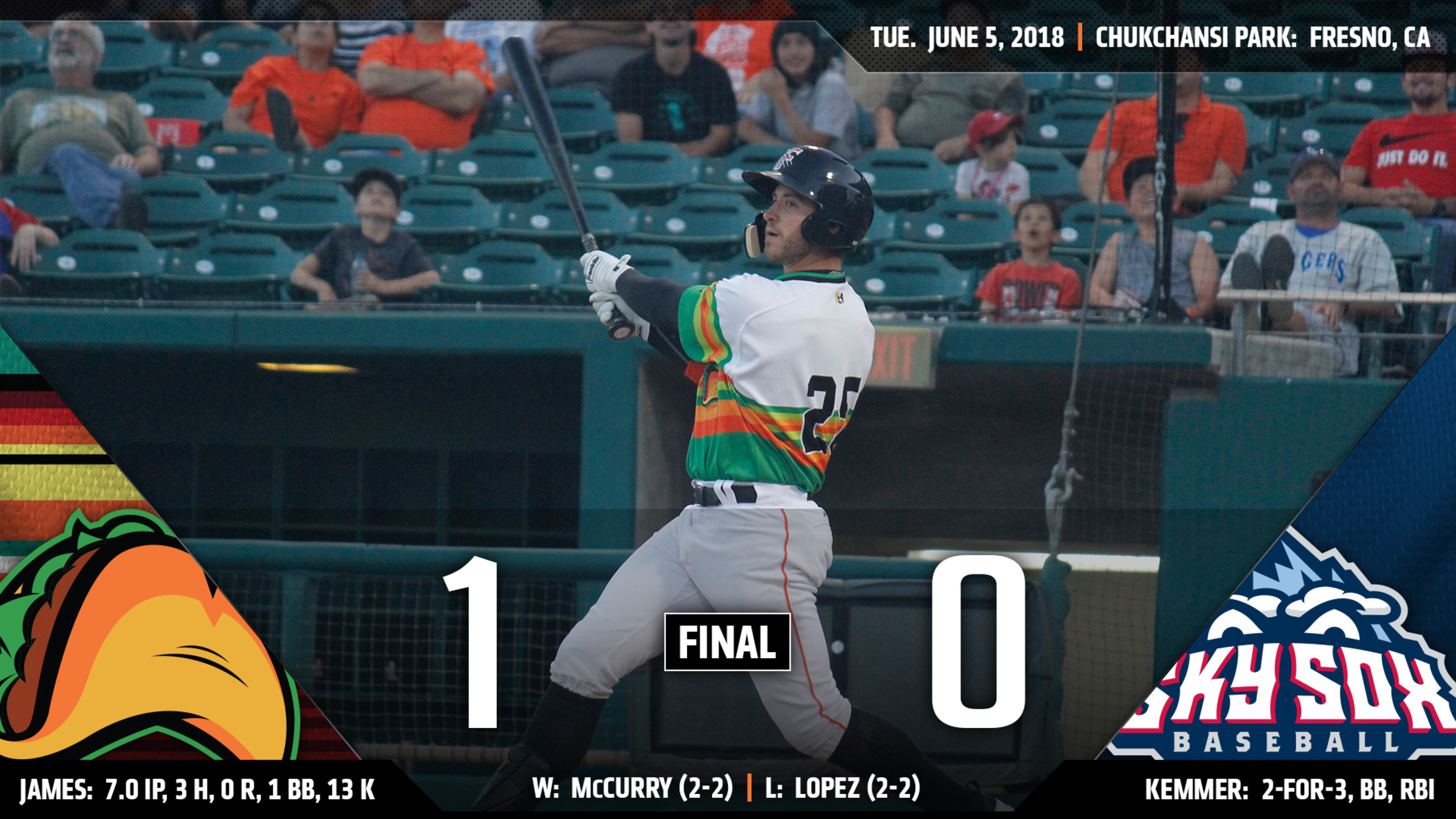 The Fresno Tacos (35-23) walked-off on the Colorado Springs Sky Sox (30-26) 1-0 in a pitcher's duel Tuesday night from Chukchansi Park. Both starting pitchers earned no-decisions despite valiant efforts. Fresno starter Josh James was electric for seven scoreless frames. He scattered three hits (no hits allowed for his final
Grizzlies blast four homers in 12-11 extra innings win
Kyle Tucker (2 HR, 7) collects Fresno's first multi-HR game of 2018; Jon Kemmer (8) and Jack Mayfield (5) go deep as well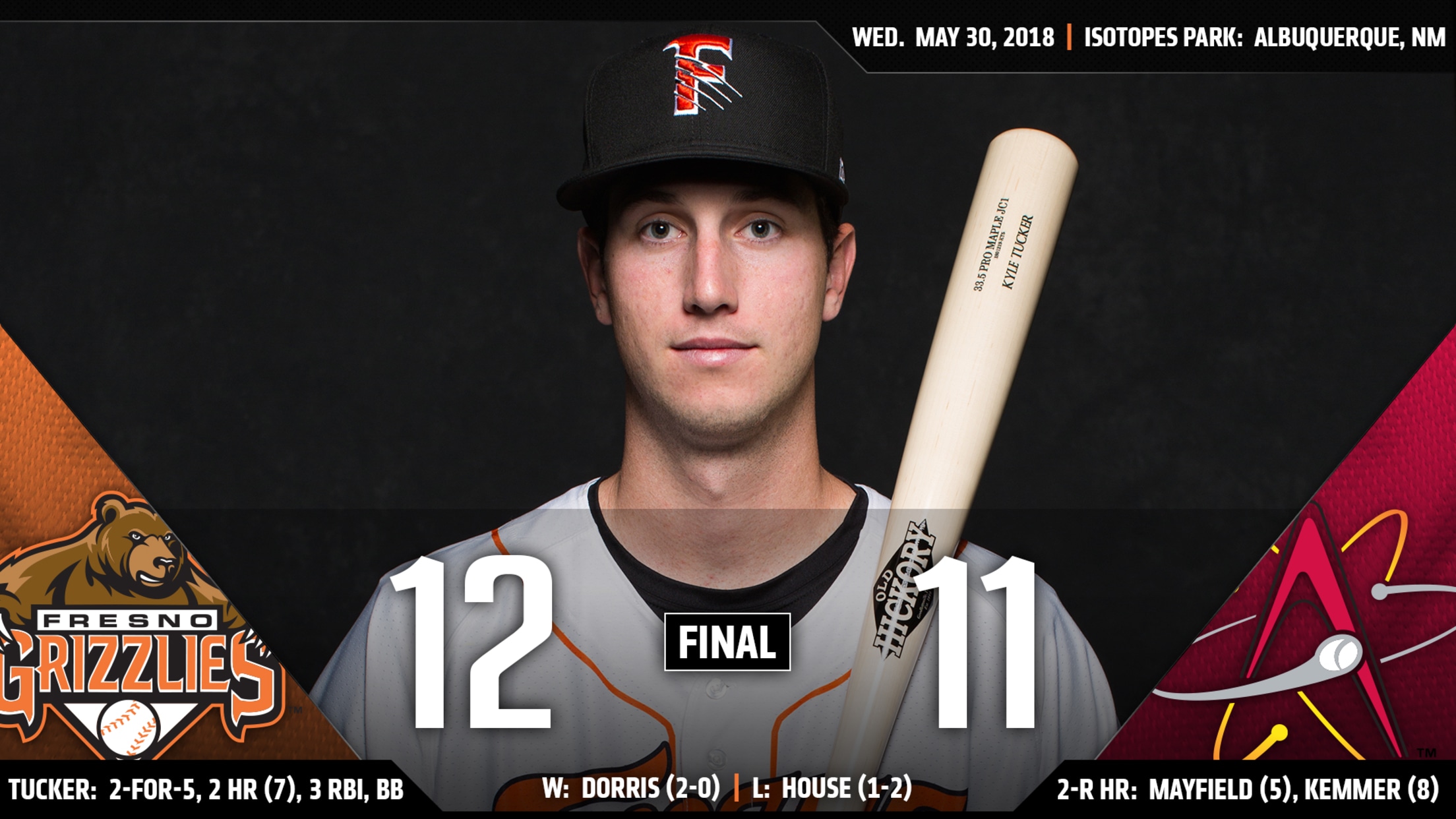 The Fresno Grizzlies (32-22) out-slugged the Albuquerque Isotopes (28-26) 12-11 in 11 innings Wednesday night from Isotopes Park. Both teams combined for eight home runs (four on both sides) and 28 hits (17 for Fresno). All starters recorded a hit for the Grizzlies, with four picking up multi-hits. The victory
Grizzlies ruff up Chihuahuas 11-2 on Monday
Kyle Tucker (3-for-3) reaches base five times, drives in four runs and scores twice; Jon Kemmer (3 RBI) and A.J. Reed (2 RBI) add two doubles apiece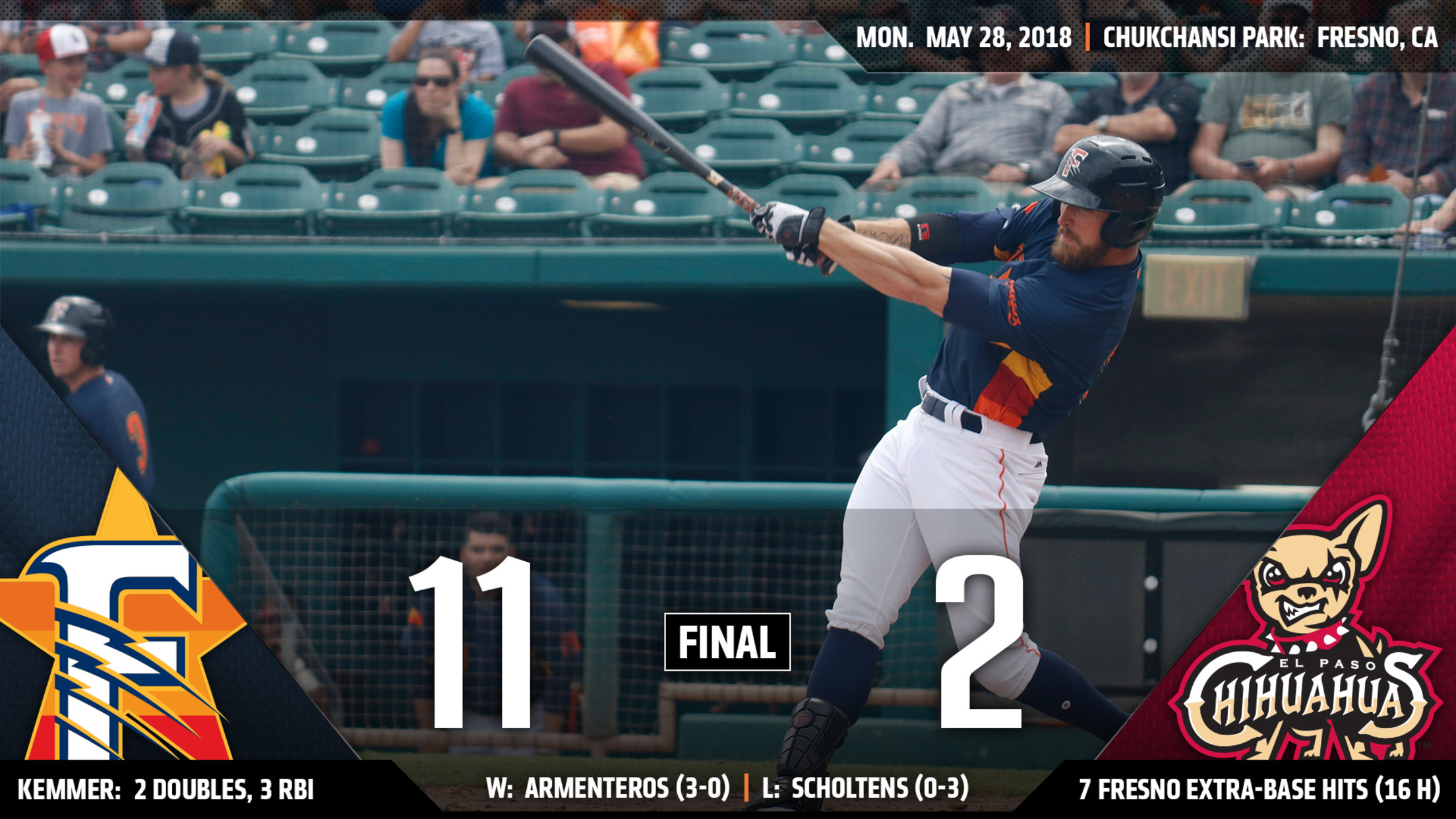 It was an offensive showing for the Fresno Grizzlies (30-22) Monday afternoon from Chukchansi Park, as they crushed the El Paso Chihuahuas (26-26) 11-2. Fresno notched 16 hits in the effort, with seven going for extra-bases. Five Grizzlies picked up multi-hits, including catcher Eduardo de Oleo (3-for-5), who did it
Grizz power their way to series win in El Paso
Kyle Tucker (4), A.J. Reed (8) and Jon Kemmer (7) all go deep in 7-2 triumph; Tyler White extends on-base streak to 41 games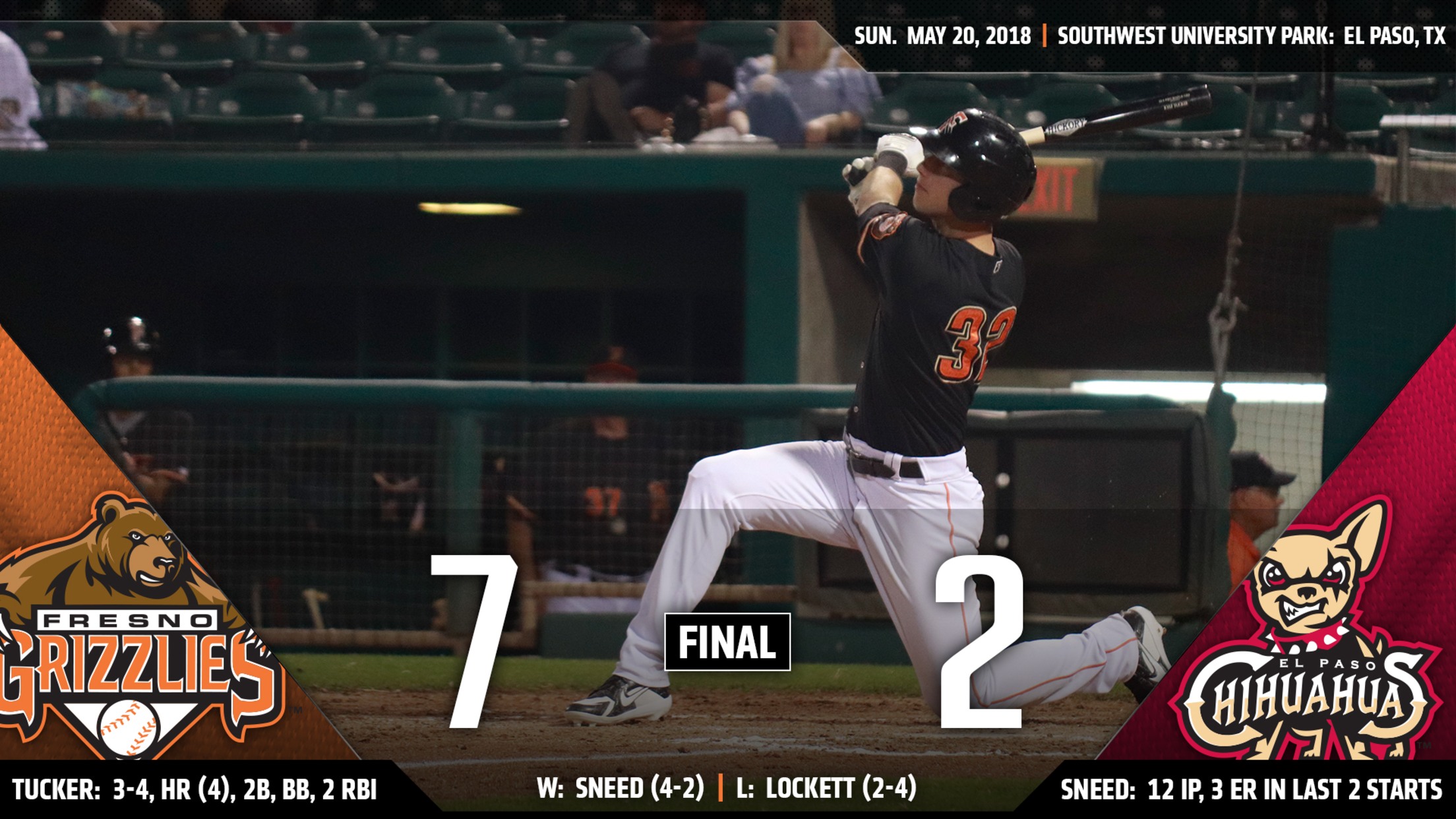 The Fresno Grizzlies (27-17) defeated the El Paso Chihuahuas (21-23) 7-2 Sunday night from Southwest University Park. With the victory, Fresno earned their seventh series win in 11 chances. They also improved to 5-2 on Sunday games, 4-5 in the fourth game of the set and 14-10 on the road.
Chihuahuas nip Grizzlies 8-7 with a walk-off in the 10th
Jake Marisnick and Tyler White go deep in the defeat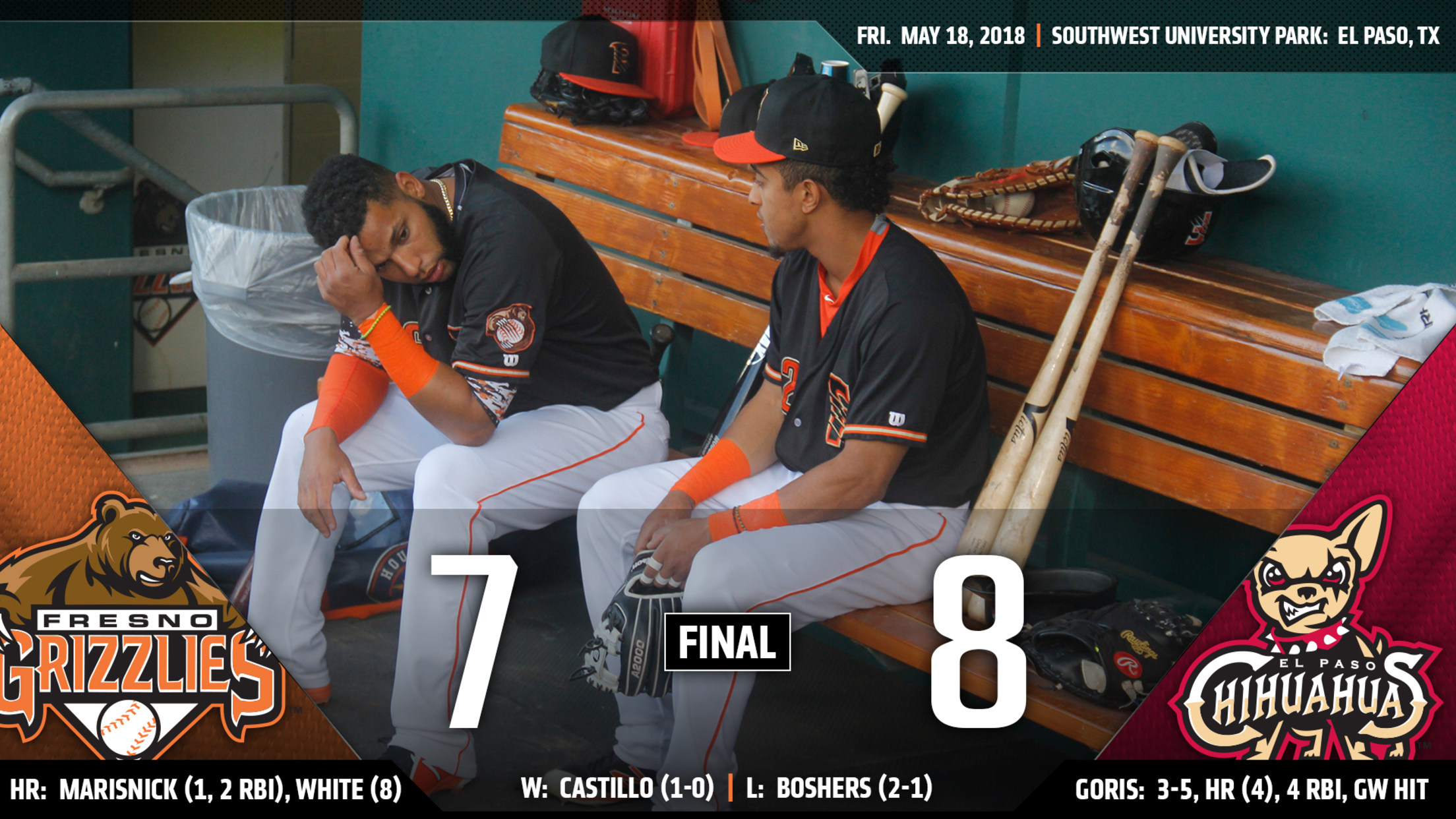 The El Paso Chihuahuas (21-21) clawed past the Fresno Grizzlies (25-17) 8-7 in 10 innings Friday night from Southwest University Park. With the loss, Fresno drops to 4-6 in one-run affairs, 1-1 in extra innings and 12-10 on the road. Grizzlies' starter David Paulino did not factor in the decision.
Bees avoid sweep with a 3-2 win on Taco Tuesday
Tyler White extends hit streak to 10 games; Jon Kemmer blasts sixth homer in loss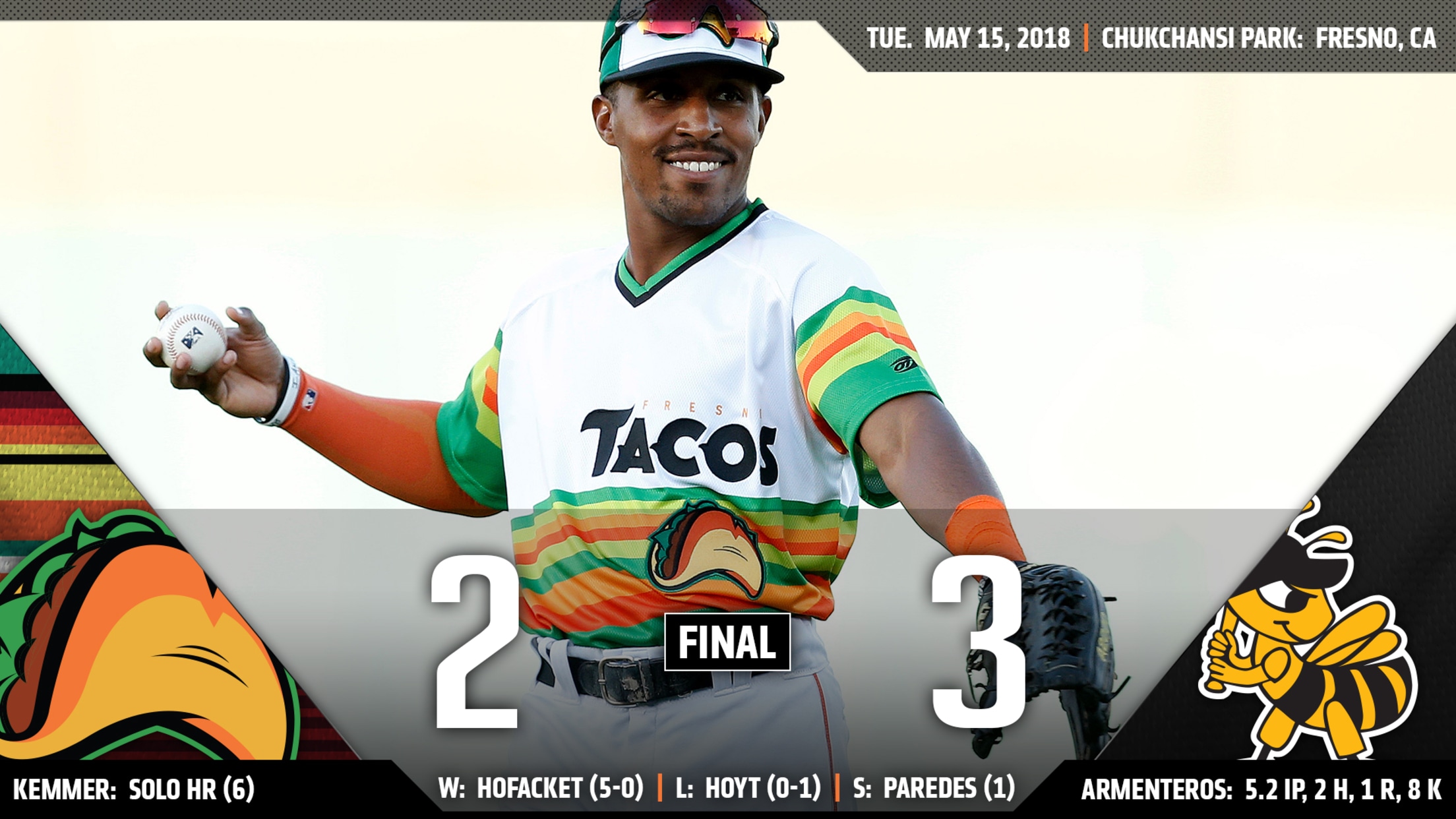 The Fresno Tacos (24-16) kept the brooms in the closet, falling to the Salt Lake Bees (23-17) 3-2 Tuesday morning from Chukchansi Park. Today's starters in Rogelio Armenteros and Osmer Morales kept hitters at bay, as both allowed one run in five and two-thirds innings. Armenteros punched out eight, tying
Kemmer's go-ahead triple (2 RBI) in the 8th gives Fresno series win versus Salt Lake
Tony Kemp extends hitting streak to 20 games; Tim Federowicz blasts 2-run homer in 4-3 victory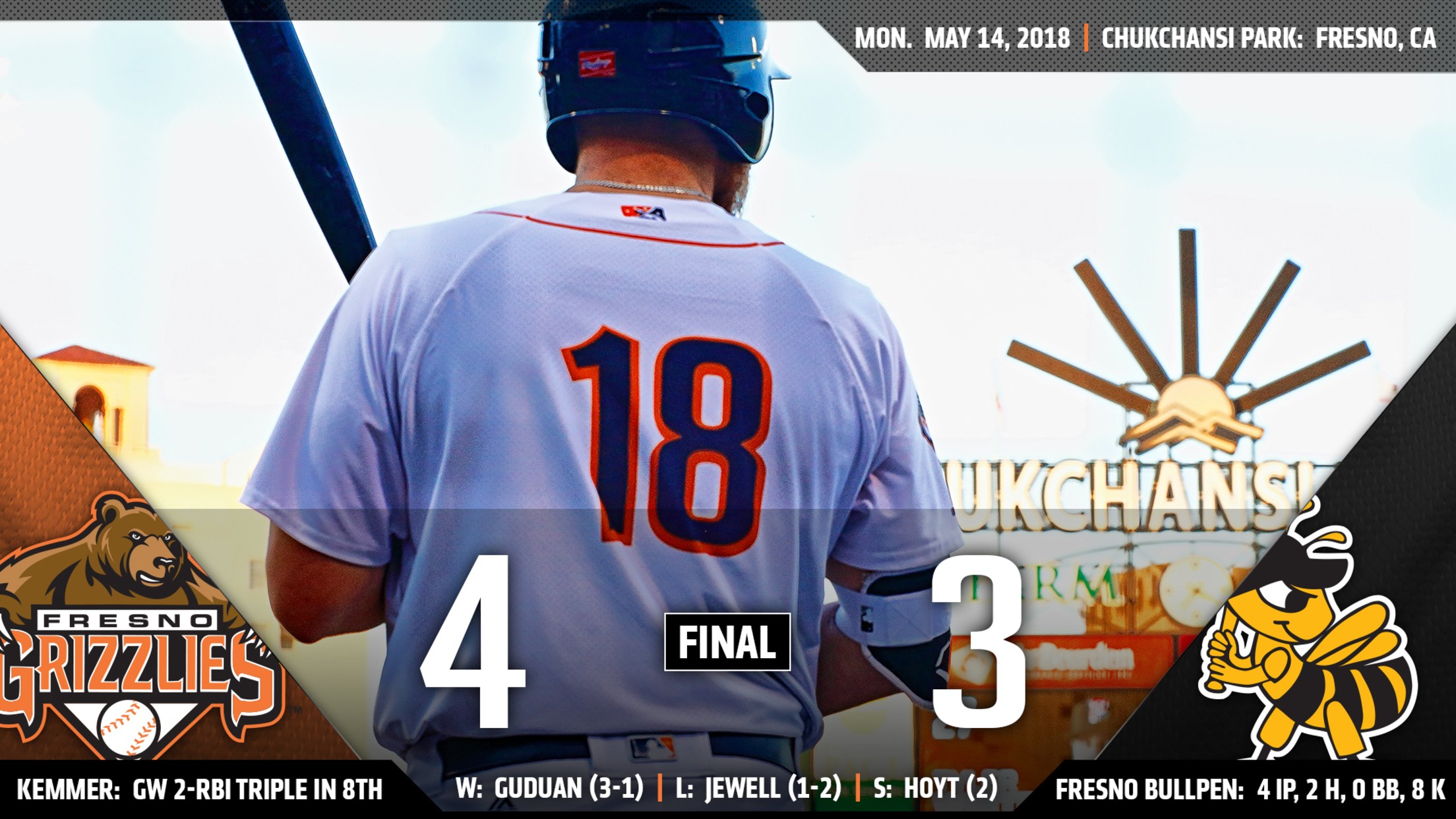 For the third straight game, the Fresno Grizzlies (24-15) defeated the Salt Lake Bees (22-17) 4-3 Monday night from Chukchansi Park. With the win, Fresno earned their sixth series win in ten matchups. The Grizzlies also improved to 21-0 when leading after eight innings and 24-5 when scoring more than
Bees' Hermosillo hits for the cycle to beat Grizzlies
Tyler White 3-for-3 (3 RBI and 3 R) hits team-leading 7th homer; J.D. Davis 4-for-5 (4 RBI and 2 R) also goes deep in loss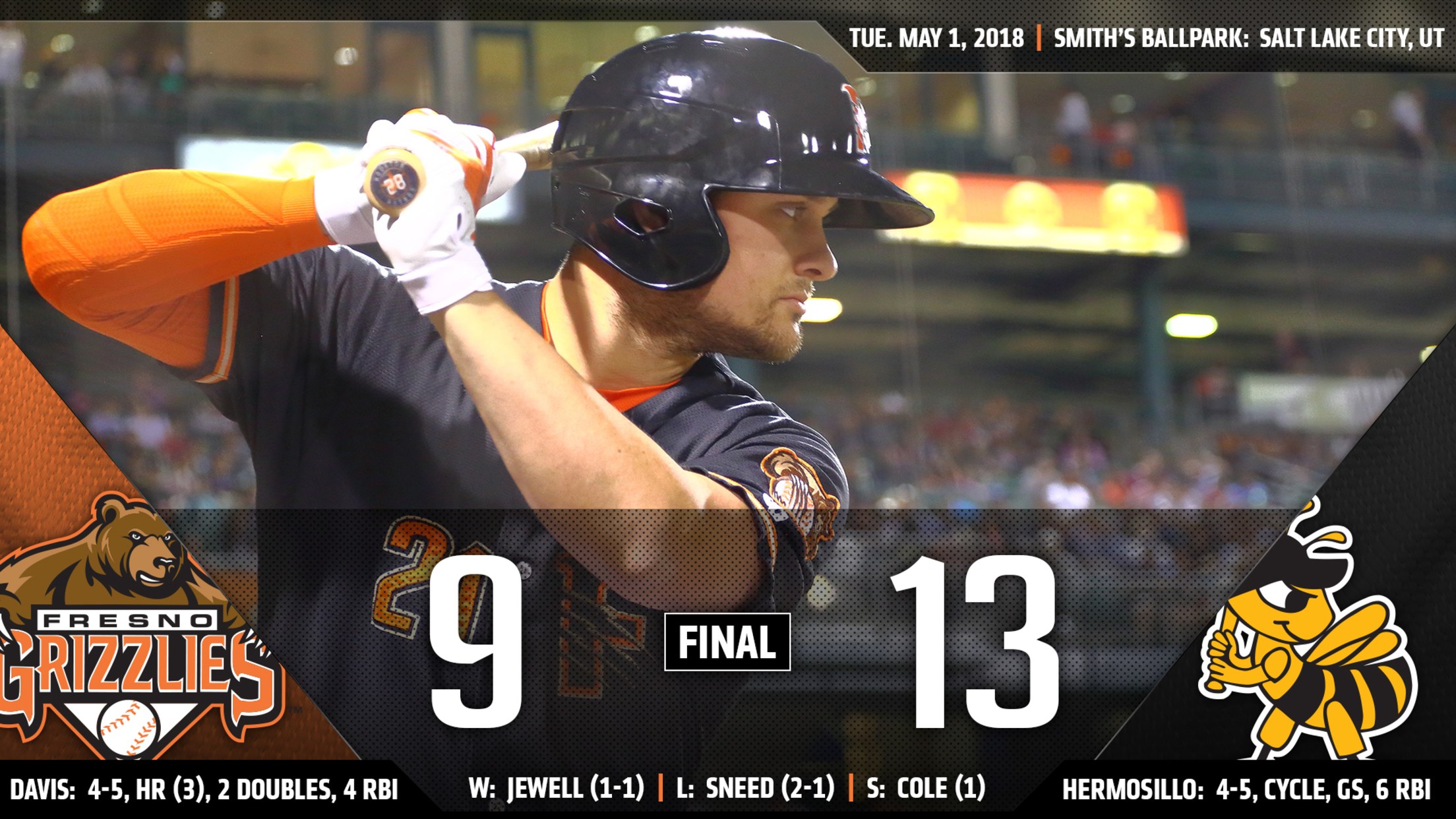 Michael Hermosillo (4-for-5) was the buzz surrounding Smith's Ballpark Tuesday night. His cycle and six RBI led the Salt Lake Bees (16-10) past the Fresno Grizzlies (17-9) 13-9. The Grizzlies finished with 15 hits, sending their total to 13-2 when having double-digit hits. Tyler White and J.D. Davis combined to
Grizzlies' 8-game win streak vs. Reno snapped on Sunday
Fresno slips to 13-5 on the season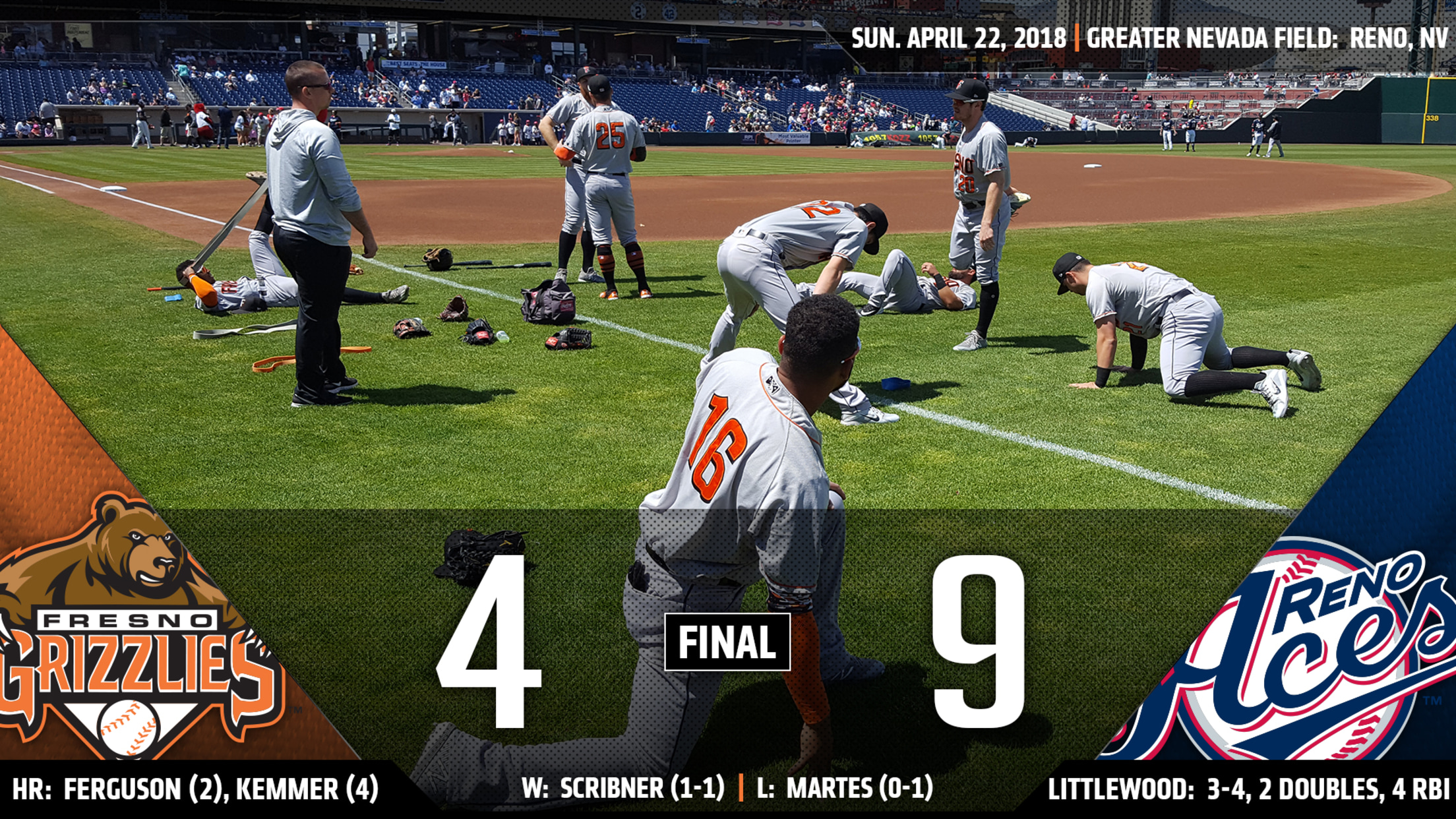 Putting their 6-0 day game record back on the line Sunday in Reno, the Fresno Grizzlies (13-5) suffered their first loss of 2018 in the sunshine to the Aces (5-13), by a 9-3 final.Kristopher Negrón (2-for-4, 2 RBI) opened the scoring for the home team, lifting a solo homer (1)
Kyle Tucker wins it in the 12th as Grizzlies come back twice versus Aces
Fresno trailed 4-0 and 6-4, respond to win 7-6 in extras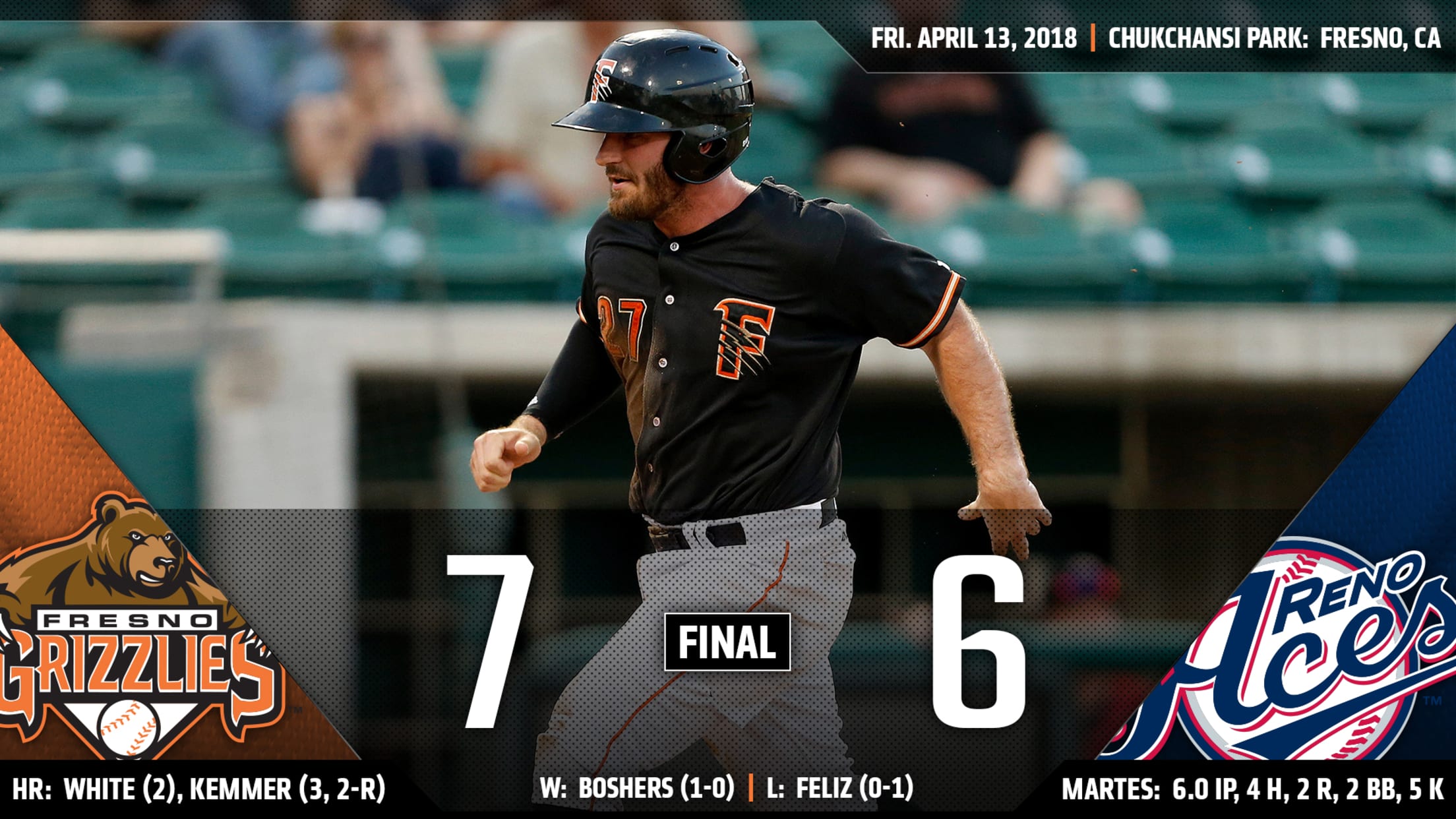 Friday the 13th dealt bad luck to the Reno Aces' (4-5) bullpen as they fell 7-6 in 12 innings to the Fresno Grizzlies (6-3) from Chukchansi Park. Fresno came back from four and two run deficits to secure their third straight win. 21-year old prospect Kyle Tucker sliced a game-winning
Grizz slug their way to third straight victory and series win at Reno on Monday
Jack Mayfield (3), Tim Federowicz (1) and Jon Kemmer (2) all homer in 11-5 triumph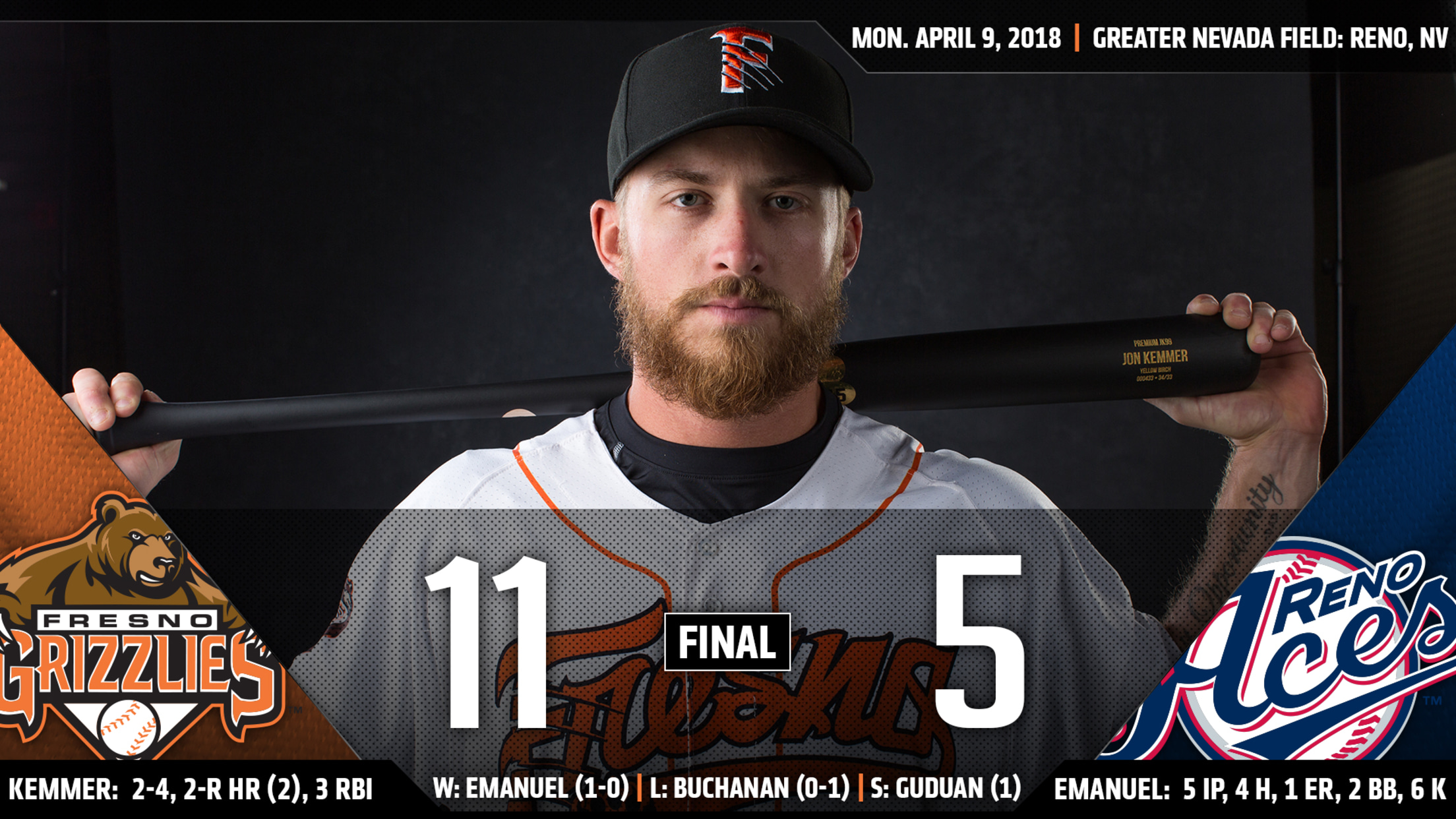 The Fresno Grizzlies won their third straight Monday afternoon at Reno, taking the rare five-game season-opening series from the Aces after dropping the first two contests. In the 11-5 victory, each Fresno batter had at least one hit, four had two hits, while seven scored at least one run. The
Mayfield goes 4-for-5 but Grizzlies fall 5-4 in series finale at Iowa
Fresno drops their first series since May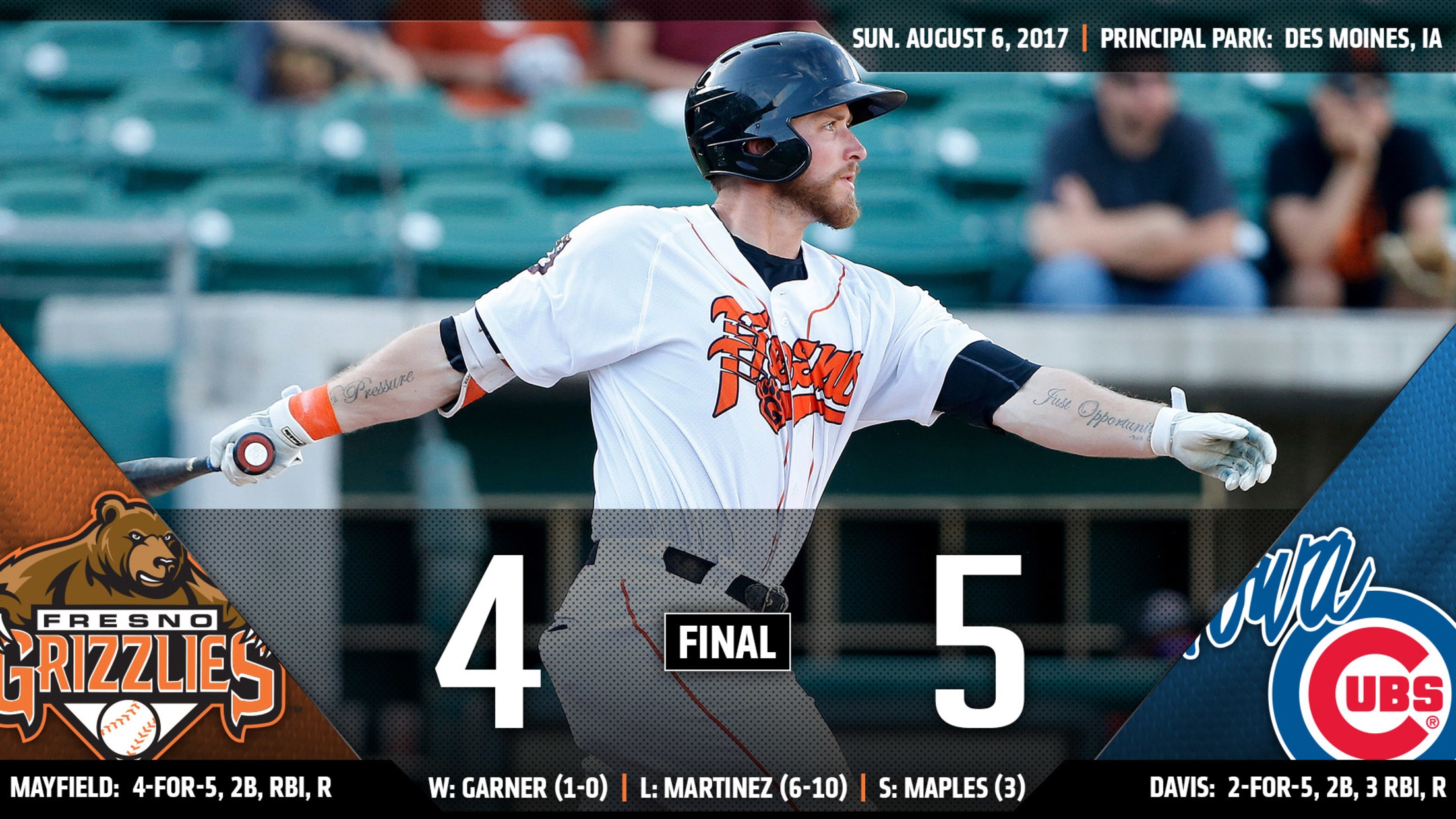 The Fresno Grizzlies (66-48) fell 5-4 in the series finale against the Iowa Cubs (52-59) on Sunday at Principal Park. Going 3-5 on the eight-game road trip, it was Fresno's first losing trip since May 6-14 at Colorado Springs and Oklahoma City (2-6). Despite the loss, the Grizzlies are 15-9
Fresno defeats Iowa 8-1 in series opener
Kemp goes 3-for-5, Kemmer blasts 2-run homer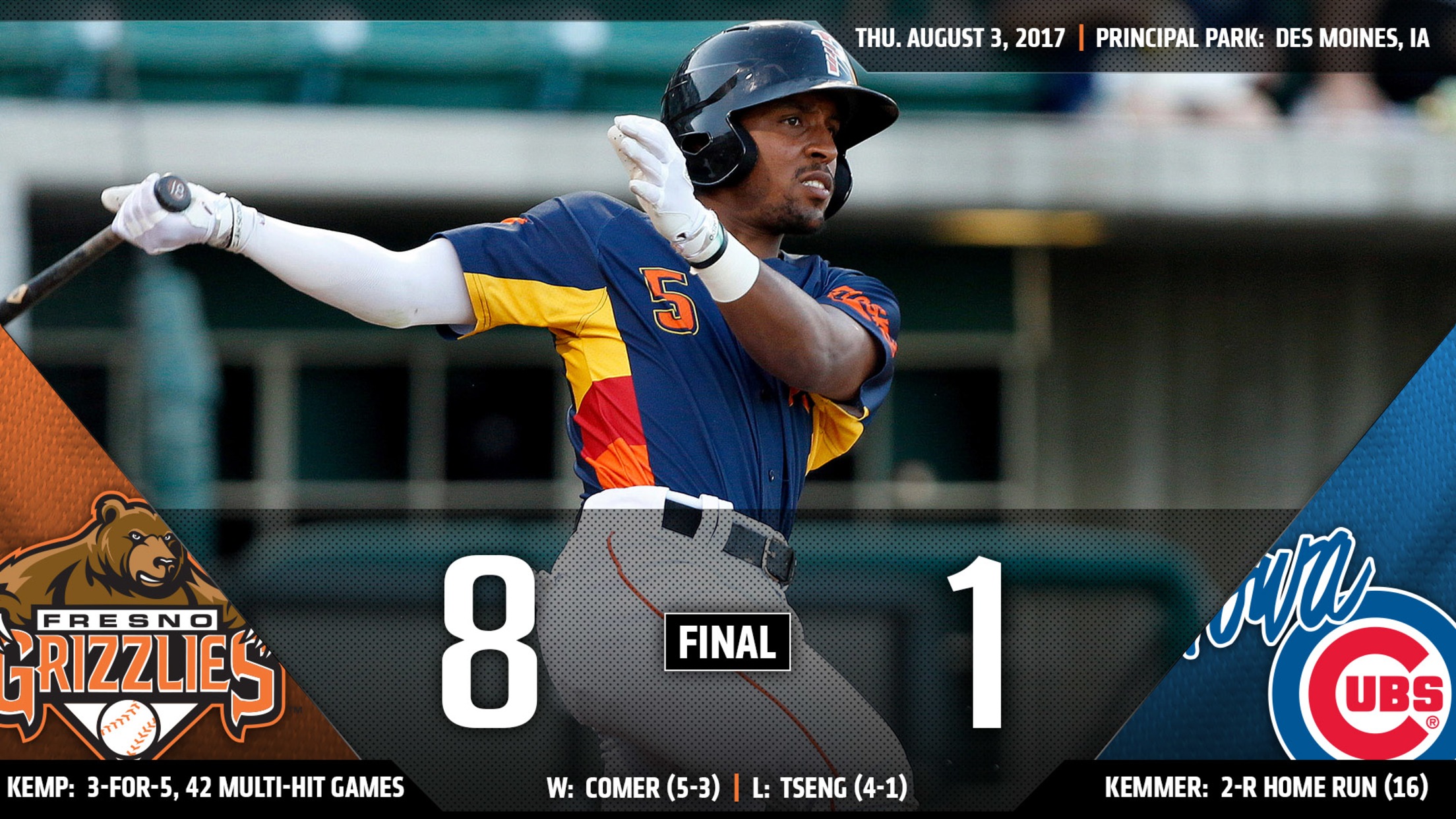 The Fresno Grizzlies (66-45) defeated the Iowa Cubs (50-58) 8-1 in the series opener of a four-game set on Thursday night at Principal Park. Two of the eight Fresno runs came from a home run. It was the Grizzlies' Minor League Baseball-leading 173rd homer of the season. Only the Houston
Grizzlies crush four homers to shut out Express 5-0
22-4 since June 23, Fresno is tied for 1st in the PAC North Division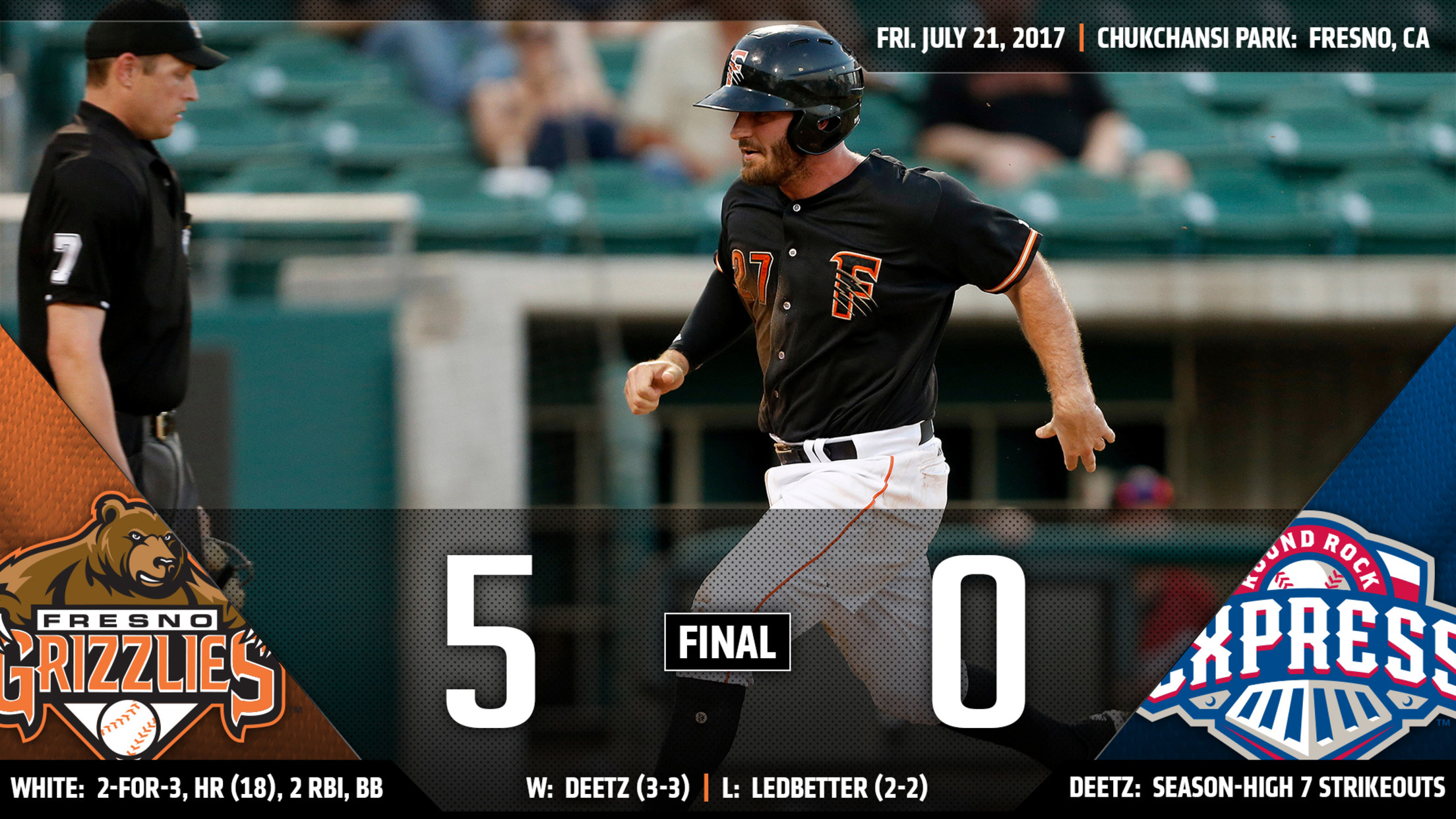 The Fresno Grizzlies (57-42) shut out the Round Rock Express (45-54) 5-0 in the series opener of a four-game set at Chukchansi Park, the two club's first and only meetings of the season. It's Fresno's fifth shut out of 2017 and fourth at home. With the Reno Aces dropping their
Grizzlies act offensive again in Las Vegas finale, win 18-5
Reed (2 HR, 5 RBI), Tucker (HR, 5 RBI) & Kemmer (2 HR) finish barrage of 19 Fresno homers and 61 runs in four-game series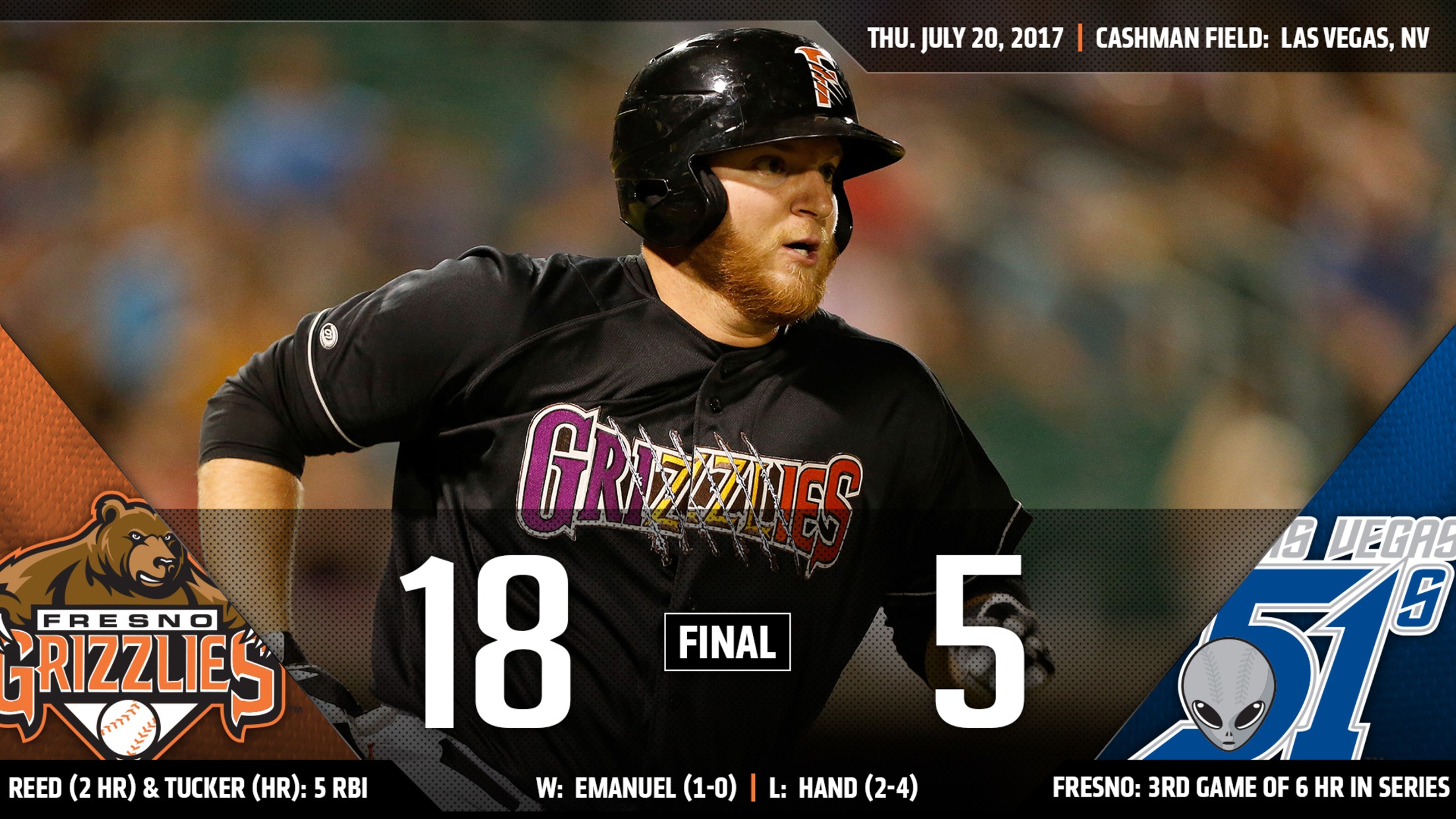 In taking three of four games from the Las Vegas 51s (37-61), the Fresno Grizzlies (56-42), scored a combined 61 runs on 66 hits, with 19 home runs in the series. With an 18-5 win at Cashman Field on Thursday night, the Grizzlies kept pace with the Reno Aces (beat
Kemmer, Grizzlies break out at the plate
Left fielder drives in six runs, shortstop goes yard twice in rout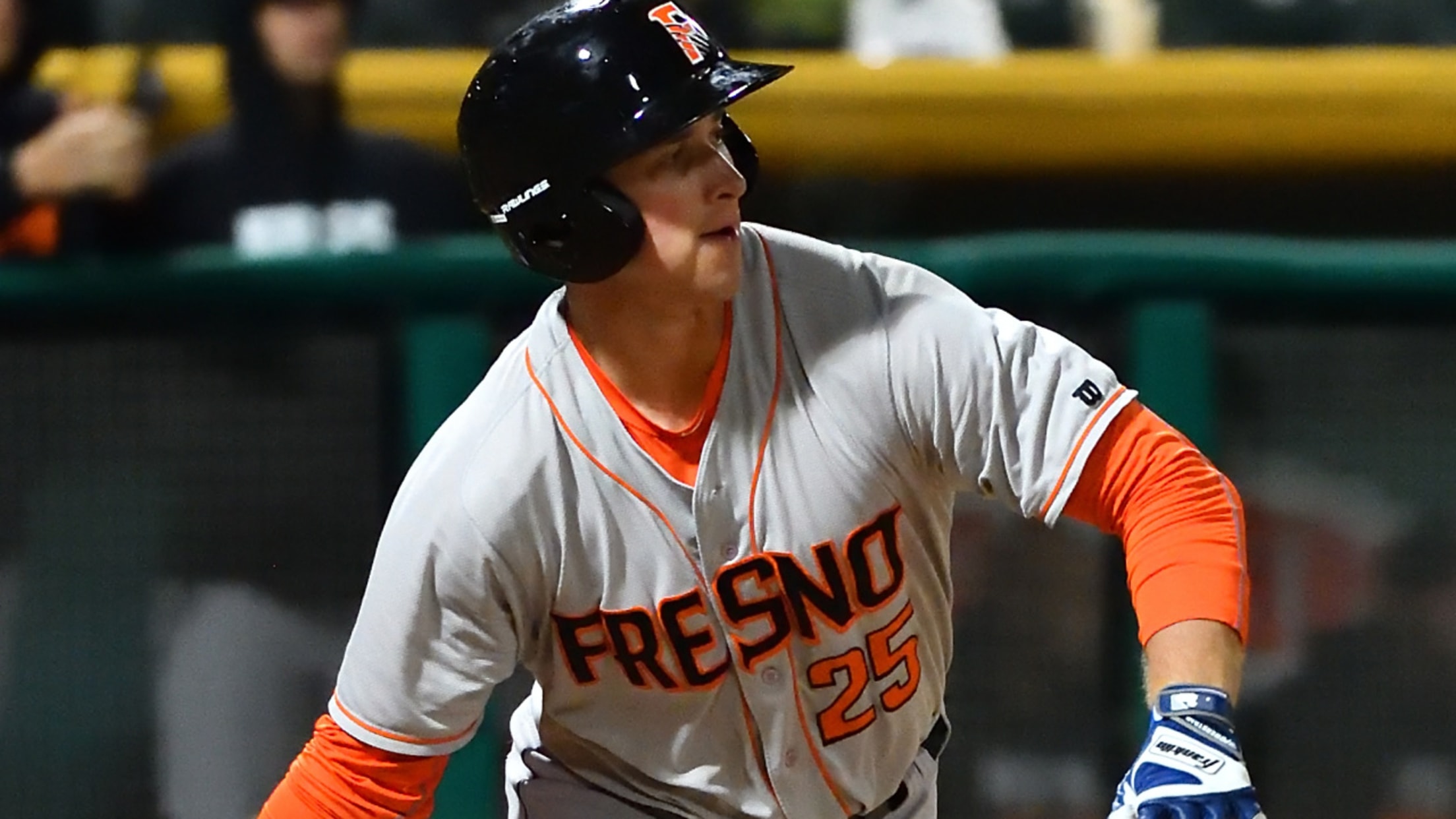 The Fresno Grizzlies got their bats going early Monday night and barely slowed down.Jon Kemmer went 4-for-6 with a homer and six RBIs while Reid Brignac went deep twice on a 3-for-4 night and plated five runs as Triple-A Fresno racked up a season-high 22 hits in a 22-8 rout
Several franchise and season-highs fall in 22-8 Grizz romp at Las Vegas
Eight Grizzlies rack-up multiple hits and score multiple runs, six have multiple RBI (Jon Kemmer grand slam, 6 RBI) in most lopsided win of 2017 and ever vs. Vegas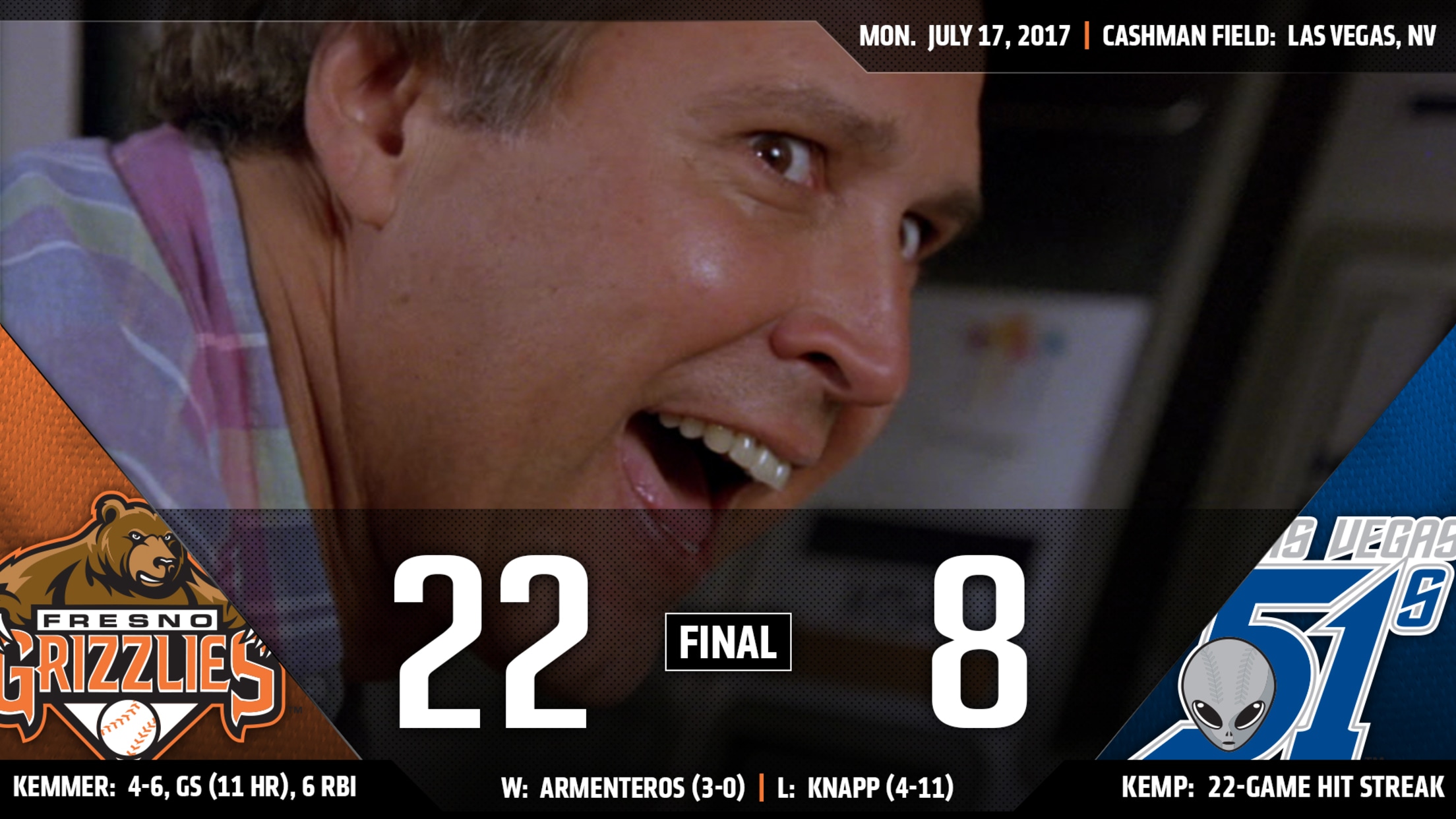 All 10 visiting batsmen recorded at least one hit Monday night in Las Vegas (nine scored at least one run and nine collected at least one RBI), as the Fresno Grizzlies (54-41) cruised to their seventh consecutive victory, and their 10th straight win on the road. With a 22-8 decision
Grizzlies extend season-long win streak to 10 games
Kemmer and Stassi both go 3-for-4 in 4-2 victory over Sacramento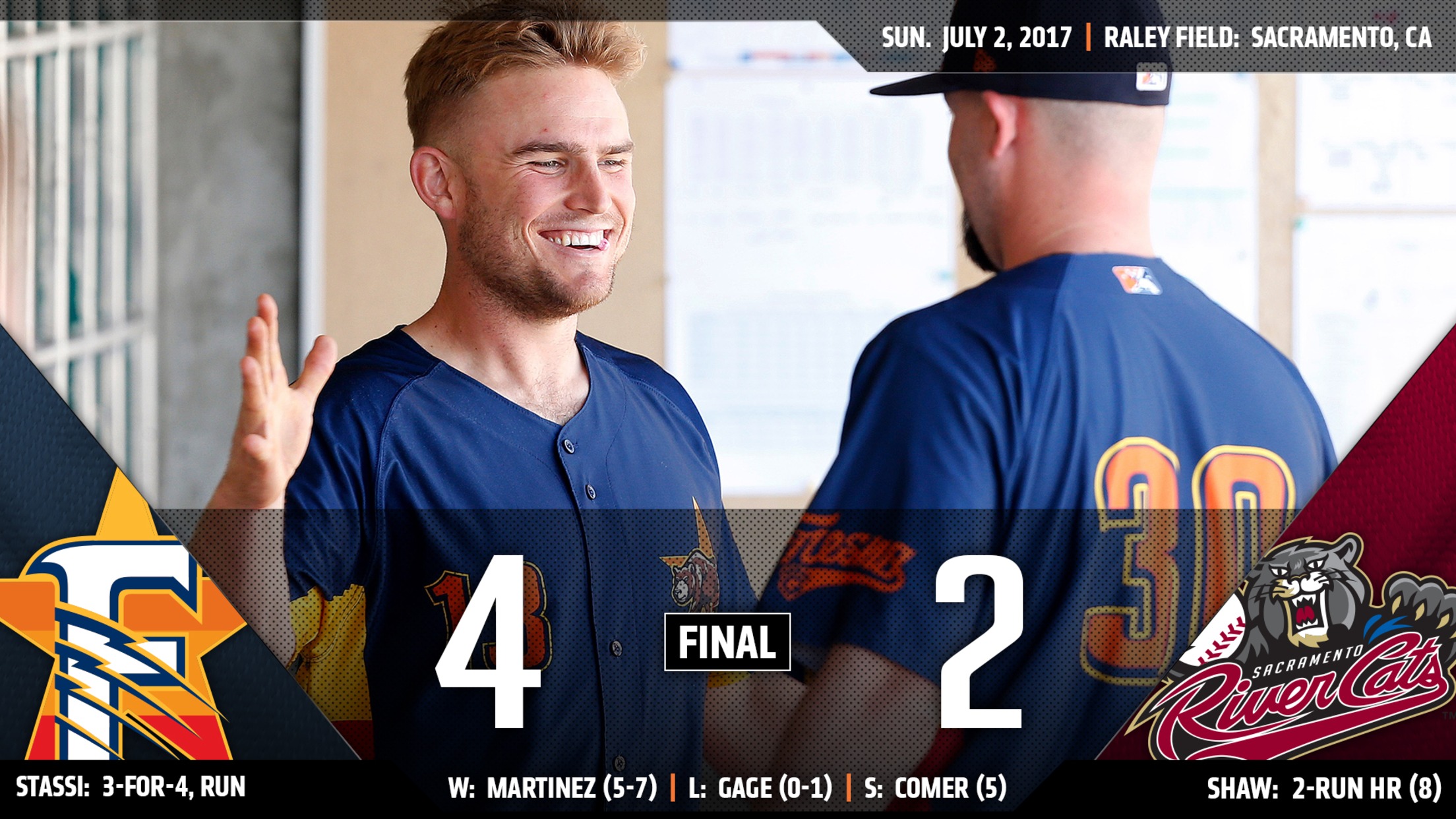 The Fresno Grizzlies (45-38) have won their 10th straight game with a 4-2 comeback win over the Sacramento River Cats (32-49) on Sunday afternoon at Raley Field. With 12 hits in the game, it is also the seventh consecutive win in that span that the Grizzlies have had 10 or
Fresno Grizzlies win 9th in a row, have longest current win streak in pro baseball
8-1 win improves Fresno to 18-4 at Sacramento as a Houston affiliate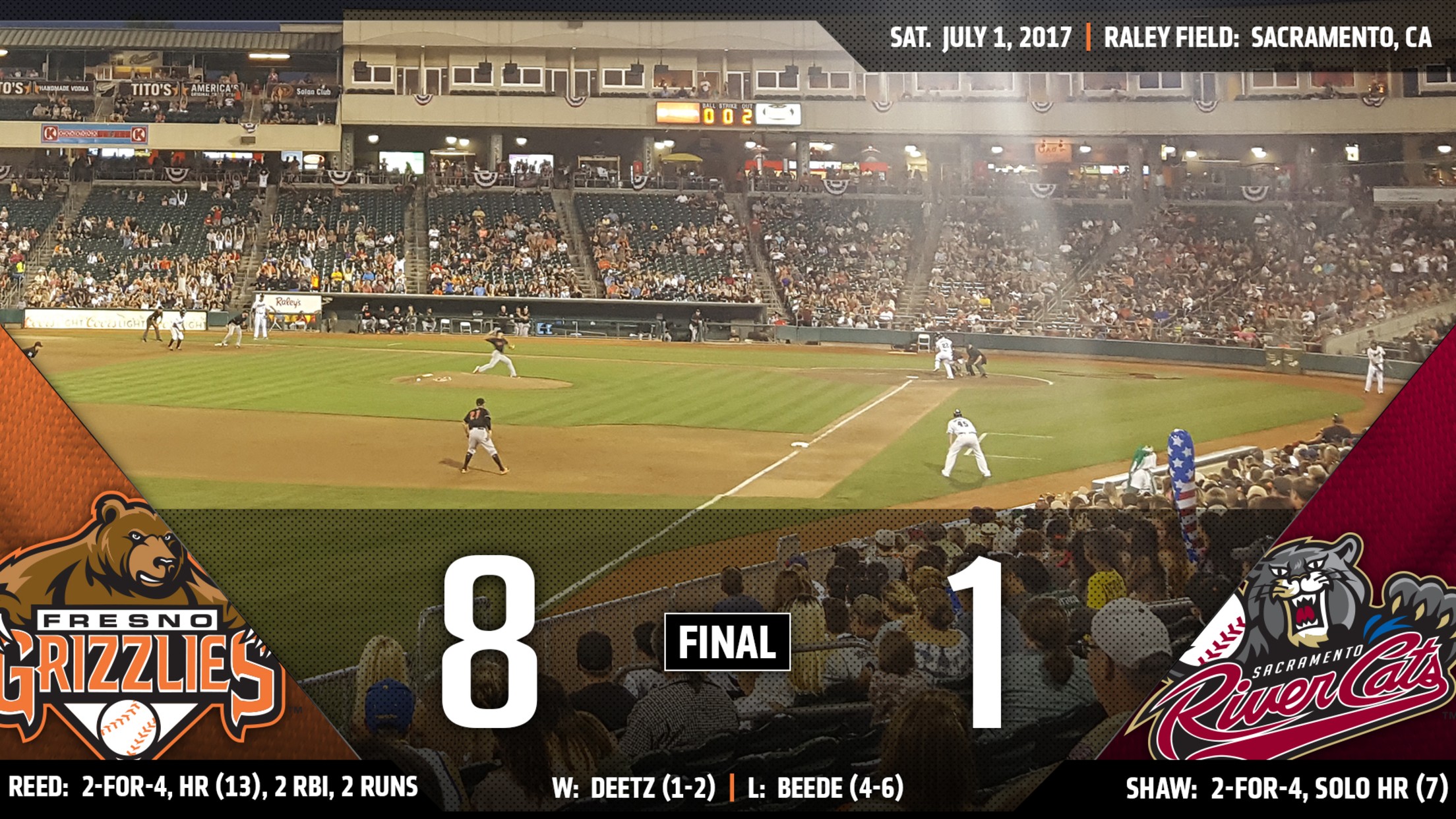 The Fresno Grizzlies (44-38) now enjoy the longest current win streak in all of North American professional baseball, as their 8-1 win over the Sacramento River Cats (32-48) on Saturday night was their ninth consecutive victory. In the Class A South Atlantic League, the Hagerstown Suns' (Washington Nationals) eight-game run
Fresno takes 3 of 4 from Sacramento with another 6-2 win in doubleheader
Tyler White and Jon Kemmer homer to get Grizz back to .500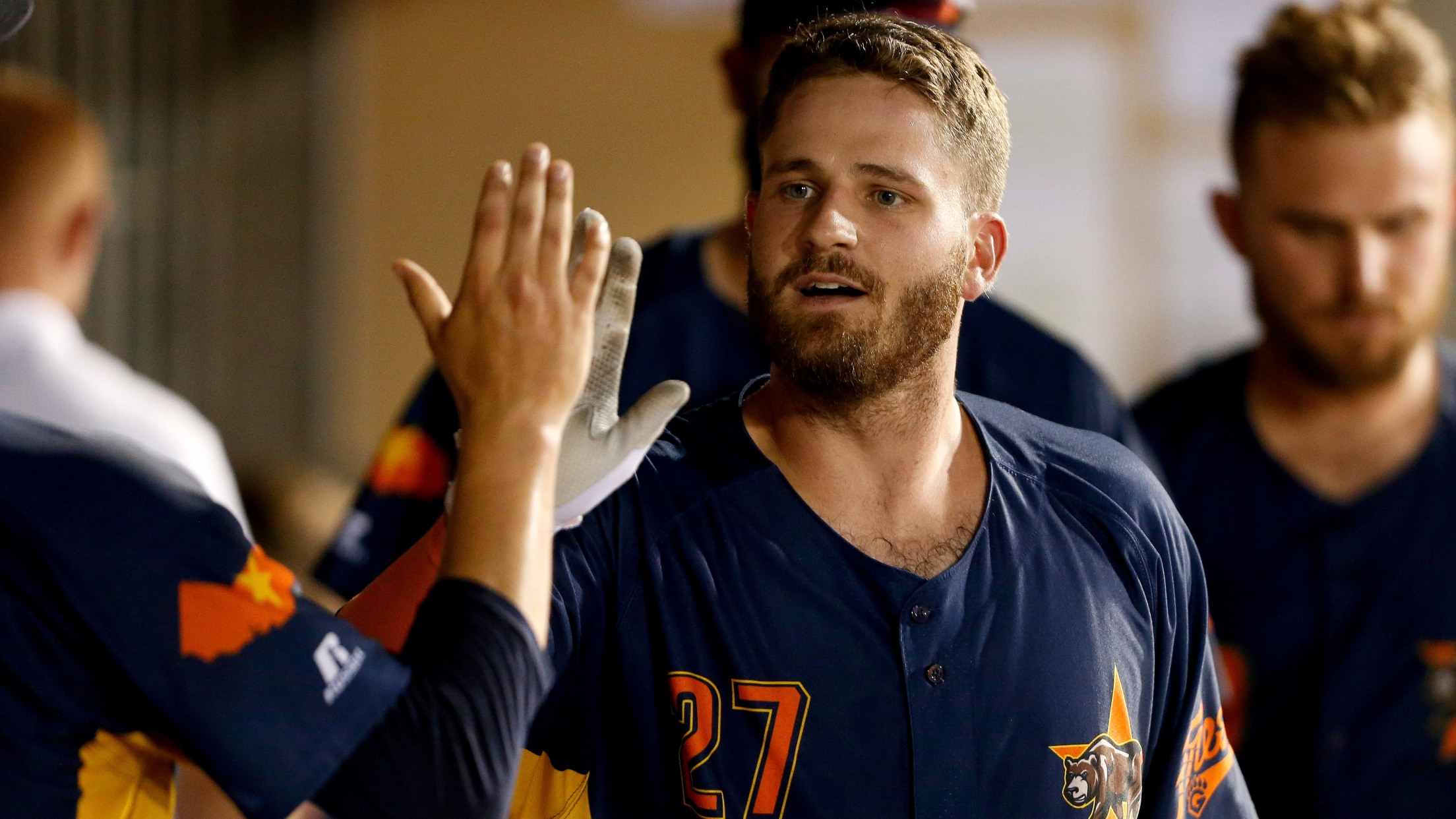 The Fresno Grizzlies (38-38) beat the Sacramento River Cats (29-45) 6-2 once again in the second seven inning game of their Saturday doubleheader. The Grizzlies took three of four from the River Cats in the four-game series at Chukchansi Park to get back to .500 for the first time since
Grizzlies take Game 1 of doubleheader from River Cats
Jon Kemmer has 3 RBI in 6-2 win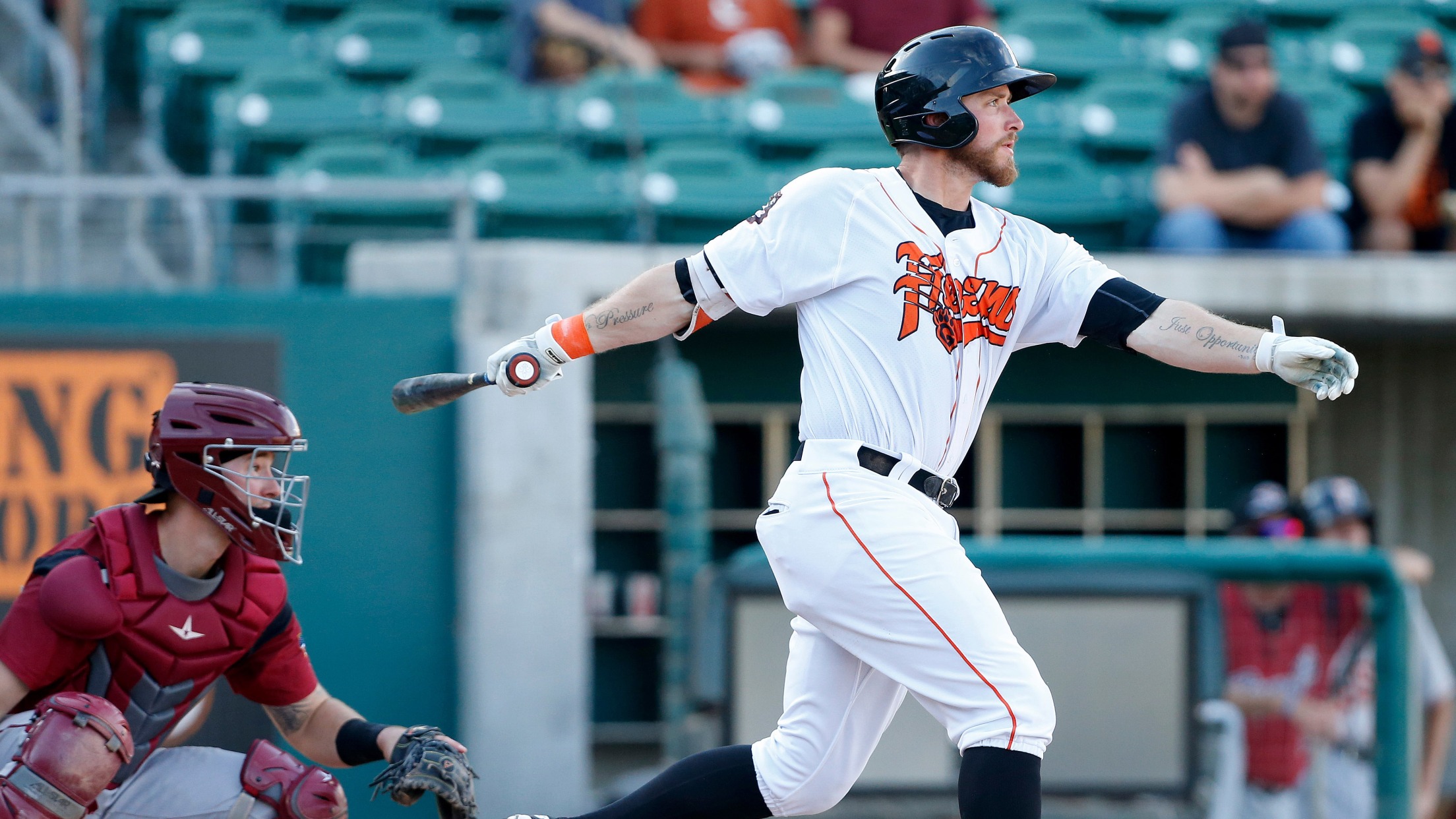 The Fresno Grizzlies took the first game of the Saturday doubleheader from the Sacramento River Cats 6-2. It was a seven inning contest, the first doubleheader played by Fresno this season.The two Sacramento runs came from one in the opening frame and one in the sixth inning. In the first,