2019 Aces Homers to Be Thankful For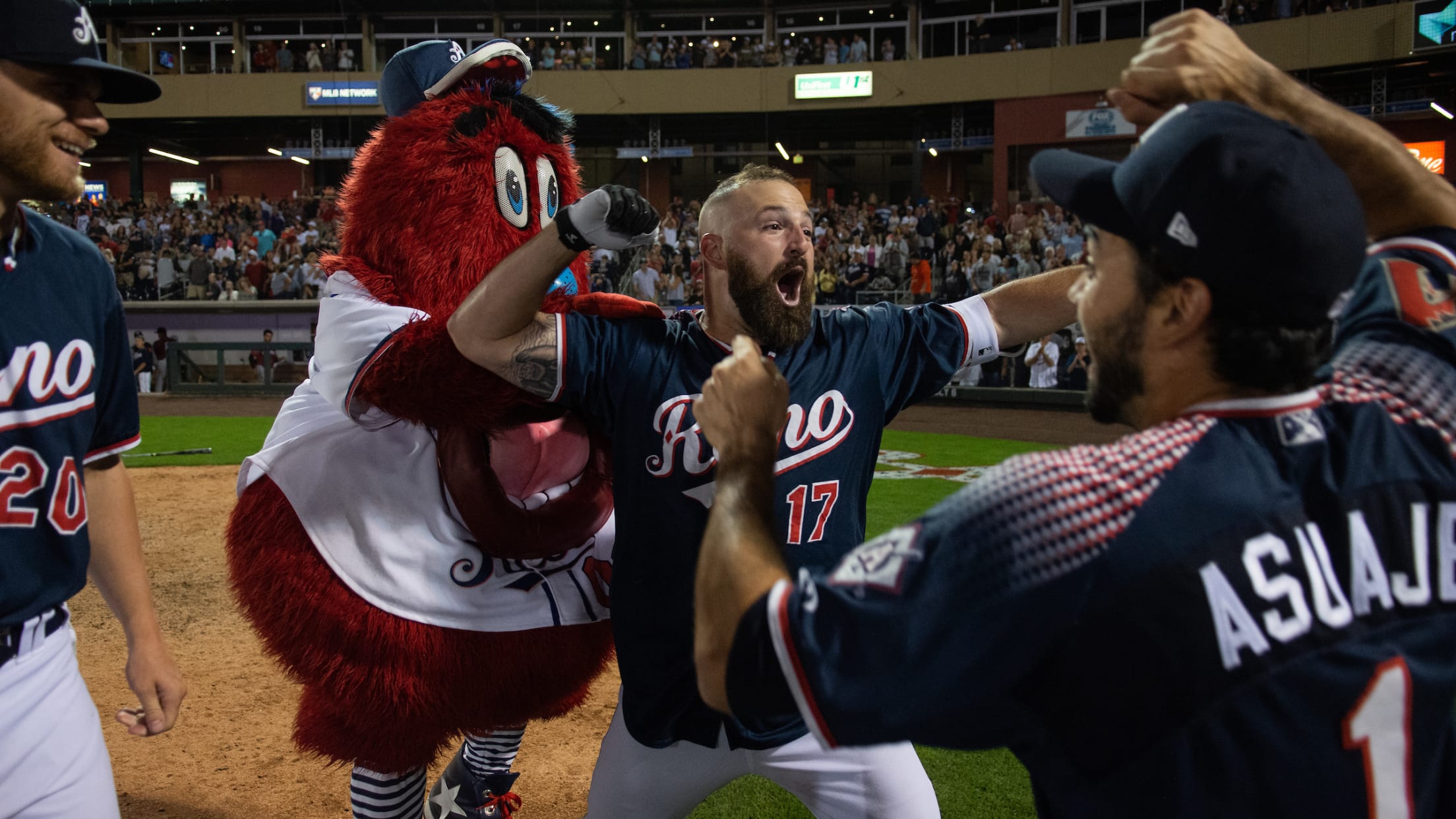 During the holiday season, it's important to remember what you're thankful for. If you're anything like us, it's the long ball. The Aces hit a franchise record 242 in 2019, here are a couple that stood out from the rest. Home Run for LifeSince 2014, the Aces and Saint Mary's have
During the holiday season, it's important to remember what you're thankful for. If you're anything like us, it's the long ball. The Aces hit a franchise record 242 in 2019, here are a couple that stood out from the rest.
Home Run for Life
Since 2014, the Aces and Saint Mary's have been partnered to showcase the "Home Run for Life" program. Once a month, a brave individual in the Northern Nevada community is honored by taking a ceremonial trip around the bases with each team lining the baselines. The ceremony symbolizes the end of a battle against adversity.

The first edition of 2019 honored Shannon Bohach, a breast cancer survivor. It was an honor for the organization to recognize her story. The Aces went on to complete four more "Home Run for Life" ceremonies by the end of the season.
Cody Decker Walk-Off to Retirement
Cody Decker had played in over 1000 career MiLB games prior to his final at-bat on July 5, but he saved his best moment for last. This two-run homer was not only a walk-off dinger, but a walk-off to retirement for the veteran. How about that for a storybook ending? A walk-off home run in your final professional at-bat. What a moment!

Kevin Cron Cements Himself as Home Run King
Don't let this rather un-impressed home run call from the Oklahoma City Dodgers' broadcaster fool you, this was a historic home run. Kevin Cron became the Aces all-time home run leader with this shot in the top of the first inning against the Oklahoma City Dodgers on August 13. It was his 56th career homer in an Aces uniform which surpassed Mike Jacobs and Brandon Allen for the most in team history. It took Cron 172 games to reach that number, it took Allen 228 games and Jacobs 318 games to hit 55.

Kevin Cron Becomes Single-Season Home Run Leader
With Cron's 33rd blast of the season, he surpassed Christian Walker for the single-season Aces home run crown. Walker had 32 homers in 2017 during his Pacific Coast League MVP campaign. Cron went on to hit 38 home runs on the season for Reno in 82 games played, the most in all of Minor League baseball.

Cron Hits First Major League Home Run
The Aces all-time leader in home runs hit his first Major League home run against the Toronto Blue Jays on June 7, 2019. The Cron family loves playing in Toronto. Kevin's older brother, C.J., also hit his first big league home run in Toronto as a member of the Los Angeles Angels in 2014. 2019 Aces manager Chris Cron, father of Kevin and C.J., recorded his only two Major League hits in Toronto.

Aplin Says, "Don't Call it a Comeback"
It was looking bleak on April 27th against the Fresno Grizzlies. Reno trailed 13-5 heading into the bottom of the ninth inning. That's when the comeback kids pulled off the largest ninth-inning comeback in franchise history rattling off nine runs capped off by a walk-off grand slam off the bat of Andrew Aplin to seal the victory for the Aces.

Tomas' Fourth Homer of the Day
It was a historical day at Greater Nevada Field on May 20, 2019 against the Tacoma Rainiers. The Aces beat the visiting team by a score of 25-8. The 25 runs scored and 25 hits in the game were the most in franchise history. In the matchup, Matt Szczur cycled and Yasmany Tomás hit an unprecedented four homers. The only official record of a cycle and four-homer game occurring during the same contest happened in 1932 when Tony Lazzeri cycled and Lou Gehrig swatted four dingers for the New York Yankees.

Szczur was the fourth player in franchise history to cycle for the Aces and was the first since Christian Walker did it in 2017. Tomas was the first PCL hitter since 2008 (Micah Hoffpauir) and the 6th player in modern PCL history to accomplish the feat. The Aces as a whole had 10 home runs on the day, a franchise record.
Wyatt Mathisen Powers Aces to Victory
Reno would go on to beat Albuquerque 1-0 on June 22 thanks to this Mathisen solo home run. The last time the Aces won 1-0 also happened against Albuquerque on May 1, 2016. Mathisen broke out in a big way for Reno in 2019 setting career highs in home runs (23), RBIs (61) and runs scored (72).

Matt Szczur Walk-Off Ends It
Matt Szczur sent Aceball fans home happy with this walk-off bomb against Nashville on June 4. It was part of a five-run ninth-inning comeback courtesy of four home runs in the bottom of the ninth. Abraham Almonte, Yasmany Tomas, Wyatt Mathisen also went yard in the frame.

Tomas Sprints Around the Bases to Get Back to the Heater
Nothing extremely monumental about this Yasmany Tomas home run on April 30 against Las Vegas, except it's hysterical to watch him run around the bases trying to escape the cold. Enjoy.

Locastro and Cron Battle it Out
On April 25 against the Fresno Grizzlies, Tim Locastro and Kevin Cron decided to have their own personal home run derby. It was the first time in team history two players had three home runs in the same game. We have declared Tim Locastro the winner of the April 25 derby based on this grand slam. However, Cron did have seven RBIs in the game to Locastro's six. According to Elias Sports Bureau, there has been one Major League Baseball game in which teammates hit three homers in a game: Milwaukee on September 25, 2001 at Arizona (Jeromy Burnitz and Richie Sexson).

Swihart Mashes Team's 200th Homer of the Season
This Blake Swihart August 5 home run against Omaha may not seem like a big deal at first, but considering it was Reno's 200th on the season makes it a milestone. At the time of the homer, Reno became just the third team since 1999 to hit 200 team home runs for a season in the Pacific Coast League (Omaha Golden Spikes, 1999 and El Paso Chihuahuas, 2019). The Aces finished with a franchise-record 242 home runs in 2019. The previous team-high was 178 coming in 2011.

Josh Rojas Leaves No Doubt on Dinger
Josh Rojas was in Reno for a good time, but not a long time. The lefty came over to the Diamondbacks' organization at the 2019 Trade Deadline from the Houston Astros in part of the Zack Greinke trade. In eight games played for the Aces, Rojas hit .514 (18-for-35) with three home runs, 14 RBIs, 11 runs scored, four doubles, and a triple. This mammoth of a three-run blast against the New Orleans Baby Cakes on August 9 left the field in a hurry. He made his Major League debut the days later on August 12 against the Colorado Rockies going 2-for-4.

Domingo Leyba Really Enjoys This Trip Around the Bases
Leyba's swing on this Nashville pitch was beautiful, but his trip around the bases might be prettier. The switch-hitter bat flips and skips around the diamond in celebration of his 10th homer of the year on June 5th. Leyba set a career-high with 19 big flies in 2019, he had never hit more than 10 in a season before last year. Leyba is currently the Diamondbacks' No. 29 rated prospect according to MLB Pipeline and made his Major League debut on June 22 against the San Francisco Giants notching a single in the contest.

Welcome to Triple-A, Andy Young
Andy Young took Triple-A by storm after his call-up from Double-A Jackson in the middle of June last year. He clubbed 29 homers overall in 2019 with 21 of them coming in a Reno uniform. Young was part of four Aces last year with at least 20 HRs on the season, the most players on one team in franchise history. This shot to dead-center against the Iowa Cubs on July 30 was Young's fourth in six days and 10th career Triple-A blast. It left in a hurry and showcased the infielder's power.