2021 Season recap: Jake McCarthy
Prospect caught fire in short stint with Reno, earning his big league debut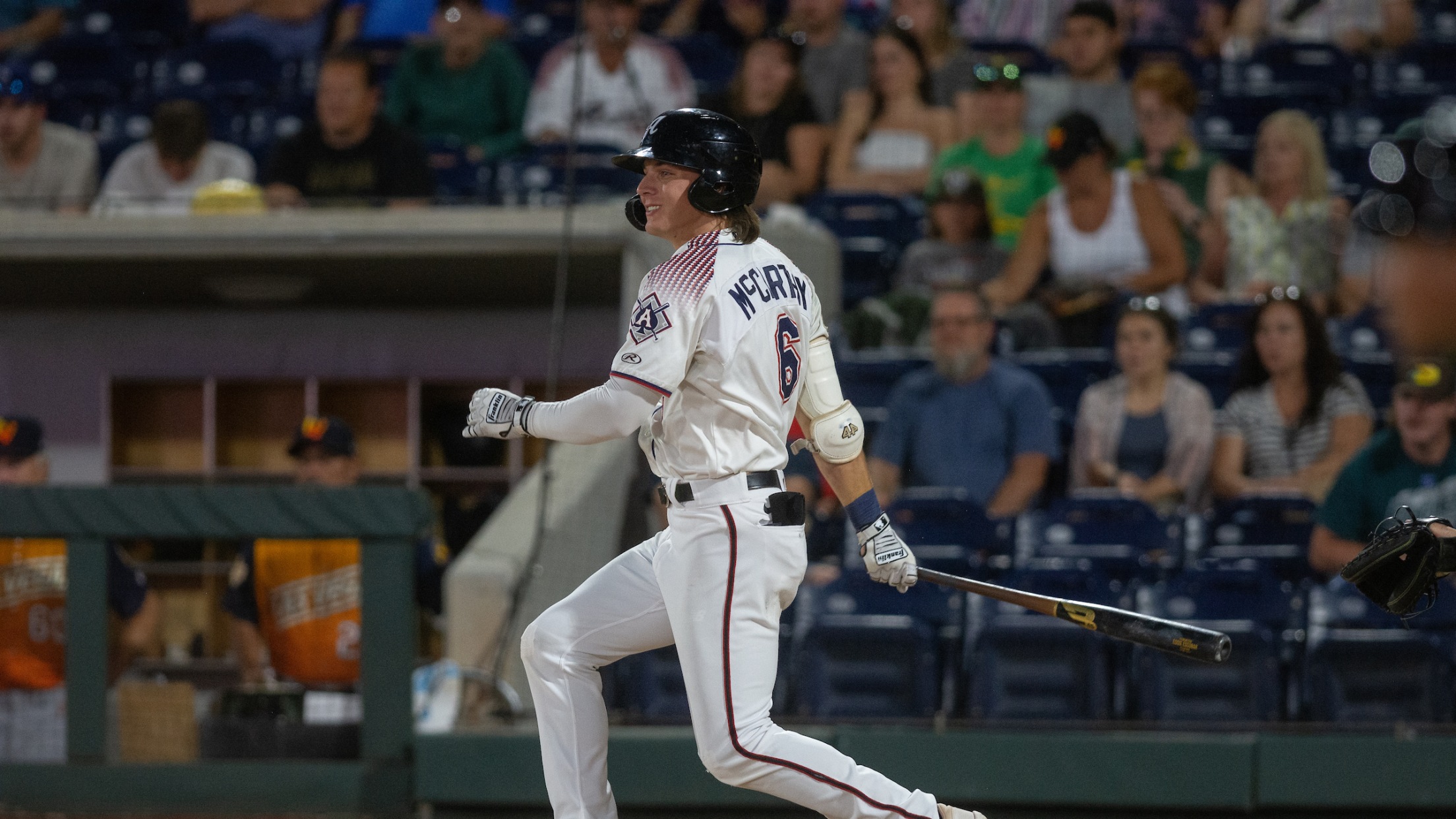 Jake McCarthy was drafted by the Arizona Diamondbacks in the first round of the 2018 draft, and worked his way up to start the 2021 season in Double-A, despite not having a season in 2020. He was rated as the number 19 prospect in the Diamondbacks system by Baseball America
Jake McCarthy was drafted by the Arizona Diamondbacks in the first round of the 2018 draft, and worked his way up to start the 2021 season in Double-A, despite not having a season in 2020. He was rated as the number 19 prospect in the Diamondbacks system by Baseball America heading into the season and exceeded that billing, playing across three levels in 2021 en route to his major league debut.
The outfielder began the season with Double-A Amarillo and played 35 games, hitting for a .241 clip while smashing six homers, eight doubles and four triples, earning his call up to Triple-A Reno. On the basepaths, McCarthy stole 17 bags – just a hair short of one every other game.
McCarthy arrived in Reno on June 21, but he didn't see good results right away. In his first month with the Aces, McCarthy hit just .183 with nine extra base hits and 24 strikeouts in 94 plate appearances. After the tough start to his stint in Reno, he found his swing, started hitting for power and became one of the Aces' hottest hitters from the end of July through all of August.
On July 23, his average was .174. He walked off the game on July 26 against Round Rock, going 2-for-6, and never looked back from there. On August 24, it was .262.
August was his hottest month with the Aces, where he slashed .307/.358/.653 with a 1.011 OPS to go with six home runs, two doubles and three triples. In that hot streak, he had two separate games with five RBIs. On August 10 against Tacoma, McCarthy went 3-for-5 with a home run, a triple and those five RBIs.
Then, on August 23 in the first game of a double header against Salt Lake, he had his best game of the season. The lefty went 2-for-3 with two home runs and another five RBIs.
That two-homer game came at the end of a four game hitting streak, which also saw a three game home run streak. In those four games, he collected eight hits, including two triples, four home runs and ten RBIs.
McCarthy played just two more games with Reno after that, getting the call up to Arizona. He played in his first game with the Diamondbacks on August 27 against the Phillies where he walked and scored a run. His first big-league hit came as part of a strong outing, doubling to score Carson Kelly on August 29 in Philadelphia. McCarthy finished the night 2-for-4 with the RBI double.
Overall, in his first 24 games at the big league level, he hit .220 with two home runs, three doubles and four RBIs. His first career home run came in a pinch hit at-bat on September 20 against the Braves.
After a slow start in Reno, Jake McCarthy got white hot in August, earning him a call-up to the big league team where he finished the season. The 24-year-old will look to keep it going in the big leagues in 2022, and continue his upwards trajectory with the club.