Pick up a 'Patriotic Pack' Bundle and save 25%
Great Bisons merchandise and apparel bundles for adults, kids and toddlers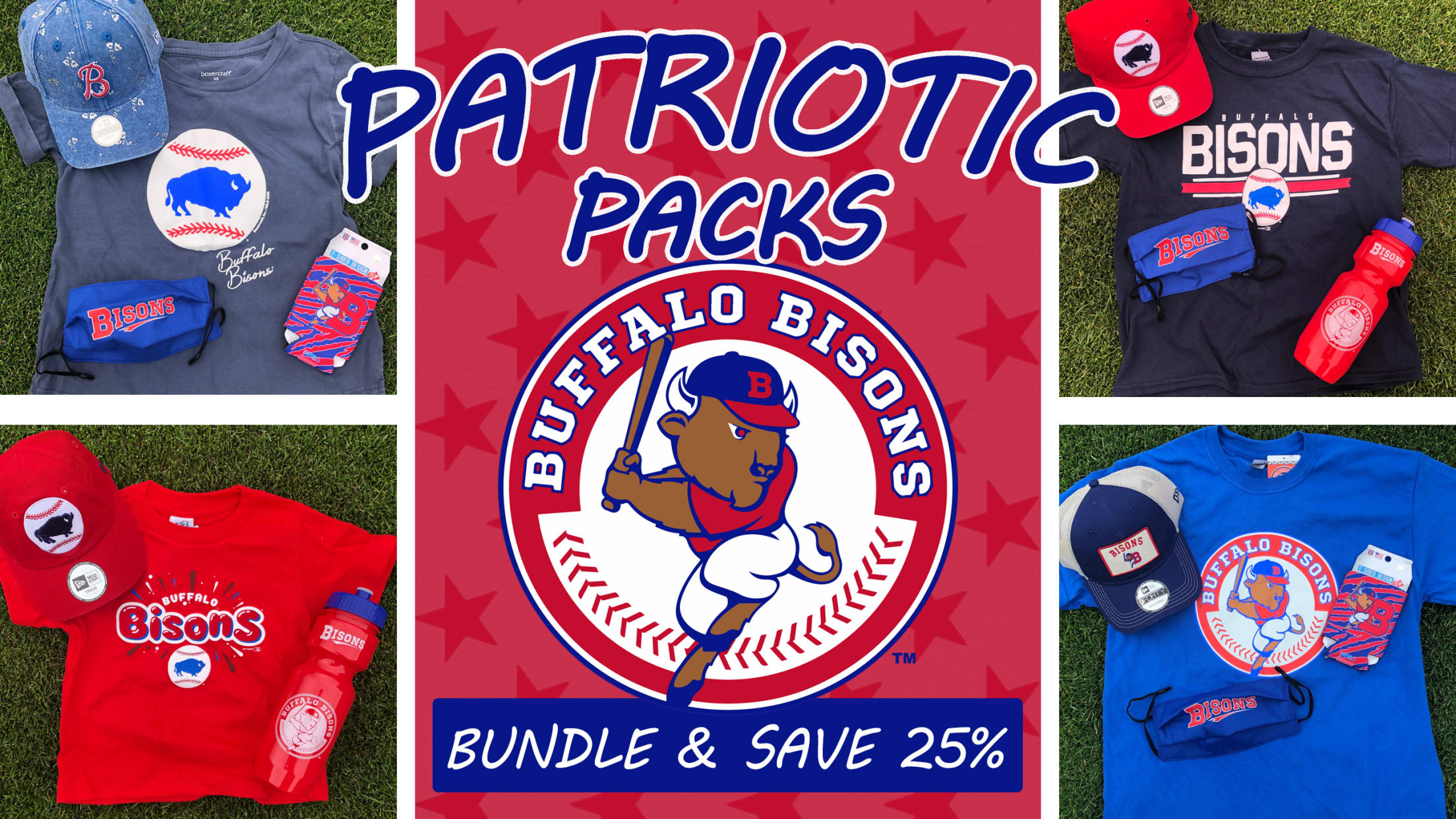 There's no reason you can't enjoy a taste of America's pastime on Independence Day this year. We might not be able to be at the ballpark on July 4th (or on Independence Eve for Bisons fans), but we're giving you a great chance to proudly don the red, white and
There's no reason you can't enjoy a taste of America's pastime on Independence Day this year.
We might not be able to be at the ballpark on July 4th (or on Independence Eve for Bisons fans), but we're giving you a great chance to proudly don the red, white and blue of the Buffalo Bisons and the United States of America during summer's best national holiday!
We've put together four 'Patriotic Bundles' that include great Bisons caps, apparel and merchandise as well as great savings. There are bundles available for men, women, children and the youngest of Bisons fans eager to get to their first baseball game at Sahlen Field. Plus, each bundle includes up to 25% IN SAVINGS!
>>>Click and Get your Patriotic Bundle Today!
These bundles will be available through July 7, but if you order by June 29, we'll be sure they arrive in time for the Independence Holiday Weekend. You can also take advantage of our Sahlen Field Curbside Pickup that is available by appointment from Monday-Thursday (10am-6pm).
For only $45.75, you can pick up the Men's Patriotic Pack that includes a royal blue primary Logo Tee, a Trick OTC 940 Adjustable Cap, an Adult Bisons Face Mask and a 12oz zebra print koozie. >>>ORDER HERE
For only $48.75, the Ladies Patriotic Pack features the navy alt Vintage Cuff Tee, a floral shine Adjustable Cap as well as the Face Mask and Koozie. >>>ORDER HERE
The Youth Patriotic Pack includes a navy alt Speil Tee, a royal blue logo Adjustable Cap, a Bisons Water Bottle and a Bisons Face Mask for just $43.50. >>> ORDER HERE
And for our youngest fans, the Toddler Patriotic Pack includes a Red Blimp Tee, a Casual Classic Adjustable Cap and a Bisons Water Bottle for only $34.50. >>>ORDER HERE
Patriotic Packs are available through 7/7/20 11:59pm ET. *Shipping guarantee for domestic orders only and orders must be placed by 11:59pm ET 6/29/20. Cannot be combined with any other offer or promotion. Partial pack returns will not be accepted. While supplies last.