Silver Anniversary Team: Ryan Kohlmeier, Right-Handed Relief Pitcher
Closer for '97 champs played two seasons with O's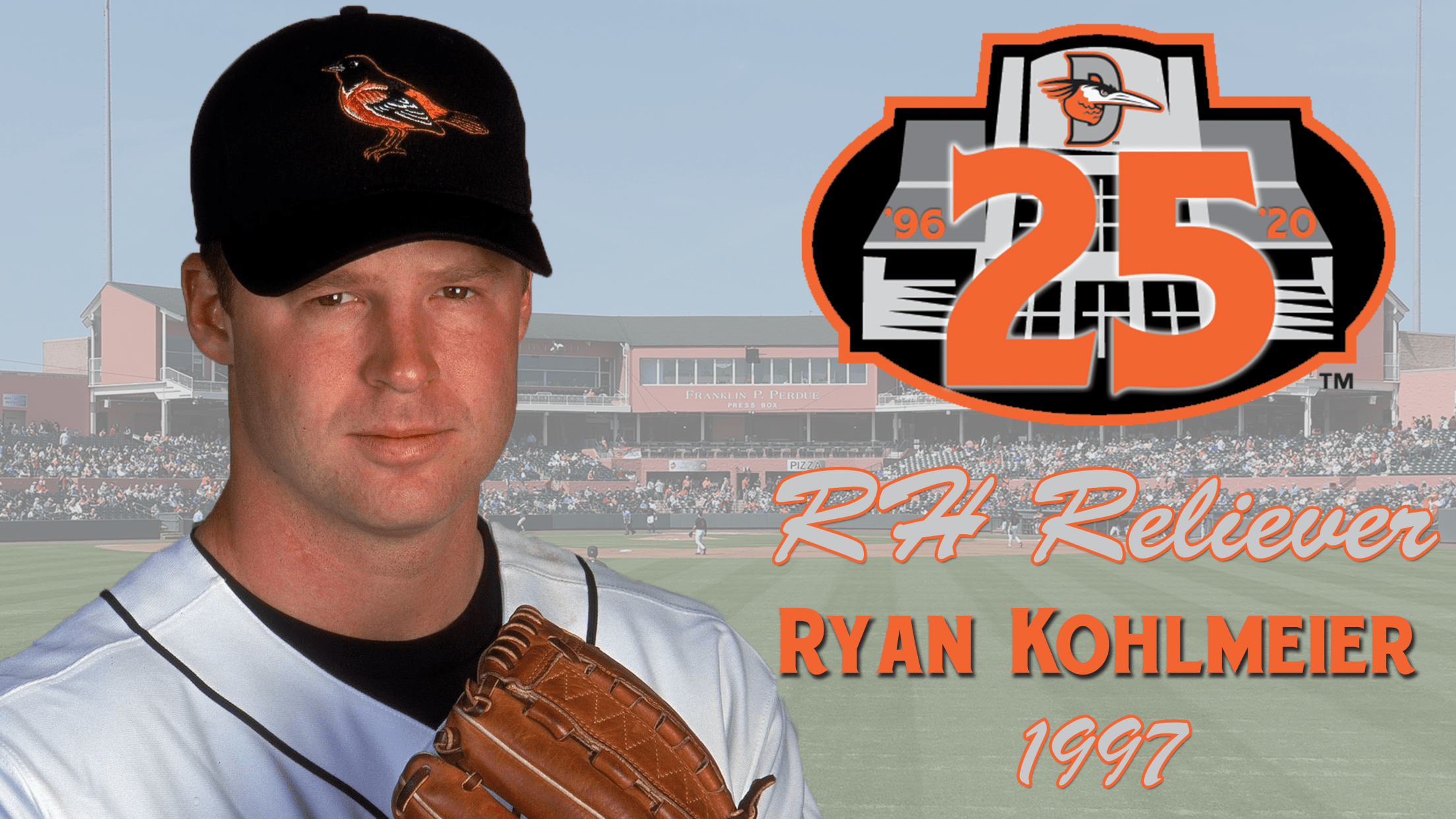 The penultimate slot on our Shorebirds Silver Anniversary Team belongs to the franchise's top right-handed relief pitcher. Balloting for both relief slots mirrored that of both starting pitchers: our esteemed panel whittle down an initial relief pool and eventually voted for one righty bullpen arm. The job of a relief
The penultimate slot on our Shorebirds Silver Anniversary Team belongs to the franchise's top right-handed relief pitcher. Balloting for both relief slots mirrored that of both starting pitchers: our esteemed panel whittle down an initial relief pool and eventually voted for one righty bullpen arm.
The job of a relief pitcher is twofold: get out of tight spots and demoralize the opposition. This is especially prudent for right-handed relievers, who are sometimes expected to cycle through the other team's batting order multiple times. The panel's pick wasn't just a dominant closer in his own right, he was the face of one of the more vaunted bullpens in recent South Atlantic League history, one which played an enormous role in bringing a long-awaited championship flag back to the Eastern Shore.
Right-Handed Relief Pitcher: Ryan Kohlmeier, 1997
50 G, 2-2, 2.65 ERA, 24 SV, 74.2 IP, 17 BB, 99 K, 0.871 WHIP, 11.9 K/9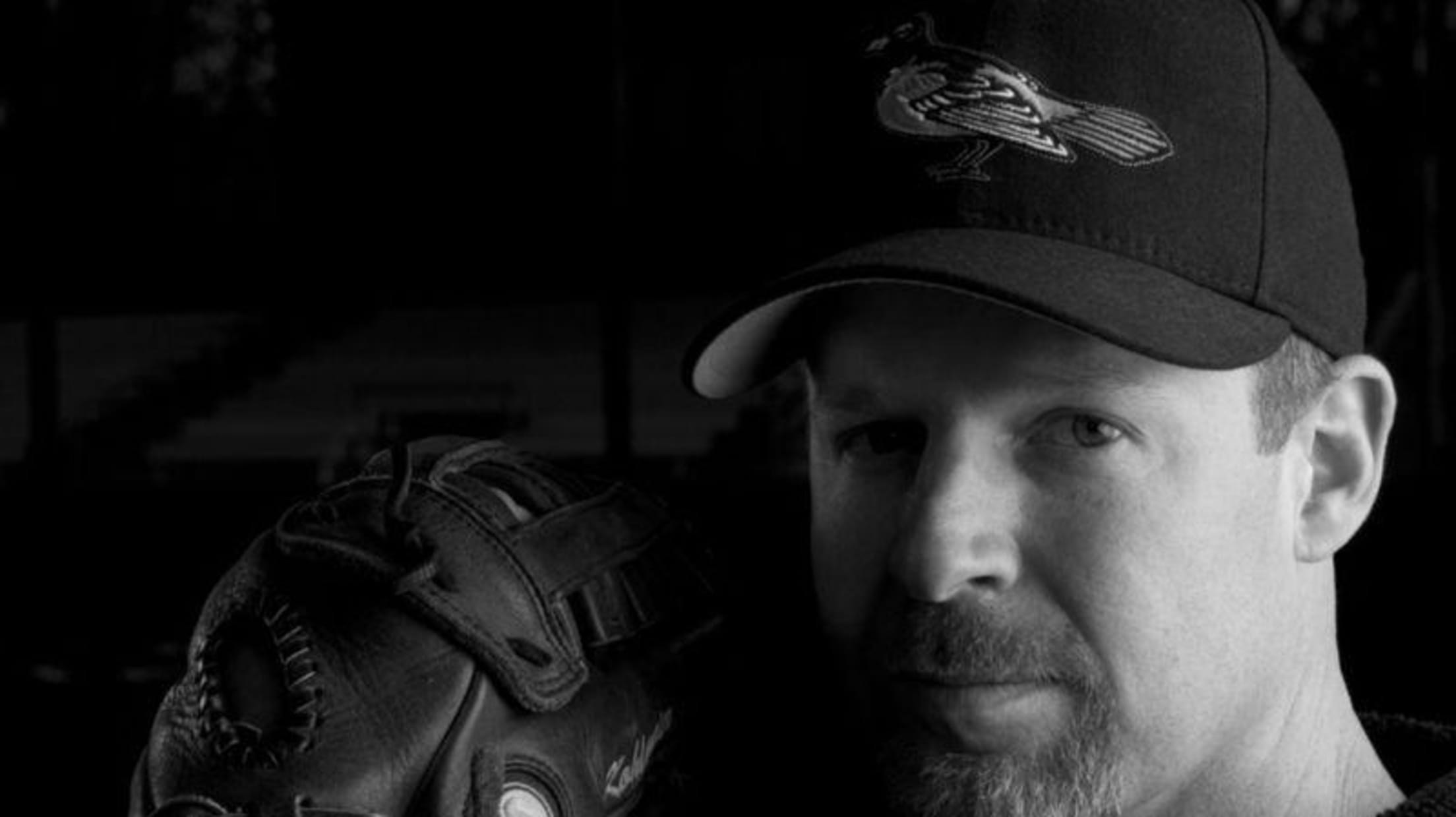 As the product of a small community college in Kansas, Ryan Kohlmeier had never really experienced baseball under the lights. Imagine how thrilled he was to get his first taste of the big time at Arthur W. Perdue Stadium, which was practically brand new when a 19-year-old Kohlmeier arrived for his first professional season in 1997.
"I really had no exposure to baseball that looked like that, or stadiums that looked like that," said Kohlmeier over the phone from his home in Emporia, Kans. "That was a huge treat. Not just coming out of a junior college, but when we traveled around to all the other stadiums in the South Atlantic League, you definitely understood how spoiled you were. The stadium was new, there was just such excitement about the team. It was fun to be part of it, and it turned out to be a great year for me."
He wasn't the only one. While fellow all-time Shorebird greats Calvin Pickering and Ryan Minor grabbed the headlines with their home run chase, Kohlmeier fronted one of the more vaunted bullpens the Sally League has ever seen. Flanked by fellow right-handers Maximo Heredia and Gabe Molina, plus lefty Scott Eibey, the Shorebird relief corps went a collective 30-17 with a 2.17 ERA and contributed to 12 team shutouts. Kohlmeier himself locked down 24 of the team's 46 saves, helping to assure manager Tommy Shields' peace of mind night after night.
"When you're part of a group like that, it gives you an extra bit of confidence," said Kohlmeier. "We definitely fed off of each other. Watching the psyche of a team that has a really good bullpen that you can count on, it's a luxury. You see it in so many teams, it's tough to get a good bullpen together. To have a lead for six or seven innings and then to have it blown in the eighth or ninth, it deflates a team in a hurry, and it's a tough thing to overcome. So that was cool to be a big part of the success that year."
Untouchable relief pitching helped build the 77-65 Shorebirds into a late-season juggernaut. After claiming a wild card slot in the postseason, Delmarva swept Hickory in the opening round and outlasted Charleston (WV) in the three-game semifinals. It was then onto the championship series against Greensboro, where the Shorebirds overcame several days of rain to sweep the Bats and bring the title home to Salisbury.
"Other than getting to step onto a big-league field for the first time, that was the most fun that I've had in baseball," said Kohlmeier of that playoff run. "You hear it all the time, but it is definitely true. There's so much more riding on every pitch, every at-bat, the excitement level is up to the nth degree, and it's just so, so different from that regular season grind. No matter how tired you were, once the playoffs started you were instantly reenergized, the aches and pains just went away."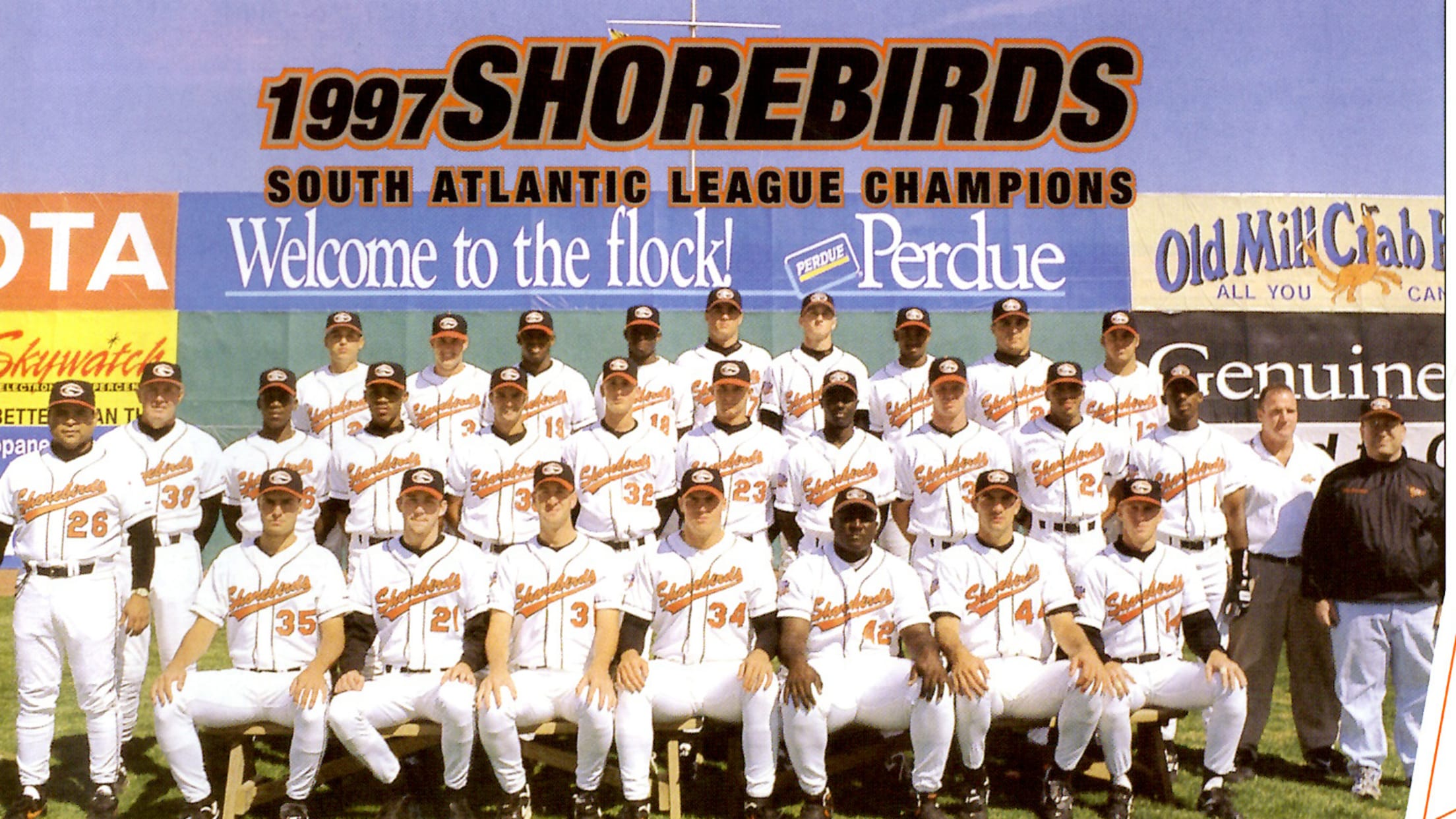 Kohlmeier would only have to wait three more years before exceeding that initial thrill. By 2000 he had ascended to Triple-A Rochester, and in late July the Orioles made the call for him. Kohlmeier debuted at Camden Yards on July 29, tossing a pair of scoreless innings against a vaunted Cleveland Indians lineup. In his first inning he got Omar Vizquel to ground into a double play, and his first major league strikeout came at the expense of Manny Ramirez.
"It all seemed so surreal to get to do that, to have your parents in the stands, to walk out onto the field and deal with 50,000 people for the first time," said Kohlmeier. "I'm not great on details at this point, but the overall feel of it is something that you can hardly even explain."
One detail that has stood the test of time was when one of Kohlmeier's new teammates came over to greet him in the clubhouse on that first day.
"Cal Ripken, Jr. came up to me to introduce himself and shake my hand," said Kohlmeier. "I said, 'Nice to meet you Mr. Ripken," and in my mind I'm thinking, 'I definitely know who you are, you don't have to introduce yourself,' but that's who Cal was."
Kohlmeier converted 13 saves for Ripken and the O's in late 2000 and got to spend a good chunk of 2001 in Baltimore, front-and-center to the Iron Man's farewell tour. He earned his only major league win on Opening Day 2001, tossing a scoreless 11th inning ahead of Brady Anderson's walkoff single. In total, Kohlmeier appeared in 59 major league games over two seasons, registering 19 saves.
That winter the White Sox picked Kohlmeier up off of waivers, and he spent three seasons pitching in Triple-A Charlotte. By that third season with the Knights in 2004, with his velocity taking a dip and a new son to look after, it became apparent that his time in baseball was short.
"I knew that I was not a guy who was built to do it until I absolutely couldn't do it anymore," said Kohlmeier. "My wife [Tyla] and I started having conversations about what's next, and it was about a month later that she and I decided together that [2004] was going to be the last year.
"To this day I feel like it's what God wanted me to do, it was the right decision, I felt like the timing was right. I had a great run in baseball, a great time, but I definitely enjoy what I do now."
What Kohlmeier does now takes as much precision as controlling an effective breaking ball. He returned home to Kansas and enrolled at Emporia State University, where he eventually took an interest in dentistry. Today he's known as Dr. Kohlmeier, DDS, of Kohlmeier Dental in Emporia.
"Baseball taught me how to work hard, how to control the things that I could control, and not worry about the things that I couldn't," reflected Kohlmeier. "So much of that totally applies [to becoming a dentist]. Take care of your business, let the other stuff go, trust that God's got that, and you're going to be okay."
Whether it was managing a late game lead in his old life or mending mandibles in his new, Dr. Ryan Kohlmeier has always been about taking care of business. Rarely have the Shorebirds seen a reliever so undaunted by the bright lights of Perdue Stadium.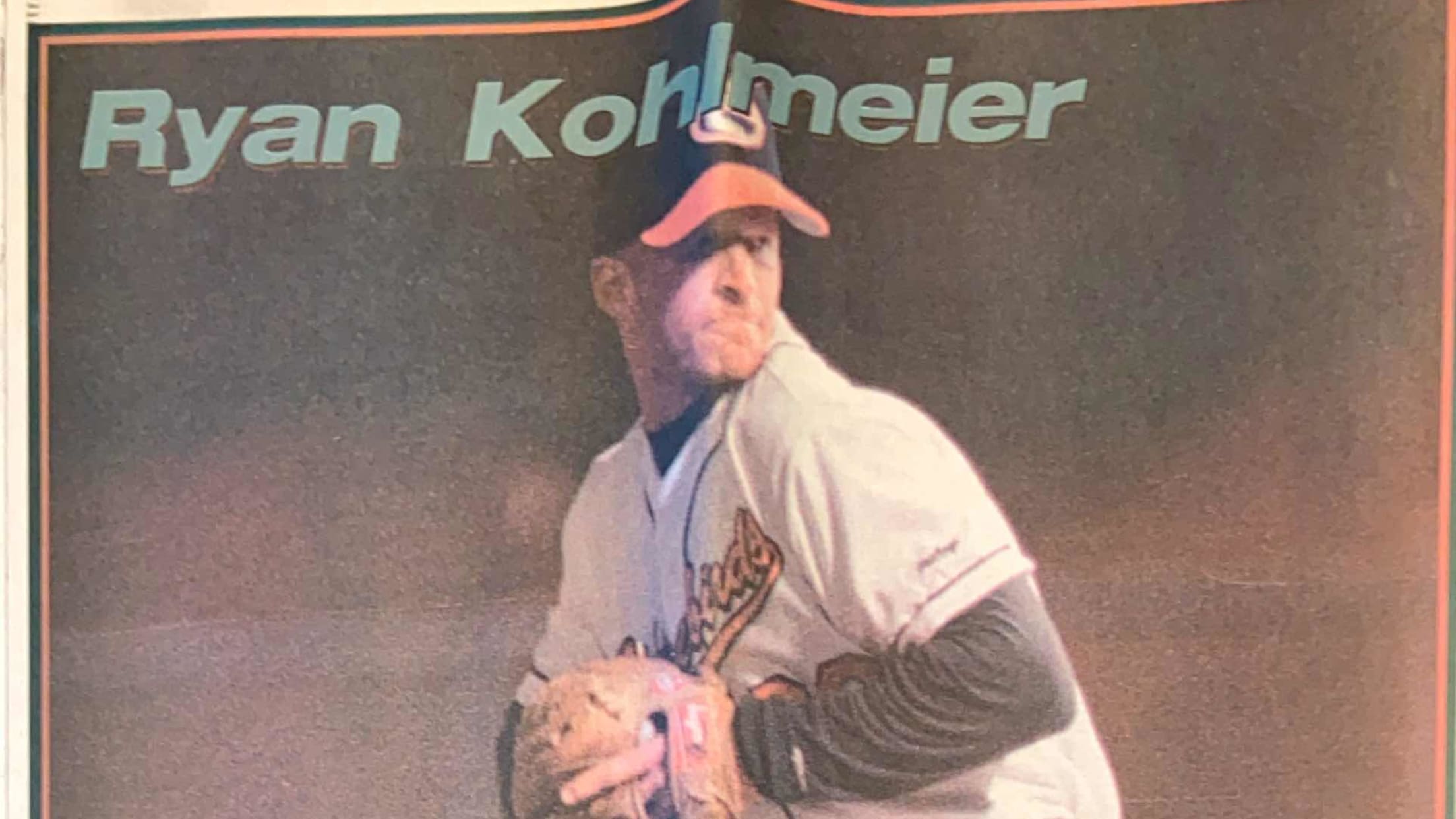 Best of the Rest
Maximo Heredia (1997) – Often setting up Kohlmeier out of that vaunted '97 bullpen was Heredia, whose SAL-leading 2.13 ERA still stands as a Delmarva record (min. 112 IP). Heredia went 10-5 as a reliever and occasional spot-starter but really shined in the postseason, where he won three games and was the pitcher of record in the Shorebirds' pennant-clincher against Greensboro. He pitched in Double-A Bowie for three seasons but never replicated his Single-A success; after his release in 2000 he finished the summer with the Monterrey Sultanes in the Mexican League before retiring at age 23.
Gabe Molina (1997) – Yet another stud in the '97 relief corps, Molina won eight games in relief, saved seven, and clocked an 11.8 K/9 ratio. He took the baton from Heredia in the seventh inning of Game 2 of the SAL Championship Series and battled out of trouble, earning a save as the Shorebirds finished off their first league pennant. Molina matriculated to the bigs in 1999 and eventually pitched in 46 major league games over four seasons for the Orioles, Braves, and Cardinals; he missed 2004 with injury and retired after a 2005 stint in Mexico with the Tuneros de San Luis.
Derek Brown (1997-98) – Brown followed up a two-game cameo in 1997 with a dominating 1998 campaign. The Hagerstown native set a still-franchise saves record for Maryland's other minor league team, nailing down 33 saves and boasting a paltry 1.85 ERA and 1.000 WHIP as the Shorebirds made the postseason for the third consecutive year. Brown made it to Triple-A Rochester in 2001 but never cracked the majors; the O's released him in 2002 and he played the 2003 with the Atlantic League's Camden Riversharks before retiring at 26.
Jim Hoey (2006) – Hoey is one of just two Shorebirds who made it from The Shore to The Show in the same calendar year, a feat only equaled by Dylan Bundy six years later. A 13th-rounder in 2003, Hoey saved 18 games over 27 appearances with Delmarva, sporting a 2.54 ERA and 14.6 K/9 rate. He was positively dominant in a month with Frederick and had a couple cups of coffee with Bowie before leapfrogging Triple-A altogether to pitch in 12 games for the O's that August and September. Hoey split his time between the majors and high minors before missing all of 2008 with injury; he never made it back to Baltimore but returned to the big for 26 outings with the Minnesota Twins in 2011. After a couple tries with the Blue Jays and Brewers and a solid age-30 season with the Somerset Patriots in the Atlantic League, Hoey bid the game adieu in 2013.
Jimmy Yacabonis (2014) – A recent fan favorite, "Yac" was utterly untouchable in the first half of 2014, notching a 1.07 ERA and 14 saves in 21 appearances, in 20 of which he didn't allow a run. He was one of seven Shorebirds voted to the SAL All-Star Game in Hickory and earned a fast ticket to Frederick after getting back from the festivities. Yacabonis cracked The Show in 2017 and logged 55 big league appearances over the next three seasons; frequently part of the taxi squad between Norfolk and Baltimore, he maintained his minor league dominance, making the Triple-A All-Star Game twice. The O's released Yacabonis this offseason but he was picked up by the San Diego Padres and will likely start 2020 in Triple-A El Paso.
Delmarva Shorebirds Silver Anniversary Team
First Base: Calvin Pickering (1997)
Second Base: Willie Harris (1999-2000)
Third Base: Ryan Minor (1997; mgr. 2010-12, 2014-17)
Shortstop: Orlando Cabrera (1996)
Left Field: Jason Fransz (2004-05)
Center Field: Zach Jarrett (2018)
Right Field: Nick Markakis (2004)
Designated Hitter: Manny Machado (2011)
Right-Handed Starting Pitcher: Grayson Rodriguez (2019)
Left-Handed Starting Pitcher: Alex Wells (2017)
Right-Handed Reliever: Ryan Kohlmeier (1997)
Left-Handed Reliever: April 2
Full 25-Man Roster: April 9
The Delmarva Shorebirds Silver Anniversary Team was voted on by a panel of experts who have deep, longstanding ties to the Shorebirds organization. The panel considered several factors to make well-rounded decisions on who best represents the history of the Delmarva franchise as both a competitive team in its own right and as a step on the road to major league glory. Members of the panel include: Chris Bitters, Shorebirds general manager; Will DeBoer, Director of Broadcasting & Communications; Gil Dunn, Delmarva Shorebirds Fan Club president; Dr. Richard A. Passwater, a.k.a. "Doc Shorebird," team historian; Ricky Pollitt, The Daily Times sportswriter; Bryan Records, longtime Shorebirds clubhouse assistant; Randy Scott, Froggy 99.9 FM radio personality and former Shorebirds broadcaster; and Jimmy Sweet, Shorebirds assistant general manager.