Silver Anniversary Team: Full 25-Man Roster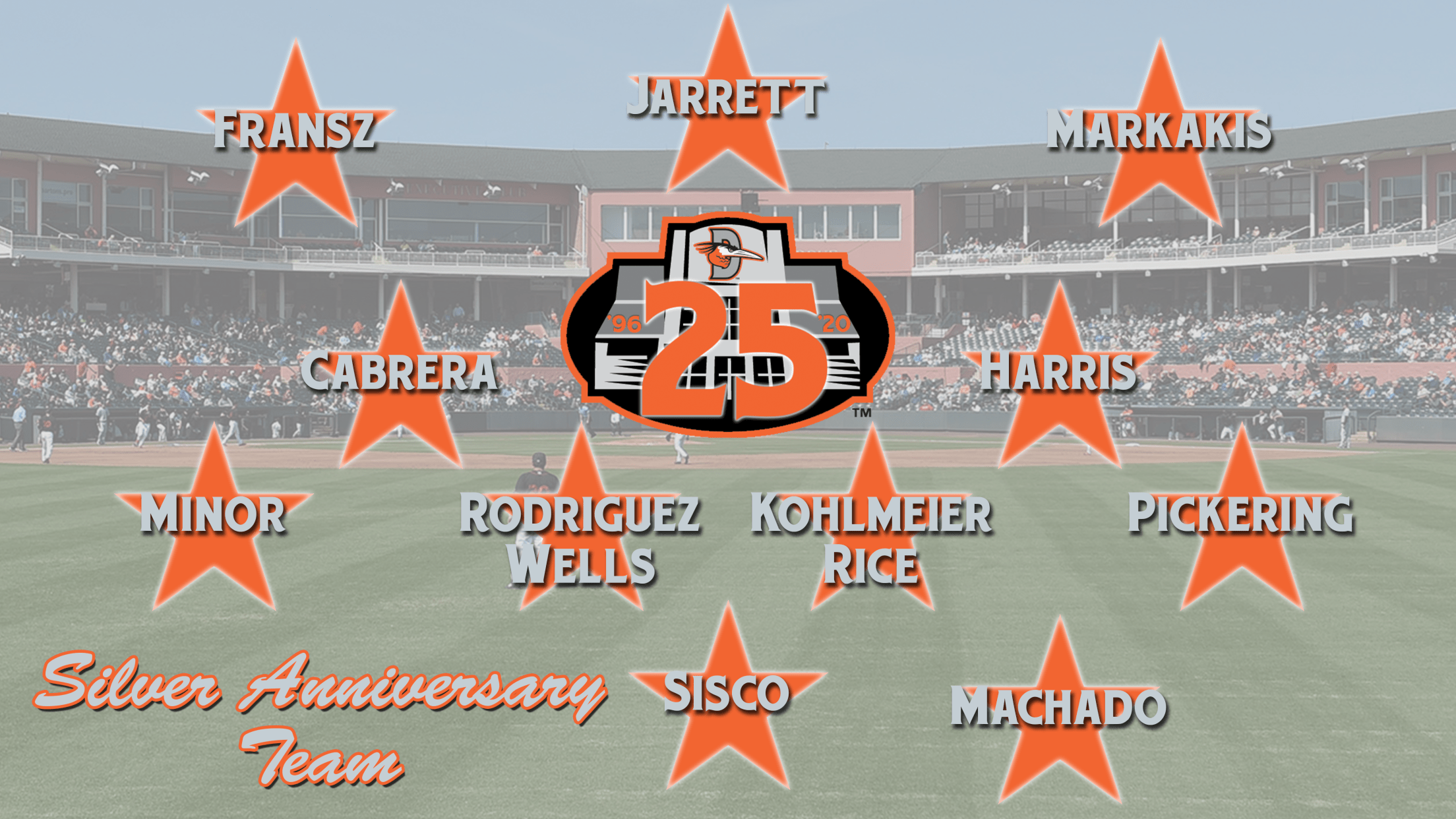 Time for one last definitive look at our Shorebirds Silver Anniversary Team. Over the past three months we've unveiled each position as voted upon by our panel of experts. Now, on what would have been Opening Day for the 25th season, we'll be playing manager for the day and setting
Time for one last definitive look at our Shorebirds Silver Anniversary Team. Over the past three months we've unveiled each position as voted upon by our panel of experts. Now, on what would have been Opening Day for the 25th season, we'll be playing manager for the day and setting a starting lineup, as well as filling in the rest of a dream Delmarva Shorebirds 25-man roster.
This ultimate Shorebirds lineup is made up of the nine players who won the balloting for their respective positions. The four position players bench – as well as the additional arms to flesh out the six-man rotation and six-man bullpen – consists of names who received significant support during the voting stage but ultimately fell short of the mark. The statistics listed under each player's name were determined by taking the players' raw Delmarva numbers and averaging them out for a full 140-game minor league schedule. (The Win-Loss-Save numbers for relievers were determined in a less scientific way based on each pitcher's hypothetical role in the bullpen.)
A quarter-century of Shorebirds baseball, distilled down to the very best to ever don the orange and black. We present our ultimate Delmarva Shorebirds 25-man roster.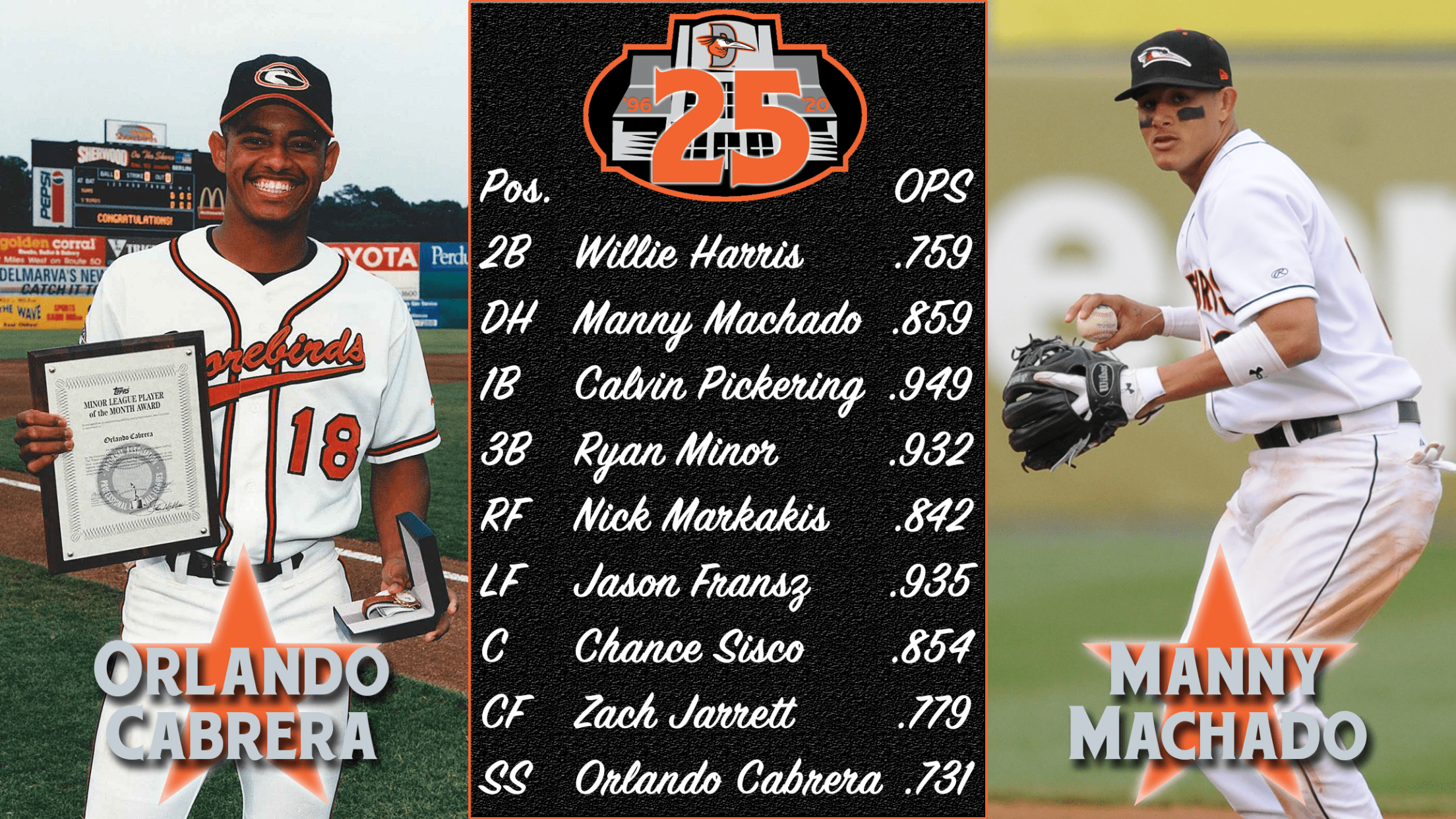 Starting Lineup
2B Willie Harris (L) [1999-2000]
.271/.368/.391, 104 R, 28 2B, 9 3B, 6 HR, 65 RBI, 39 SB,.759 OPS
The Shorebirds' single-season runs leader (106 in 2000) establishes the rhythm and gets himself into scoring position for those on down the order.
DH Manny Machado (R) [2011]
.276/.376/.483, 88 R, 29 2B, 7 3B, 22 HR, 88 RBI, 11 SB, .859 OPS
Modern baseball strategy favors batting the team's best all-around hitter at the two-hole. That distinction falls on Machado, who was in The Show barely a year after playing for the Shorebirds in 2011 and was a genuine game-changer during his brief time on Delmarva.
1B Calvin Pickering (L) [1997]
.311/.394/.554, 101 R, 36 2B, 1 3B, 29 HR, 91 RBI, 7 SB, .949 OPS
Delmarva's single-season home run king (25 in 1997) clocks in at the traditional power slot in the order. Flat fastballs and hangers beware.
3B Ryan Minor (R) [1997]
.307/.387/.545, 87 R, 44 2B, 1 3B, 25 HR, 101 RBI, 7 SB, .932 OPS
Bash Brothers with Pickering (24 homers in 1997) and author of one of the best all-around offensive seasons in franchise history, Minor would leave few bases un-swept as cleanup man.
RF Nick Markakis (L) [2004]
.299/.371/.470, 83 R, 32 2B, 4 3B, 16 HR, 93 RBI, 18 2B, .842 OPS
A true show-stopper, even in the minors, Markakis in the five-hole means no mercy after the one-two punch of Pickering and Minor.
LF Jason Fransz (R) [2004-05]
.310/.375/.561, 95 R, 42 2B, 1 3B, 30 HR, 145 RBI, 5 SB, .936 OPS
Considering those hitting ahead of him there might not be many RBIs for Fransz to pick up. Still, the only Shorebird to ever crack 100 rib-eyes in one season (111 in 2005) would pick up plenty on his own accord.
C Chance Sisco (L) [2014]
.340/.406/.448, 69 R, 33 2B, 1 3B, 6 HR, 77 RBI, 1 SB, .854 OPS
Delmarva's first South Atlantic League batting champion and his elite on-base acumen resets the table for the bottom third of the order.
CF Zach Jarrett (R) [2018]
.277/.342/.437, 80 R, 28 2B, 7 3B, 15 HR, 78 RBI, 4 SB, .779 OPS
With a power bat that can find the gaps and a certified clutch gene (three walk-off winners in 2018), Jarrett makes the eight-hole one of the most dangerous in the entire lineup.
SS Orlando Cabrera (R) [1996]
.252/.327/.404, 90 R, 29 2B, 4 3B, 15 HR, 68 RBI, 53 SB, .731 OPS
With speed and scrappiness to flip over the lineup, the 15-year big-leaguer assures that this pitchers' nightmare of a batting order has no holes.
Reserves
C/DH Yermin Mercedes (R) [2015-16]
.320/.367/.528, 82 R, 37 2B, 6 3B, 20 HR, 92 RBI, 2 SB, .896 OPS
Owner of a batting crown and the highest single-season average in team history (.353 in 2016), Mercedes is the man to turn to when you absolutely need a hit off the bench.
1B/DH Trey Mancini (R) [2014]
.317/.357/.422, 62 R, 27 2B, 6 3B, 6 HR, 86 RBI, 2 SB, .779 OPS
Perhaps the most recognizable name that did not crack the starting lineup, Mancini would still get plenty of chances to make memories for Shorebirds fans.
INF Adam Hall (R) [2019]
.298/.385/.395, 90 R, 25 2B, 5 3B, 6 HR, 52 RBI, 38 SB, .780 OPS
Proficient at both shortstop and second base, Hall makes a name for himself with both the glove and the bat.
OF Brandon Tripp (L) [2007]
.288/.377/.531, 97 R, 34 2B, 5 3B, 26 HR, 106 RBI, 9 SB, .908 OPS
A vaunted lefty power bat off the bench, Tripp would give even the most capable LOOGY fits in a tight spot.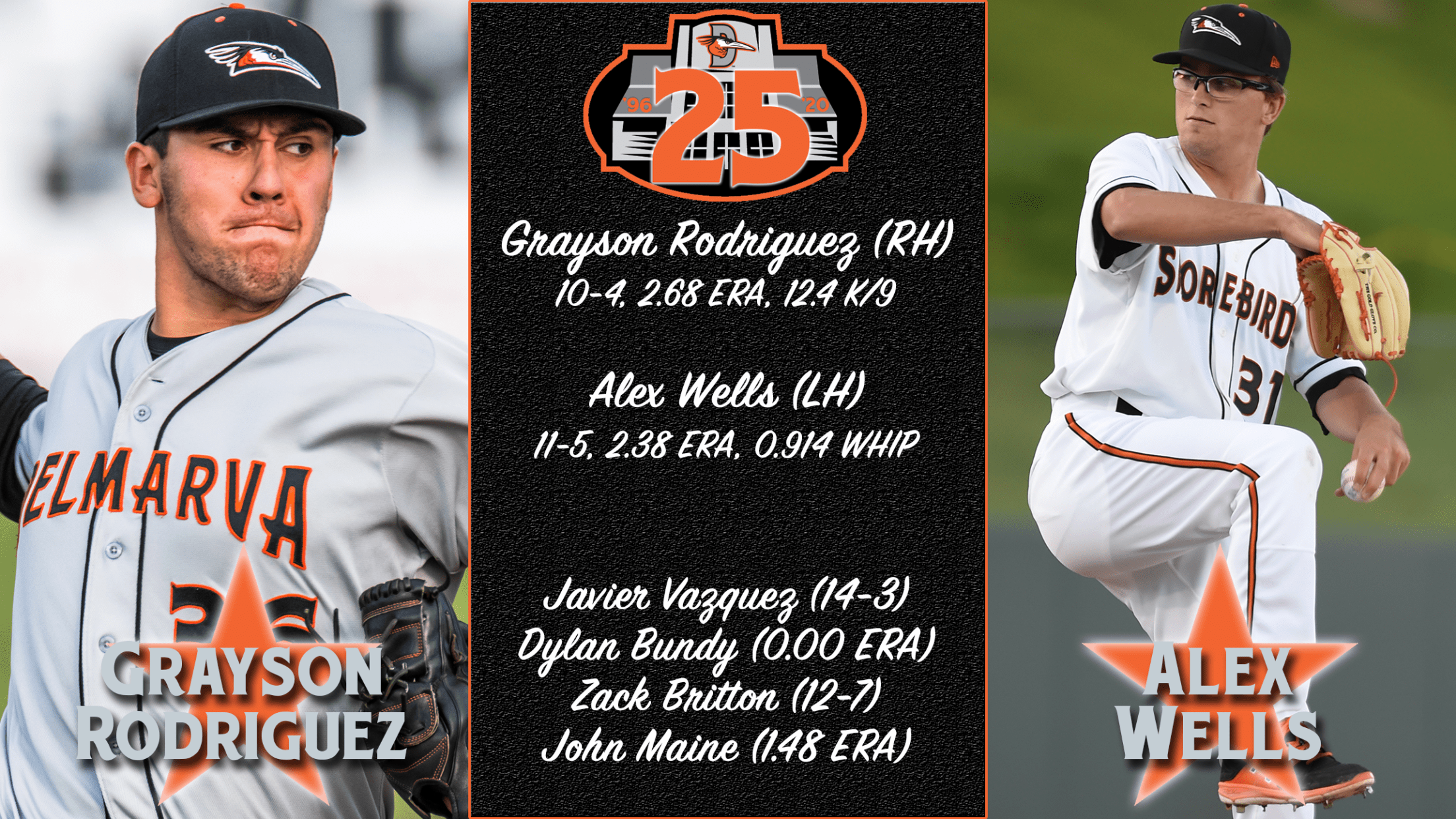 Starting Rotation
24 GS, 12-5, 2.68 ERA, 113 IP, 43 BB, 155 K, 0.989 WHIP, 12.4 K/9
The only unanimous pick to the Silver Anniversary Team, G-Rod is a true top-of-the-line starter with the sort of cannon arm that would make Uncle Rico jealous.
24 GS, 11-5, 2.38 ERA, 134.1 IP, 10 BB, 108 K, 0.914 WHIP, 7.3 K/9
A true surgeon of the strike zone, Wells counters Rodriguez's fire with merciless ice. The man cuts corners like he's working for Enron.
RHP Javier Vazquez (1996)
23 GS, 12-3, 2.68 ERA, 140 IP, 49 BB, 147 K, 1.187 WHIP, 9.5 K/9
Vazquez won the first-ever game at Arthur W. Perdue Stadium in 1996 and still holds the single-season franchise wins record. He's perfectly designed to carry a load.
RHP Dylan Bundy (2012)
23 GS, 9-3, 2.08 ERA, 103.2 IP, 28 BB, 119 K, 0.916 WHIP, 10.3 K/9
Okay, technically if we had actually simulated Bundy's actual ERA from his brief time in Delmarva he'd have completed the greatest pitching season in baseball history with a spotless 0.00. Instead we added up his total 2012 stat line, which began with the Shorebirds and saw him leap to Baltimore by season's end. Either way, the kid shoved.
LHP Zack Britton (2008)
23 GS, 10-6, 3.12 ERA, 125.2 IP, 42 BB, 97 K, 1.133 WHIP, 7.0 K/9
After setting an American League record for consecutive saves with the Orioles, Britton is a perfect swingman between rotation and bullpen but a reliable starter nevertheless.
RHP John Maine (2002-03)
23 GS, 9-5, 1.48 ERA, 125.2 IP, 26 BB, 169 K, 0.787 WHIP, 12.1 K/9
An arm as strong as Maine's, with nasty strikeout stuff to boot, assures no days off for opposing lineups.
Bullpen
50 G, 4-3, 2.65 ERA, 25 SV, 74.2 IP, 17 BB, 99 K, 0.871 WHIP, 11.9 K/9
The primary closer on Delmarva's first championship team, Kohlmeier in the ninth assures that this team won't give away many leads on those rare occasions when they're in a close game.
64 G, 10-3, 0.94 ERA, 5 SV, 95.1 IP, 24 BB, 106 K, 0.692 WHIP, 10.0 K/9
The primary set-up man to Kohlmeier, Rice is a nightmare for right-handed hitters and lefties alike.
RHP Derek Brown (1998)
55 G, 5-5, 1.85 ERA, 10 SV, 68 IP, 13 BB, 63 K, 1.000 WHIP, 8.3 K/9
Brown holds the single-season Shorebirds saves record (33 in 1998). Talk about a capable backup closer.
LHP Rommie Lewis (2002)
53 G, 3-3, 2.15 ERA, 3 SV, 71.0 IP, 20 BB, 77 K, 0.986 WHIP, 9.8 K/9
One of the Shorebirds' more colorful relievers, Lewis would fill the "Spaceman" Bill Lee role out of the Delmarva bullpen – and strand more than a few bats amongst the stars.
RHP Jimmy Yacabonis (2014)
42 G, 3-2, 1.07 ERA, 3 SV, 50.2 IP, 30 BB, 62 K, 0.947 WHIP, 11.0 K/9
Yacabonis' entire earned run output with the Shorebirds came in one off night. Those nights will be and far between.
LHP Zach Matson (2017, '19)
34 G, 9-0, 2.55 ERA, 3 SV, 70.2 IP, 38 BB, 126 K, 1.132 WHIP, 16.0 K/9
Matson boasts a hook that would make Bugs Bunny blush. Batters going up against him would suffer similar fates of those who faced that wascally wabbit.
Estimated final record: 97-43 (.693)
Major-league 162-game equivalent: 112-50
The highest win total in Sally League history belongs to 1981 Greensboro Hornets (98-43), and only 14 teams in the modern SAL have won at least 90 games (including the 2019 Shorebirds). An ultimate Delmarva Shorebirds 25-man roster would rival that of the greatest teams to ever grace the minor leagues.
The Delmarva Shorebirds have been a force to be reckoned with in their first 24 seasons on the Eastern Shore. You can count on further reckoning whenever Season No. 25 gets underway.
The Delmarva Shorebirds Silver Anniversary Team was voted on by a panel of experts who have deep, longstanding ties to the Shorebirds organization. The panel considered several factors to make well-rounded decisions on who best represents the history of the Delmarva franchise as both a competitive team in its own right and as a step on the road to major league glory. Members of the panel include: Chris Bitters, Shorebirds general manager; Will DeBoer, Director of Broadcasting & Communications; Gil Dunn, Delmarva Shorebirds Fan Club president; Dr. Richard A. Passwater, a.k.a. "Doc Shorebird," team historian; Ricky Pollitt, The Daily Times sportswriter; Bryan Records, longtime Shorebirds clubhouse assistant; Randy Scott, Froggy 99.9 FM radio personality and former Shorebirds broadcaster; and Jimmy Sweet, Shorebirds assistant general manager.