A summer without baseball is like the spring without rain.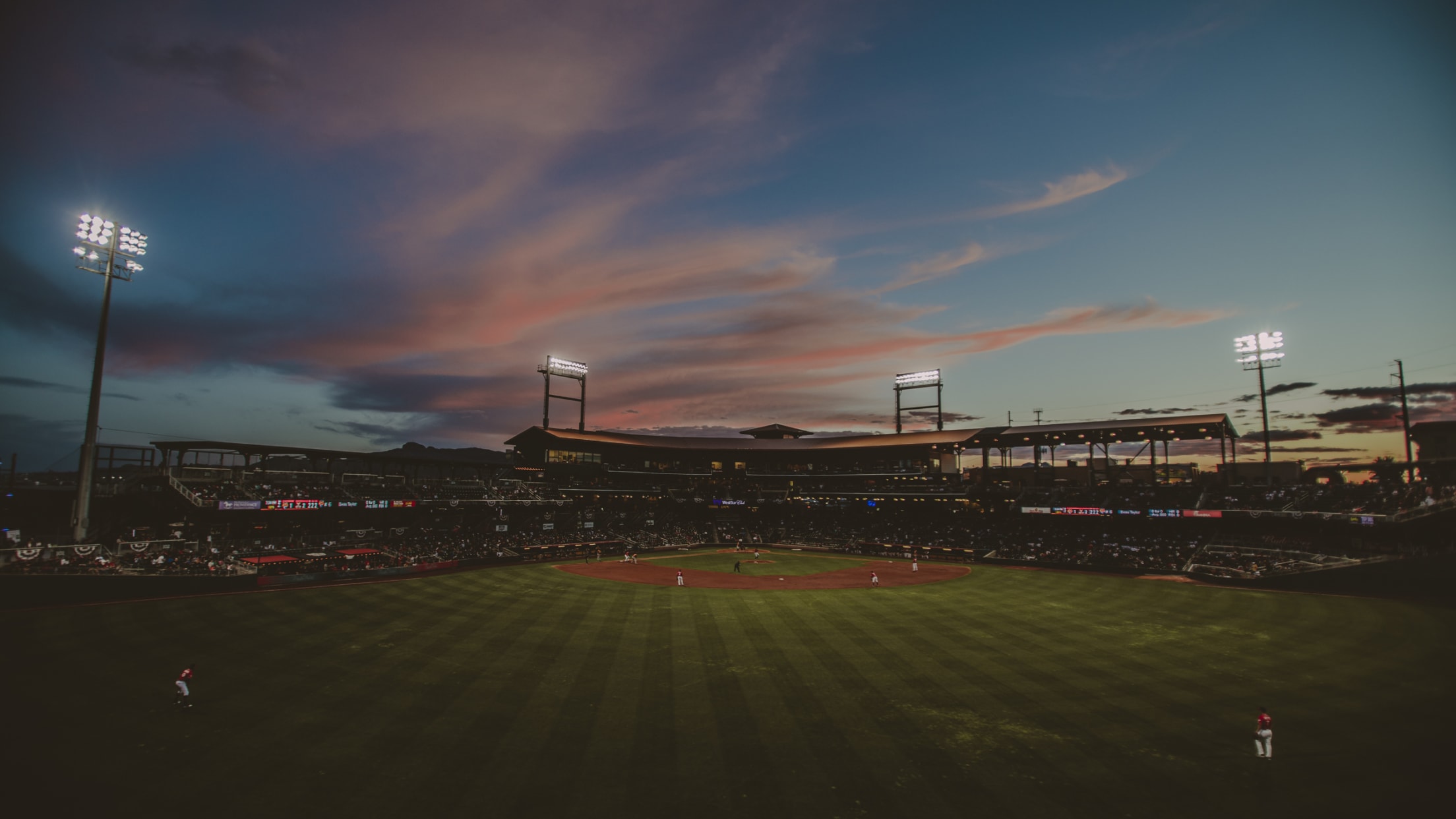 A summer without baseball is like the spring without rain. It is silent – so sadly silent – as the warm breezes float through beautiful Southwest University Park, where the boys of summer go to make magic, that place where they go to make their dreams live or die. This
A summer without baseball is like the spring without rain.
It is silent – so sadly silent – as the warm breezes float through beautiful Southwest University Park, where the boys of summer go to make magic, that place where they go to make their dreams live or die.
This ballpark and so many parks around the nation have been our summer playground, the place where wide eyed children and so many men and women who are still children at heart go to cheer and jeer and fill the air with laughter and joy.
It is the sound of our lives.
But now it is silent.
Now, though, we have been knocked down, taken a high inside fastball under the chin. We have been knocked down as a city, a state, a nation and the world. And it is serious.
There have been tears, tears of terrible loss. And there has been fear, fear of jobs and bills and so much worse.
Southwest University Park has been this city's playground since 2014, since the Chihuahuas introduced so much summer baseball fun. Millions have pushed through the turnstiles to watch our summer game, our boys of summer.
And the park has already created so many memories.
We have all reveled in the joy of watching baseball brilliance – the former Major Leaguers, the future Major Leaguers, the near-Major Leaguers.
The good spirits have already created special memories, moments that will be forever etched in the mind's memory bouquet, like some sort of old sepia-toned photograph that will linger for a lifetime.
At least we have television baseball. At least we can watch a frenetic, shortened season unfold on our screens at home, watch as it races toward a World Series in Arlington.
It Is not the same, of course. Nothing is like a trip to the ballpark with family and friends, munching on a hot dog and sipping a beverage, sitting and watching and marveling with friends and people we do not even know.
The Chihuahuas have given us so many memories already. So many have that first playoff series in 2015 etched into a special place, nights when the players said it was so loud it was like a Major League game.
We will never forget all the playoff runs since and, of course, the electricity of that Pacific Coast League championship season in 2016.
We love our local heroes and we have had so many already. Cody Decker, the wise-cracking, joke playing, home run slugging character was probably our first Chihuahua memory maker.
Alex Dickerson, the left hander with the honey smooth batting stroke, will long be in our memories – along with his 29-game hitting streak.
And, of course, there were the Core Four of that special championship season – catcher Austin Hedges, second baseman Carlos Asuaje, right fielder Hunter Renfroe with the shotgun arm and a bat loaded with long balls and center fielder Manuel Margot, the fleet one who had a glove where triples went to die.
The San Diego Padres were good enough to keep those Core Four in El Paso long enough to win a championship and make special memories.
There have been others – like big Franmil Reyes and second baseman Luis Urias and pitcher Dinelson Lamet and more.
There will be more to come someday, one day in the future when fear is behind us and joy is once again our co-pilot. For now, though, we must watch our summer game on televisions.
The Padres will be in the playoffs and Lamet will be a key figure in their rotation. He has been outstanding. But the Padres have dealt the other players. What does that mean? It means we can watch our Chihuahuas all around the league.
Fans around the nation saw what El Pasoans saw not so long ago – that sweet swing of Dickerson. They watched as he hit three home runs and two doubles for the San Francisco Giants, watched as he tied the great Willie Mays for most total bases (16) in a single game. He continues to hit home runs for the Giants.
Fans around the country saw Reyes go 5-for-5 with two doubles and a home run for the playoff Cleveland Indians. They saw Urias lace a double for the Milwaukee Brewers.
Renfroe and Margot are now playing for the division leading Tampa Bay Rays. Hedges and Josh Naylor and pitchers Cal Quantrill and Phil Maton are with Cleveland.
Long ball hitting Franchy Cordero hit a couple out of the park for Kansas City recently. Jedd Gyorko, who hit one of the longest home runs at Southwest University Park (over the center field wall, bouncing on the curb outside and skittering across Santa Fe Street) is now a long ball threat for Milwaukee.
Breaking into a small smile after that long home run at Southwest University Park, Gyorko said, "Yeah, I thought I got that one pretty good."
Pretty good.
One of last season's Chihuahua heroes, Ty France, is now hitting well in Seattle.
Of course, we all wait. We all struggle to rise. We wait for more nights at our own ball parks, for the opportunity to watch the creation of more Chihuahua heroes.
We will rise. It is what we do when we get a fastball high and tight.
One of the things we always rely on is our teammates. There is that musical clatter of cleats as we walk toward the playing field. We come together. Our teammates have our back. And we know we are all in it together.
Well, in this instance, we have the world as our teammates.
We rise, we get up and get back in the box and we fight on together – clinging, ever clinging, to those two most beautiful four letter words, Love and Hope.
Love and Hope are our North Stars, the guiding lights that will lead us through this darkness.
As Maya Angelou so beautifully wrote:
"Just like moons and like suns,
With the certainty of tides,
Just like hopes springing high,
Still I rise.
Leaving behind nights of terror and fear,
I rise
Into a daybreak that's wondrously clear,
I rise."
And so we get up, we dust ourselves off, and we dig in – carrying Love and Hope in our hearts and with our teammates at our back.
We know all about teammates and we know one thing is as certain as the day and the night.
We are better together.
We are always better together.
And one day soon, the cheers will roar through Southwest University Park again.
It will be silent no more.
People of all ages and sizes, all races and religions – friends and family and friends we have yet to meet – will sit next to each other, elbow to elbow and the laughter and cheers and jeers will float through the beautiful ballpark.
There will be joy.
And it will be as if the rain is back in the spring.
Bill Knight is a feature writer for the El Paso Chihuahuas and may be reached at [email protected]